Gabriel Picolo has his head in the clouds but his feet firmly planted on solid ground. This immensely talented, up-and-coming illustrator hails from São Paulo in Brazil but is known around the world for his unique comics and pop culture drawings. He keeps his large online following regularly informed of his movements and growth, and has a social platform to suit just about anyone – Patreon, Facebook, Instagram, and even DeviantArt.
His work reads like an unfinished graphic novel, beckoning you further into his playful thoughts and upbeat, oft nostalgic take on the world. Influenced by the Final Fantasy games he played in high school, as well as both Eastern and Western comic styles, he forges into new cartoon territories, creating fresh re-imaginings for old stories, and new work that quite literally reaches for the stars.
I recently had a chat with him about his latest published work, what projects he's currently working on, and where he's headed from here.
Why comic illustration? How did you find this genre, tell me about your artistic journey so far…
I thought I was never going to find out what exactly I wanted to do with my art! It took me a while to realise that I wanted to tell stories and engage people into fictional worlds and characters. That's the reason I started drawing back in high school. I had some ups and downs back when I did art as a hobby. Nearly stopped drawing by 2013 so I decided to do a daily challenge for the whole year in 2014. That project got viral online and kinda kickstarted my career because I got my first commissions in that same year. My style was all over the place until maybe 2016, but I'm finally feeling like I'm on the right track.
I've heard São Paulo is an awesome hub for artistic spirits.
I've lived in São Paulo my whole life but I just got started into the art community here. To be honest, I'm a very indoors kind of guy, so I don't go out much. I cherish the opportunities to meet with my peers in expos or solo shows. Recently I started to go to live models sessions and it's always such a pleasure to meet people who are passionate about their art!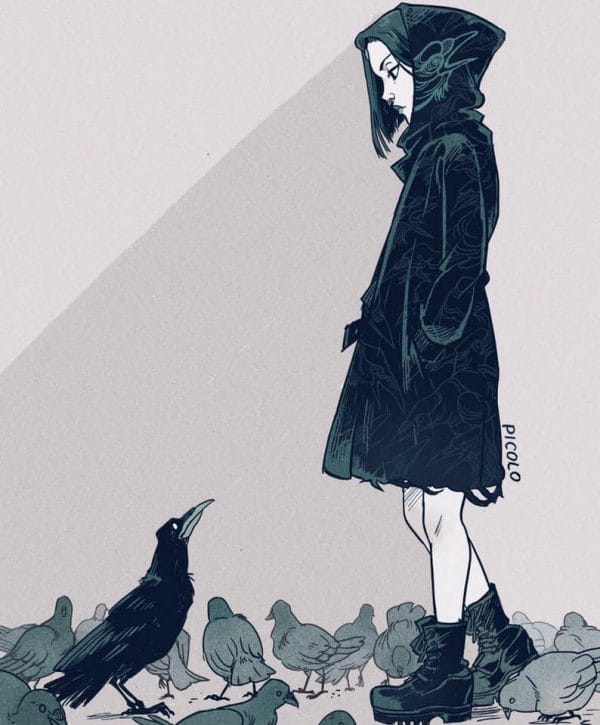 I absolutely love the way you weave your stories into the illustrations, whether it's in comic format or just imagery. Where do you find your inspiration, and what or who had influenced your style of work the most?
Thank you! I'm really flattered to hear that! I'm always inspired by the lengthy Final Fantasy games I used to play when I was in high school. Recently I've been influenced by cartoons who mix manga and western comic style such as the old Teen Titans and Avatar.
I adore your Icarus story, it's one of the great legends, and you've managed to make it so inviting and beautiful. Tell me about the concept and your typical work process.
The very first concept came when I was doing the 365 days of doodles, a daily drawing project I did back in 2014. There was this entry when I drew a candle guy and a fire girl; the candle person tried to reach his fire partner, and as the candle melted they did get to meet each other for a brief moment, before disappearing completely. I have always enjoyed Greek mythology and tales so I used the metaphor of Icarus and his wax wings, to develop a couple who's in a toxic relationship. As you may have noticed, their story is all bits and pieces. I decided to upload only highlights of the actual story before I'm finished with the comic.