Sarah Joncas is a Toronto based artist who often depicts inspiration from film noir, biblical references and has a sense of melancholy in her paintings. We have had many wonderful talks with Sarah in the past for Beautiful Bizarre Magazine and she briefly took over our Instagram feed, too!
Her paintings are both haunting and daunting, as they seem to draw the viewer in to look for more symbolism within each piece. Her work has depth and dark drama in it and I recently caught up with the artist and had the opportunity to ask her more about her body of work.
Sarah, I loved seeing your work at Spoke Art NY  for the Miyazaki Show. Before that, I remember seeing the piece you submitted there as well for the David Lynch tribute show. I could recognize your unique work among hundreds shown on display. There is something haunting, almost ghost like present in your work. Do you agree with me? If so, when do you turn to surrealism in your paintings? At what point of the process do you have your subject matter turn from real to surreal?
I believe some of my work carries that, yes. Sometimes it's intentional, though it can also be hard to look at your own work and objectively dissect it when so much is based off intuition. The surreal aspects I often follow up on spontaneously and they tend to just 'feel right' at the time. Even if I'm not wholly certain of the meaning, they add to my imagery in a meaningful way. I sometimes like using them to underline a particular psychological or emotional concern to the figures, as well as feeling they give more abstract ideas illumination. Though I have a hard time saying my work is actually surrealist, given the degree of surrealism approached by other artists, I love touches of it here and there to give my art a little more intrigue and escape.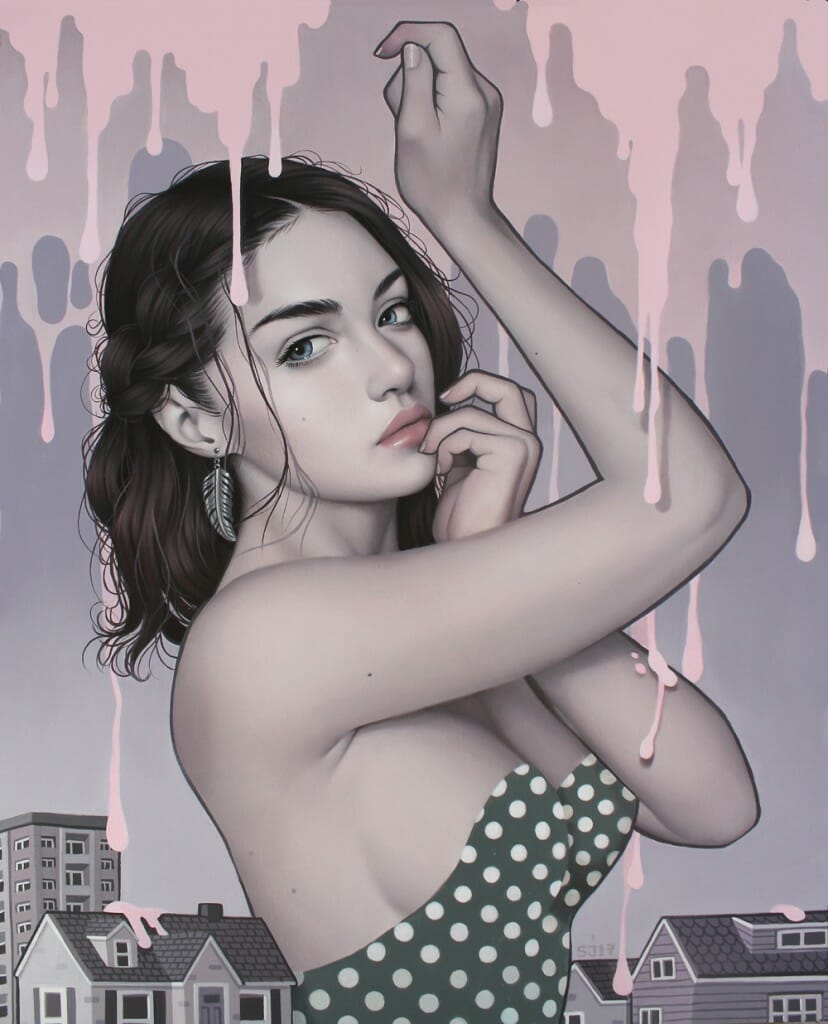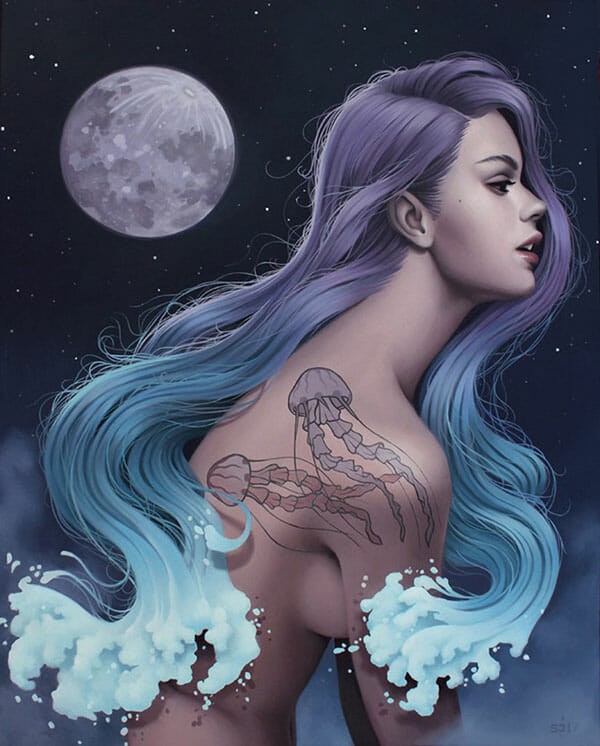 How do you choose your subjects? Are they most often women? Are they different facets of you? Do you put your own self into your pieces?
Over the past 15 years, I've become quite focused as a portrait and figurative painter. I get much more enjoyment from creating and perfecting faces than from what I get painting a landscape, by example. I can't say why exactly, but it's a palpable difference for me. I think it would be difficult not to put a little of myself into every work, simply as these paintings are coming from me. However, they are by no means meant to be portraits of 'me' or autobiographical in anyway. Even my 'self portraits', where I use myself as a convenient model, I see as simply that. They're a method to get out any issues, concerns or feelings that are circling around, but also as a way to purely express beauty and have fun. I find the more I'm enjoying myself, the better the painting. It's why I'll often do little paintings outside of my gallery work too. Artists can be constrained by our own style and collector base to produce similar work all the time, but it's healthy to do more, I suspect. That's not to say I don't find excitement in creating my gallery work, I absolutely do, but diversity is satisfying. I also like being able to express a bit of my silly side through cartoons and take painting less seriously from time to time.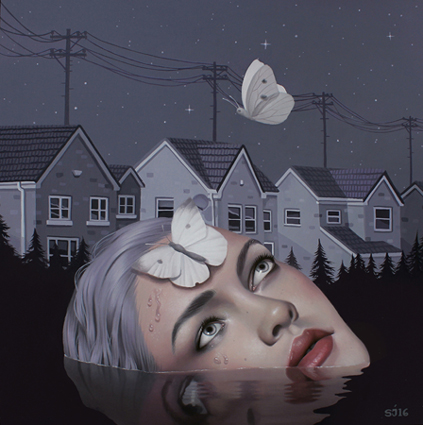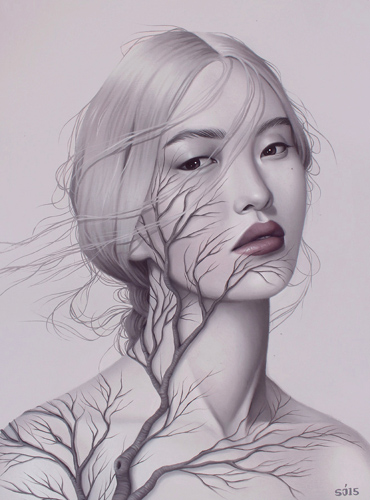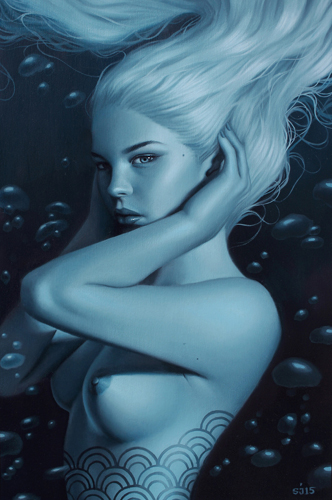 The florals, butterflies and bits of nature you add into your paintings are a beautiful visual to me. Can you explain why nature combines with your portraits?
I love nature, as many people do. I watch nature and science documentaries all the time while I'm painting and I'm sure it influences me slightly. When I lived in a less urban environment growing up, I always found great inspiration from going on nature walks by myself, soaking in the landscape. It felt like I was escaping into another world, and in a time where human development has often overtaken those landscapes, it's makes it feel more important. I really enjoy the idea of people evolving from more ancient species and places as well, and that somehow the symbolic imagery of them, ghostly appearing throughout my work, appeals to that connection. That it's still a part of us and calls us, no matter the manufactured world we create.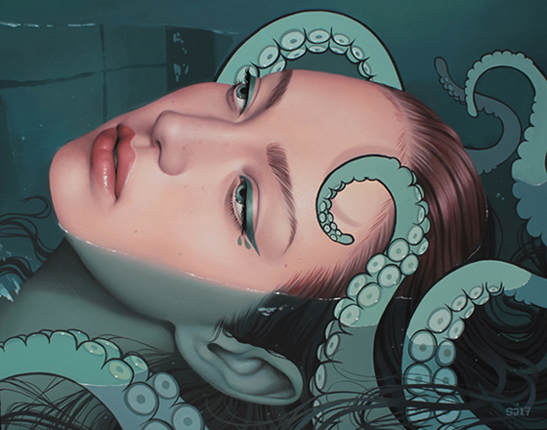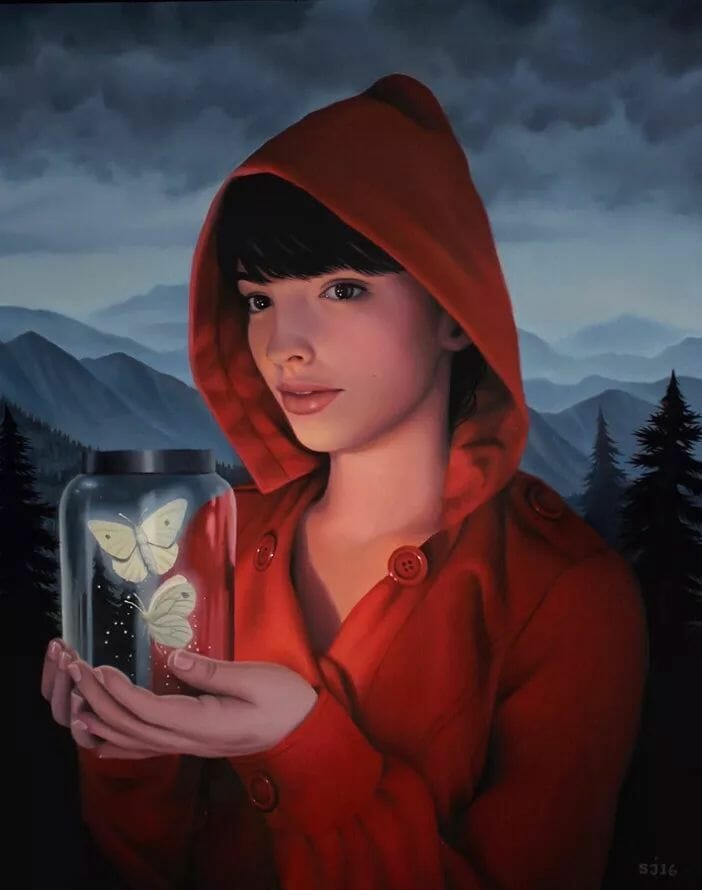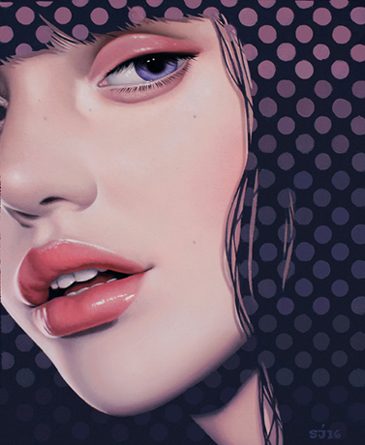 Do you have a favorite painting that was hard to part with?
I think there are always paintings I feel attached to before shipping out ('Cold Comfort', 'Street Beats', 'Scatterbrain', as recent examples), but because I'm in the process of creating new pieces all the time and intending them for sale, it's not as hard as it once was. I love seeing them find new homes and people to enjoy them more so, and not just because it means putting food on the table for me. And to be honest, as an artist who can be quite critical of myself, it's probably more dangerous than anything having work stay too long. Though content at one moment, I might be liable to overworking them in time and never being quite happy. I need to let go at some point, haha.   
Is there something you can tell me that you have not ever told a journalist before with regards to your work?
You know, I don't often sit and think over audience type questions to ask myself. Though maybe I should? Throughout art school, there was an overwhelming push to have everything well thought over and intentioned for public critique, but as a working artist I've come to love the less analyzing of things. I like the idea of creating something personal and having others connect with it emotionally, like a favourite song, and putting their own interpretations and stories into it. There is one topic that's been on my mind to discuss though. The pressure of creating work on a scheduled basis. It's the nature of sustaining yourself and the business of keeping yourself in the public eye, really. Sometimes the muse might not be calling, but you still have to summon that creativity to produce something new. I'm lucky it hasn't weighed on me too heavily over the years. In some ways having that pressure works better for me, but it's a common stress on artistic production and the ability to keep things fresh and sincere. I worry about experiencing that void after putting a years work into a body of paintings, only having to start it up again as soon as the work goes to show. I'm sure I'm not alone in that feeling. It's not even something that has to be 'fixed', it's just a reality of being a full time artist.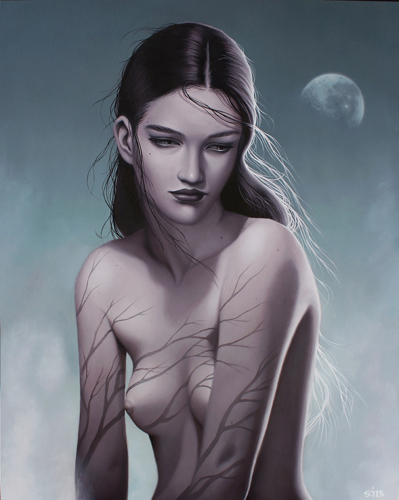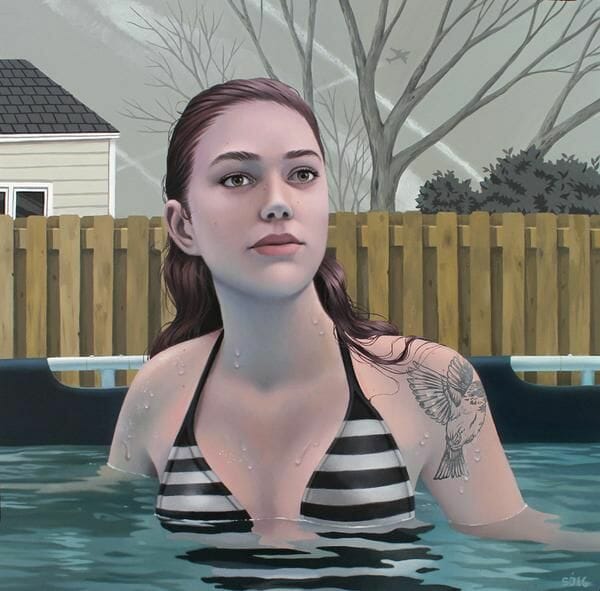 What is upcoming for you?
I recently had a big two person exhibit with Thinkspace Gallery. Myself and Kelly Vivanco showed together and I have about 15-18 pieces in the exhibit. Otherwise it's just shows and more shows on the horizon! Below are a few images from my recent show. I'm always busy working away :)