This Thursday, September 14, 2017, AFA Gallery proudly presents 'Works On Paper', a truly stunning new group exhibition featuring a collection of artists from around the world, each interpreting their ideas through a diversity of artistic mediums… all set to paper.
Throughout history, paper has been utilized to convey the unique elements of our visual voice. This delicate, primitive tool is now the blueprint of countless reimaginings in today's art culture.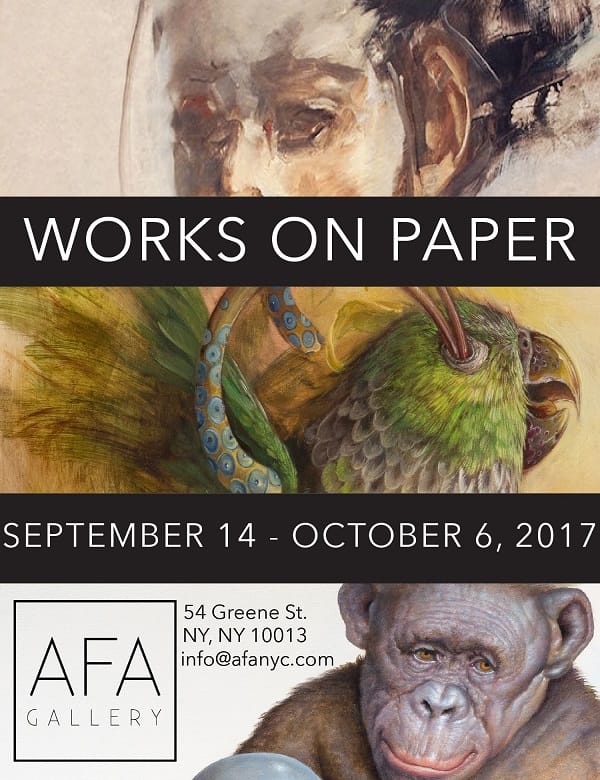 Opening Reception:
September 14, 2017 | 6-8:00pm
Exhibition Dates:
September 14 – October 6, 2017
Works On Paper, a collection of original drawings and paintings that demonstrate the versatility of such a ubiquitous material. The exhibition, curated by Michael J Ruple (Gallery Director), features new works by Michael Alan, Jean-Pierre Arboleda, Sergio Barrale, Sam Wolfe Connelly, Alessandra Maria, Chris Leib, Pol Turgeon, Martin Wittfooth, Hannah Yata, Jennybird Alcantara, Bill Carman, Nicoletta Ceccoli, Ray Caesar, Travis Louie, Francis Livingston, Antoine Verdier, Rick Berry, and many more.
Building off of the long history of paper as an accessible and transportable medium for art, these artists expose the ephemerality of paper across a wide spectrum. United in their materiality, the works in the exhibition highlight the role of paper as a surface and, at times, even as an active participant, whose negative space is a subject in and of itself.
Works on Paper will be on view from September 14th through October 6th, with an opening reception on September 14th from 6-8pm.
54 Greene Street | New York, NY 10013 | ph. 212.226.7374
For additional images and information, please contact michael@afanyc.com
Twitter | Facebook | Instagram
Jennybird Alcantara ~ Beast Friends Forever
Michael Alan ~ Tea party
Bill Carman ~ I needed a Horn There
Rick Berry ~ Restraint
Sam Wolfe Connelly ~ Crystal
Nicoletta Ceccoli ~ Boy Toy
Ray Caesar ~ La Chambre Study
Travis Louie ~ Title
Francis Livingston ~ Wonderwheel
Pol Turgeon ~ Monsieur Jale
Antoine Verdier ~ Danse Macabre 5
Save