One look at Tracy Lewis's soft, pastel colored work and you'll be enchanted. From the delicacy of the flowers to the hazy glimpses of the beautiful women portrayed – there's something about Tracy's work that just won't let you look away. In between creating work for upcoming group shows, planning watercolor workshops and opening an art gallery Tracy found some time for this exclusive interview for Beautiful Bizarre Magazine Issue 018. Enjoy!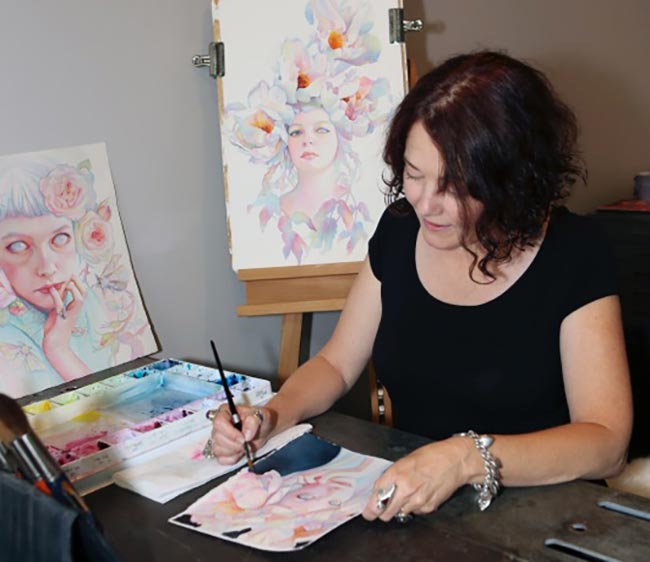 Tracy Lewis
Website  |  Facebook  |  Instagram
If you had to choose one piece of art to describe your work to someone – which piece would you choose and why?
It's so hard to choose, but I suppose it would have to be Silk Moth from 2014. That painting was a kind of turning point for me. It was the first time I had left the eyes milky, I just got to a stage with it and really resonated with the ghostly gaze. To me it gives an otherworldly feel, a sense of soul or spirit. I also love including lush flowers and insects, sometimes thorns or branches. I see these elements as part of the women rather than just adornment. My daughter Gretchen was the model for Silk Moth too, as she is for many of my portraits. Besides being really close to her as my daughter, there is a deep connection and understanding with her being an artist as well that makes for a natural artist/model relationship.
Although all elements are there to make your work super girly – candy colors, dreamy and beautiful woman and lots of gorgeous flowers – your portraits breathe a strong and fierce vibe. Can you share a bit more on why you portray women the way you do? And how important is the way the viewer perceives your pieces to you?
I love the idea of contradiction and duality. A woman can be both very delicate and feminine while being powerful and fierce at the same time. I think the women in my portraits desire to draw you near, yet possibly for their own protection, also like to keep you at arm's length. I see them as otherworldly beings, protectors of the natural world and of themselves.
Since we are the sum of our individual experiences, I don't expect the viewer to necessarily see my work the way I do. Sometimes people point out things about my work that had never crossed my mind or that I hadn't realized I was portraying until I thought more about it. So it can be a collaborative effort with the viewer in a way. I'm a pretty intuitive painter and often find myself painting some of the same things for a time before realizing what they mean to me and why I'm drawn to certain things. I love to use symbolism, both personal and historical. It's always fun to hear someone get it, but they may also find their own and that's wonderful too.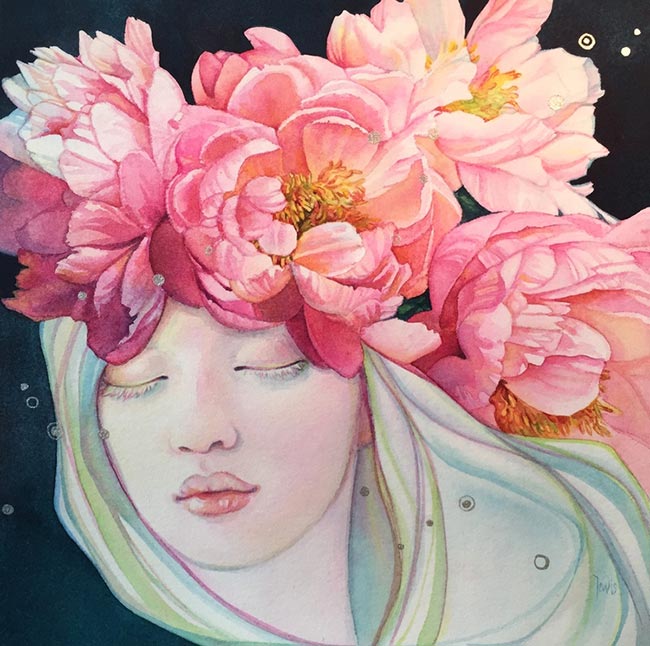 Next to fierce, there's often an odd element to be found in your paintings. Whether it's the white eyes or the absent gaze into nothingness – there's often an eerie vibe to your portraits. You mentioned your love for curiosities and the peculiar on several occasions – is this romanticism with an edge something you strive for?
Yes, I've always been drawn to the juxtaposition of beautiful and disturbing. We almost cannot truly appreciate one without the other. I love beautiful, sentimental and romantic images. Alphonse Mucha's lovely Art Nouveau ephemeral beauties are my absolute favorites along with much of the work from the Symbolists' movement in the early 1900's. I'm especially drawn to that era. Silent movie vixens like Gloria Swanson and Pola Negri have had a huge influence on my art. I adore their piercing looks and melodramatic gestures. I also have a love for mysteries and the macabre and I have a growing collection of animal skulls and curiosities. Much of the Symbolists work and the Silent Films that I've been most fond of tend to have an eerie vibe to them. I grew up in Southern California and spent a lot of time in Hollywood, my grandfather had a magazine called Hollywood Life in the 1920's. I used to love going to the Silent Movie Theater on Fairfax to watch the old movies with live organ music, dressed for the occasion in my favorite 1920's attire. I always felt a deep connection with 'Old Hollywood' and all of its dark and mysterious secrets under the hazy glow of perpetual sunshine.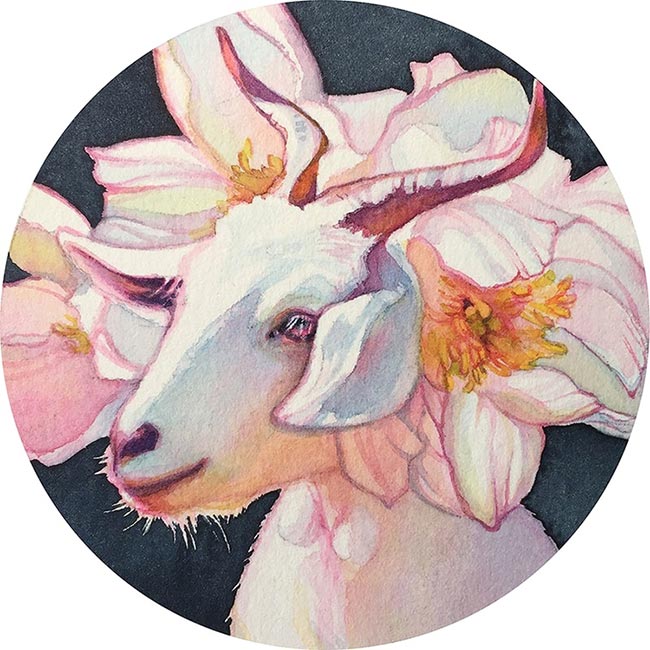 Living in a house with a tree-house view made nature an integral part of your work. What is it about nature, flowers and animals in particular, that fascinates you so much?
Nature is ever changing with growth and decay. A continuing cycle of life and death that never ends with everything and everyone connected. Being with nature is sometimes the only thing that can calm me.
I'm fascinated by the gentleness and fierceness, by the innocence and lack of ego that nature is. We are all one, all interconnected. Animals are our more quiet selves. I resonate with deer especially; there is a strength and grace about them that I'm drawn to.
One of your projects I love is the tiny animal portraits in antique frames. Can you tell me a bit more about them? Do you have an eye for antiques?
I am a flea market and estate sale junkie! I love beautiful things that have a past and a lovely patina of age. Searching out the little antique and vintage frames has become an obsession. It's like treasure hunting and you never know what fun things you'll find. The tiny animal portraits are often a fun departure from my larger, more complicated work. The inspiration for these comes from my love of the Golden Age of children's book illustration, and they've been a wonderful excuse to search for the frames.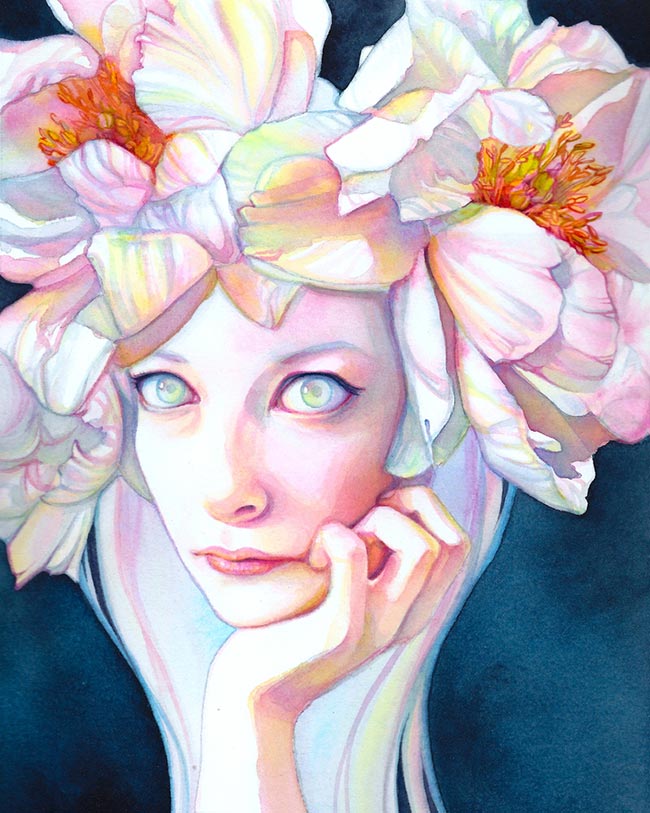 Your skills with watercolor are amazing! Many artists cite watercolor as one of the toughest mediums. If you make a mistake, it's as good as impossible to correct. What is it about watercolor that you love so much?
Thank you! I suppose the difficulty of watercolor is one of the things that I love so much about the medium! I thrive on the challenge of getting it right the first time. I love the immediacy of watercolor. I like to start my paintings by working wet into wet in a designated area, that way I can be loose in a controlled way and build up slowly in layers to achieve depth and detail. It has a transparency and luminosity that I haven't found with other mediums except china painting, which I did before watercolor. Even though china paints are oil based medium, the way you build them up is very similar to watercolor. I love that watercolor wants to do its own thing, and by observing what that is you can work with it in a kind of partnership to help it do what it wants. That results in a cleaner more luminous painting than if you would have forced it.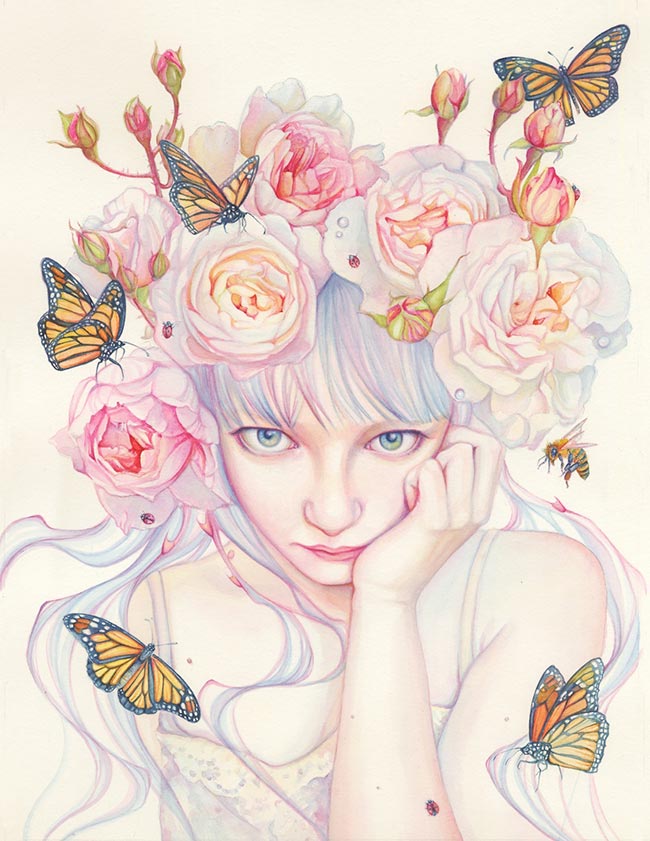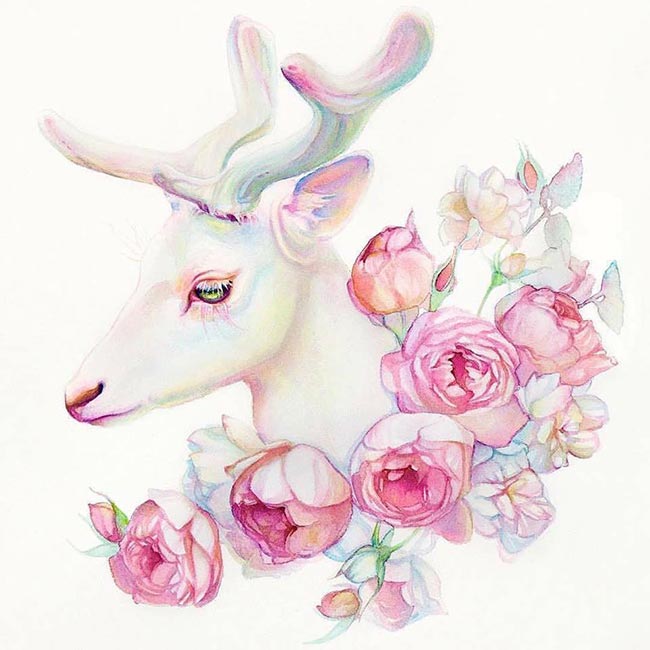 You teach watercolor classes both in real life as online, on your own Instagram account and one you specifically created to share technique tips. What do you enjoy most about teaching? Any tips for artists just starting with watercolor?
I was blessed with some pretty amazing watercolor teachers, namely Gary Pruner and Jeannie Vodden, and it makes me so happy to share some of what I've learned from them and of course some of my own experimentation with my students. I think watercolor is hard to figure out on your own and it's really helpful to see someone demonstrate watercolor techniques. I love to see my students discover that they can create something beautiful. My advice to aspiring watercolorists is to get the best supplies you can afford, because it makes a huge difference, and practice, practice, practice! Better to have a few really good quality paints than a whole box of cheap paints. That goes for brushes and paper too, I would recommend at least a mid grade quality. Most of my paintings are done with primarily these three colors; Daniel Smith's Quinachridone Pink, Daniel Smith's Phthalo Blue (GS) and M. Graham's Azo Yellow. If you have just these three colors or similar, you can mix and glaze to get a wonderful variety of hues.
Speaking of Instagram, you are quite active on social media! How important is social media for you as an artist?
I've had so many wonderful opportunities come about as a result of Instagram alone. Everything from connecting with other artists or with fans of your work to amazing gallery shows. It's also nice when you spend so much time alone in the studio to share your work and connect with people that enjoy it, that alone can be really motivating. I'm grateful for everyone that takes the time to like and comment on my work.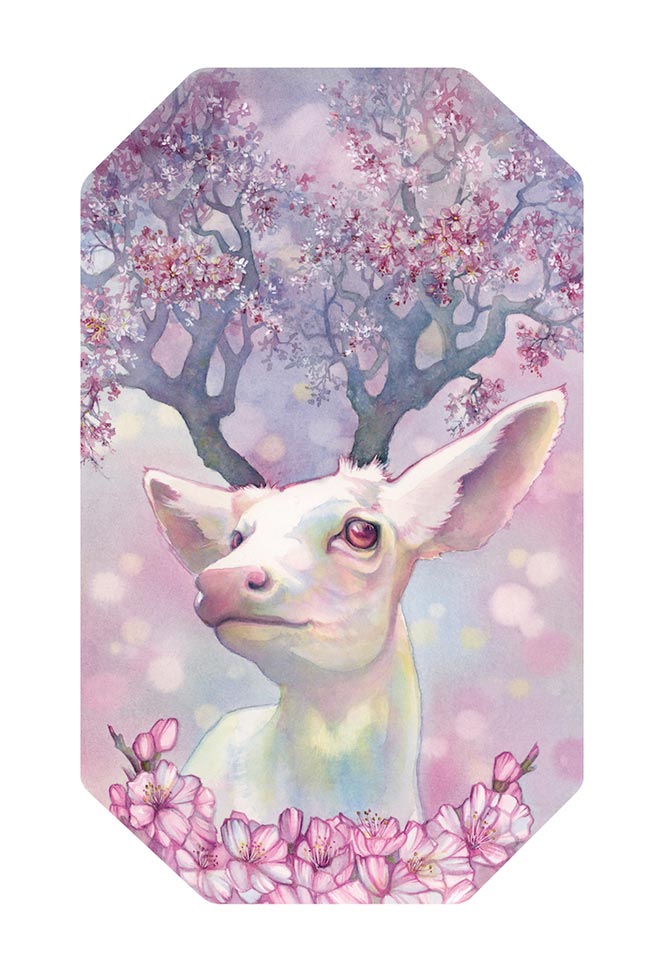 Your work has been a part of several themed group shows. What is it like working with a theme and seeing your work in a show with many other talented artists?
Themed shows can be fun and challenging. Sometimes the themes they come up with are things that I never would have considered, and moves me outside of my comfort zone. Sometimes causing me create something that leads to another thing and so on. I love seeing how different others interpret the theme. I've been brought to tears on a few occasions seeing an amazing artist lineup for a group exhibition that I never would have dreamed I would be a part of, it can be both intimidating and exhilarating to be in the same show with some of your favorite living artists!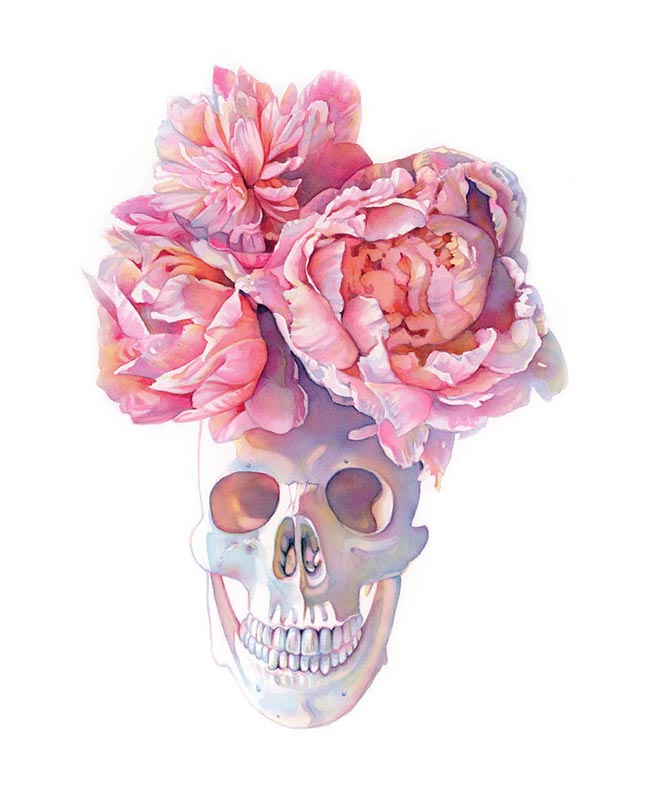 Speaking of other artists, if you could pick one artist for a collaboration, dead or alive, who would you pick and why?
I've been wanting to do a collaborative show with my daughter, Gretchen Lewis. Our work is so completely different, but it would be fun to pick a theme and do a dual solo show with at least one piece that we both paint on. We've talked about it many times, I'll have to see if we can make it happen soon!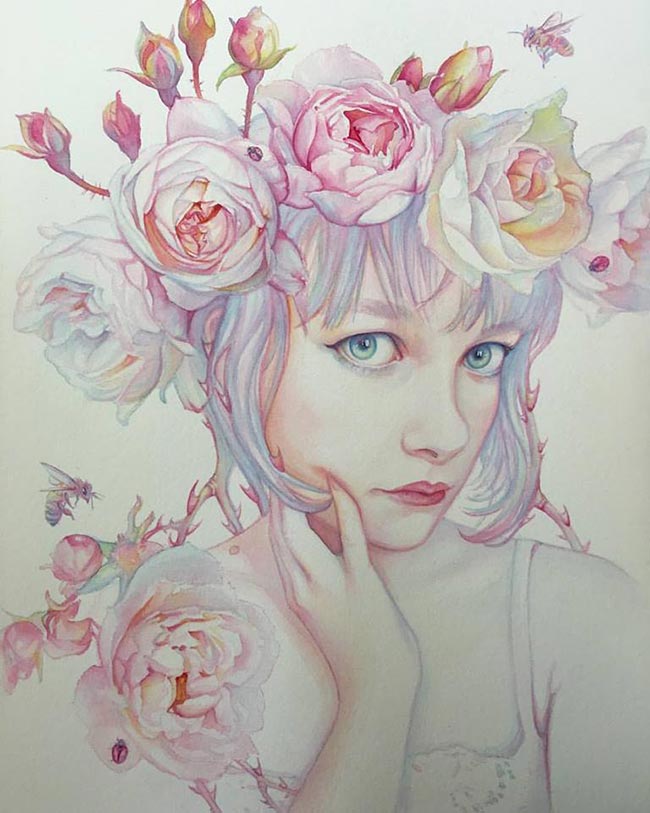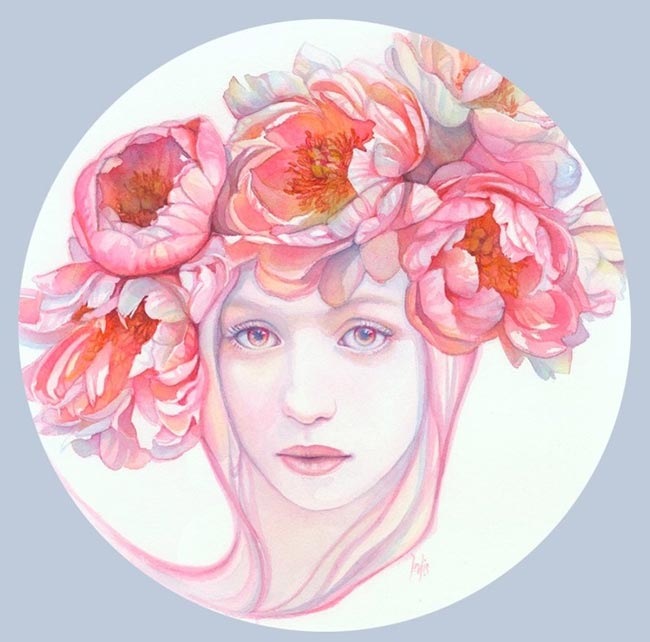 What's next for Tracy Lewis? Any updates on projects you are currently working on?
I'm currently in the process of opening a new studio/gallery space called Alchemy with my friend, artist Lynda Trujillo. It's been fun getting everything put together and I'm looking forward to sharing a studio and having that partnership. It's also the new home for my watercolor classes and a space to do some larger work.
Other than that, I'm working on paintings for a few awesome group exhibits, planning travel workshops and some fun things that are still too early mention.
Last but not least: can you recommend a book, movie or artist you've enjoyed lately?
I've been listening to a lot of Alan Watts' wonderful recordings lately and I've recently discovered and have really enjoyed the Unexplained Podcast.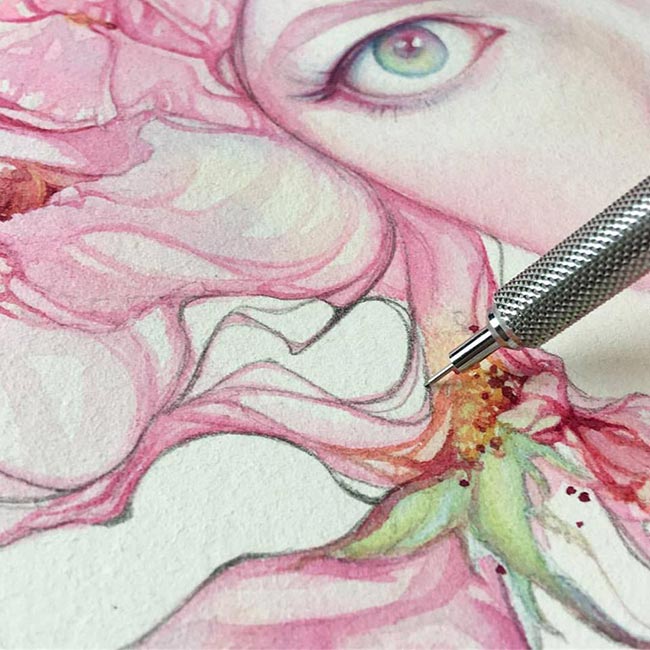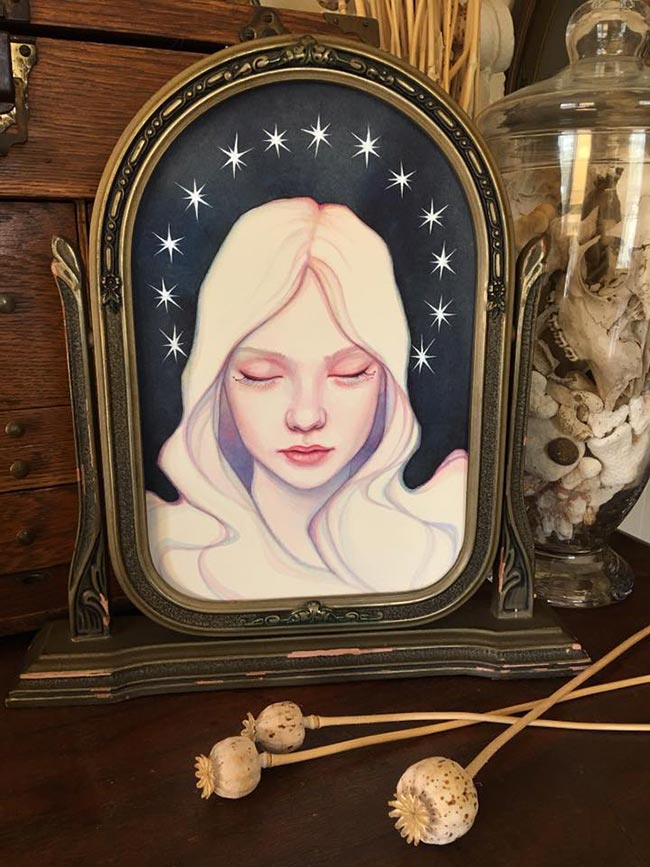 Save
Save
Save