Strong and rebellious, tattooed and troubled, with wells of emotion in their eyes – these are the masterful paintings of Glenn Arthur. His work belies his obsessions through a tapestry of symbolism. Keys for unlocking new opportunities, hummingbirds in flight, damask elements, and a kaleidoscope of colours. An illustrator with a penchant for perfection, he describes himself as an Art Nouveau and Neo-Victorian enthusiast and a macabre romantic.
His impeccable creations come from years of self-teaching, with many shown in galleries and museums across the States, as well as several art books and publications. The subjects he creates are mesmerising, beckoning one in with the glance of an eye and a sweep of the hand. Many are a cross between fairytale nymphs and beloved graphic novel characters, carefully and flawlessly painted. I caught up with him to find out more about his process, the recent work he's done, and what new shapes and symbols are begging for his undivided attention.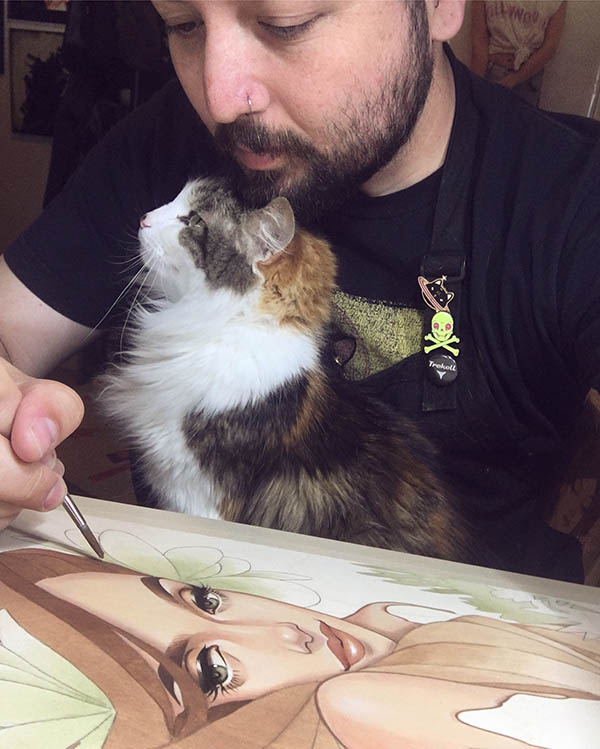 Glenn Arthur
.
How did your early start in doodling and sketching helped mould the work and style you have today? How did your career begin, and what themes inspire and attract you to this particular art form?
I've sketched and doodled for as long as I can remember. As a child I took a lot of early inspiration from classic cartoons and comic books which really jumpstarted my creativity. Then I discovered art history books that lead me to the Art Nouveau movement and that heavily influenced my art. There's a sense of organic fluidity and a peacefulness of that style that I think works quite well in themes of love, death, duality, and solitude that I enjoy working in. I think any piece of art that invokes an emotional response has done its job and done it well. My career began because I have incredibly supportive friends who really encouraged me to start sharing my art via social networking. Since then I've been extraordinarily lucky to have come in contact with a lot of amazing and very helpful people in the areas of the art industry that I've wanted to work in.
I've noticed a number of recurring elements, symbols, hummingbirds and even your unique 'key' signature. Tell me about these; why and how are they incorporated into your paintings?
I'm one of those people who completely obsess over things that I fall in love with. All of the repeating elements in my work are infatuations of mine. I think hummingbirds are simply the most fascinating creatures on the planet. I love the symbolism of keys and unlocking doors to new opportunities, which is why I chose it to represent my signature. Damask patterns, ornate details, and crisp outlines are my lifeblood. And of course my latest obsession is succulent gardening. Such gorgeous little plants that come in so many colours and textures. How could you not be inspired by them?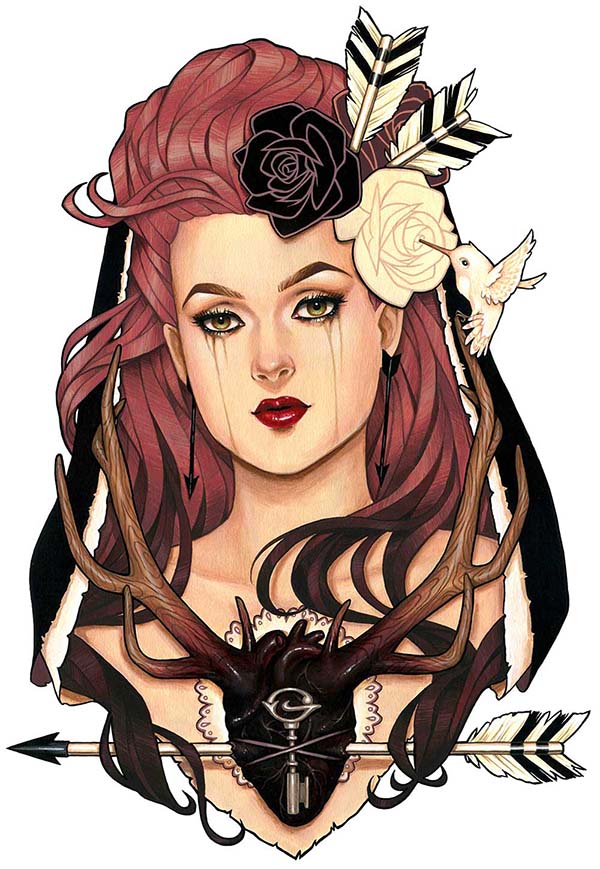 Many of the subjects you paint have a gothic, tattooed, rockabilly vibe to them. What about these genres speaks to you, where do you draw inspiration from for a new piece?
I've always been attracted to the alternative, the rebellious, and the macabre. It's just so much more inspiring for me to look at life and live in a way beyond the normal ideals of society. Subcultures are huge influencers of my work because they push boundaries and force people to look at things differently. What's bizarre to one person is beautiful to another. I really find inspiration in my surroundings. My walls are covered from top to bottom with art and I like to make every space that I occupy a little cave of visual stimulation.
I'm so captivated by the emotions you imbue in the women you paint. They often look as though they've experienced worlds, they speak through their eyes. What is your secret for creating such expressive characters?
I'm a very emotionally inspired person, but I grew up being told that showing emotion is a sign of weakness. That never made sense to me so I used my art as a way to express how I felt. I'm a huge believer in balance. You have to take the good as well as the bad. I think too many people try to stay on this perpetual high of artificial happiness that just isn't realistic. You have to experience a bit of sadness and solemn once in awhile to truly appreciate those moments of real joy. I like my art to convey that. Sometimes it's sad, sometimes it's happy, and sometimes it's just reflecting on the balancing act of human emotion itself.
Some of your work looks like it's painted on wood panels, done with watercolour, or even straight from the sketchbook with colouring pencils. What are your favourite tools to work with, what does an 'ideal' finished product look like to you? 
I'm never satisfied with creating art in just one way. I enjoy experimenting with different media and learning new ways to create. Sometimes it's successful and other times it's a complete failure, but I always walk away having learned something. Working with acrylic paint on wood is probably my favourite though. I love the way the texture of the wood looks and feels and I think it plays nicely with my style of art. An ideal finished piece for me is one that is aesthetically pleasing and highly detailed.
What are some of the pieces you're working on at the moment? What new elements are you experimenting with?
I'm currently working on a new series of paintings inspired by succulents. I can't get enough of these unique little plants so I decided they needed to be a part of my artistic journey. I'm taking a more graphic approach to painting them because I really love the juxtaposition of something flat against something fully rendered.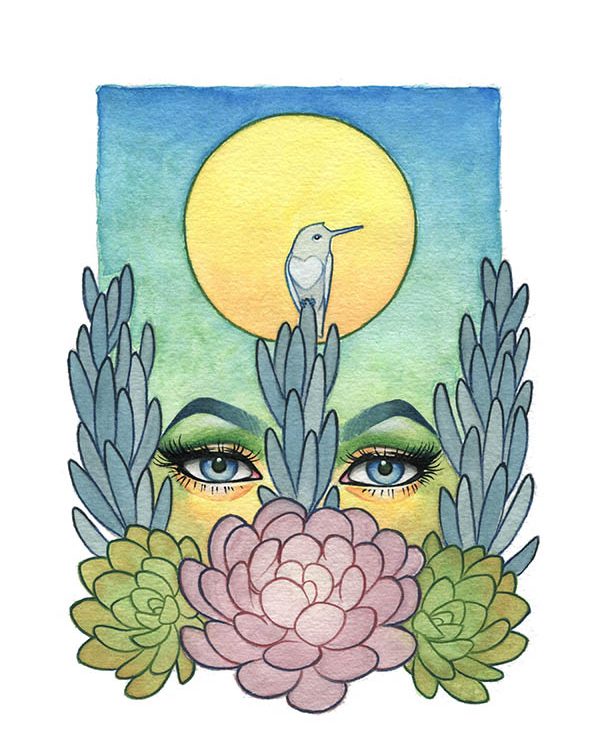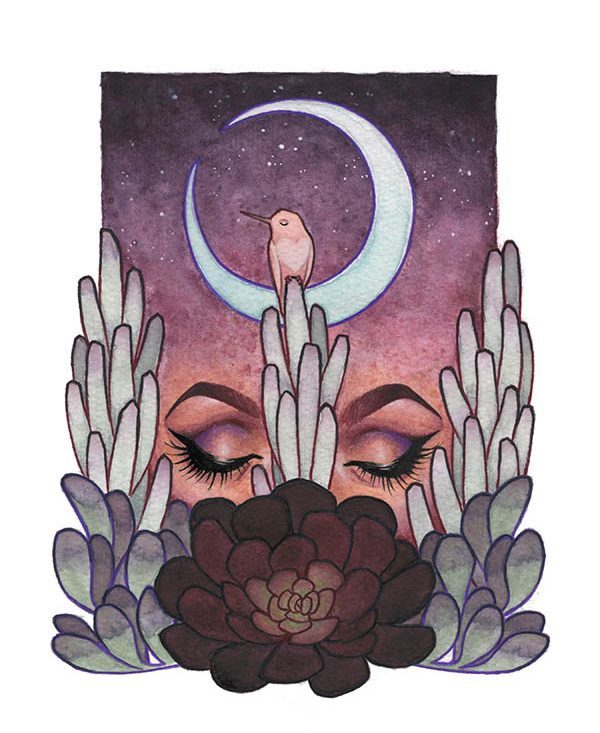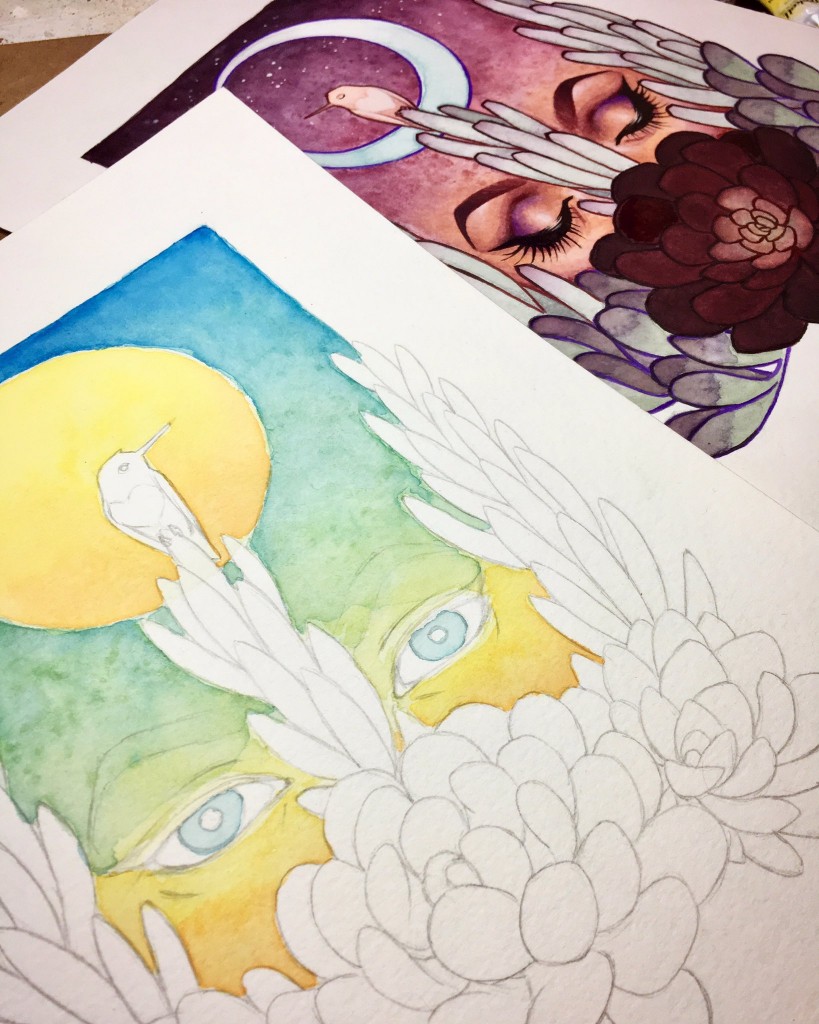 Tell me about a typical day in your life. How do you balance home and 'work' life, what is the ratio of commissioned to personal work, and how does your process differ for the two? How long does it take to complete a piece on average?
My day always starts with coffee! I have a lot of pets so we go through a whole feeding and petting routine in the mornings. Then I usually sit down and make a list of what work needs to be done that day. If I stick to the list or not is anyone's guess, but it helps me stay productive to write it all down. I try to keep somewhat regular work hours if it's possible and take breaks when I need to so I don't get overwhelmed or burnt out on anything that I'm working on. I don't really do a lot of commissioned work only because my show schedule keeps me pretty busy, but the process is usually the same. It all starts with sketches then goes to revisions, cleanup, and then final piece. It can take anywhere from a few days to over a month to complete a painting. It all depends on the medium I'm working in, the size of the piece, and the deadline.
Your technique and attention to detail are incredible. How do you maintain this high standard of quality whilst still bringing something new, exciting and inventive to the world through your art?
I'm a perfectionist. Plain and simple. I can't let my standards slip even a little bit or I'll have a total mental breakdown. I'm really hard on myself and sometimes let the self-doubt take over a bit too much and the only way I know how to combat that is to make more art and try to make it better.
In your bio, it says you only took up a paint brush when a friend forced it into your hand! What advice would you give someone who wanted to break into the art world?
I always like to tell people to make mistakes and make them big. Nothing forces you grow as an artist more than learning how to fix your own mistakes especially the big ones! Be open to new opportunities and don't be afraid to try new things. When you take a chance with your art sometimes good things will happen and sometimes not so good things will happen, but if you never take a chance then nothing happens.
Where can people see your creations? Are there any exhibitions, shows or new work fans can look forward to in 2017?
My social networks are the best places to see what I'm up to and what shows I have coming up. I'm always working on something new and I love to connect with other artists and art lovers. I have a Trekell group show in June at Raison D'etre in the Hamptons New York, The Hearts Blood show with Beautiful Bizarre in September in Long Island, New York, and another solo show that has yet to be named but will be at Artist's Republic in Anaheim California in October. And just a huge THANK YOU to anyone and everyone who has followed or supported me and my art over the years. I truly appreciate it because you inspire me to keep pushing myself to learn and grow. I consider myself one of the luckiest people alive and it's all because of your love, support, and encouragement. Now let's go make some art!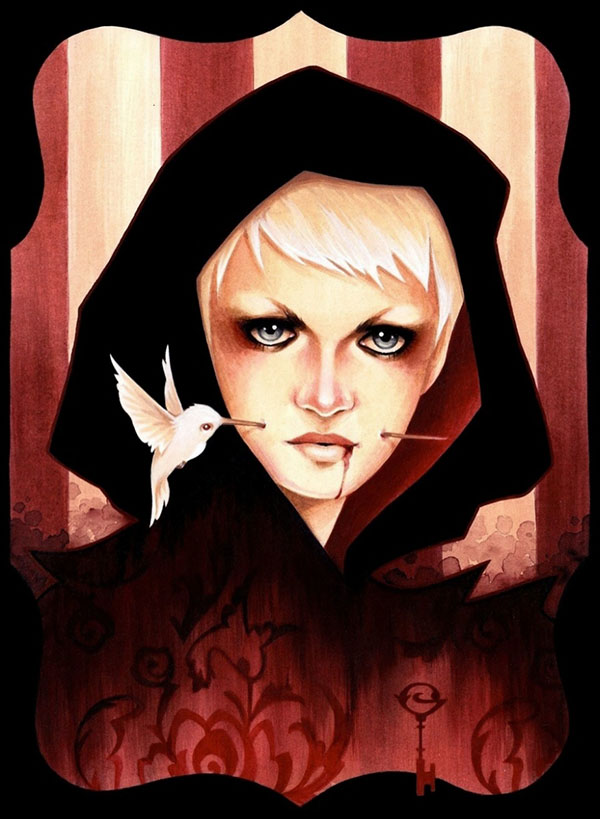 Save
Save
Save