Brittney Malesra of Petite Pierres makes jewelry that is delicate and "handmade with love," yet bold in its design and execution. Brittney's roots burrow deep into her education and family history, as she builds on inspiration from her childhood and experimentation in design school. It is the combination of her childhood influences and her propensity to break the mold that has transformed her work into what it is today. Her pieces are created with the minerals, gems, and geodes she finds locally sold in the state of Rhode Island. She then takes her materials back to her studio where she process of carefully knitting thin chain and masterfully assembling the adornments.
The pieces Brittney finishes are simply divine, encapsulating what is so special about wearable art; they are pieces that are one-of-a-kind and very special. Adornments seem to take on a life of their own when created by a person who has devoted their life and their craft to developing their brand and perfecting their fabrication.
Read on to learn more about Brittney of Petite Pierres, her inspirations, her background, and her life as a jeweler. If you're interested in purchasing any of Brittney's gorgeous pieces, check out her Etsy shop.
What first drew you to jewelry design over other types of art or design? It looks as though you are particularly drawn to crystals and hand-knit chain. How did you begin using these elements?
I definitely didn't start out as a jeweler. I'd say I dabbled in about every other art form before falling in love with jewelry. But I was always interested in jewelry design, particularly pieces from the art deco era. My parents are antique dealers so growing up I was always surrounded by beautiful vintage jewelry and the fabrication of it always amazed me. So about 3 years ago, I decided to take my curiosity to the next level and I enrolled in a jewelry design class at the Rhode Island School of Design (RISD). Originally I wanted to make filigree pieces, but I didn't' feel like I could put enough of my own personality into that. So one day, while I was at my bench bored, I decided to knit some extra chain I had laying around and I instantly fell in love with the process.
My grandmother taught me how to knit and it has been a major form of therapy for me since I was about 13 years old. If I'm sitting, I'm knitting. So it only seemed right to incorporate that into my jewelry, especially since I love knitting so much! Plus knitting with chain allows me the freedom that I don't have while knitting garments. I'm able to experiment a bit more and mess up with the chain, it really takes on a life all its own! Eventually I decided to include crystals and minerals into my designs to give them more detail. Growing up my father really encouraged me to study geology and gemology, he would always take me to local mineral shows and I had quite an extensive mineral collection at a very young age.
The science and beauty behind it always intrigued me and that never went away. So I pulled some pieces from my own personal collected and made my first crystal necklaces. After seeing the positive reactions to it, I started building a separate mineral collection just for my jewelry. It really allows me to keep that special childhood interest alive as an adult, which one day I'll hopefully pass on to my own children. I'd say the whole concept behind my jewelry has pretty deep family roots.
What other jewelry designers or artists inspire you?
I've always been inspired by vintage jewelry and one of the most influential jewelry designers for me is Georges Fouquet. Also, the one artist who had the most influence on me when I first started my jewelry design was Kate Mccgwire. She makes these amazing installations out of feathers, they're absolutely stunning! When I was at RISD I insisted on making a ring inspired by one of her pieces. It was a hollow constructed ring made of sterling silver and it had rose gold wire, filed to look like quills, coming out of the top. My teacher told me it was "too bold" of a design to try to accomplish, but I did it, and it turned out great!
I'm also unbelievably inspired by Caitlin McCormack and her delicate crocheted sculptures. I couldn't crochet if my life depended on it, but I know how much work goes into her pieces and my hands hurt just looking at them! Tyler Thrasher is another huge influence of mine. Not only is his work gorgeous and unique, but there's so much science behind it. It definitely brings me back to that childhood interest of geology that I had mentioned earlier. There's tons of other artists that I love and look up to, but I'd say those 4 have the biggest influence on me. When I see their work, it definitely encourages me to sit down in the studio for hours on end!
How do you go about finding your materials and putting together your pieces to sell?
I try to buy all of my materials locally. I source my chain locally here in Rhode Island. Rhode Island was one of the world's leading manufacturers of costume jewelry, so there's no short supply of material in my tiny state! Once a year there's a mineral show at our local community college, so I drag my husband along with me and try to stock up for the year. We will sometimes go to shows out-of-state too, usually in Connecticut or Massachusetts. I also buy the lavender that I include in my packaging from a local farm.
As far as how I put my pieces together, that's a tough question to answer! I don't draw out designs for any of my pieces, they're all on-off's. I'll usually pick out about 3 or 4 minerals before sitting at my work bench. Once I start knitting my chain I'll decide which stone would work best for that particular pattern. From there I'll decide whether or not I should oxidize the chain, which isn't always an easy decision. Usually after the whole piece has been fabricated, I have to walk away from it and make the decision for oxidation the next day. I'm also definitely inspired by the seasons. I've noticed that the pieces I make during the winter are a bit heavier with chain that's knitted tighter, and the pieces I make in the summer are lighter and usually longer in length. It's definitely unintentional.
Do you dabble in any other type of art or is jewelry-making your main form?
I think I dabble in almost every type of art form there is, but aside from jewelry, my favorite art form is drawing and photography. I had my own photography studio for about 5 years as a pin-up photographer. I still pick up my camera frequently and my love for photography will never go away, especially post-production editing. I also love to draw photo-realistic portraits. I'm definitely nowhere near as good as I'd like to be with it, but it's something I'm constantly working on. Also, it probably goes without saying, but knitting is another favorite art form of mine! I'm currently working on a sweater which I'm one arm away from finishing!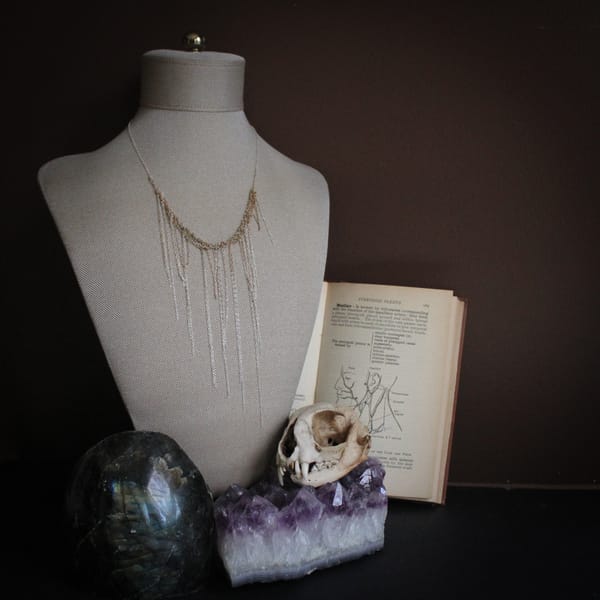 Save
Save
Save