Haven Gallery invites you to experience the full potency of evocative images with Nicolas Bruno's 'Between Realms' and encourages you to take another look at prominent historical artworks from brand new perspectives in the group exhibition, 'History of Art'.
Witness the terror and desperation Nicolas Bruno relived as he was creating his surreal and painterly photographs. Then view numerous interpretations of the pieces each artist used to study in their Art History books for the 'History of Art' group exhibition. Take some time to interact and internalize each piece of artwork. Let it reawaken old memories or lead you to explore new lines of thoughts. It's going to be a time well spent.
Opening Reception:
Saturday, February 25, 2017 | 6-8pm

Exhibition Dates:
February 25 – April 2, 2017
155 Main St., Suite 4
The Carriage House Square | Northport, NY 11768
Hours of Operation:
Wednesday – Sunday | 12pm– 6pm
For additional information and preview images, please contact Erica at [email protected]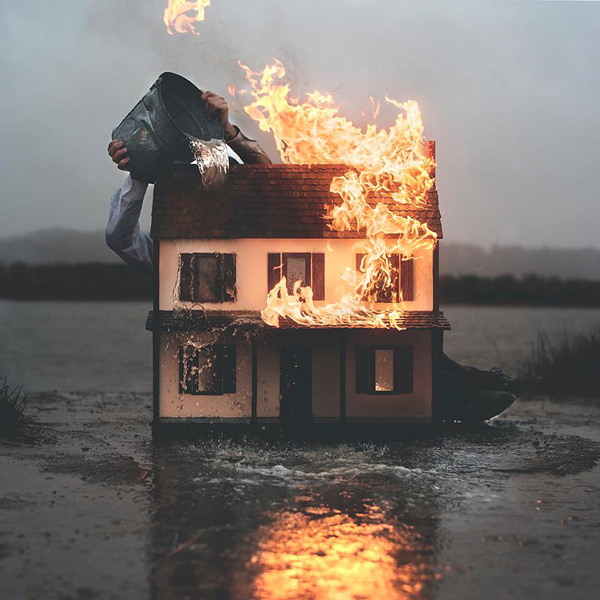 (Above) "Sventura", inkjet on Hahnemuhle Photo Rag, edition of 7, 22 x 22 inches (framed 28 x 28 inches)
Press Release:
*Nicolas Bruno Limited Edition Patch Pack Giveaway to the first 5 people at the opening*
Haven Gallery is pleased to present "Between Realms" a solo exhibition of photography and drawings by New York artist Nicolas Bruno. "Between Realms" is Bruno's first solo show with the gallery and will include nine photographs, five embellished works and three drawings. "Between Realms" features a collection of images transmuted from Bruno's dreams as a means of coping and controlling his sleep paralysis affliction. Through this visual means of confrontation and self-possession, Bruno quells these fears while simultaneously sharing these familiar emotions of anxiety, suspense, uncertainty and danger. Sentiments that plague all cognitive beings in both the realm of dreams as well as reality.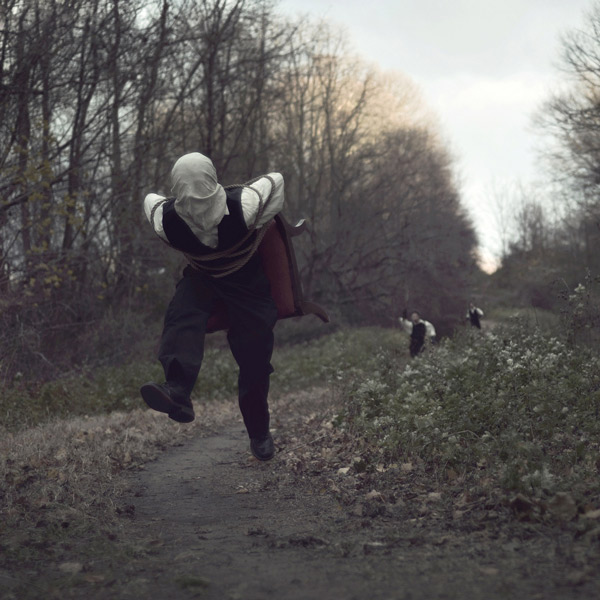 (Above) "The Escape Artist Pt. II", inkjet on Hahnemuhle Photo Rag, edition of 3, 41.5 x 41.5 inches (framed 46 x 46 inches)
Bruno has been experiencing sleep paralysis for nearly ten years. Sleep paralysis is a common phenomenon occurring in between wakefulness and sleep, in which the body becomes immobile. This realization of inescapability causes the individual to become plagued by terror laden hallucinations. These frightening experiences infect the senses yet the ability to move or escape is not possible as the body itself remains frozen throughout the episode. Through the advice of a teacher, Bruno found a means of subduing the hauntings of his night terrors through creative expression. Recreating scenes from his hallucinations has allowed him to seize control of the danger and confront his antagonists on his own terms.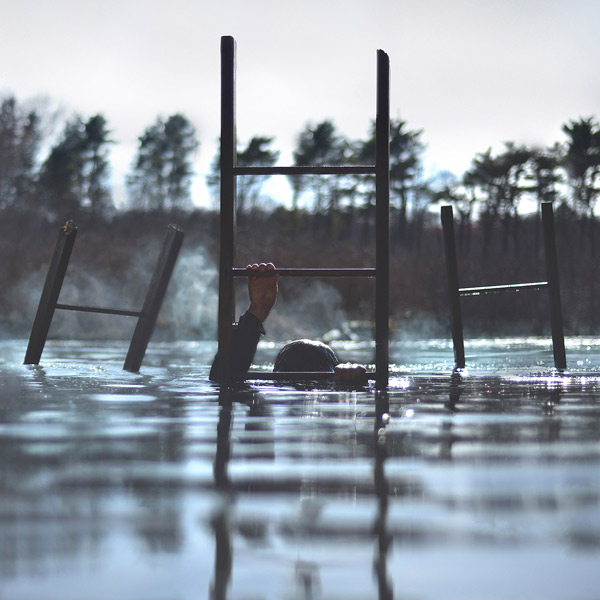 (Above) "Sorgere", inkjet on Hahnemuhle Photo Rag, edition of 3, 41.5 x 41.5 inches (framed 46 x 46 inches)
Growing up in a waterside town, Bruno's images are influenced by memories of spending time by the sea, in the marshlands and amidst sprawling fields. His Italian heritage inspires his choice in titles while his admiration of art history plants subliminal seeds of artist tributes throughout his imagery. Nostalgia thinly laces his visions and imagery as darker embodiments of entrapment, being chased and secrecy bespeak a more prevailing role. Symbolism, dualities and the reoccurring motifs of obstructed vision, anonymity and being hunted dominate much of his work. Yet traces of hope and liberation can be noted as well. A sense of ambiguity subsists amongst these plagues of anxiety through the binary association of Bruno's most archetypal elements. The water which bounds also saves; the ladders which lose much of their function while underwater still allow for ascension. A favorable reminder that even in the darkest of moments, hope and possibility lurk in the recesses of the harrowing.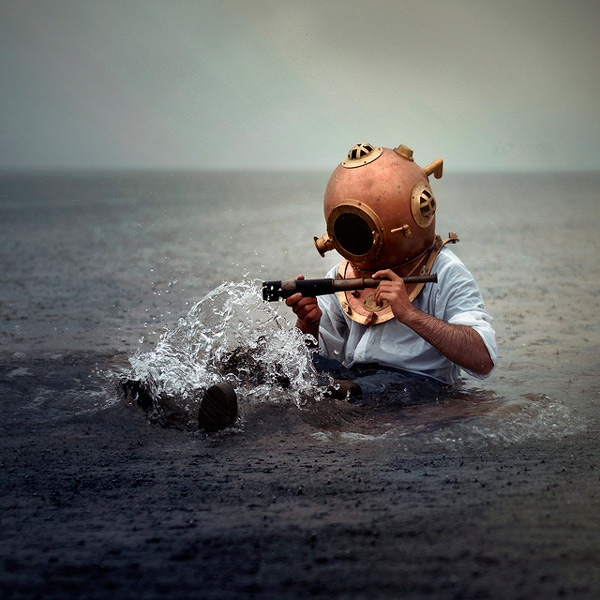 (Above) "Ocean Breathes Salty", unique, digital photograph embellished with 24 karat gold leaf on Hahnemuhle Photo Rag Satin, 7 x 7 inches (framed to 9 1/4 x 9 1/4 inches)
About Nicolas Bruno:
Nicolas Bruno studied at Purchase College of New York, where he received his BFA in Photography in 2015. His studio practice is based in Northport, New York, where he photographs and fabricates props for his compositions. Bruno weaves together his terrifying experiences of Sleep Paralysis with surreal self portraiture in a therapeutic translation of night terror to image. His constructed worlds of uncertainty exist on plane between waking and sleeping, where he is tormented by a physical embrace of the subconscious and its perils, all while being paralyzed in bed. Influences of 19th century Romanticists, historical texts of occultism, and dream symbology lace each composition with various visual dialogues of the macabre.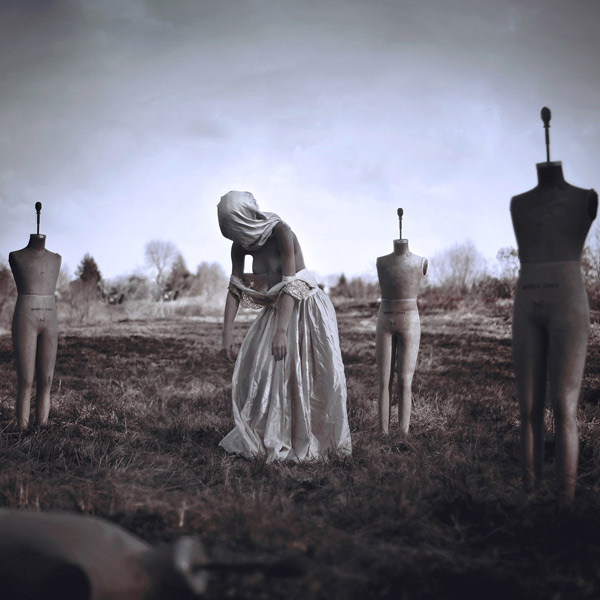 (Above) "Bambole", inkjet on Hahnemuhle Photo Rag, edition of 7, 22 x 22 inches (framed to 28 x 28 inches)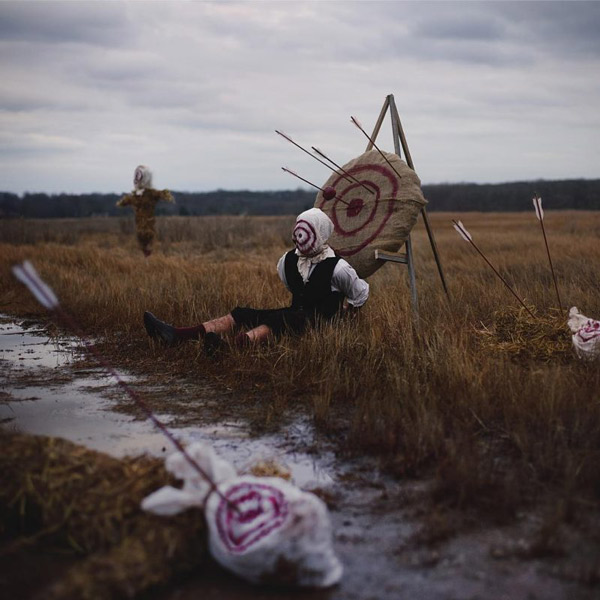 (Above) "Bersaglio", inkjet on Hahnemuhle Photo Rag, edition of 7, 22 x 22 inches (framed to 28 x 28 inches)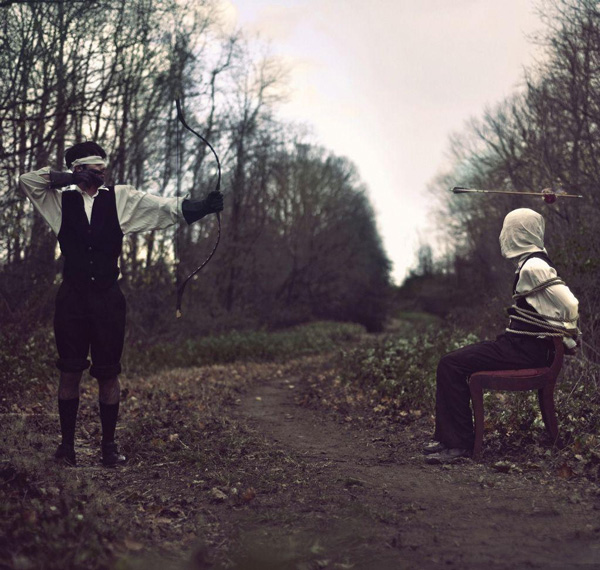 (Above) "The Escape Artist Pt. I", inkjet on Hahnemuhle Photo Rag, edition of 7, 22 x 22 inches (framed to 28 x 28 inches)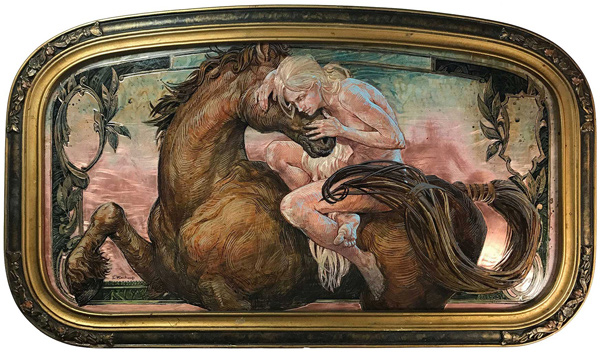 (Above) Scott Fischer, "Lady Godiva", acrylic ink on hand engraved copper, 8 x 15 inches (painting size)
(Historical Reference: Lady Godiva)
Press Release:
Haven Gallery is pleased to present "History of Art" a group exhibition of paintings, drawings and photography that hark back to the styles, themes and techniques of our creative predecessors. Artists are asked to look to a historical work or genre and reinterpret said aesthetic in their own style. Inspiration from poetry, art movements, paintings, sculptures and more make up much of this exhibition. The importance and relevancy of the arts, both historical and contemporary, reverberates through the reclamation of tenets and tales, old and new, as the universality and communicative nature of these virtuosities remains indubitable. The significance of the ubiquity of artistic canons in combination with the historical reflection of society from economic, political and social standpoints serves to teach us of not only our past, but our present and future as well.
Exhibiting Artists:
Tom Bagshaw, Alex Garant, Henry Schreiber, Thomas Dodd, Luna Milly, Ingrid Tusell, Omar Rayyan, Shane Scribner, Nadezda, Mandy Tsung, Joseph Weinreb, Kelly Houghton, Kelsey Beckett, Michael C. Hayes, Angie Mason, Jessica Joslin, June Leeloo, Scott Fischer, Daniel Williams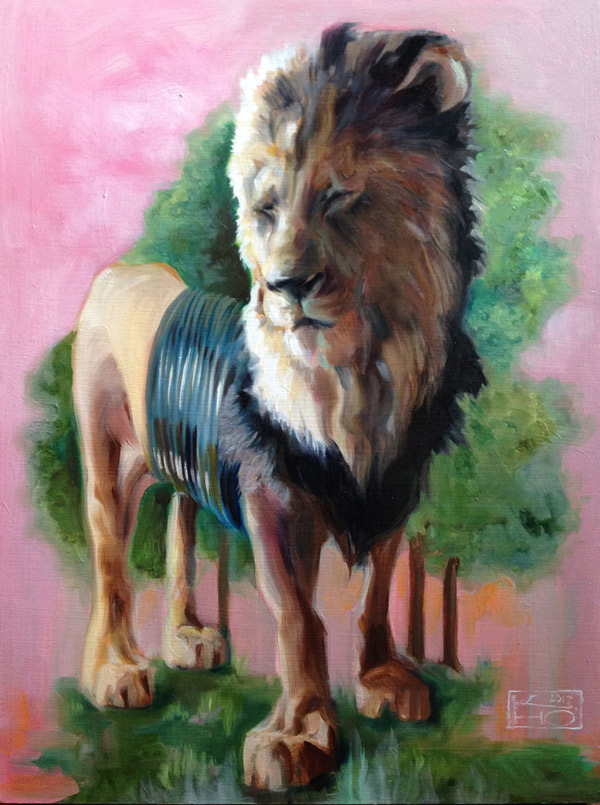 (Above) Kelly Houghton, "Lion – Powerful Flexibility", oil on board, 16 x 12 inches
(Historical Reference: Cluny's "Lady and the Unicorn" tapestries)
(Above) Thomas Dodd, "Narcissus Revisited", photo encaustic montage, 18 x 24 inches
(Historical Reference: Caravaggio's "Narcissus")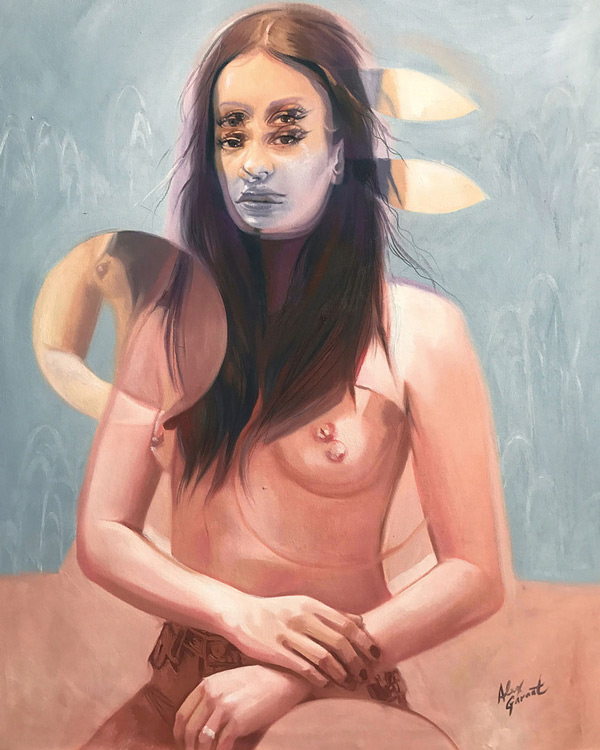 (Above) Alex Garant, "La Jaconde Experiment", oil on canvas board
(Historical Reference: Leonardo da Vinci, "Mona Lisa")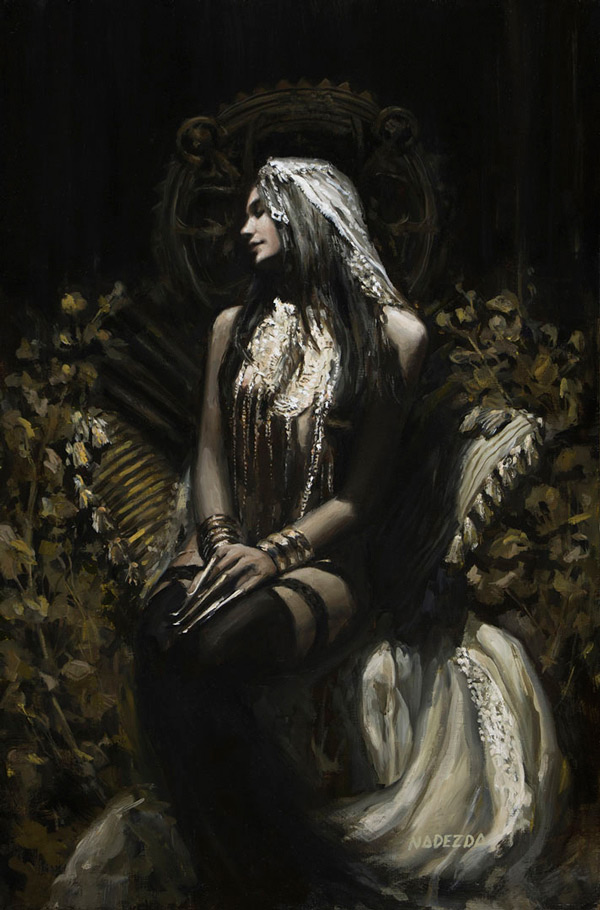 (Above) Nadezda, "Belle Antique", oil on panel, 24 x 16 inches
(Historical Reference: Poetry by Marina Tsvetaeva)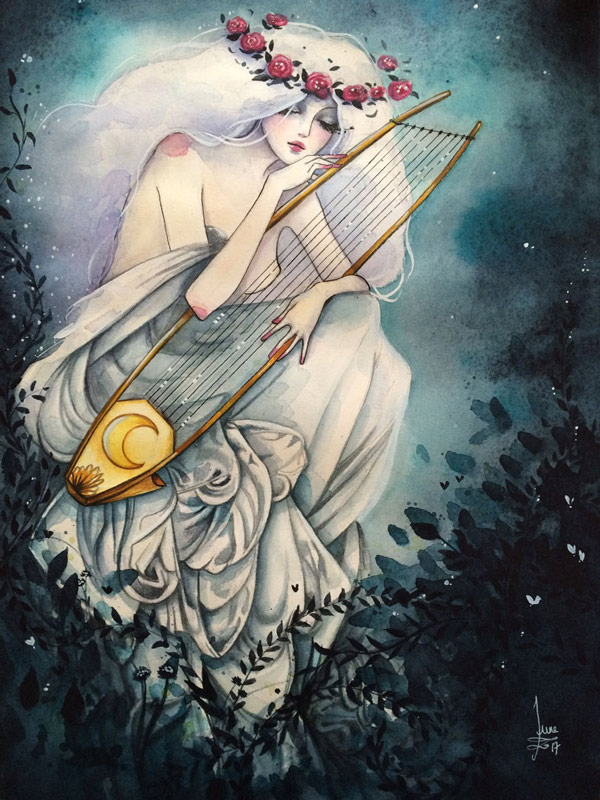 (Above) June Leeloo, "Conte de l'incroyable amour", watercolour on archival paper, 14 x 10 inches
(Historical Reference: "La Musique" by Mucha)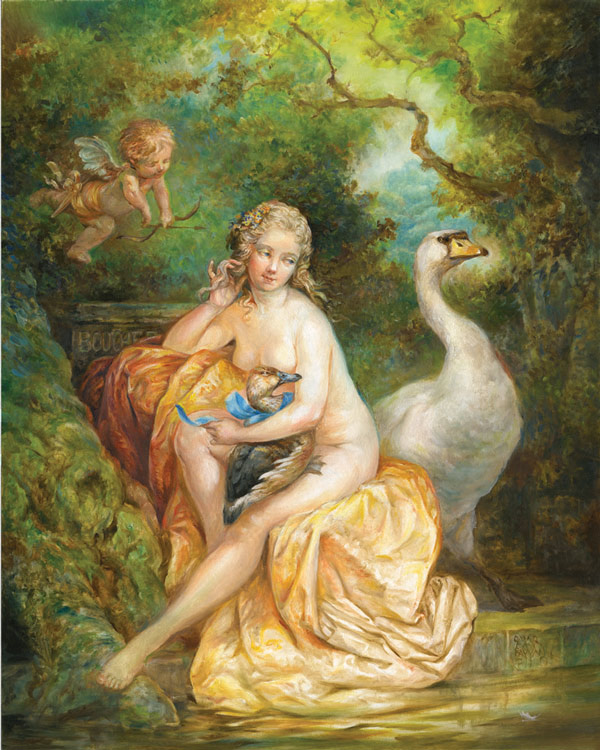 (Above) Omar Rayyan, "Fickle Leda", oil on panel, 20 x 16 inches
(Historical Reference: Francois Boucher's "The Toilette of Venus")
(Above) Luna Milly, "Guernica", oil on canvas, 17 x 11 inches
(Historical Reference: Pablo Picasso, "Guernica")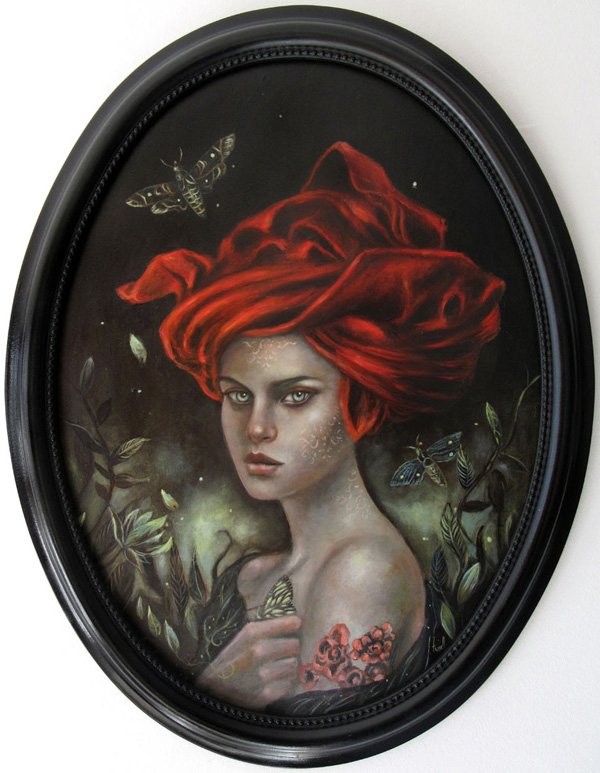 (Above) Ingrid Tusell, "Jan's Muse", oil on wood, 23 x 17 inches
(Historical Reference: Jan Van Eyck's "Man in Red Turban" portrait)
(Above) Kelsey J Beckett, "Ease", oil on canvas board, 30 x 24 inches
(Historical Reference: "Sfumato" technique, primarily used by Da Vinci in the 1450's)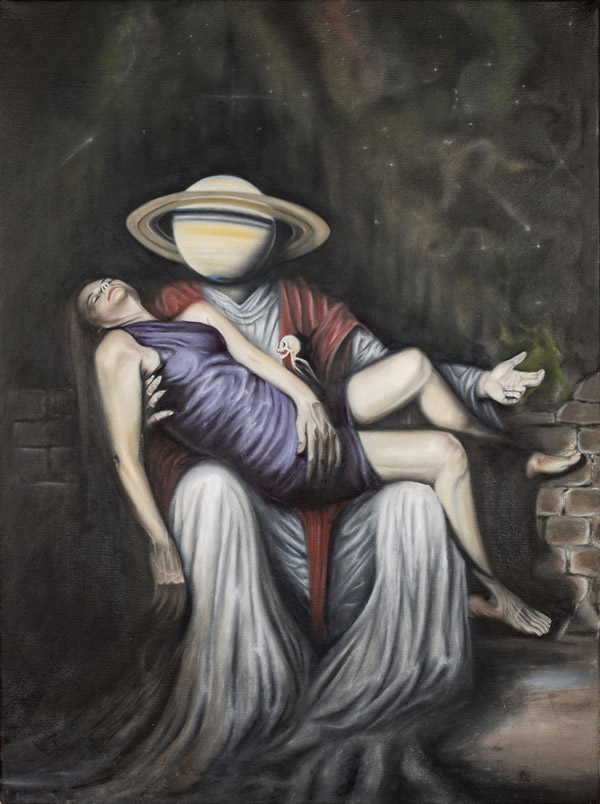 (Above) Joseph Weinreb, "Transference", oil on canvas, 24 x 18 inches
(Historical Reference: Michelangelo's "Pieta")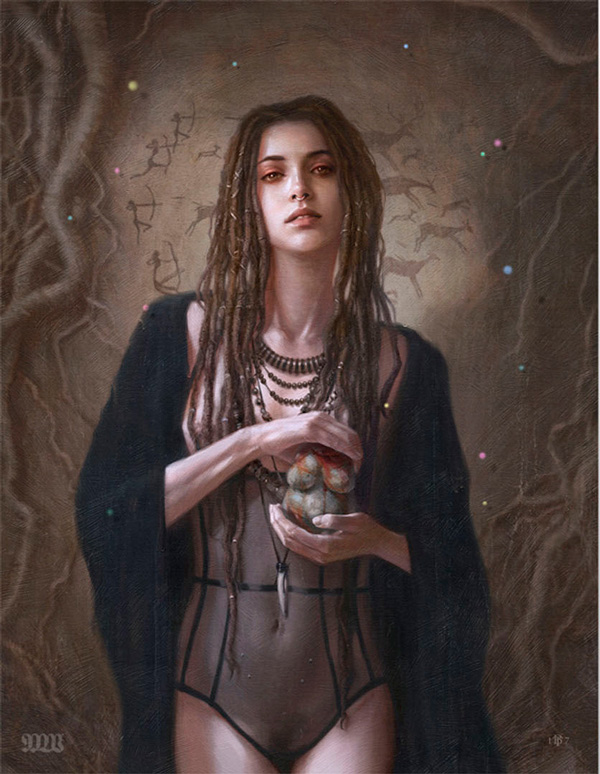 (Above) Tom Bagshaw, "Carved Inside", one off hand embellished digital painting on cotton rag stock, mounted on board, varnished and framed, 14 x 11 inches
(Historical Reference: Venus of Willendorf figure and the hunting cave paintings at Valltorta)
Save
Save
Save
Save
Save
Save
Save
Save
Save