Originally inspired by the sight of a decaying seagull on a beach, artist Kate MacDowell was struck by the parallels between the delicate skeletal system and the delicate feathers of the life form. Much of this talented artist's work directly responds to human encroachment on and abuse of the natural world.
"I think of each piece as striking warning note, and in some ways continuing the vanitas and memento mori tradition of Dutch painters in the 17th-century, who strove to remind viewers of our prideful folly and inescapable mortality," she says. "I like to collapse or decay the surface of my pieces, "dissecting" birds and animals to reveal a skeleton within. But I twist the tradition of Dutch still-lives by making the skeleton human within a non-human corpse. I want to show our fate and that of animals and plants as that closely intertwined."
Craftsmanship and intricate detail in man-made objects have fascinated her since childhood, and now in her adult life, she has dedicated her career to creating fascinating and provocative pieces in porcelain, terracotta and china. Playful and a little morbid, her meticulous creations are perfect specimens that intertwine human anatomical aspects in with other animals and creatures. Her sculptures are clean and usually white, and in turn create a wondrous empty canvas for viewers to project their own ideas and concepts. The clean white seamless style of her sculptures leads the content away from the grotesque anthropomorphic realism and into more decorative-based fine art while still holding firmly onto the reality and accuracy in her creations.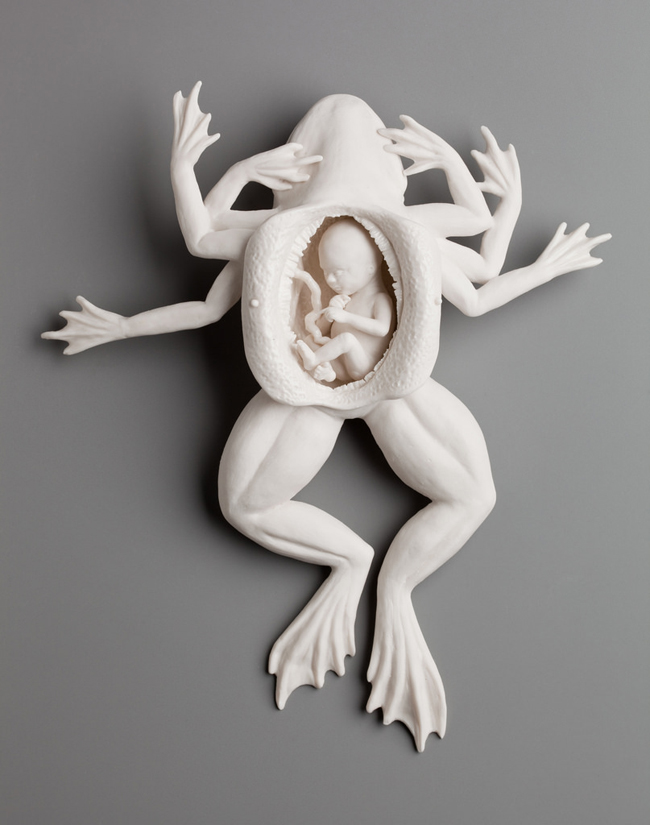 She has recently been inspired by the experience of solastalgia – a term coined by philosopher Glenn Albrecht; it describes the sense of dislocation and loss that people feel when they see their local environment being harmed. Basically, a psychic or existential distress caused by environmental change.
"My newest work explores our physical and psychological relationships with the animal kingdom," she tells us. "Whether as proxy, trophy, raw material, or mythic symbol, animals currently occupy a space in my subconscious which layers history, fable, and an awareness of species fragility."
Based out of Portland, Oregon, she has been exhibited all across the globe, in galleries, museums and art fairs. She recently had a solo show at the Seattle Art Fair with the Mindy Solomon Gallery out of Seattle, WA, and in 2015 she had a solo show at the Mindy Solomon Gallery in Miami, FL. She was a featured artist at Banksy's Dismaland Bemusement Park at Weston-super-Mare, UK in 201 as well. She is currently in the Turn the Page: The First 10 Years of Hi-Fructose group exhibit at Virginia Museum of Contemporary Art (MOCA) in Virginia Beach, which is on view through December 31.