Tom Whalen's work fills me with nostalgia, his passion for design and illustration has him create incredible pieces that, if you grew up pre-80's will fill you with poster and cartoon memories. By no accident he will partner with Dave Perillo who's pop culture themed works also take us back to an era of design that reminds me of my childhood! Spoke Art have bought together these two incredible artists who combine their  talents, to create a show full of affection that will have you wistfully longing for the past. I love the sentimentality and cohesiveness in their works, it combines both artists love for sci fi and is a perfect show for anyone wanting to reminisce with classic design and illustration.
by Tom Whalen and Dave Perillo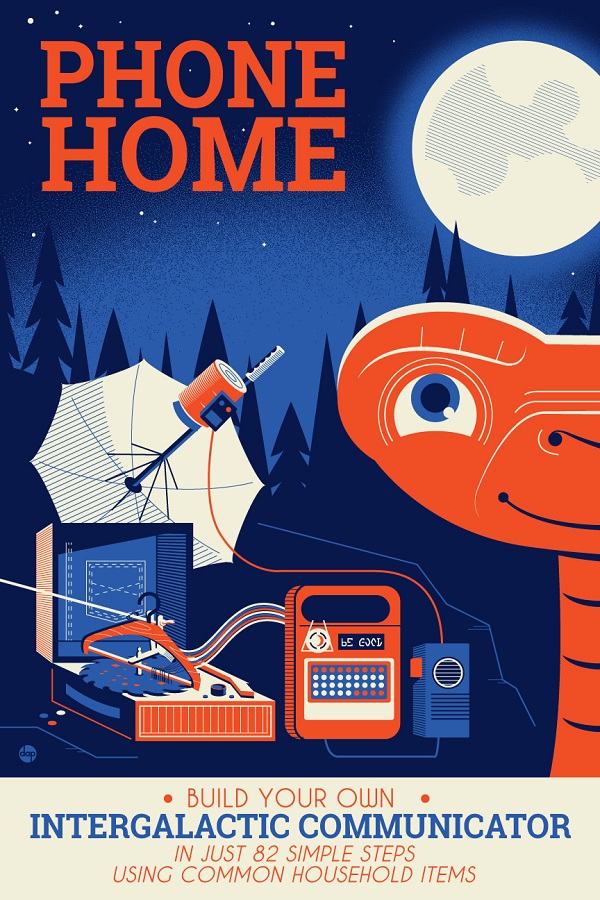 'Phone Home' Dave Perillo
Opening Reception:
Thursday, November 3, 2016 | 6-10pm
Exhibition Dates:
November 3 – November 26, 2016
816 Stutter Street | San Francisco, CA 94109
For more information, additional images, or exclusive content, please email Spoke Art SF@spoke-art.com
Press Release:
Spoke SF is pleased to present Super Science Fair – A Pop Culture Experiment by Tom Whalen and Dave Perillo. Inspired by sci-fi universes from Godzilla to Willy Wonka, Whalen and Perillo have reimagined pop culture staples in their bright, illustrative vector styles. Each nostalgically modern, limited-edition print puts a playful spin on classic favorites. Both Tom Whalen and Dave Perillo are heavily influenced by their backgrounds in design and typography as well as a mutual love for all things sci-fi and super hero related. Each artists' work explores the science behind their favorite films and characters from Aliens to Xenomorphs with concise and dynamic compositions. One part mid-century advertisements, a hand full of cult classics and spiced with pop culture inspirations, Whalen and Perillo have brewed up their version of a science fair. New infographic pieces detailing planets from galaxies far, far, away, Pee Wee's Breakfast Machine, and a spec sheet for the U.S.S. Sulaco will guide you on this science experiment. Dave Perillo cites Mary Blair, Walt Disney, Jim Henson and Charles Schultz among his key
Super Science Fair @ Spoke Art Gallery influences. For Super Science Perillo has created a series of public service announcements, informational pamphlets and guides. Intergalactic communications, how to grow a dinosaur, and time travel through the ages each seamlessly blends sci-fi heroes with a nod to advertising of the 50's and 60's. Tom Whalen lists comic book artists and illustrators such as Todd McFarlane, Steve Ditko, Jack Kirby and Saul Bass as vital inspiration from an early age. Whalen's latest work spins Reed Richards (Fantastic Four) and Dr. Bowman (2001: A Space Odyssey) as pulp magazine covers. A complete guide to extraordinary beasts details the origin and first sightings for gremlins, wampas and more.
About the Gallery:
Spoke Art is an art space specializing in new contemporary painting, sculpture and illustration located in San Francisco's Lower Nob Hill neighborhood. Our rotating monthly exhibits feature a wide variety of solo and group shows, many of which feature our international roster of represented artists.
About the Artists: 
Tom Whalen is a accomplished designer and illustrator from Pennsylvania. His client list includes Disney, Marvel, The Beatles and many others. He fuses his passions for drawing, design and typography into his distinctive poster designs. Dave Perillo is an prolific illustrator from Pennsylvania. Pulling inspiration from iconic nostalgic culture, such as 1950's Sci-Fi Movies, Hanna Barbera and Alfred Hitchcock, Perillo has created his unique practice of illustration and design.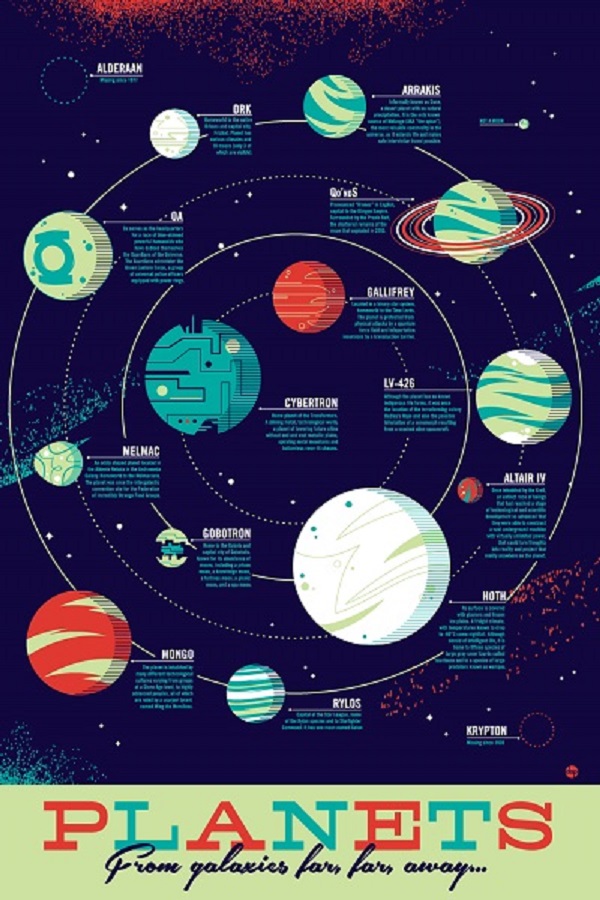 'Planets' Dave Perillo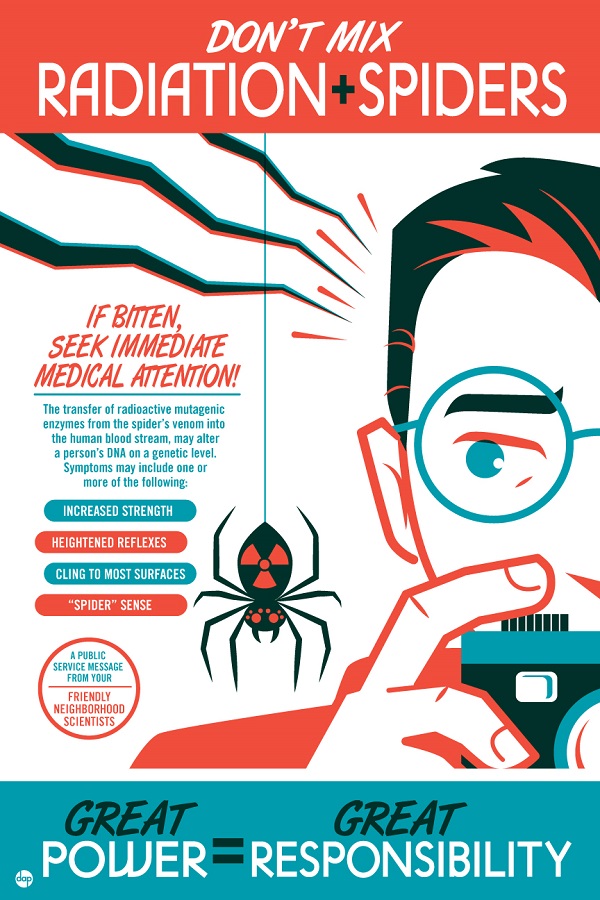 'Spidey Radioactive' Dave Perillo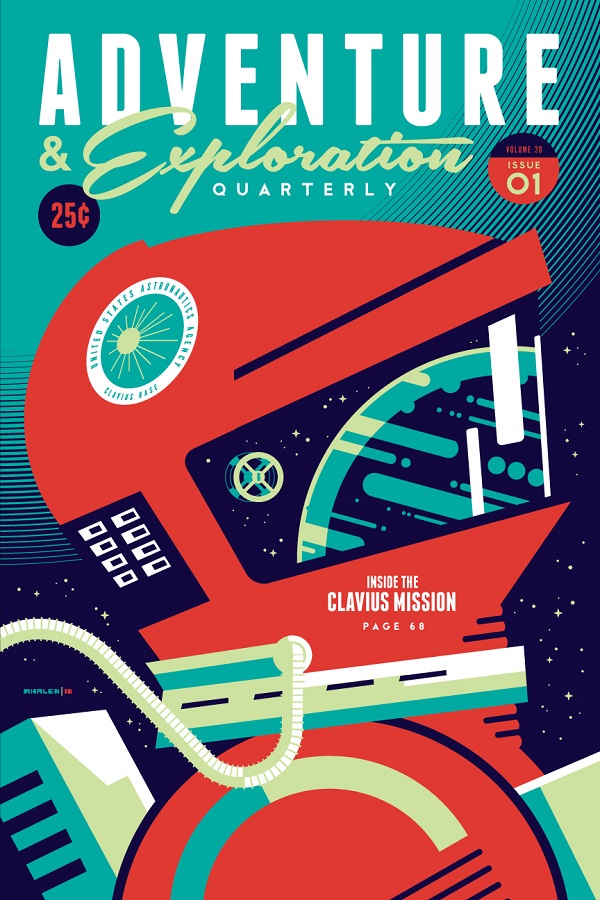 'Adventure and Exploration' Tom Whalen
'Fantastic Science' Tom Whalen

'Nautilus Green' Tom Whalen