The line between art and jewellery is a fine one when it comes to the work of artist Stephanie Inagaki. It could be because Stephanie's roots stem from design and fine arts, a multifaceted artist with an extensive range of skills. Today we are focusing on her work as an" Old World Amalgamation Architect" of Miyu Decay, her jewellery line that combines aesthetic elements from the Middle East, Africa, India, Eastern Europe along with traditional Japanese and European designs. One of her most outstanding pieces being her signature bat skull that she meticulously hand-carved out of wax, molded, and cast by hand. This piece shows the dedication to adorning the body with elements of nature, using it to piece together a story by using the human form and a unique and extremely detailed object to work together to create a dramatic and one of a kind wearable piece of art.
"It is human nature to place certain meanings to objects, ideas, and moments in our lives in order to compartmentalize our histories and stories so that we continue living and moving forward. By contextualizing the female body, hair, feathers, and crows into surrealistic compositions, I am creating my own mythology through these corporeal re-imaginings. My body is the landscape where double self examinations occur through portraiture and self ruminations of the negative and positive aspects of hair and crows"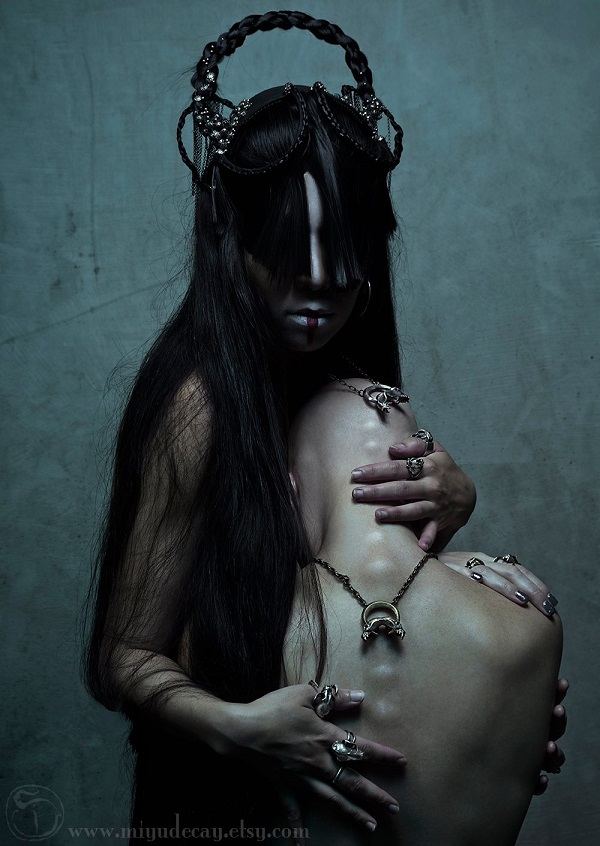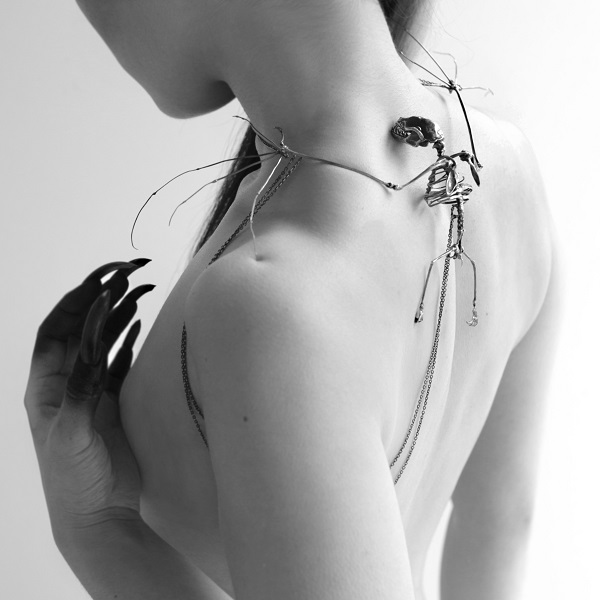 A Southern California native, currently living in Los Angeles, Stephanie Inagaki received her Bachelor of Fine arts from Boston University's College of Fine Arts and her Master of Fine Arts from the San Francisco Art Institute. She is a self-described "metal torcher, wrangler of fabrics, charcoal pusher and gypsy dancer". Stephanie started taking dance classes when she was fifteen and joined a troupe. Performing necessitated making costumes since she couldn't afford to buy much at the time. "I've always loved art and design from the Old World (pretty much from everywhere from Asia to Great Britain to Africa, etc) so it came naturally to make costuming inspired from it. I tend to amalgamate it all together" Stephanie sometimes using vintage kimono fabrics for the accessories, this also inspired her to incorporate washi paper (which has similar patterning), into her drawings.
I spoke with Stephanie about her jewellery line and how her journey began "I had taken a few jewelry/silversmithing classes in-between university and grad school. While purchasing a ring from Deana Fukatsu of OctopusMe Jewelry, I became friends with her and started apprenticing with her while in grad school in San Francisco. Besides the few classes, I also have experience sculpting since both my degrees are in sculpture. She encouraged me to make my own jewelry for Christmas presents and then to make my own business as well. Deana's been a great friend and mentor to this day. With this experience I was able to get my first job as Creative Director for Rocket World, which was a designer vinyl toy company". There is a story to these pieces that is bought together beautifully in Stephanie's photographs, urging you to find your own interpretation as the wearer rather than just the viewer, with pieces suiting both the masculine and the feminine form.
For more information on Stephanie Inagaki: Web | Facebook | Instagram | Twitter | Tumblr | Miyu Decay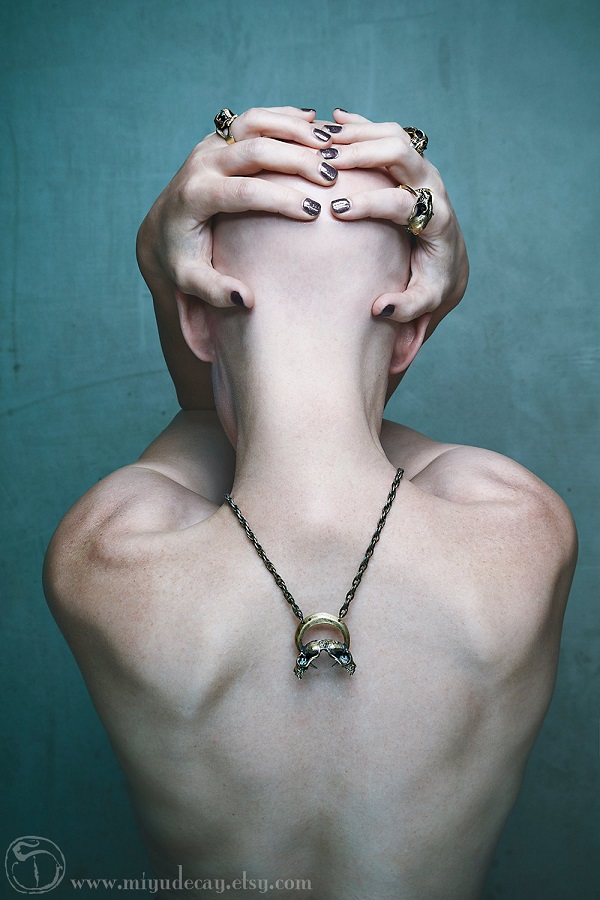 Immortalis Necklace in Brass and Sterling Silver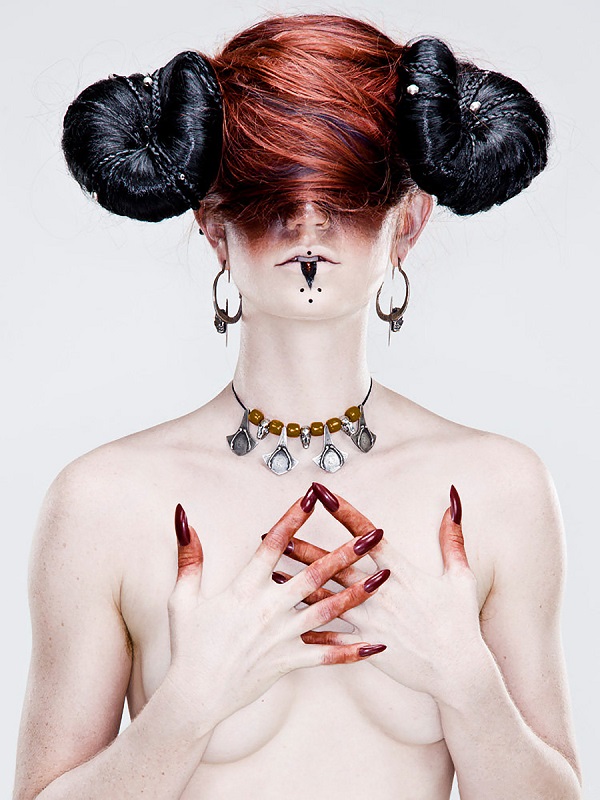 Tuareg Palmier with Bat Skulls Necklace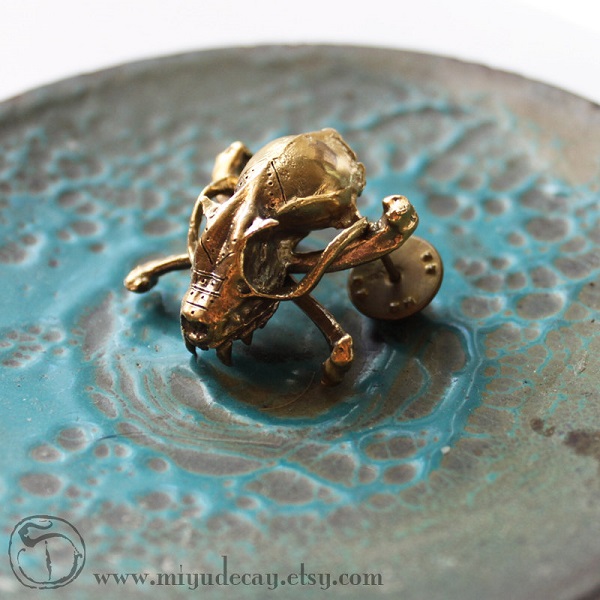 Bat Skull and Crossbone Pin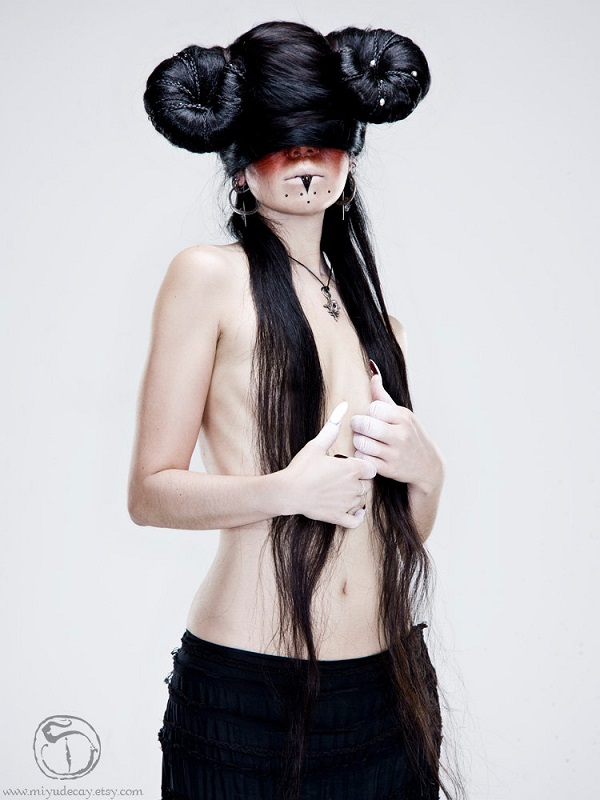 Tuareg Croix du Sud Pendant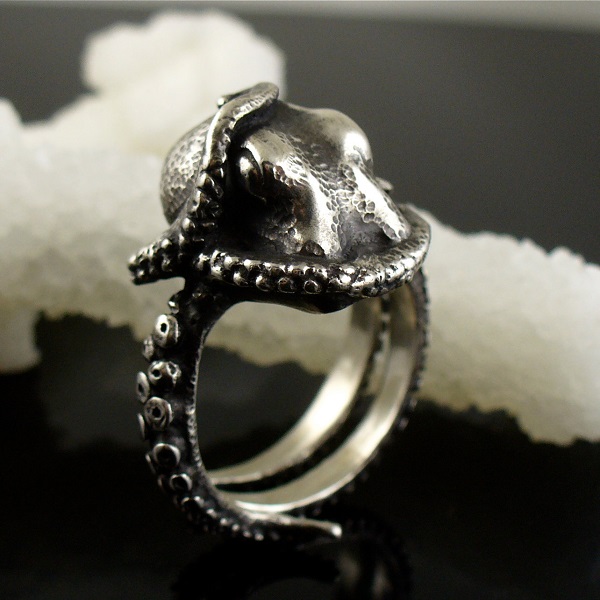 OctopusMe Miyu Decay collaboration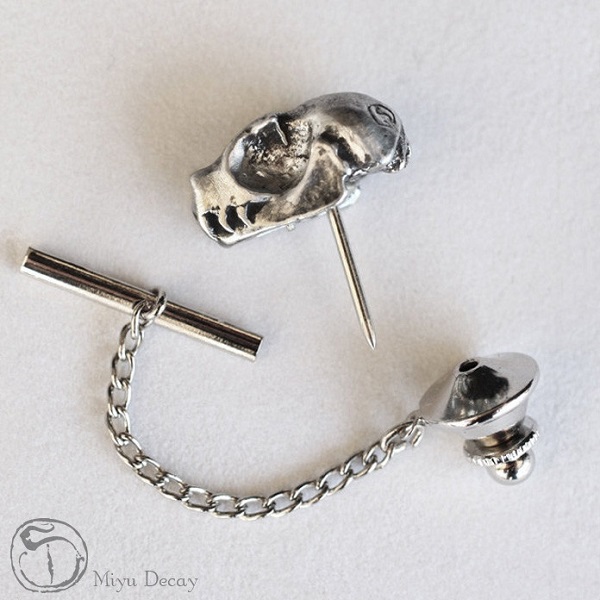 Bat Skull Pewter Tie Tack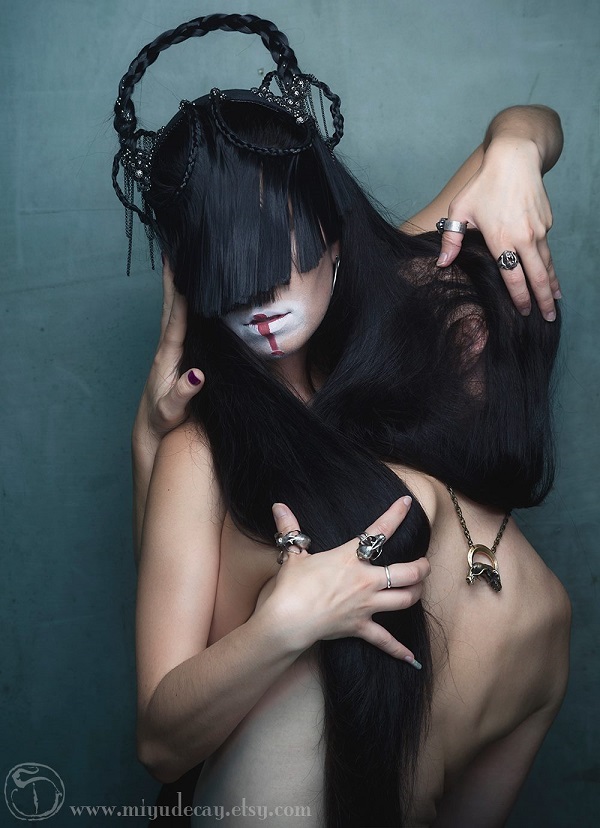 Immortalis Necklace in Brass and Sterling Silver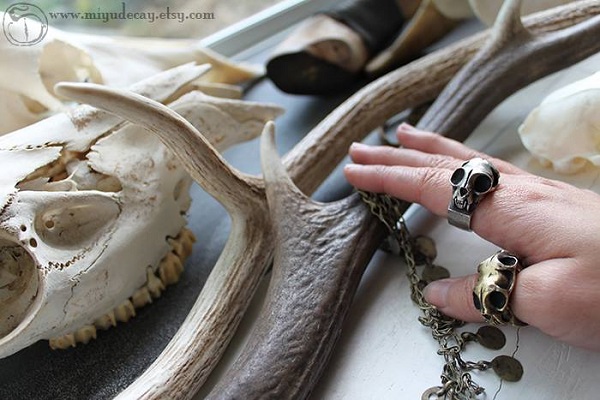 Geminus Ring in Brass and Silver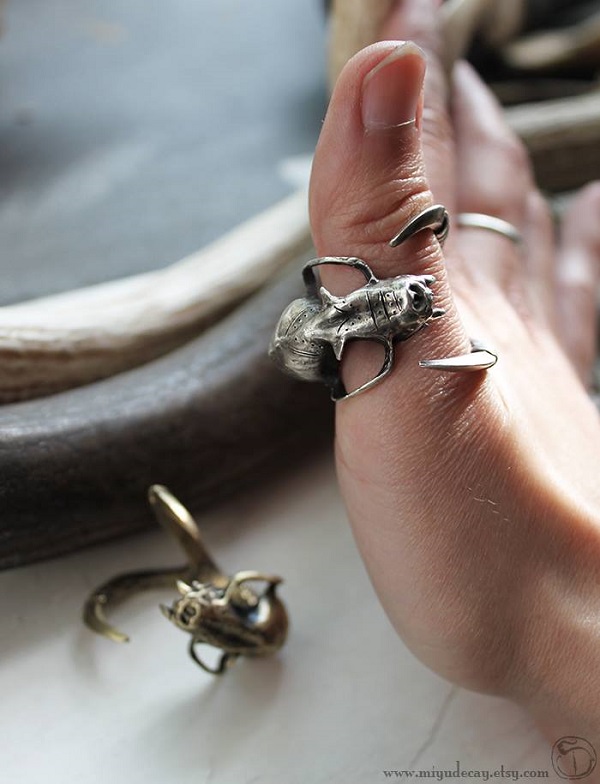 Death Grip Bat Skull and Crossbone Ring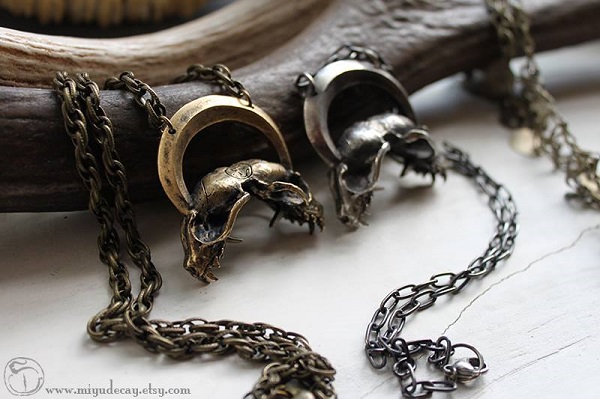 Immortalis Phoenix Necklace in Brass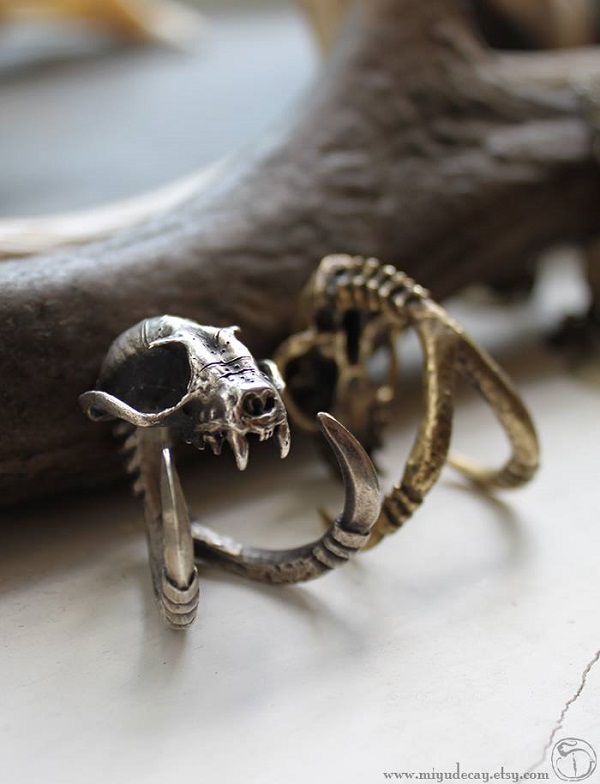 Death Grip with Talons Ring in Brass and Silver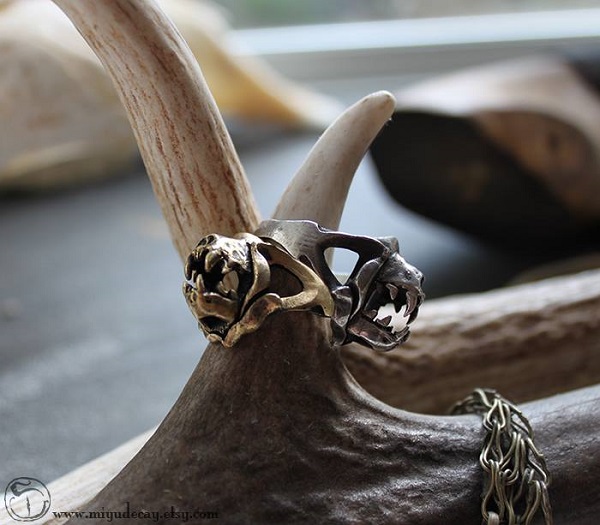 Charivari Ring in Brass and Silver