Jim McKenzie welcomes you into his imaginarium, but don't be fooled by the bright colours and soft, welcoming textures. In this world of Lost Magic, there are hidden depths to every sculpture. Jim McKenzie, pop-surrealist artist and animation commercial director, proudly unveils a world where beauty and sadness intertwine in harmony in his debut solo show at Copro Gallery in Santa Monica, USA. Every piece is delicately moulded, hand carved with care and painted with patience as his beings come to life; they are grand – and sometimes funny – yet ultimately each character is forever a misfit. As we prepare to experience the wonders of Lost Magic at Copro Gallery, I got in touch with Jim to see firsthand his thoughts on his upcoming debut solo show and find out more about the man behind the Magic:
Opening Reception:
Saturday, June 4 | 8-11:30pm
FREE ADMISSION
Exhibition Dates:
June 4 – July 2, 2016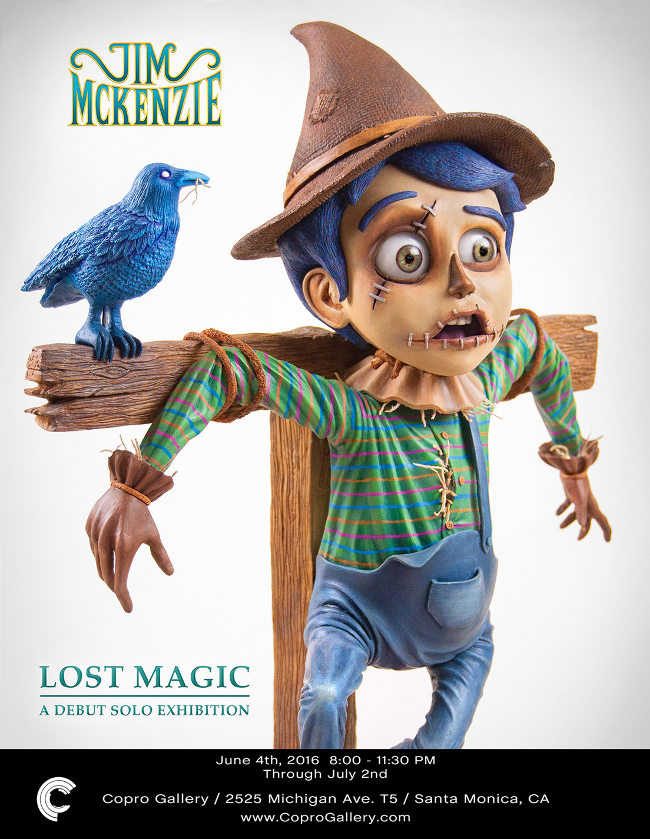 Bergamot Arts Complex | 2525 Michigan Ave. T5 | Santa Monica, CA 904046 – Tel: 310-829-2156
Hours: Wednesday – Saturday, 1-6pm
Jim McKenzie – "Lost Magic" Theatrical Trailer
Natalia: Thank you, Jim, for taking the time to chat to us. So how do you feel about your upcoming debut show?
Jim: I just hope people enjoy the work as much as I enjoyed creating it. It's a funny thing, you spend two years making a bunch of wacky sculptures in a small room by yourself and then they're released all at once for the world to see. I'm already getting reactions that I never would have expected. The show is a week away and I'm still trying to squeeze in some last minute details. I think once the show is over, I'll finally be able to get a good night's rest…and then wake up and plan out the next show.
N: Are there any particular pieces we should keep our eyes open for?
J: They're all very special to me, but my favorite piece would have to be the self portrait sculpture titled "Nest". There are just so many personal references that went into it. Death is always on my mind so that played a big role in its creation. It depicts drowning in one's own ego, while death lingers around the corner. There are three baby crows being born in a nest of my hair, but they are already dead before they can live. Just like us. I also really like the "Pugglepillar" piece because it's just utterly ridiculous (in a good way, of course).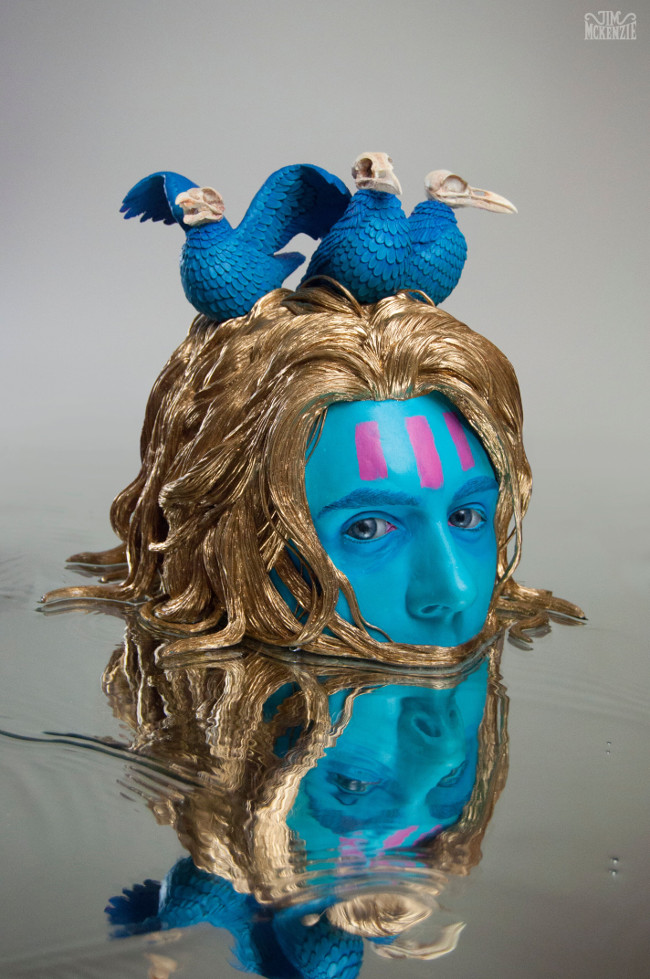 Nest
N: You paint both traditionally and digitally as well as producing these amazing sculptures – how did you develop all of these skills?
J: Of course, I started out drawing as a child but professionally my main medium was working in Photoshop. I went to school for visual effects and post production, which is what I still do professionally at Aardman Nathan Love, but through the cracks of time I sort of picked up acrylic paints. I figured if I knew how to paint in Photoshop I must know how to paint on a canvas. Around December 2013, I was asked to be apart of Chet Zar's "Conjoined IV" sculpture group show at Copro Gallery. I accepted the invitation even though I had never professionally sculpted before. That opportunity and the pressure that coincided with it spawned a great piece of art as well as a new found love for sculpting. After that I just couldn't put it down. And I've been able to grow as a sculptor within the last two years. I'm excited to see where it takes me.
N: Were or are there any particular seeds of inspiration that have helped mould your current style of art?
J: The main source that drove these pieces to completion was the feeling of entrapment. From time to time, I get an empty feeling inside, that I assume everyone gets. The best way to cure those types of things is to create art that gets them out of you. To the naked eye, my pieces can be viewed as colorful and bubbly, which sometimes they are, but they are always riddled with an underlining darkness. I think you can see it in their eyes.
The artistic styles that the pieces were created in were just natural outcomes to those feelings and they're all sort of different. Some more realistic, some cartoonish. "The Scarecrow" was probably the most stylized piece of the show and that's because it was heavily inspired by stop motion characters. The mentality behind that was if I were to have a stop motion feature, the scarecrow would be the main character… hence, he feels a bit more Disney than the rest of the pieces.
N: I'm noticing a certain dog cropping up a lot in your works…?
J: Yes, that's my Gordo, my fat little puggle. I didn't have any siblings growing up so a lot of that love and energy went into my pets.
He's a good pal to have around, (even though all he cares about is food and rummaging through garbage). I feel like there's more to him than what his small furry shell and one word barks can say. His own eyes are very expressive. I like to use him in my work and depict him as something more extraordinary than just an average dog.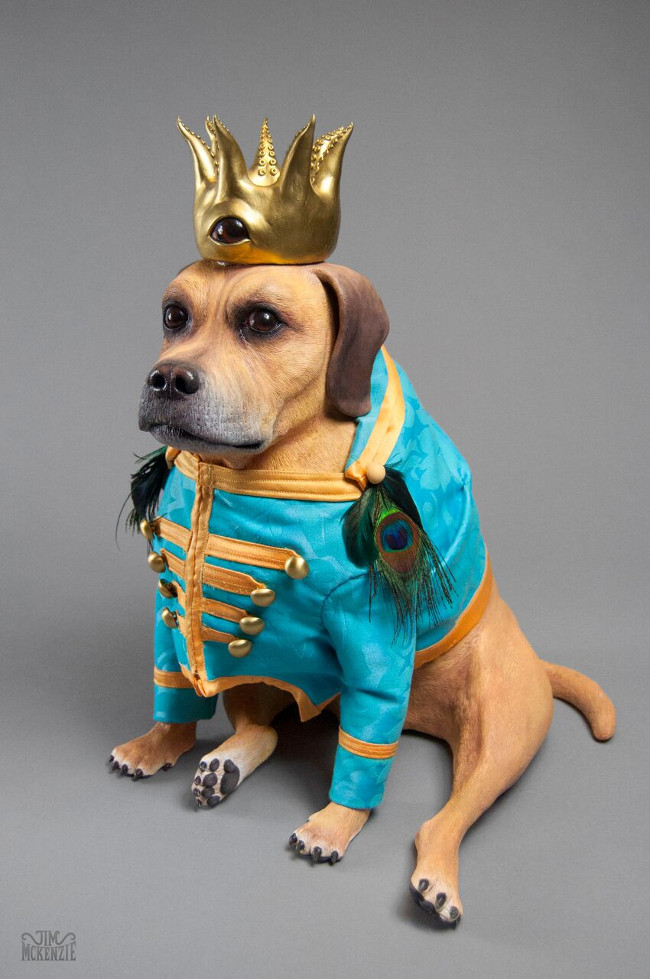 King Gordo
N: Some people see lowbrow art as a form of 'lesser' art…what would you have to say to those people?
J: I would say, yes that was the intention behind the name when Robert Williams coined the term as a contrast to highbrow art.
Over the years, it became so popular that pretty much anyone who makes art these days is now automatically thrown into the lowbrow pool.
Many people might categorize my work as lowbrow. Do I feel like my art is 'lowbrow'? Not necessarily. It's art that is true to myself. That's the richest art you can make and there's nothing low about it. Art isn't so black and white either. It's subjective. The scale of categorization in art is far beyond two basic eyebrow movements. Once we have a label on the genre of our art, it automatically tells people what to think of it. My art is simply an outcome of a good burst of energy, thoughts and feelings. People can categorize it however, they feel but for me there's no real name for it.
N: It's very refreshing to see an artist having some fun with the titles of their art as well as the creations themselves…
J: It's a fun time indeed. I think if you start with a good title, the piece will form itself out of it. I was on the train to work when I came up with the name Raccoonicorn, a character that has the mischievousness of a raccoon, with the grace of a unicorn.
Pugglepillar was another interesting juxtaposition. Just one of those moments when you're staring at your dog and he morphs into a giant caterpillar. That piece was the outcome of a quick daydream that was sought through to completion.
Raccoonicorn – final
N: Is there anything in particular you want your audience to come away with after seeing your sculptures?
J: Overall, I'd like people to have a good time with it. Hopefully they can draw some sort of connection and relate to the work just as I do.
N: Focusing more specifically on your craft, you seem to have a lot of tricks under your belt to create such amazing textures; are these something you have developed over time?
J: Actually, a lot of these new tricks were developed during the creation of this show. My visions were all clear but the techniques were just happy accidents. I had never sculpted wings, human hair, or played with textures and faux fur until I had to put together Lost Magic. It was a good time to explore thoughts and experiment with things I haven't tried yet which isn't the safest thing to do when working on a solo show but I think it worked out well.
N: I've got to say, we think it worked out extremely well! There is so much detail in your works – do you ever get tired of the amount of intricacy that's needed for every one of your sculptures? 
J: I love it. There's something so wonderful about spending months at a time slowly chipping away at a piece of clay that you know will eventually take the physical form of an idea that never existed. I've always been a sucker for intricacy and minute details. We now live in a society where one of the main platforms for art is the Smartphone. Artwork has transitioned from giant masterpieces to small, simplified pieces that are easily read within the speed of a thumb swipe. That is why I like working in three-dimensional forms. It can't be captured within a single image. You have to be there with it, explore it, and view it from different angles. Every piece of detail unveils a bit more to the story and the subject's personality. I don't think I'll ever get tired of it the amount of intricacy. If anything, I'll keep pushing it forward.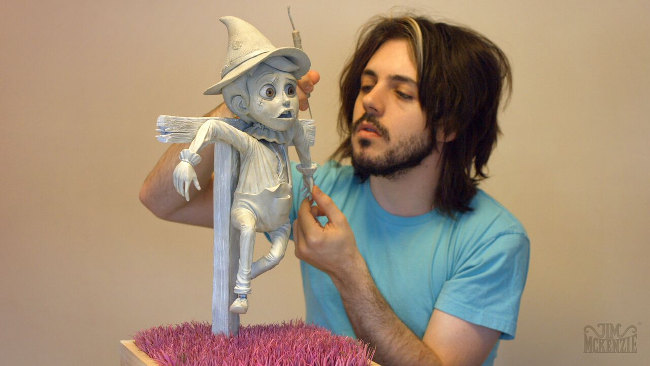 N: This kind of leads into my next question: How has your art helped you?
J: Well it helps a lot. Art is a therapeutic break from my reality but in a way it is my reality. On weekdays, I direct animated commercials at Aardman Nathan Love on top of teaching at School of Visual arts. When working on commercials you do get a lot of creative freedom from time to time, but there's also many guidelines you have to follow, styles you have to match, and clients you have to please. When I get home, I sculpt. I paint. I create things, fantastical things that are completely 100% my own thought. Subconsciously I feel that my art might be a personal rebellion from my day-to-day life but at the same time really balances everything that I do.
N: You've explained that this exhibition is named 'Lost Magic' because it "is for those who've lost touch with the magic this world has to offer and for those who still want to see it." Have you ever had that moment yourself where you feel you lost touch with the magic in this world?
J: I've been on both sides of the spectrum. Like any human, there are moments where I feel completely out of touch with the world and there are times where I have the strength to conquer. These various emotions are spread throughout the pieces.
N: We can't wait to see 'Lost Magic' in the flesh. But what about afterwards? Do you have any aspirations for the future?
J: A magical theme park would be nice. Or some sort of public interactive sculpture park that eventually becomes abandoned and someone makes a Buzzfeed article about how decrepit it is.
N: I'm feeling a world of possibilities out there! It's going to be interesting to see what happens next…
Jim McKenzie's 'Lost Magic' will be on show at Copro Gallery in Santa Monica from June 4 – July 2, 2016 with their the opening reception on Saturday, June 4, 8-11:30pm (free entry). For more information, you can visit Copro Gallery's website or call 310-829-2156.
Digital painting design for The Scarecrow
The Scarecrow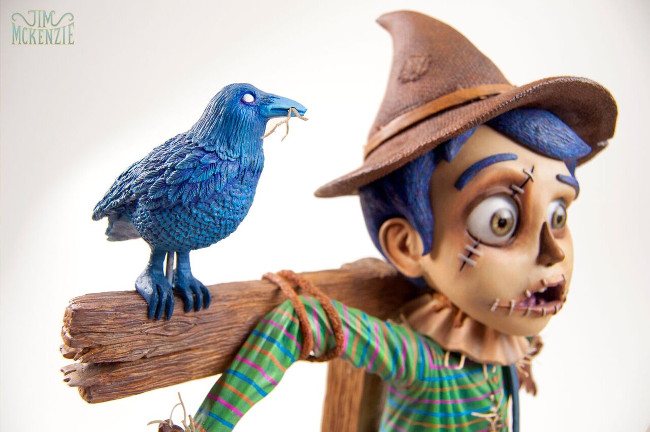 The Scarecrow – close up
Pugglepillar