Antler Gallery (Portland, Oregon) invites you to delve into a world where atmospheric beauty is interlaced with hints of melancholy. Whether you can experience this by viewing the works in person or by viewing their facsimiles on your digital screen, this definitely is an art exhibition you would want to know about.
Opening Reception:
Thursday, October 29th, 2015 @ 6 – 10 PM

Exhibition Dates:
October 29th – November 23th, 2015
2728 NE Alberta St.
Portland, Oregon 97211
There is something magnetic about Annie Owens' watercolor sketches. They simply draw the viewers in. The hauntingly vivid facial expressions of her subjects and the atmospheric quality of the world they live in build strong psychological impacts that hit you the exact moment you look at them.
Personally, I am obsessed with 'Chopper' (below). To me, the sense melancholy the sketch radiates is infused by a huge dose of whimsicality. The subject's posture and hands gesture mimic the tree branches behind her, and the tree branches in front of her face look like a pair of hands that either try to snatch her or push her away. Somehow, her facial expression and posture make me think of yūrei (Japanese ghost) in anime and "sneak-walking" cartoon characters. Is she a lonely creature who hopes to pass by unnoticed, or is she a malicious presence who haunts the world (and the people) who wounded her?
Also, I cannot help but wonder if the bird seen in 'Leaving So Soon' is the same bird seen in 'Carrion'. Should we take a macabre interpretation of things and assume the woman seen in 'Leaving So Soon' had a boating accident and the carrion was there to witness the incident? Or, perhaps, she jumped into the water while holding her weighted suitcase with her? Please feel free to share your interpretations with us.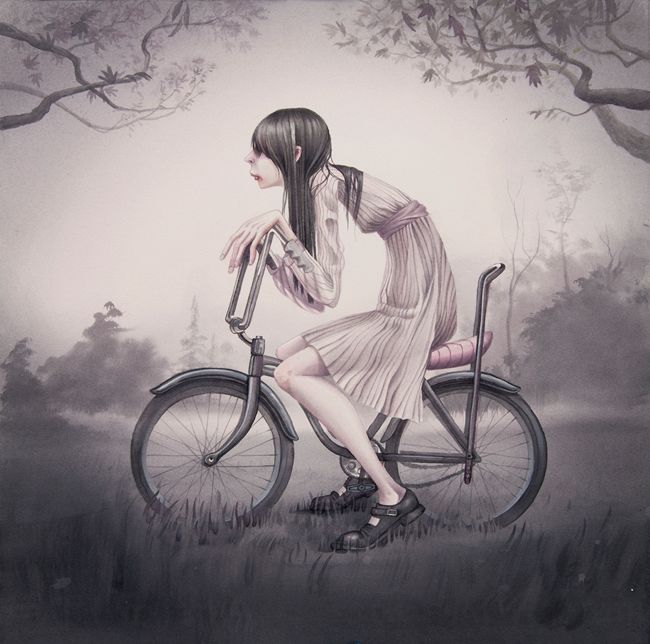 (Above) 'Chopper' by Annie Owens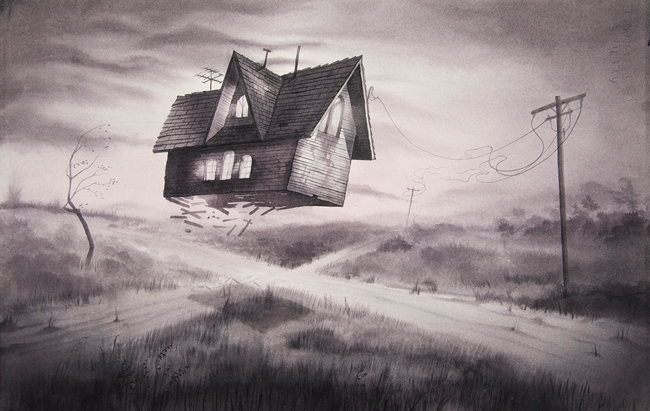 (Above) 'Crossroads' by Annie Owens
(Above) 'Leaving So Soon' by Annie Owens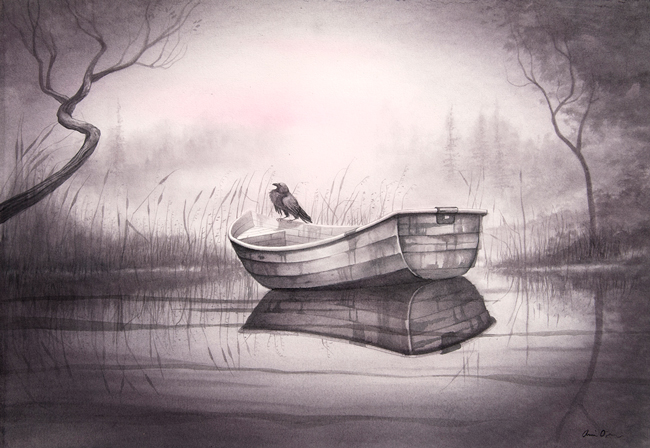 (Above) 'Carrion' by Annie Owens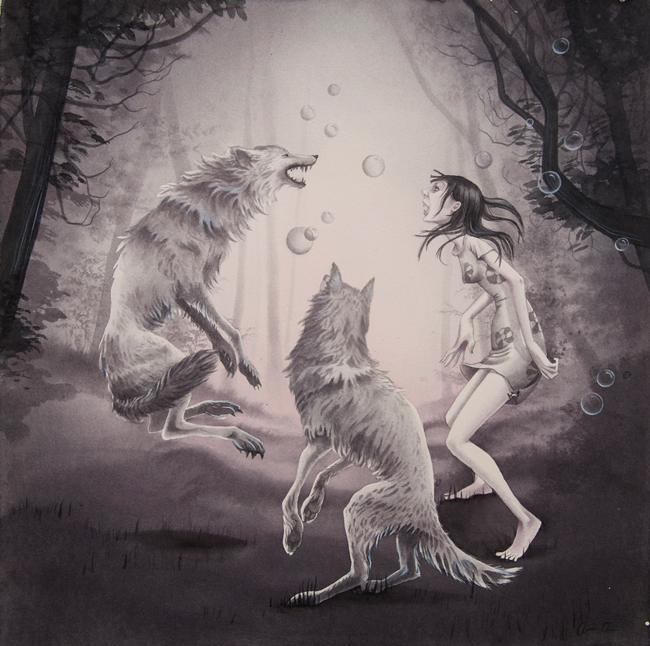 (Above) 'When the Moon is Full' by Annie Owens
Craww's works – on the other hand – stun me with their ornate intricacy and unmitigated beauty. There are so much details to savor. And, while savoring these high level of gorgeousness, we can't help but notice the darker aspects of his works: The impaled bodies of the subjects, the grief on their faces, the claw-like hands of the women, the skulls, and black birds. There are so much questions to be asked. Since the title of each work doesn't give more than a sliver of hint about the meaning of the work, everything is open to interpretation.
If you'd like to read a more in-depth article on Craww and see eleven of his works printed in true colors on glossy papers, pick a copy of the eight issue of beautiful.bizarre.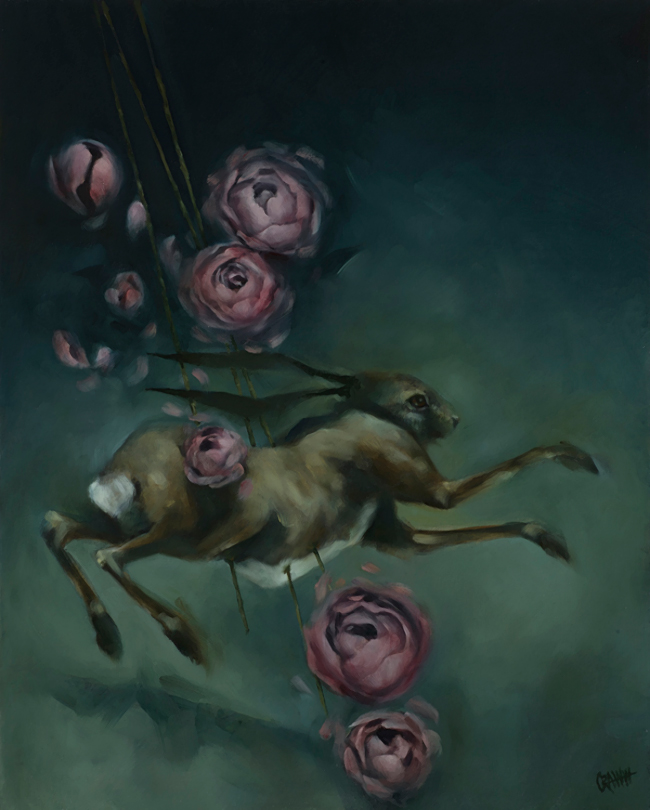 (Above) 'Woven' by Craww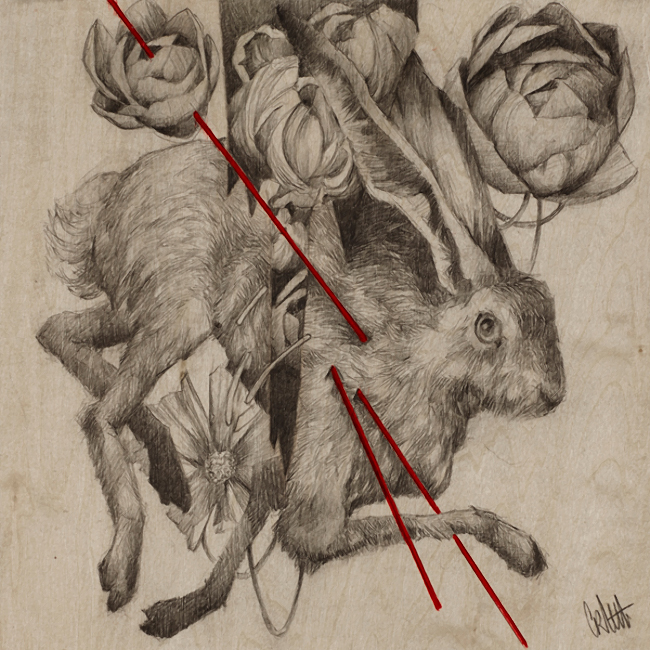 (Above) 'Weave' by Craww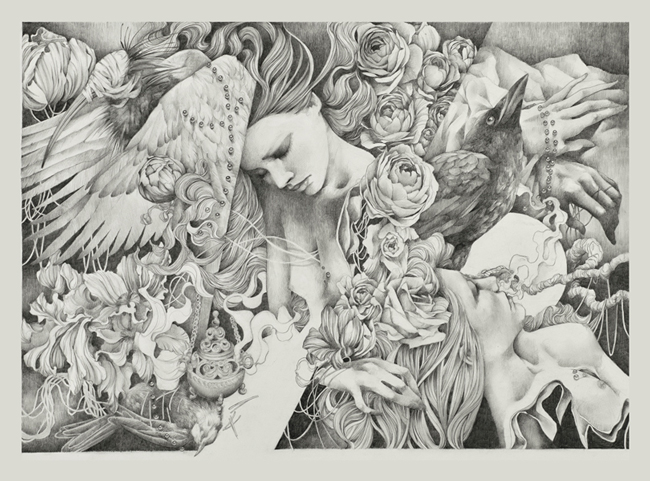 (Above) 'Cathedral' by Craww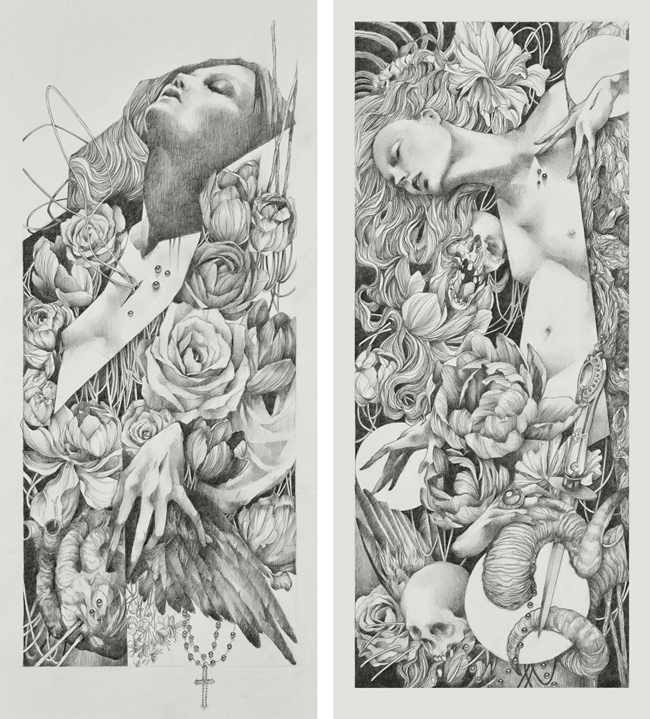 (Above) [L] 'Litany', and [R] 'Spire' by Craww
(Above) 'Dwindle' by Craww