On August 15, 2015, Modern Eden Gallery proudly presents 'Fighting Spirit', the highly anticipated solo exhibition of sculptress Erika Sanada. Steeped in creative curiosity, Erika's new collection of whimsically eerie creatures wanders boldly through an emotional labyrinth. Rendered with precision and imagination, each ceramic piece imparts a personal journey as a means of symbolizing and communicating the many corridors of her "sensitive mind".
Read Modern Eden Gallery's recent interview during their studio visit with Erika. And get ready for her upcoming editorial in beautiful.bizarre issue 010 coming in September! Pre-order before midnight 21 Aug 2015 EST to receive 20% off the retail price via https://beautifulbizarre.net/product/pre-order (pre-orders not available for all countries).
"My sculptural work explores my anxieties. Early childhood experiences drove me to doubt my self-esteem, developing into a state of worry and distress. To cope with these emotions, my parents gave me a dog and he became a great companion. I use the imagery of dogs in my work to represent the joy in life. However, underlying that happiness, I incorporate odd features into my dogs like extra teeth or ears to symbolize those lingering anxieties. Much like myself, my work is struggling to find a balance between joy and sorrow."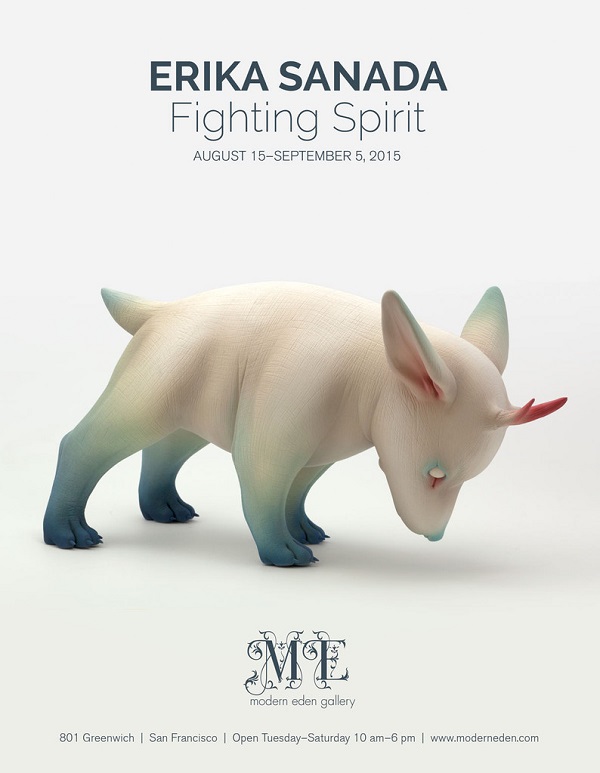 Opening Reception:
August 15, 2015 |6–9 PM
**Artist will attend
Exhibition Dates:
August 15–September 5, 2015
801 Greenwich Street | San Francisco, CA 94133
About the Artist:
Erika Sanada was born and raised in Tokyo, Japan. Her early inspirations stemmed from creatures and characters of Horror films. In 2009, she received her BA in Communications and Design at Nihon University College of Art in Tokyo. After working as a commercial illustrator and a movie studio makeup artist, Erika moved to San Francisco where she received her MFA in sculpture. Since Sanada's debut solo show at Modern Eden in 2013, her artwork has been published in Hi-Fructose Magazine, Bl!sss Magazine, and Beautiful Bizarre Magazine.