Born in Pontypridd, Wales in 1975, Los Angeles resident Richard J Oliver invokes an unforgettable ethereal perspective with his use of light, color, and detailed composition. Within this intense depth of field, the fragile emotional state of his wide-eyed subjects invites viewers on journey into the eerie realms of childhood reverie and parenthood anxiety. These unknown paths are sure to be bumpy.
With each brushstroke, his contemporary paintings act as a conduit between bliss and despair. Like sirens of hope and loss, the formidable childlike gaze is haunting.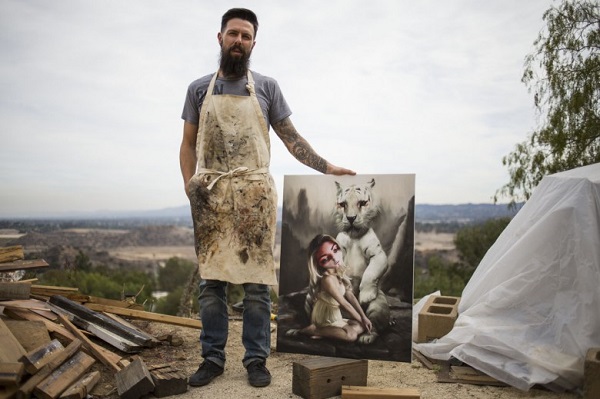 "I've discovered the common thread in my paintings is not simply that I paint childlike figures, but it's the context in which those characters are placed. The works are all about survival. The characters are indeed sometimes portrayed in a bad situation or condition. My intentions are not to celebrate, glamorize or beautify the horror of their condition but to depict their struggle, always with a light at the end of the tunnel."
As if a freefall into imagination, Richard's ominous tones and pensive concepts form a collection of works teeming with melancholic wonder and surreal beauty.  From environmental issues to social tribulations and apocalyptic survival to the natural instincts of fatherhood, these universal themes emerge from the canvas with enigmatic storytelling.
With solo and group exhibitions, as well as private clients throughout the world, Richard J Oliver's work has exhibited in museums and galleries including Known Gallery, Los Angeles, Museum of Modern Art, Wales, Attic Gallery, Portland, DAX Gallery, Costa Mesa, Swansea and Rhondda Heritage park permanent Mural.