Beautiful.bizarre Magazine had the honor of interviewing Maria Teicher, a fine artist with a focus on detailed portraiture. Maria renders her subjects thoughtfully and intricately while sometimes incorporating dark imagery (plastic, braids, lace veils) to create a deeply compelling narrative with personal symbolism. While she is competent and trained at drawing from life, Maria uses her passion and talent for photography to capture reference images to take a moment in time and transfer it to canvas or paper. The time and delicacy put into these meticulously rendered portraits is evident. Viewers are invited to take a glimpse into an intimate moment and are invited to feel a connection. These snapshots aren't hazy, glorified depictions of her subjects, they're an honest and authentic likeness begging for viewer interaction and even an application of one's own experiences. The realness is compelling and perhaps unsettling (in a good way).
Most importantly, it is our honor to announce some big news for this stellar featured artist. Currently, Maria is preparing for an exciting milestone coming up in October of 2015- her second solo show at her representing gallery Arch Enemy Arts in Philadelphia, Pennsylvania. This show will exhibit the compelling plastic veiled portrait series along with a new portrait series featuring her 'muses'. She is thrilled about this announcement and ensures anyone who wishes to attend the show is in for a treat and will experience her most cohesive body of work to date. If this show follows suit with previous work this artist has produced, it is sure to be impressive.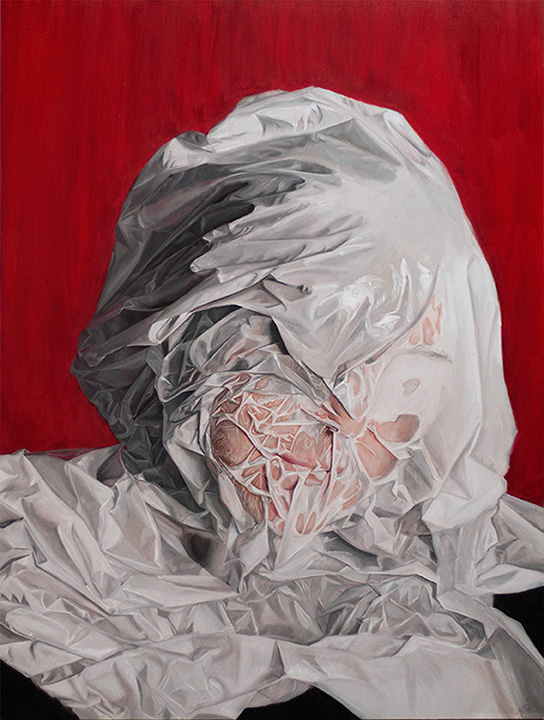 As you will read in the upcoming interview, Maria presents herself as more than just a creator. She juggles having a photography business, being a wife and cat mom, and artist while creating an honest online presence for her followers. This honesty makes her relatable and perhaps lessens the space between the artist's works and the 'self'. In her blog entries, she presents her life as a contemporary creative without a glorified filter, shedding light on the trials and tribulations she (and others) encounter while being an emerging artist trying to "make it" in the art world. The notion that the life of an artist is a glamorous and easy one is eradicated. The truth she presents about creation is that the hours can be long and grueling, there can be roadblocks and setbacks but when dreams and goals come to fruition, that makes the success maybe even a bit sweeter.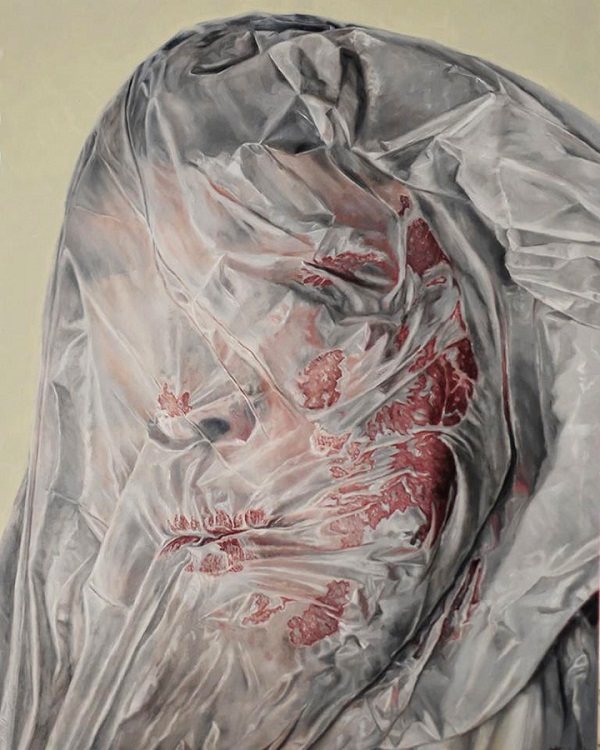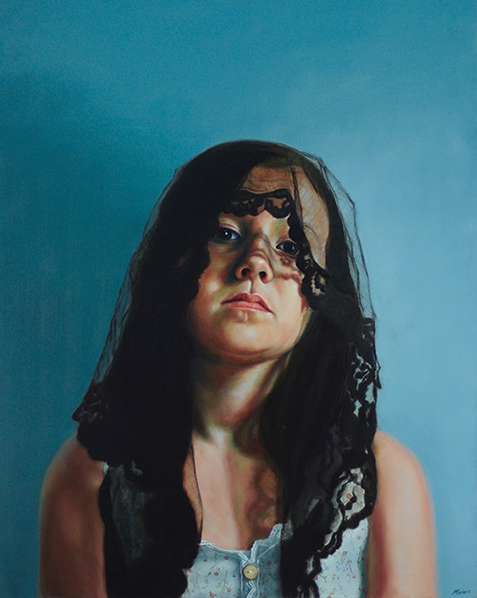 An Interview With Maria Teicher
Facebook | Instagram | Twitter | Website
On top of being a fine artist, you have a photography company called EverydayEros Studio where you do portrait and wedding photography. How has being a photographer shaped the way you create art and vice versa?
Wedding photography came along (happily) by accident. I was shooting a lot of portraits and was asked by a good friend if I would ever capture a wedding. Beforehand, I checked out portfolios such as olgatopchii.com and some Instagram accounts, just to get some inspiration before I went to shoot my first wedding. I went for it and was hooked after the first one. Six years later, it's become a happy and healthy part of my creative life. It allows me to pause and appreciate making art completely for another person. This contrasts the very personal, and often dark, meanings and ideas behind my paintings. Photography and painting have always influenced one another for me. I'm extremely pulled to both mediums and what they offer up to one another. Photography allows me to capture a singular moment, document a small piece of history, and stop a person's breath (sometimes while in plastic). Painting allows me to take that moment and bring life back into it. My artistic practice couldn't exist if I didn't have both. I have to mention that it also wouldn't exist as it stands today without learning how to paint and draw from a live model. When it comes down to what I love doing, the main string tying everything together is storytelling. I am both a photographer and painter by nature and couldn't even fathom giving one or the other up. Every time I pick up a camera, I learn something about painting and every time I pick up a paint brush, I learn something about photography.
What classical and/or contemporary artists have inspired you to create the work you do? ?
There are so many artists I am inspired by. This question is always difficult to answer. It also changes as the years pass. My favorite piece (lasting from childhood to today) is Princesse de Broglie by Jean Auguste Dominique Ingres. Every time I find myself in front of that painting, my heart stops. Other artists I'm influenced by include (but are far from limited to) Hans Holbein, Jacques-Louis David, Hieronymus Bosch, Jan Van Eyck, Albrecht Durer, Thomas Eakins, Man Ray, Rene Magritte, Meret Oppenheim, Jenny Saville, Edward Hopper, and Lucien Freud. In recent years I have added Vincent Desiderio, Steven Assael, Shawn Barber, Christian Rex van Minnen, Jean-Pierre Roy, and many more contemporary artists. I could go on for a very long time with both classical and contemporary painters. I absolutely love art; making it and viewing others' work.
Can you tell our readers how you "get in the zone"?
I get myself physically in the studio every single day. Doing that helps me to separate my outside life from studio life and get right into it. From there, depending on how intense the work I have to do is, I'll listen to NPR, a documentary film, bad guilty pleasure television shows, or my favorite music. On my weekends, when I have the most consecutive hours to work, headphones are in and it's just my music catalog, my work, and I. Doing that puts me right where I need to be to be efficient and remain "in the zone".
Specifically, how do you get yourself inspired and motivated and how do you prefer your surroundings while you work?
Inspiration is never something I've had to wait to come to me. I've always been a collector, writer, sketcher, observer, reader, and researcher. An idea is always present (however, not all are good). On the rare occasion that there is a dull moment or I feel like I've fallen flat on what I'm trying to say, I'll keep myself active by drawing portraits of people I know. Luckily, being a photographer means I'm never short on reference material for these occasions. There are a million stories behind the eyes of a person. Sometimes just rendering a friend to their likeness will inspire a new painting. The process gets me thinking about them, how we met, and ideas we've shared. As far as my surroundings go, I work out of an extra bedroom in my house. When I'm in there I am happily surrounded by my art materials, my books, and usually one of my two black cats.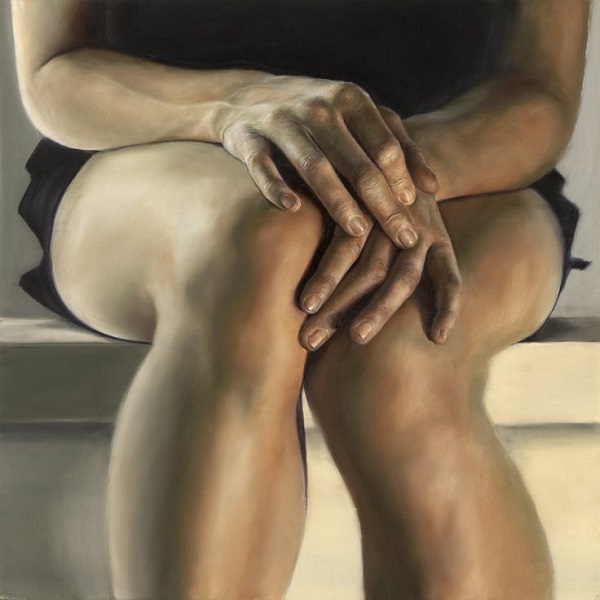 In my opinion, your work with the detailed plastic bags over heads, are incredibly striking. How did this series come about and what is the "meaning" behind it?
The series initially started off as a diptych about my husband's life. He is a musician and also works as a project manager at a financial institution. He's had great success in both but each can be extremely suffocating. One color of plastic represented him in the business world and the other as a touring musician. It escalated from there when I started researching the deep (and dark) symbolism of veils and grew more and more inspired by veiled sculptures. They're ultimately about how we see ourselves, how the world sees us and how much of ourselves we allow to be seen. A lot of my work deals with metaphoric masks and this plastic-veiled series is no exception. They just so happen to be more about the darker parts of hiding who you are and how suffocating that can be.
What's the biggest risk you've taken as an artist??
The only real risk I feel like I've taken has been over the last year. I've decided to start speaking my personal truths about being an artist. I've been writing about it and shared my first piece on my blog with more to come. It's scary to really talk about not being able to be a full time artist, the amount of debt myself and so many others are in, the ways we really pay our bills, etc. A vast majority of the artists I know feel that galleries, writers, curators, etc. won't take them as seriously if they don't at least pretend to be full time. It's a risk to my career to tell the truth about my 9-5 and how hard I have to work to be producing as much as I am. But, I'm choosing to pull back my own plastic veil on this issue. The more I write and share, the more we'll see how this risk plays out.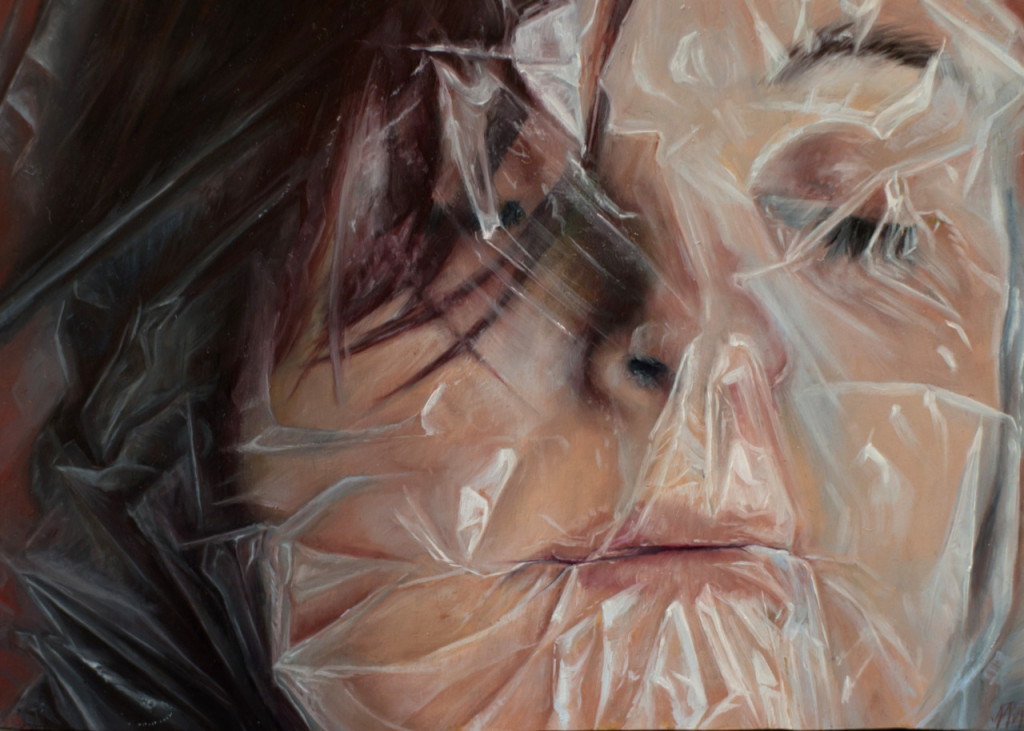 What is the role of social media/networking has played in your career as an artist??
I've found such an incredible community because of social media. I am forever grateful to Instagram specifically because of who I've met on there and all the opportunities that have arisen because of it. It's not only taught me about the community I'm a part of, but has encouraged me to be a mouthpiece for my techniques and processes. When it's finally time for me to be a professor (a long-term goal for me), I'll have the community I've built through social media to thank for asking me the "hows" and "whys" about my progress. It's helped me think about my work instead of just doing it.
What are your short-term and long-term artistic goals??
My long-term goals include being able to create work full time. It's a big feat but one worth striving for. The extra time I could spend each day in the studio would do wonders for what I practice and produce. This year's goals include making the two series I'm working on extremely strong. I've spent the last few years really learning about the processes and how to achieve certain desired aesthetics. I'm extremely focused right now and want to make sure my portfolio reflects that. 2014 was the year I found my voice. 2015 is presenting itself as the year I get to start speaking out loud. With that said, setting out to make my strongest work to date has become even more important because of some news that I've yet to share until right now. This Fall I will be exclusively exhibiting these new works with Arch Enemy Arts for a solo show!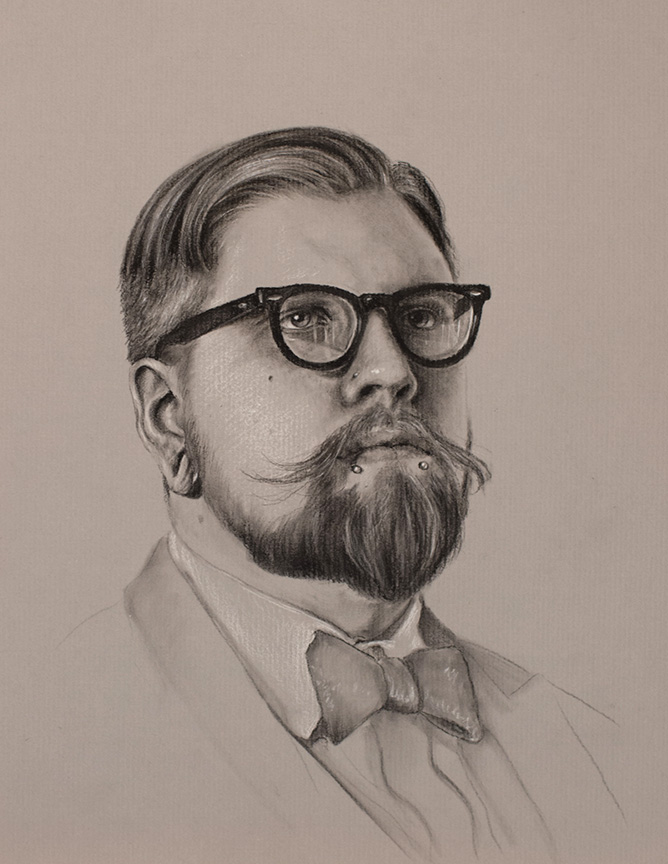 You've written how much you love living in Philadelphia. What is captivating about the city to you and how does residing there affect your art??
It's no surprise to anyone that knows me how much I love this city. The small art scene we have is warm and welcoming. Since moving back from New York (the day after I graduated from my MFA program), I'm in awe of how many creatives I've met and befriended. Everyone here works really hard and is beyond passionate about what they do. This city has enough culture to keep us in it and happy, while remaining inexpensive enough so we can stay, create, and be a healthy part of it's culture. This city also led me to finding Arch Enemy Arts Gallery and that has greatly changed my career trajectory.
You're currently teaching a class. Can you tell our readers more about that???????????
The class is on March 22nd at my gallery (Arch Enemy Arts) and presented by The Art Is Not Dead and Dr. Sketchy's Philly. It's a full days' session where I'll be going over photography techniques to get great reference photos, as well as a 4-hour drawing session with two live models. I'll be covering basic anatomy, tonal value, etc. I'm really excited to be teaming up with Dr. Sketchy's Philly on this. They're such a wonderful part of the Philly art scene! You can find more information about my March 22nd class here: http://www.theartisnotdead.com/dr-sketchys-philly-with-maria-teicher/