It is time to celebrate original art at its best! Returning to Copro Gallery in Santa Monica is the 16th annual BLAB! exhibition. The show opened this Saturday September 11 and features an exquisite selection of modern day artists in Fine Art and Illustration, many sharing new works. No set theme means that each of the 60+ artists have had the freedom to showcase their individual styles to the fullest. What better way to enjoy some of your favourite artists and discover something new?
The exhibition is once again curated by Monte Beauchamp, awarding-winning art director, artist and creator of the notable BLAB World. The 2021 show has been a genuine homecoming for Beauchamp, who was forced to cancel last year's trip due to his studio flooding and COVID-19.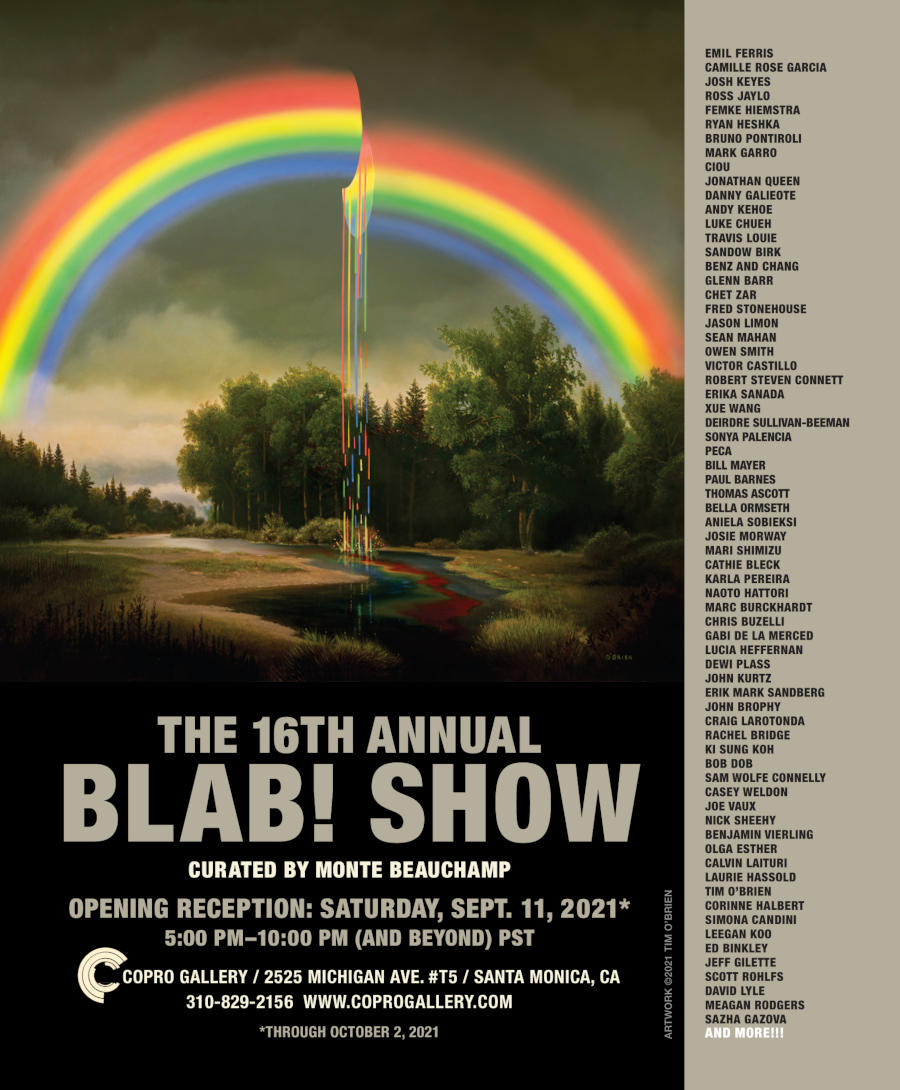 Exhibition Dates: September 11– October 2, 2021
Copro Gallery
Bergamot Station Arts Complex, 2525 Michigan Ave, Unit T5, Santa Monica, CA 90404
Contact: Gary Pressman, Gallery Director Copro Gallery at [email protected] or tel: 310/829-2156.
Over 60 Exhibiting Artists:
Andy Kehoe, Bella Ormseth, Benjamin Vierling, Benz and Chang, Bill Mayer, Bob Dob, Bruno Pontiroli, Calvin Laituri, Camille Rose Garcia, Casey Weldon, Cathie Bleck, Chet Zar, Christopher Buzelli, Ciou, Corinne Halbert, Craig LaRotonda, Danny Galieote, David Lyle, Deirdre Sullivan-Beeman, Dewi Plass, Ed Binkley, Emil Ferris, Erik Mark Sandberg, Erika Sanada, Femke Hiemstra, Fred Stonehouse, Gabi de la Merced, Glenn Barr, Jason Limon, Jeff Gillette, Joe Vaux, John Brophy, Jonathan Queen, John Kurtz, Josh Keyes, Josie Morway, Karla Pereira, Ki Sing Koh, Leegan Koo, Lucia Hefferman, Luke Chueh, Mari Shimizu, Mark Garro, Marc Burckhardt, Matthew Schommer, Nick Sheehy, Olga Esther, Owen Smith, Paul Barnes, Peca, Rachael Bridge, Renee French, Robert Steven Connett, Ross Jaylo, Ryan Heshka, Sandow Birk, Sazha Gazova, Scott Bakal, Scott Rohlfs, Sean Mahan, Simona Candini, Sonya Palencia, Teresa James, Tim O'Brien, Travis Louie, Victor Castillo.
"I can't believe it's our sixteenth year in a row," shares curator Monte Beauchamp.

Believe it or not, the key incentive as to why I keep organizing these annual BLAB! events is to be able to view the original work by our masterful contributors in person. My only stipulation in regards to content is that their piece be square.
From the press release:
BLAB! began as a self-published, black-and-white midwestern comics fanzine published in 1986. After its second issue, it was picked up by the independent comics publisher Kitchen Sink Press and relaunched as a trade paperback on a national scale. BLAB! featured comics by Chris Ware, Dan Clowes, Charles Burns, Richard Sala, Joe Coleman, Drew Friedman, and Zap artist Spain Rodriquez. In 1994, the seventh issue won a HARVEY AWARD (named after Harvey Kurtzman, creator of MAD) for Best Comics Anthology.
"But then my vision for the digest entirely changed." Monte explains. "I reformatted BLAB! as a 10-inch square colour anthology mixing the art form of comics, illustration, and contemporary painters together, having no idea as to what the response would be.

The new BLAB! took off like a bottle rocket. Within four months, the 5,000-copy print run had completely sold out."
"I began commissioning covers by Mark Ryden, Gary Baseman, and the Clayton Brothers, with interior art by the Lowbrow / Pop Surrealist painters. This led to a Los Angeles-based exhibition with Gary Pressman & Greg Escalante of the now legendary Copro Gallery. Gary rented out Track 16 at Bergamot Station in Santa Monica and on opening night over 1,000 people turned out. It was exhilarating on the one hand, but overwhelming on the other. I was being pulled this way and that by fans of this art form to the point where I almost ducked out. Never before in my life had I experienced an art event such as that. Looking back on that time, when people ask what it was like, I tell them: Now I know what it feels like to be treated like a Beatle."
About Curator Monte Beauchamp
Monte is an award-winning art director and graphic designer. He has served as a juror for American Illustration, The Society of Illustrators, Communication Arts, and Lürzer's Archive. He is the founder and editor of the graphics-illustration-comics annuals BLAB! and BLAB WORLD as well as many other books. His books include A SIDECAR NAMED DESIRE: Great Writers and the Booze that Stirred Them (co-authored with Greg Clarke). MASTERFUL MARKS: Cartoonists Who Changed the World and KRAMPUS: The Devil of Christmas, among others. They have been featured in Entertainment Weekly, Buzz Feed, Vanity Fair, The Chicago Tribune, The Huffington Post, The Believer, Print Magazine, and Publishers Weekly. In 2012, Beauchamp was awarded the Society of Illustrators prestigious RICHARD GANGEL ART DIRECTORS AWARD. This was for outstanding contributions in promoting and advancing the art of illustration.
Copro Gallery Social Media Accounts