You will have heard of Yasha Young, a central figure in the urban contemporary arts movement in the modern age. Her passion for innovative and thought-provoking art has led her across the world. Involved in the international art scene as a curator, innovator, project developer and high-profile collection manager, Yasha is unstoppable.
We have been honoured to have Yasha Young Projects sponsor the Sculpture Award of the Beautiful Bizarre Art Prize 2020. A high-profile influencer behind innovative ventures such as URBAN NATION (Berlin) and Strychnin Gallery (NYC, London and Berlin), her professional biography is well known. But what started this path? We wanted to share with you more about the woman behind the projects. Read ahead and enjoy.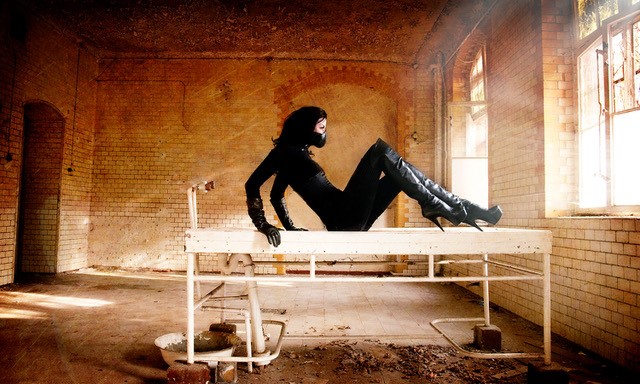 A picture is worth a thousand words
I'm always a little uncertain what to do when I am asked to write about myself. My job is to tell the stories of others to promote their work and elevate their talents. When it comes to me, I'm not sure what to write, other than to tell you a little story about my adventures and findings in art that made me who I am today. To share my hunger for knowledge and my drive to show the beautiful power of art as a community building, life changing tool – including its pitfalls and challenges. Let me begin with this image of myself.
I was asked to include a picture. I had several press images ready and available, but this is not who I am. Above is a photograph of myself that I love – one that the kids in my life will be shocked about and later, hopefully, think I was a cool chick (smiles). I love this image of me taken by photographer Annie Bertram. We spent a day in an abandoned children's hospital in the eastern part of Germany shooting a cover for a goth magazine.
It's also a reference to my love affair with Cosplay and LARP in the SCI-FI avant-garde realm, and Aeon Flux from the 1991 animated television series on MTV, Liquid Television. A secret agent: sexy, strong and yet fragile, skilled in assassination and acrobatics and constantly self-reflecting. What's not to aspire to? The German Expressionism style that made up the futuristic universe that acted as the backdrop for the story, dated 7698 AD, and the references to the Berlin Wall fascinated me, as well as the dystopian aftermath of a global environmental catastrophe.
The importance of strong female characters
The strength of female characters and my passion to thrive as a strong female leader in my field was a driving force throughout the whole decision-making progress in my career. Through this role, I wanted to provide support to future female leaders and artists along the way. We are far from done, and inequality and prejudice still keep rearing their ugly heads across the world.
Neil Gaiman's Sandman
Another artist who greatly impacted my aesthetic eye and creative development as a curator was Neil Gaiman. When I read his Sandman series in 1989, I adored his character "Death". Death was a goth girl. She represented the end of everything but loved the good and the start of life more. She was pragmatic, but thoughtful and caring. There was this quote by Neil Gaiman:
Death is the only major character whose visuals didn't spring from me; that credit goes to Mike Dringenberg (co-writer on the series). In my original Sandman outline, I suggested Death look like rock star Nico in 1968, with the perfect cheekbones and perfect face she has on the cover of her Chelsea Girl album.

But Mike Dringenberg had his own ideas, so he sent me a drawing based on a woman he knew named Cinamon Hadley; the drawing that was later printed in Sandman 11. I […] had the immediate reaction of, "Wow.

That's really cool." Later that day, Dave McKean and I went to dinner in Chelsea at the My Old Dutch Pancake House and the waitress who served us was a kind of vision. She was American, had long black hair, was dressed entirely in black — black jeans, T-shirt, etc. — and wore a big silver ankh on a silver necklace. And she looked exactly like Mike Dringenberg's drawing of Death.

Quote via post-punk.com
After reading that, I dove right into the punk and goth culture and fashion of London and NYC. And, of course, comic books and comic conventions in people's old trailers or parking lots!
I started collecting toys and first editions of everything goth, punk, steampunk and dystopian romance. And now, decades later, I'm looking forward to the Netflix series of "Sandman", where Neil Gaiman will serve as an executive producer.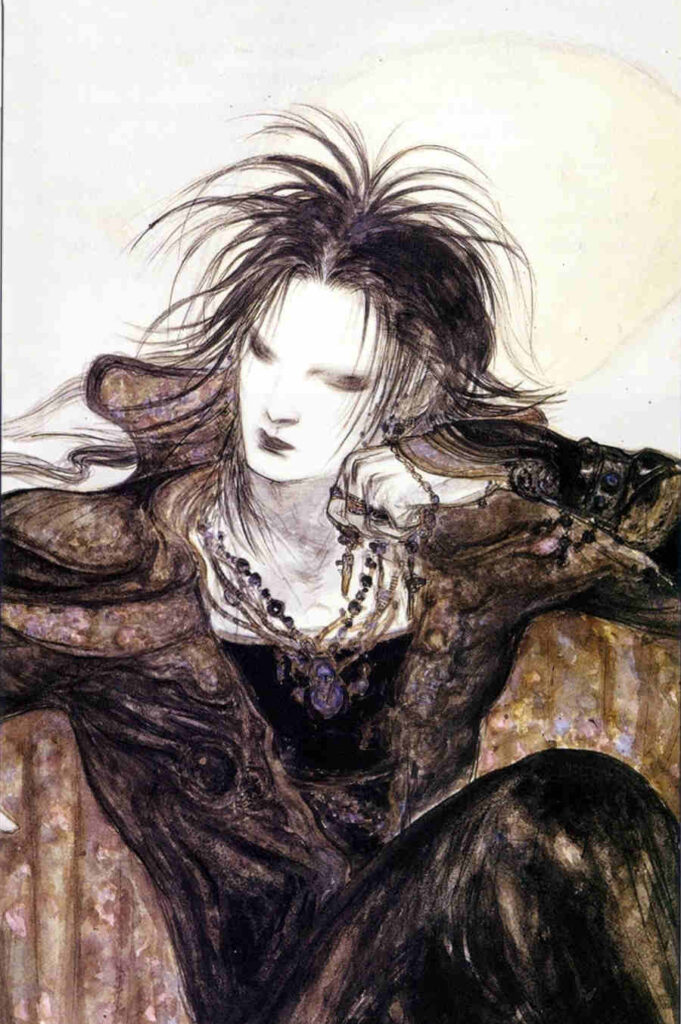 The world of comics and anime
The Sandman was advertised as "a horror-edged fantasy set in the DC Universe" in most of DC's comics, dated 1988. The below 1"x17″ DC Comics artboard has Mike Dringenberg's pencilled original art, with inks by Malcolm Jones III, for page 33 of "Sandman" Vol. 2 #14.
This was published by DC's Vertigo imprint in March 1990. The artwork sold for $14,278.00 in 2019.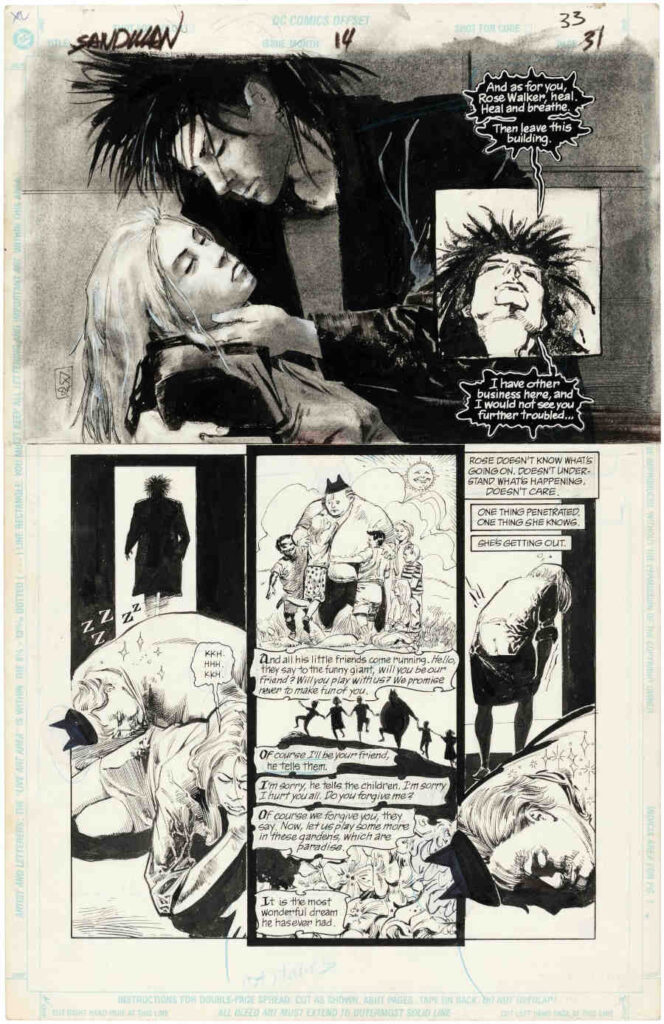 My love for the world of comic and anime continued when I discovered the work of Hayao Miazaki in 1997. It started with the epic fantasy film "Princess Mononoke" and followed by "Spirited Away" and "Howl's Moving Castle". San, the wolf girl, (or Princess of the wolves that raised her), and one of the lead characters in Mononoke says: "I am not afraid to die! I do anything to get the humans out of my forest.".
The messages of environmental stewardship and the use of a complex female character, as well as her vulnerability, failure and the way the movie deals with the facts of death, are all so moving.

It inspired me even more going forward. Comic culture and anime had found their way into my creative heart for good.
Kami-no-michi
I worked in Tokyo for six months. There, I started reading up on Shinto religion, also known as kami-no-michi, which originated in Japan. Some of the main beliefs are that there is no absolute right and wrong, and nobody is perfect. Shinto is an optimistic faith, as humans are thought to be fundamentally good, and evil is believed to be caused by evil spirits. Consequently, the purpose of most Shinto rituals is to keep away evil spirits. I try to live like that in my life.
The harmony of music and art
Music has always played major part throughout my career. I had the pleasure to work with Korn to create their album cover, pose as robot girl on tour with Aerosmith, worked with Maxim from the Prodigy and organized an on-stage art live paint session during an Amanda Palmer concert to name a few highlights. But nothing struck me as much as meeting Jamie Hewlett and his creation, Tank Girl.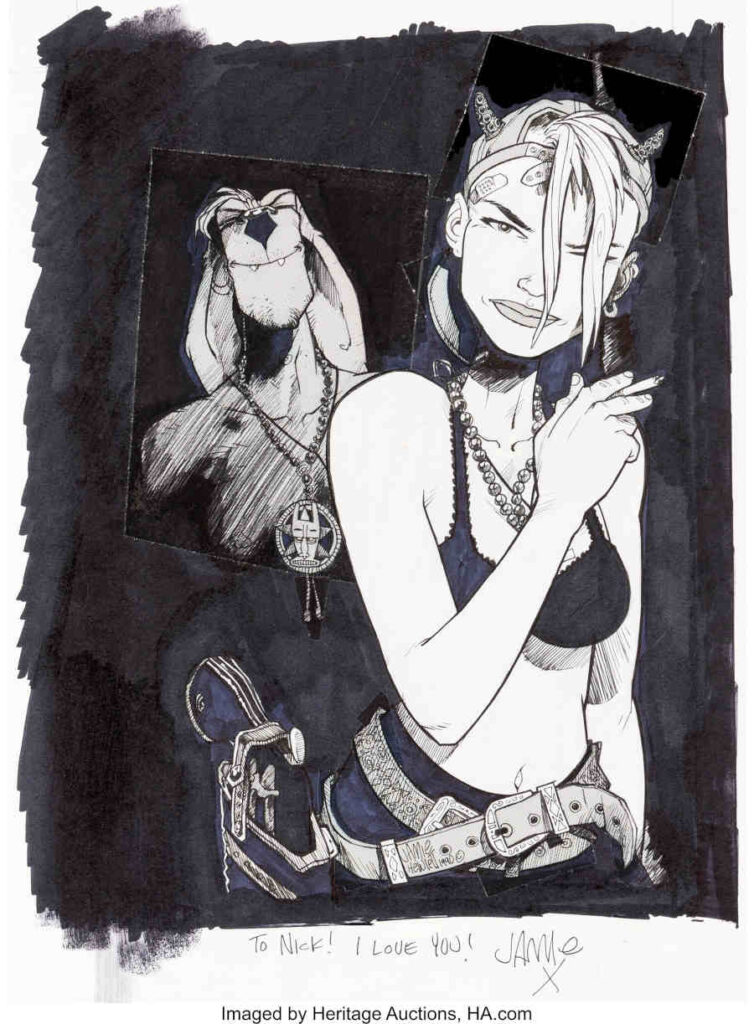 A new style of female character and the aesthetics of his work drew me right in. This was later followed by my instant love for the Gorillaz and the amazing concept of a virtual band. I highly recommend watching the Documentary Gorillaz: Reject False Icons.
For me, Music and Art belong together. When I founded and built Urban Nation in Berlin as the first Museum for Street Art and Urban Contemporary Art, it was clear that I would design a special venue. This house was capable of not only becoming a space for art; it would be a space for music and concerts too. I decided to partner with my long-term colleagues and friends from Lollapalooza Festival. They were planning to launch the global festival in Berlin. For years, I had the pleasure of creating the Art and Exhibition section in different areas of Berlin where the festival was held. Interestingly, each year it was held in a different park – even the iconic Berlin Tempelhof airport.
We paint the music you love to hear
Under the headline, "we paint the music you love to hear", I partnered up with Iceland Airwaves Festival in Reykjavic and my sister in arms, Henny Frijmanns, from Klapp Management. We brought together artists and bands on the walls of the beautiful town of Reykjavic. A musician or band wrote a piece of music, or gave an artist I had invited to participate lyrics to a song or a poem. In turn, the artists brought the piece to life in his work on the wall. One of my favorite works included Deih XLF who worked with the amazing local band VÖK and their song "Waterfall".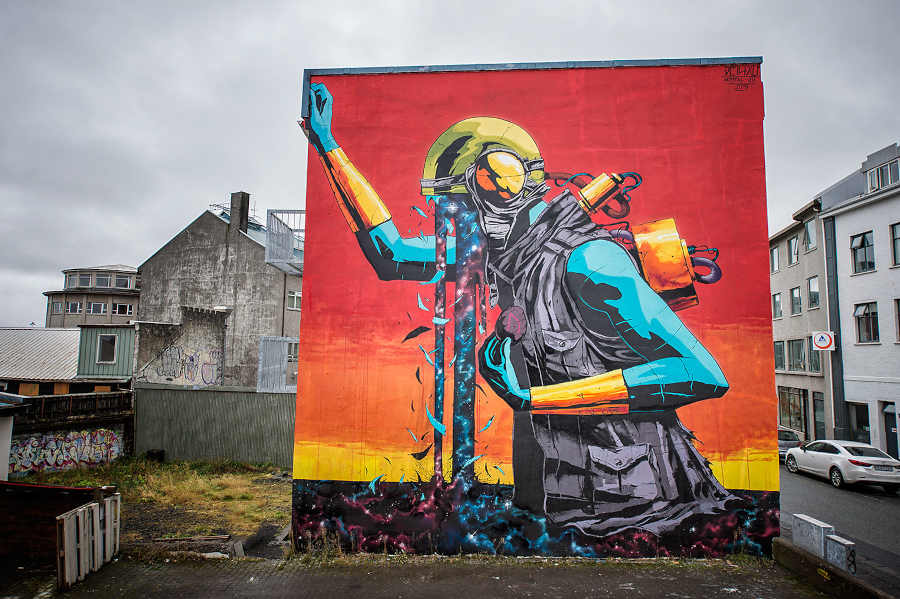 Another favourite piece was Phlegm, who brought the music of Icelandic band MUM to life with his piece "It's time to scream and shout". Artist Anders Gjennestaad, a.k.a STRØK, also worked with the band Mammut Music. My highlight was to work with Of Monsters and Men during that time.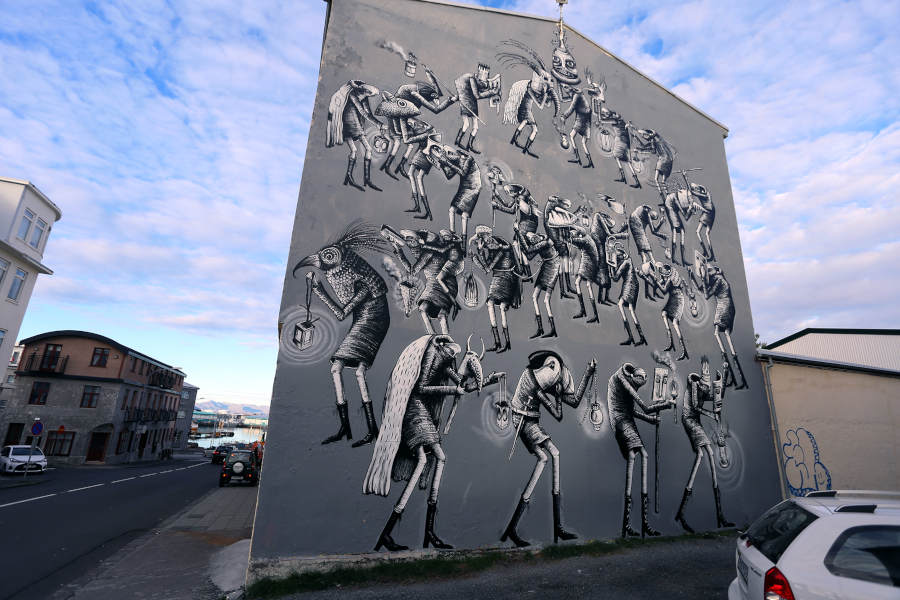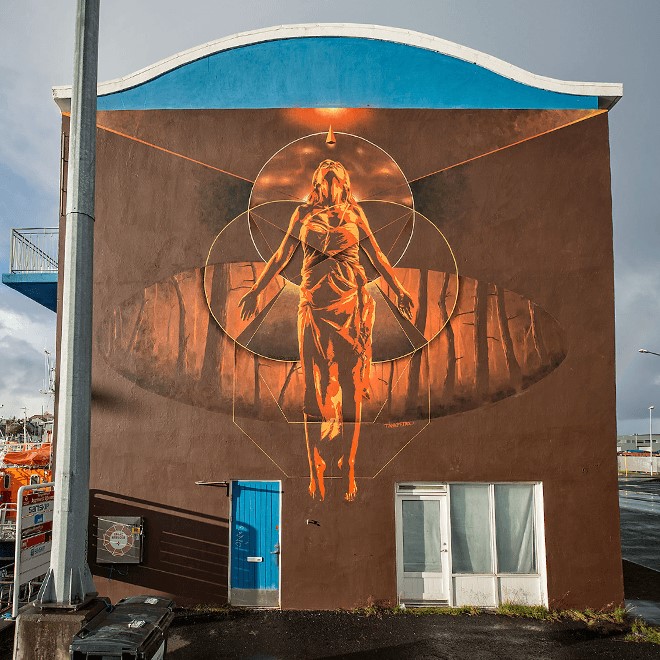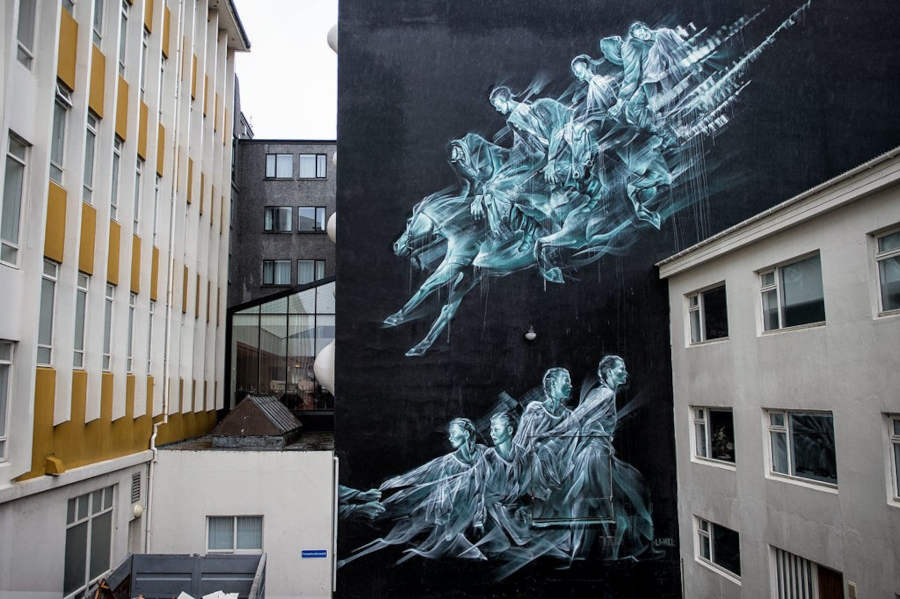 I will continue my work with Art, Music and Experience now as the curator for SUPER BLOOM Festival in Munich in the Olympia Stadium and Park. I am going build a lake gallery and exhibit art in the middle of the park's lake and even in the water. We will celebrate the next generation of post-pandemic festivals, conscious gatherings and sustainable production – and above all, beautiful ART.
Art and the human psyche
I think my soul speaks and understands only the language of art. In reality I have very little patience for superficiality and modern plastic culture. I enjoy things that are made by hand or with the creative human mind as the basic drive behind it. During my time at Harvard University, I focused my research on art and places where art is displayed. I looked into the reasons why we display objects in the first place, and why we go see such displays. I'm fascinated at the result art can have on the human body and mind.
I think my soul speaks and understands only the language of art.
Additionally, I love to follow the changes in perception throughout centuries. Why did we see certain shapes or light the way we did 100 years ago and why don't we see it the same way anymore? How does social media influence our behaviour as creators and recipients of work? How has the creative process changed from van Gough to Shepard Fairey and what can we learn from it – good or bad.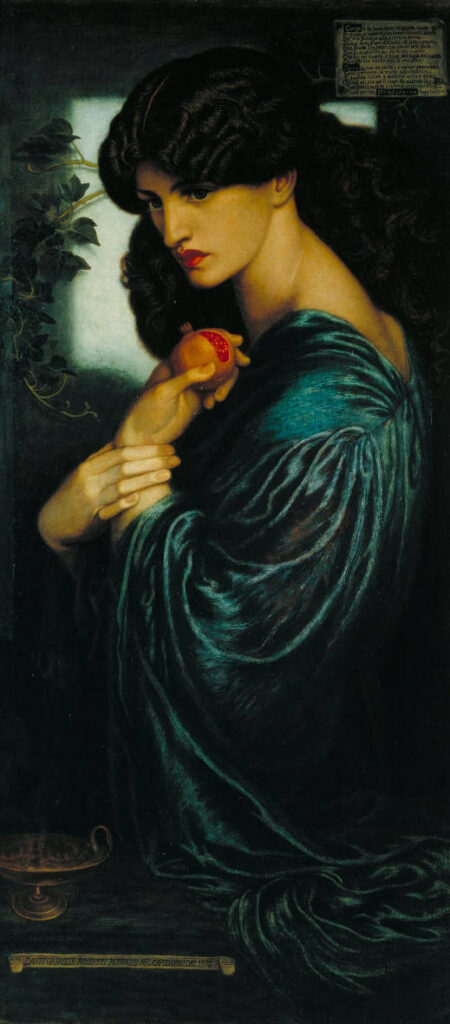 I like to see new artworks and artists appear and evolve as much as I love to see established artists working with their red thread and progressing in their journey. I love to sit quietly in front of a Dante Rosetti's piece Proserpine and get lost in the moment, wondering about the pomegranate, the "fatal fruit' of Hades, in her hand. It's almost as if one can feel Dante's obsession with his muse Jane Morris.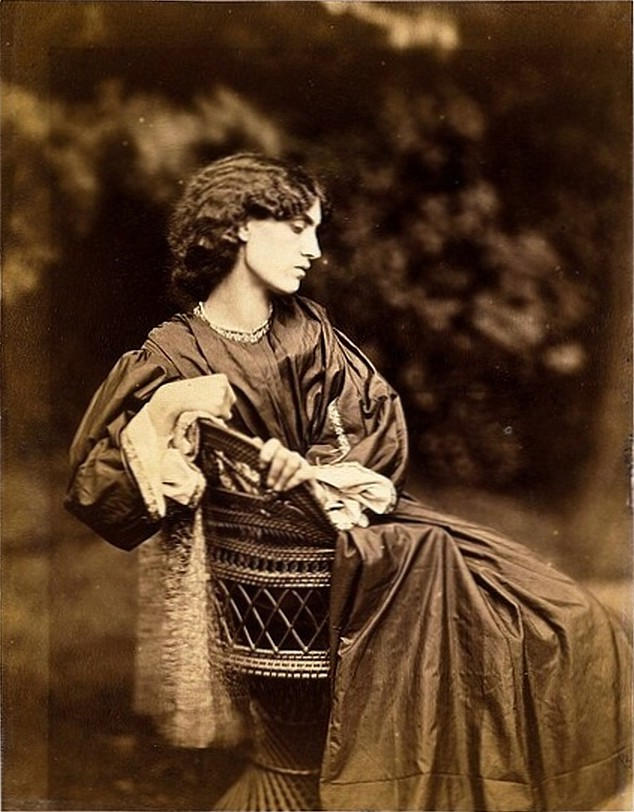 What do I love most about my adventures in art?
I love the backstory of the piece, the search for secrets in the language of colour and hidden meanings inside a piece of art. I like to know why something was created, by whom, and where or during what time period and struggles or successes. Who was the artist who did he love who dislike? Who were his peers and what were the rivalries? All of it makes for a deep holistic approach and understanding for a piece of artwork and makes me care all the more. Care for the work and for its history, past present and be a guardian of its future and pass on its story.
Throughout this little story from me to you I've selected some of my favourite pieces of art. To finish, here are some questions that Beautiful Bizarre Magazine's Deputy Editor, Natalia Joruk, has asked me. I am better at answering questions than telling a story!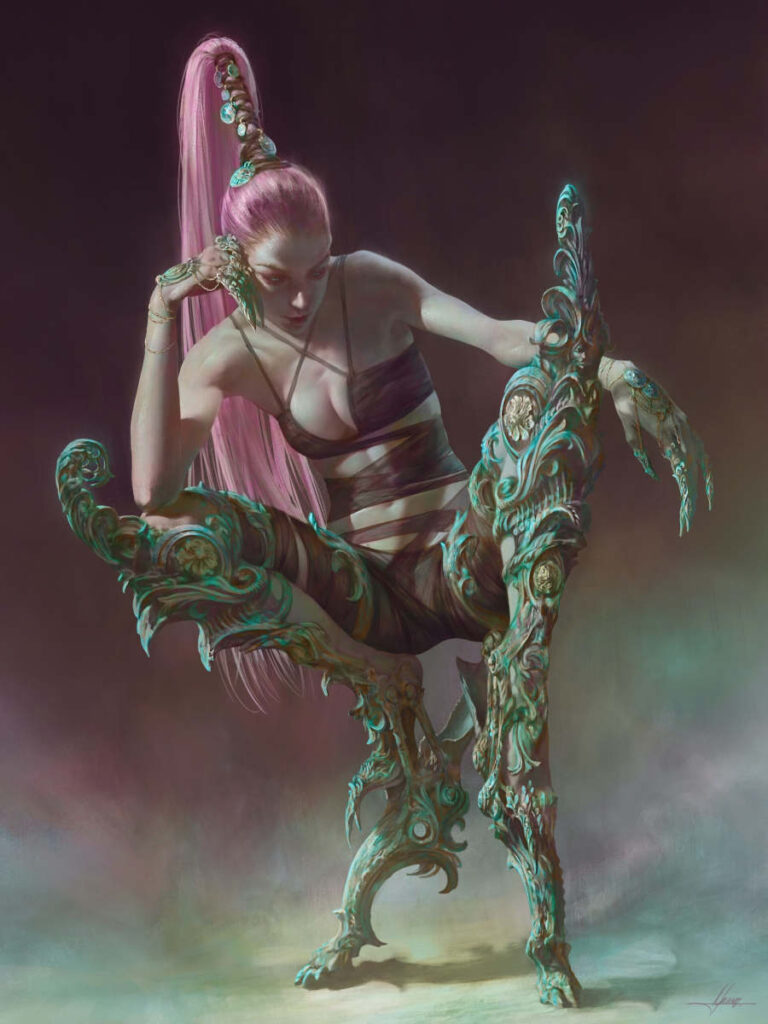 Interview with Yasha Young
It's fascinating to learn how certain experiences with art triggered a new stage in your journey. Did you think you would have achieved so many creative projects, and built such a predominant career in the arts, looking back to when you were a teenager?
No (laughs), but I wanted to be a traveling woman, that I knew. Discovery or adventure had to be in the mix. I met many Sinti and Roma people growing up. I got to sit with them and their families, share meals and I remember one of the women braded my hair. That moment moved me deeply and reassured me that I didn't belong were I was; I didn't feel at home. Insatiable curiosity made me look and search for more.
I never felt at home until I discovered the punk and skateboard scene and with it, art. I saw people being able to paint and create what they felt. As a result, I realized they felt the same as myself! I knew in my late teens that I would be working in the creative industry. I wanted to direct for stage or theater, make films and write a book. I've accomplished two out of three so far… the best is yet to come.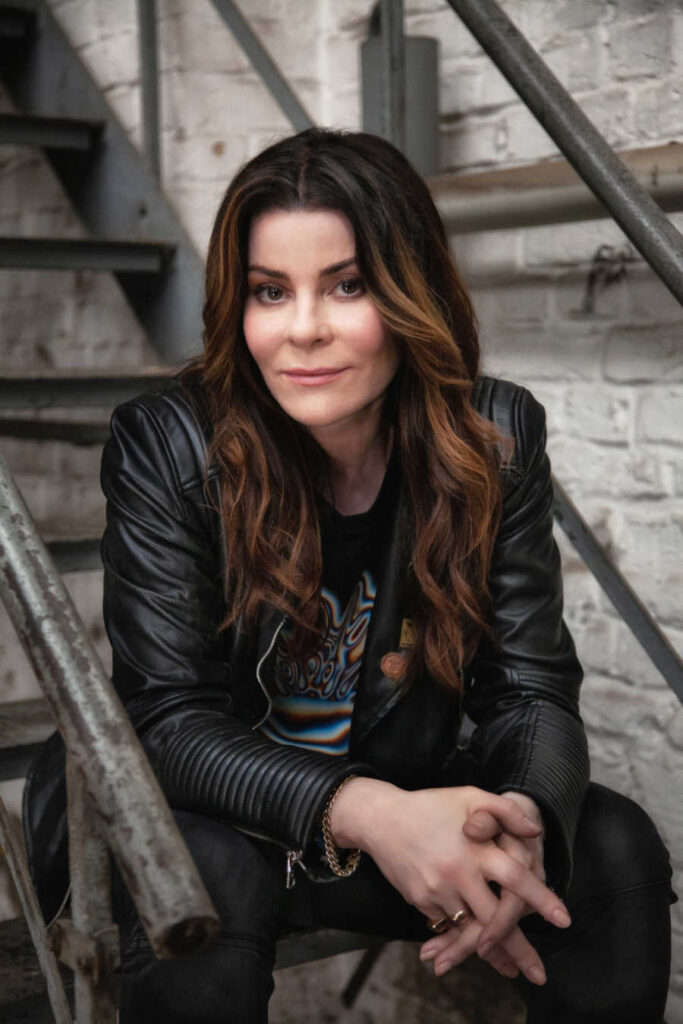 Have there been any moments when you weren't sure where you were going next?
There are always moments of doubt and periods of insecurity over what will happen. But I always know deep down that my goal is not yet reached. I'm not sure what the goal truly is, but I know inside of me I am still searching to create something I haven't quite encountered yet. There is great comfort and security in this knowledge. I always dream of everything and something always comes to pass. It also has something to do with the way I structure myself. I never work on one project only and not all of them start and end at the same time. So, chances are when something ends something new just started or is far from over.
Think of a moment in your life when things were particularly difficult for you. How did you get through it?
Yes. Building Urban Nation was one of the most rewarding and the most challenging experiences in my life. When you work with people who simply can't see your vision, understand your thought process, know nothing about the culture of art or are generally not creative, you have to teach them over and over again. You must have the patience to convince and light a fire in, sometimes, grey souls that are used to the world of bureaucracy.
But what one has to always remember is that others can't see, feel and dream the way you do.
And so most of my work is knowledge transfer and teaching; in the course of it, counter balance frustrations with a clear schedule of self-care like cooking, solitude, yoga or long hikes in my forest. I truly believe in professions like mine, you give away a piece of your creative soul energy every time you curate or create something. In turn, you have to make sure you put the same effort into doing something just for you. I have some secret rituals and places I will never share with anyone as those are my spaces of recharge, recovery and renewal. You are what counts if you become depleted so is your creative light. And that is of no use to anyone.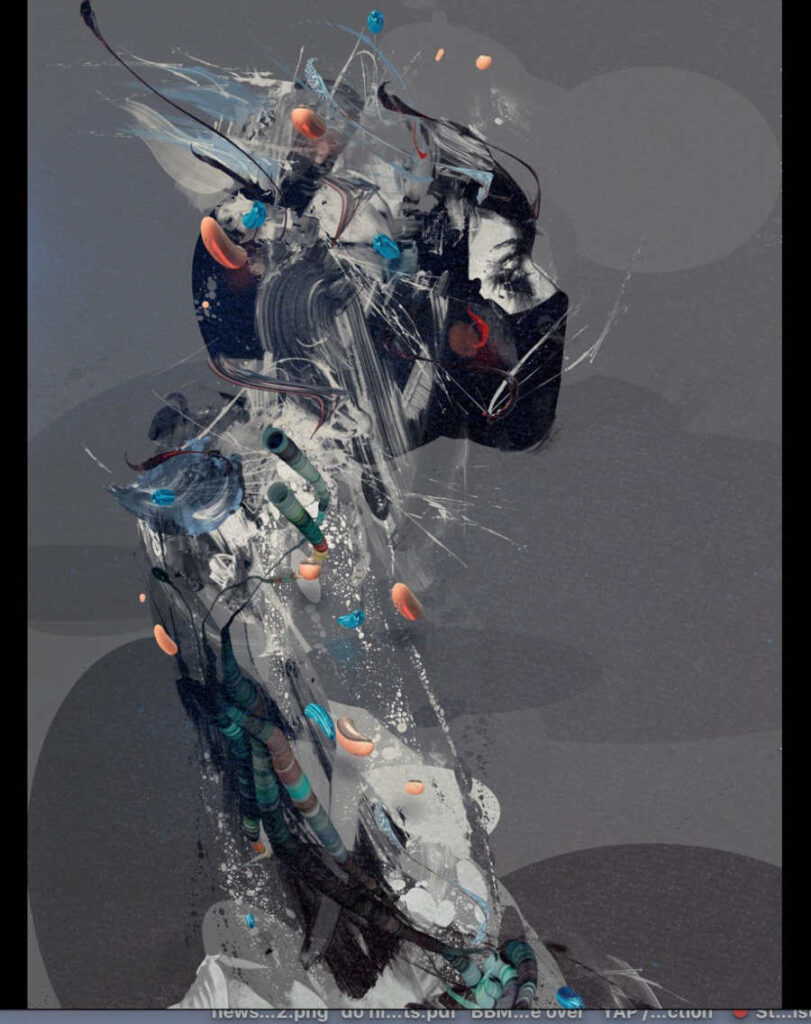 I'd like to take a moment to focus on the fact that for the Super Bloom Festival 2021, you are BUILDING A LAKE GALLERY. This sounds like a daunting task! Can you share more details on this?
Oh I wish, but I'm under a strict NDA at the moment. However, I can tell you that it is something very special that will involve all your senses. It will play with the notion of looking for new horizons in a time when the world is lost, and we must all redefine who we want to be as individuals and as one humanity. I will play with the elements earth, water, fire and air. We will be integrating ourselves into what is and make nature our ally. And the new visitors – the post-pandemic visitors – will experience a new way of using their senses. That's my goal and as I am signed for a few years, I plan on working on this subject for years to come.
Yasha Young Projects
Am I correct that you are also planning to work with the winners of this year's Sculpture award in the Beautiful Bizarre Art Prize 2020?
Yes, I am very joyous about my continued relationship with the winners as well as with Beautiful Bizarre Magazine. I will keep sponsoring the award and will have an open door for all participants. Even if you didn't win this time, I am an avid sculpture collector. One of the entrants, Tach Pollard, and I are already knee deep in a wonderful correspondence. I can't know of every amazing artist and I, unfortunately, can't support everyone, but it is always good to know what's out there as I'm constantly planning new projects. The award opens up new channels of dialogue for me with creators I haven't seen before. I encourage everyone to just reach out to me. It may take me a second to answer but I will.
Do you have any other Yasha Young projects in the pipeline for 2021?
Yes, I am still working on creating and developing a museum in NYC with my partners. Additionally, I will start an amazing and challenging project for the city of Berlin and the City Museum soon. It will include an underground excavation site where sculptures were found hidden or forgotten under the rubble of war during the Nazi regime. I'm working on bringing the statues back to life and tell the stories (or pieces of it) of a past we should all be remembering, in order to create a better future. But above all I want to create a space that fluidly moves from below to above, from hidden to seen, from silenced to heard. A space for political or socially driven art, projects, music and performances. A space that asks questions about the past and the future with an open mind.
It's a daring project and demands the support and bravery of many but I am going to pursue it and hopefully, create something worth your time and for all of us. The project will take place in the big Humboldt Forum museum. I've curated the avant-garde section with artists David Mesguich, DotDotDot and HowNosm. It will open January 14th, 2021 – that's 3 years of work finally opening and there is still a lot of work to do.
I also will continue to teach at the university and continue my study at Harvard as well… and the rest … we will see what 2021 still brings. I am ready and excited.
Yasha Young Projects Social Media Accounts