Never short on inspiration, Thinkspace Projects piques our most eager artistic wanderings with the opening of Max Sansing "Lost & Found", Marie-Claude Marquis "Don't Use Me, I'm Broken", Brian "Dovie" Golden "Warnings Signs" and Anthony Hurd "Current Mood". Executed with humour, compositional intensity, distinct styles and striking color palettes, the creative ambiance of these contemporary bodies of work will delight you.
Thinkspace Projects has a full schedule of online events for all exhibitions, including virtual tours, live streaming, interviews and much more… so be sure to follow their blog Sour Harvest to stay updated! If you're looking to add to your budding collection of art, take a moment and visit their store to view available inventory.
MAX SANSING, MARIE-CLAUDE MARQUIS, BRIAN "DOVIE" GOLDEN, & ANTHONY HURD
Exhibition Dates: July 25 – August 15, 2020
Online Schedule of Virtual Events:
Saturday, July 25 at 12:00 noon pacific time: professionally shot video tour of their new exhibitions to their Instagram TV.
Saturday, July 25 from 1-2PM pacific time: live Instagram tour of new exhibitions.
Sunday, July 26 at 2pm pacific time: full set of installation photos from both exhibitions to their Facebook and blog.
Monday, July 27 at 4pm pacific time: link to their self-guided virtual tour of the new exhibitions on all of their social networks.
Thinkspace Projects
6009 Washington Blvd. | Culver City, CA 90232
ph#310.558.3375 | Tuesday through Saturday Noon to 6pm
Max Sansing is a Chicago-based fine artist and one of the city's most prolific and talented muralists. His distinct aesthetic fuses the color-drenched dynamism of street art with the technical elegance of photorealism. Born and raised on the South Side by two artistic parents, Sansing discovered his passion and creative gift at an early age. During his youth he was involved with several graffiti crews and taught himself oil painting before completing formal training at the American Academy of Art. In addition to his studio practice, Sansing is frequently commissioned to create large-scale murals and experiential installations across the country. He is deeply committed to supporting his Chicago community and is involved with numerous youth programs that expand arts opportunities in underserved areas. His work has been featured in gallery shows and special events in London, Los Angeles, Chicago, New York, and Miami.
Visit Thinkspace Projects and read their interview with Max Sansing for 'Lost & Found'.
"In Don't Use Me, I'm Broken, I basically wanted to talk about the flaws, fails and challenges, unique to each individual, that make us interesting and complex beings. But since this exhibition was mainly created during the pandemic, it took a darker turn than my usual work.
Before this period, some of us had the opportunity to avoid facing problems, consciously or not, by loading our lives with work, obligations and activities. But because the recent confinement had a mirror effect on ourselves, it forced us to confront our darker facets and our relationships issues and I wanted to address that with the show.
The physical distance will have strangely brought many of us closer by a need for connection, just like experiencing the same upheaval all at the same time while clashes of behavior, reasoning and values with close ones may have created the opposite effect, too. What a completely f*cked up moment we are living in.
I believe that this crisis, and what results from it, has affected us all psychologically and will continue to do so in the long term. We will come out of it changed for sure. Stronger for some and completely lost for others. This exhibition is therefore a mix of reflections, overflow, fears, hope, humor and once again an attempt to encourage the spectator to express his feelings and to free himself from a weight that a person is often unconscious of carrying."
– Marie-Claude Marquis
Visit Thinkspace Projects and read their interview with Marie-Claude Marquis for 'Don't Use Me, I'm Broken'.
Brian "Dovie" Golden is a visual artist who uses painting and drawing as an introspective tool for understanding issues of identity, race, gender and mental health, as well as an attempt to reconcile the harsh realities of life. His imagery is personal, incorporating realism through portraiture with cartoon style inclusions (aka his Fiends). The drawings depict angels, halos, devils, ropes and ribbons that bind and unwind, claws that cling, faces in crowds and huge teeth clamped like bear traps. Golden was born and raised in Chicago and studied Graphic Design/Multimedia Production at the International Academy of Design and Technology, earning his BFA in 2007. Golden was awarded 1st Place at the Black Creativity Expo at the Museum of Science & Industry in Chicago in 2018 for his painting "Promises…Promises". He currently lives and works in Chicago, continuing to expand his body of work through exhibitions, commissions and murals. In Dovie's latest exploration into the human spirit and experience, his life like portraits and menacing Fiends play a supporting role to the bold, angular shapes and arresting colors surrounding them. What does intuition look like? At first glance, we instinctively attempt to understand these shapes and colors, just as we do road signs. Only, the roads are our lives and lived experiences. And the hazards are the tempting, taunting Fiends that exist both within and around us.
Through this body of work, we are invited to consider the ways in which we sense their presence, and how this innate power lends us insight and foresight into our surroundings and the road ahead.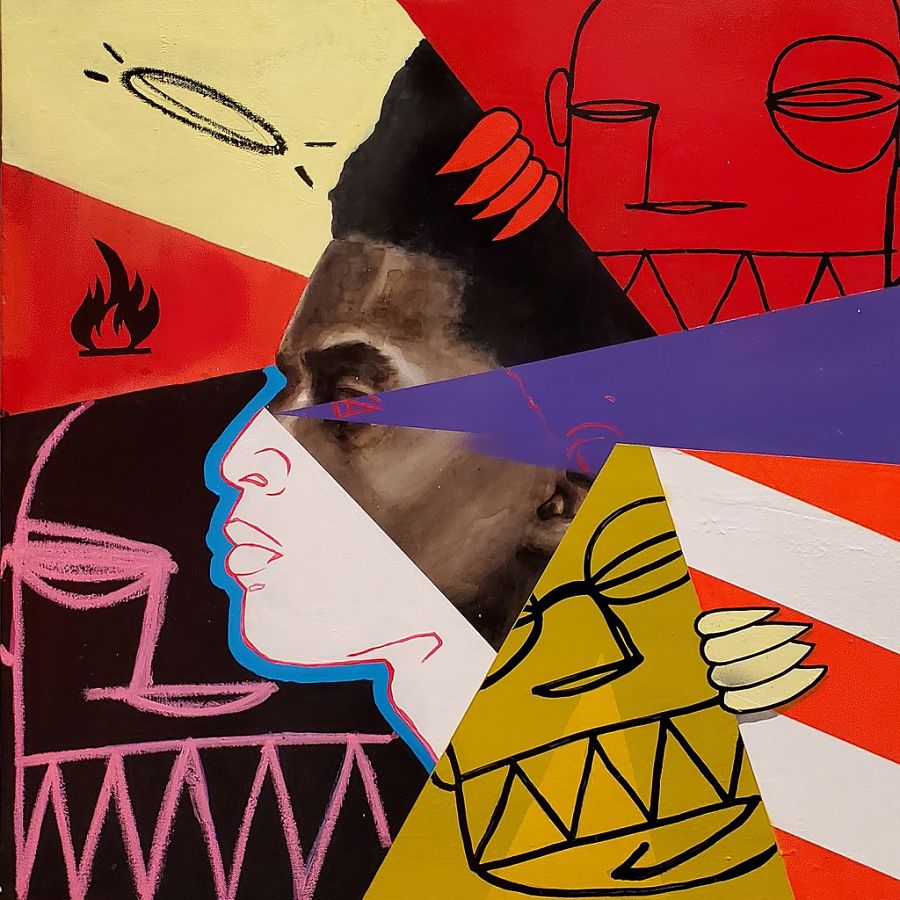 Visit Thinkspace Projects and read their interview with Brian "Dovie" Golden for 'Warning Signs'.
Anthony Hurd was born is Kansas City, Missouri and raised on skateboard culture. As the weird gay kid who made his own clothes, cut his and his friends hair, painted all night after skating all day, and played bass in hardcore straightedge bands, he knew all too well that he needed to get out on his own and create his own path.
His art career would start a couple of decades later, after years spent in the entertainment industry doing advertising and subsequently doing freelance work for years following that. The freelance jobs allowed Hurd to get back into painting and explore his creative process again. A series of tragedies; the passing of his little sister, the end of his 18 year relationship and various hard truths that came to that end, shook his foundation and tore apart his identity, allowing him the opportunity to start a new. With vulnerability and compassion for himself and others, he's been able to put a voice to previously unspoken moments. Constantly influenced and inspired by skateboard and music culture to this day, and the perspective of being a queer step dad, Hurd has created his own space to tell his stories.
This new series of works for Current Mood started during the pre-Covid19 quarantine. The original painting that inspired this direction was based on an experience the artist had as a child. He would have this recurring event, from about the age of 7 to 15, where he would wake up and see what looked to be like a Native American mask sticking out from under my bed in various locations, watching me sleep, when he would awake and see it, the mask would vanish before his eyes or disappear under his bed. Hurd's mother instilled fear in him, through her religious beliefs, that this was the work of Satan and that he needed to pray for his soul. His mother's efforts of fear won him over and he spent many years worried about the reappearance of the masks and their meaning. Recently, Hurd has started doing some soul searching and really forcing himself to face his hidden fears, and in doing so, set out to create a version of these masks / protectors from his childhood. The practice has evolved into endless explorations that have taken on many new meanings. These masks continue to take on new meaning, as our political climate continues to spiral, racial struggles come to the forefront, the LGBTQIA community have their rights stripped away, and the resulting fear that can be witnessed in people the world over. The masks act as the skin under our skin, a shield for our ever changing moods and emotions. They are a shield to help us face to the world evolving around us. Current Mood aims to set the tone of America at large. The good, the bad, and the indifferent. It's a face we can each relate to a different way.
Visit Thinkspace Projects and read their interview with Anthony Hurd for 'Current Mood'.
Thinkspace Projects Social Media Accounts