MentorMe is a free resource for creatives who wish to learn from their peers. This Q&A resource provides insights into how some of the most esteemed artists have stayed true to themselves, they've shared the up and downs they've experienced, and how they have overcome expectations to create work in their unique style. In each guide a different group of artists and photographers will share their insights, personal experiences and advice with creatives that wish to grow and evolve in their artistic practice.
Beautiful Bizarre Magazine mentors encourage, guide and inspire emerging artists as they explore their creativity, develop their technical skills and find their personal style.
MentorMe Edition 5 Mentors:
Kate MacDowell, Jane Burton, Miles Johnston, Marco Mazzoni, Juz Kitson, Peca, Redd Walitzki, Ewa Prończuk-Kuziak, and Josh Keyes
In Edition 5 Beautiful Bizarre Magazine's Mentors respond to the following 3 questions:
How do you keep rooted in your values/beliefs and your personal views as an artist whilst speaking to a large group of people?
Tell us about your journey. What are some of the ups and downs you experienced along the way?
How did you overcome traditional "contemporary" art expectations to create work in your unique style?
Below 3 of the 9 mentors respond to the following question:
Tell us about your journey. What are some ups and downs you experienced along the way?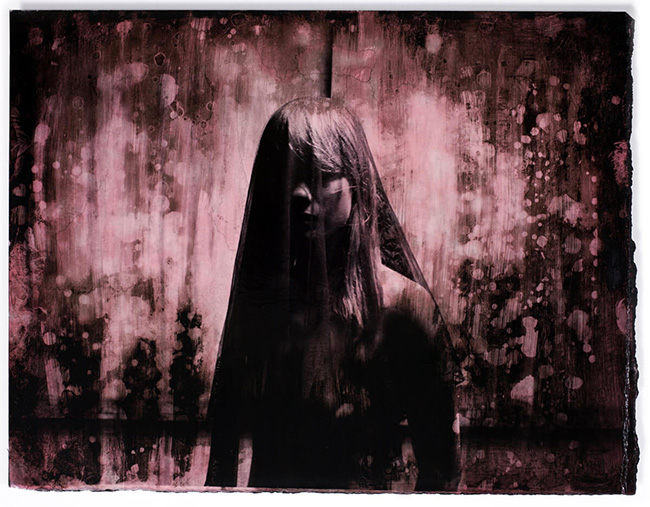 Tell us about your journey. What are some ups and downs you experienced along the way?
Jane Burton: "For me, probably the most difficult thing at times has been believing in my worth as an artist. Creating art is so often a solitary practice, making it is easy for self-doubt to arise. It's never been so much a case of not believing in the quality of my work but more a questioning of its relevance within the art world, and beyond. Sometimes I feel that making art is an indulgence, a selfish pursuit. But on the other hand, when my work is appreciated and supported, I feel worthwhile. It's very difficult at times not to be emotionally affected by a response to one's work, or a lack of response. The very best moments for me along the way are when people I respect understand my work. I feel elated and grateful to be understood. That is success to me. To create a piece of art that can transport the viewer; provoke; seduce."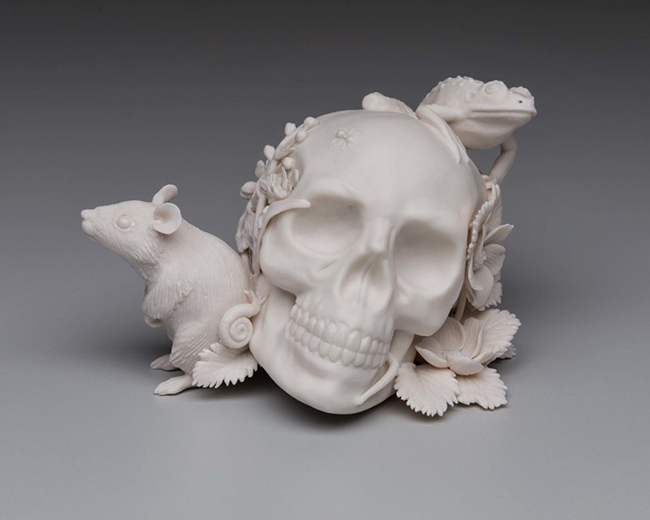 Tell us about your journey. What are some ups and downs you experienced along the way?
Kate MacDowell: "I worked as a project manager in web design and was a high school English teacher before first taking ceramics classes at a local art center. So my educational background was in English Literature with a few art history, film and photography classes. But I had gone for one year to an arts immersion high school and some of the habits of medium exploration, sketching, life drawing, and visiting galleries that I had made during that year served me well when I returned to art making much later. Also being able to write about my art and look at it in historical context has been useful, and that came mostly from literary criticism. I think being fascinated by figurative and poetic language, made working with visual symbolism and metaphors easier as well.
There have been great ups when certain images of my work started getting spread around online, and suddenly I had a lot of opportunities being offered to exhibit. More than I could accept at one time. That's the downside, it's kind of feast or famine, but it still takes the same amount of time to make a piece, so pacing can be difficult. I had to sayno to great opportunities because of time conflicts, but then have other periods that are really slow.
Downs for me are mostly the learning curve of getting to know a tricky medium (porcelain clay) and the constant troubleshooting necessary when experimenting with making different bodies of work. Also as I don't teach outside of workshops, I'm pretty isolated in my home studio and that that can be lonely. Having interns and taking continuing ed art classes have helped with that in the past, but trying to build a network of makers I can visit with and bounce ideas off of in real life (as well as online) is a constant goal."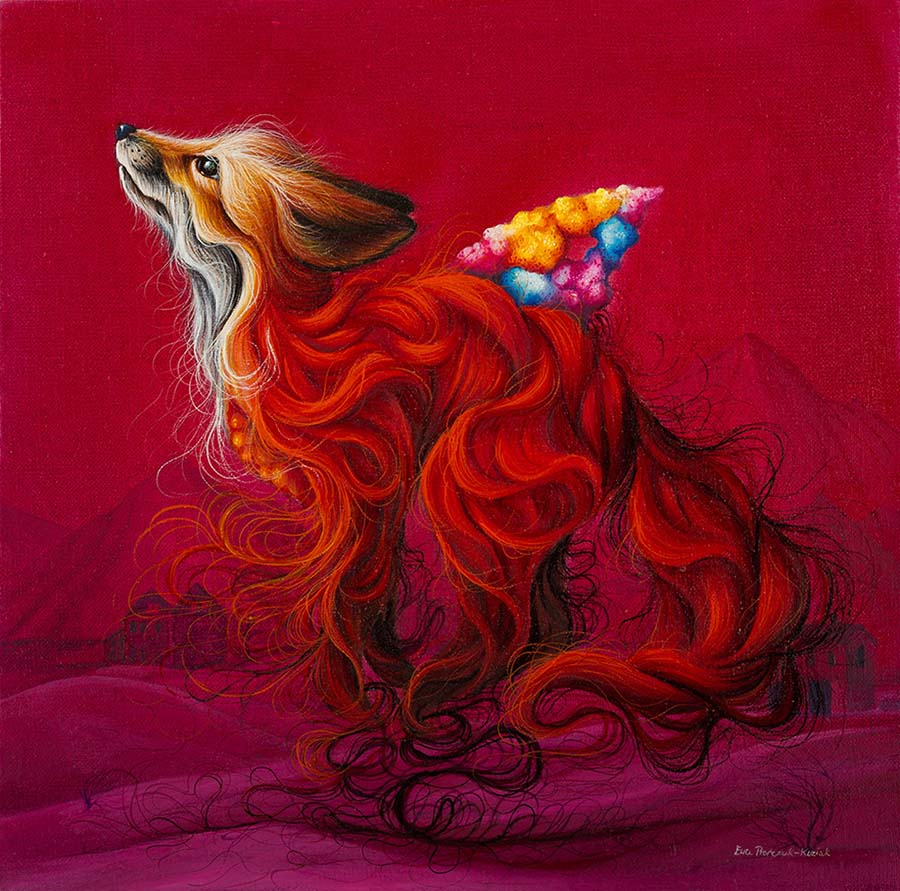 Tell us about your journey. What are some ups and downs you experienced along the way?
Ewa Prończuk-Kuziak: "I loved to paint and draw for as long as I can remember but I never thought I would do it professionally. I had been studying Polish language studies when I decided to enroll to the Fine Arts Academy. At this point, I also came across pop surrealism and I fell madly in love with it. At my university this wasn't a popular artistic trend. I was being convinced that I should take a different path, but I didn't want to make such changes. It was a difficult time for me. I didn't know what to do; I had an artistic blockage. I doubted whether painting was a good choice. This is when I decided to take a breath in and go for a scholarship to the Royal Fine Arts Academy in Antwerp, Belgium. When I got back, being on my last year of studies, I started to work with a different professor who said, "Do what you love and what you believe is proper. If this is exactly what you want to do, be consistent and don't look back on others". It was the support I needed. Soon after getting my diploma, I gave birth to my daughter and since then I have been combining motherhood with painting, which wasn't easy at first.
After studies, I had moments when I couldn't support myself from my art and I painted thanks to the support of my family. But I kept on working and developing my skills. I started to publish my works on social media. I followed my beloved artists, galleries, and art magazines. I tried to be active in projects executed by them. I remember my first contest organised by Beautiful Bizarre Magazine that I took part in. My work was spotted and this gave me a lot of positive energy and motivation for further actions. Soon afterwards I started to cooperate with an Australian 19 Karen Contemporary Artspace gallery, and soon after that with Corey Helford Gallery. A very personal and humongous moment for me was an invitation from CHG for an exhibition in 2016. I will never forget that feeling when I entered the gallery and I saw my painting next to works of artists like Ray Caesar, Ron English, or Marion Peck. It was a truly magical moment for me. My art was presented next to artists that I have been really admiring for years; this is when I felt I was in the right place."
To read the other Mentors' answers to this question or any other in Edition 5 please click here to download our FREE Artist Resource, MentorMe.