I am drawn to the enigmatic narratives of 2018 Beautiful Bizarre Magazine Art Prize Finalist, Richard Ahnert's paintings. There lies a brooding, contemplative and at times Romantic pathos in these works. Their stillness comes from a deeply reflective thought process and artistic practice. At times animals journey, seemingly lost and displaced from their habitats, juxtaposed against man made locations and at other moments they appear as anthropomorphised satirical versions of ourselves, adorned with earrings, caps, flannel shirts, coats, beanies and all manner of garb. The quirky diversity of the manner in which Ahnert uses animals, and the multiplicity of moods he creates through them keeps the work fresh but it is the animal motif that is the constant underpinning symbol in Richard's paintings that gives it meaning and strength. He uses the relationship between humans and animals to explore our impact on the environment and human nature and emotions.
2019 Beautiful Bizarre Art Prize entries are now open! To be in the draw to win global exposure + over US$20,000 in cash and prizes, check out the details and enter today!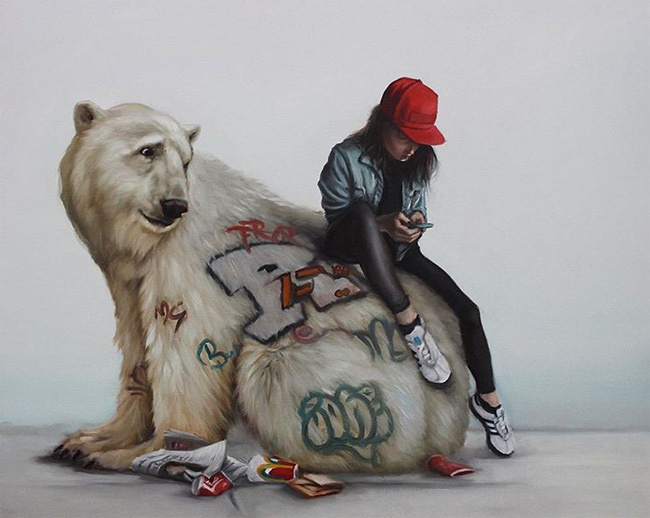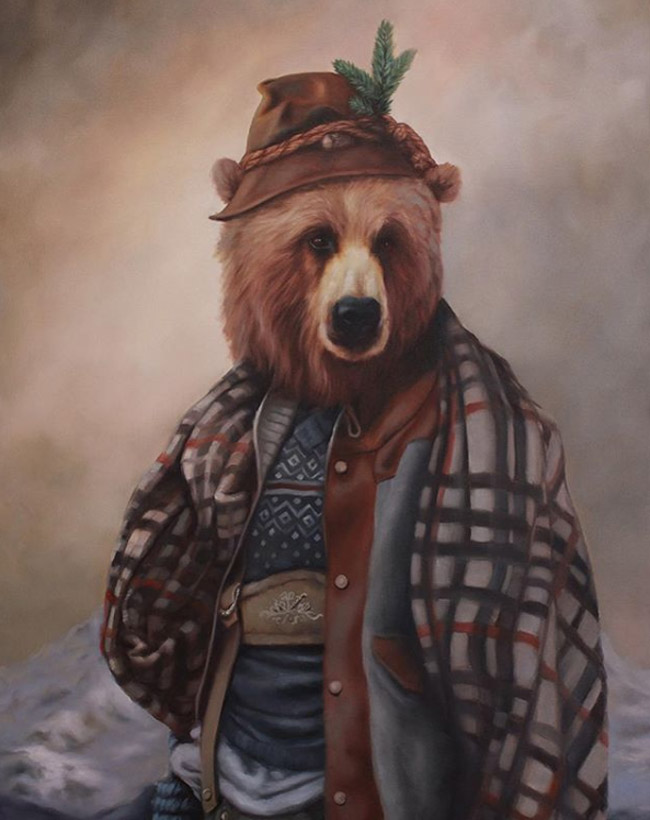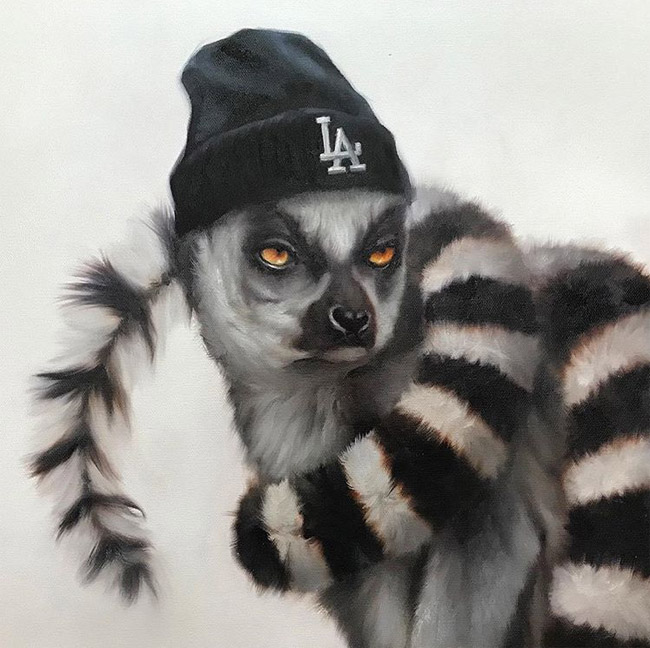 Richard studied Technical Illustration and Graphic Design at York University and Seneca College. He began exhibiting his work in 2010 and has shown in exhibitions and galleries in both Canada and the United States. His award-winning work can be found in private collections and businesses in North America, Europe and Australia.
Richard's newest work, "Passage" can be seen in "Representational Modern", the Beautiful Bizarre Magazine curated exhibition of finalists and Highly Commended artists from the Inaugural Art Prize opening this month at Modern Eden Gallery in San Francisco. I have long been an admirer of Richard's work so I was pleased to be able to talk to him about his work and the experience of entering and becoming a finalist in the art prize.
There is clearly more to your paintings than the beguiling anthropomorphism. You use "the relationship between animals and humans to explore themes of emotion, metaphor, and narrative with a satirical twist." Storytelling, understated humour, and deep reflection are at the heart of [your] practice. Can you tell us about the broader ideas that underpin your characters and narratives? 
We, as humankind, are no longer just witnesses on this planet. As we continue to expand our reach for resources and space, our impact inevitably overlaps with our environment. More often than not, this has a profound detrimental impact on the natural world and by extension, our own. Through my work, I set out to explore a version of this reality in which nature finds a way to adapt and often prevail. Art, I feel is a useful vehicle to stimulate conversation and awareness, which brings the viewer, along with my characters, into this imagined world to explore the possibilities of what might be. The questions may still outweigh the answers, but it's a starting point.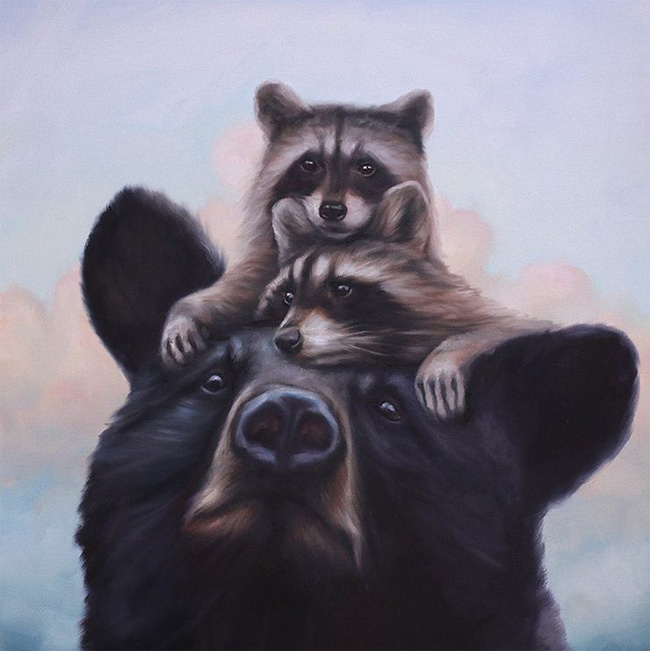 I've noticed that often the characters seem to be journeying through the paintings, sometimes they are out of context, uprooted and juxtaposed. Are they in fact on a journey? If so what kind of journey? Physical, emotional, spiritual? Where will these journey's lead them?
Yes, in a sense. This is what the root of art is to me, a journey, not only within the themes being explored by the artist, but also to the viewer. It's about what is and can be happening beyond the canvas. The characters are not always on a literal journey, like with Bill and Ted, or in Homeward Bound…but presenting them out of context or away from their natural environment is key to widening the scope of possibility and describing how various worlds have amalgamated and collapsed upon each other.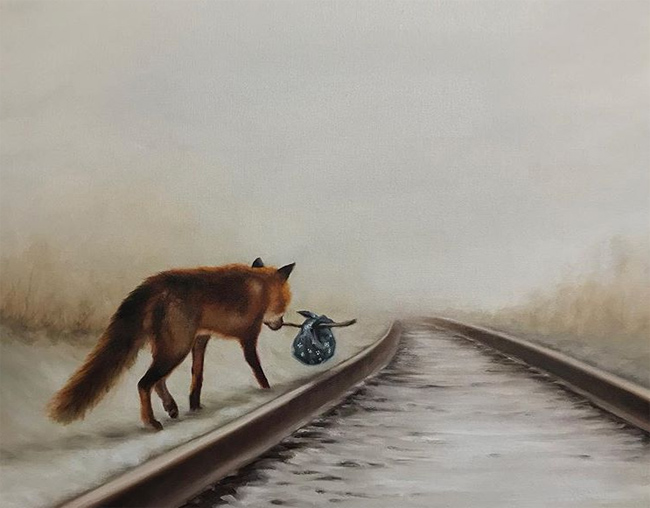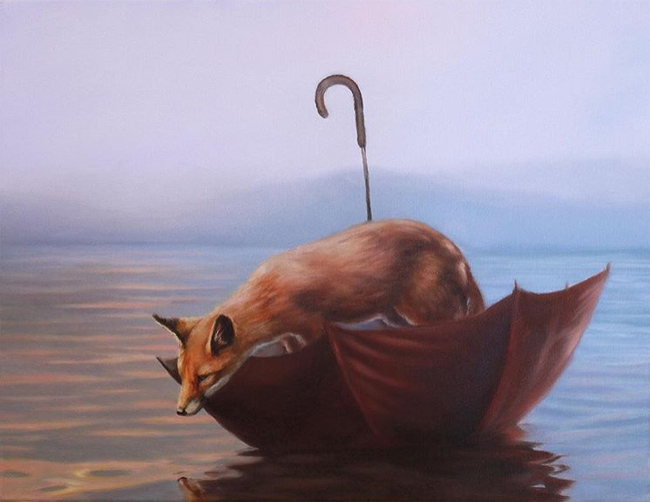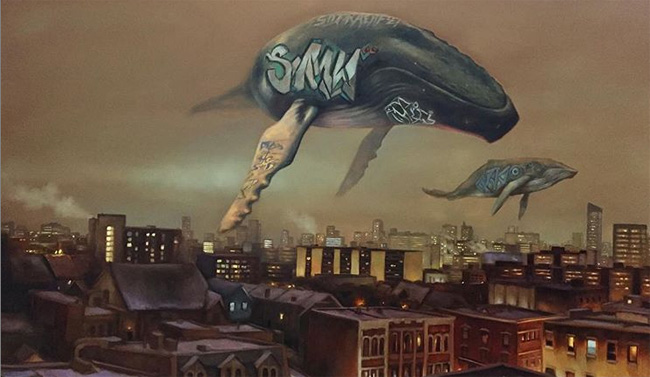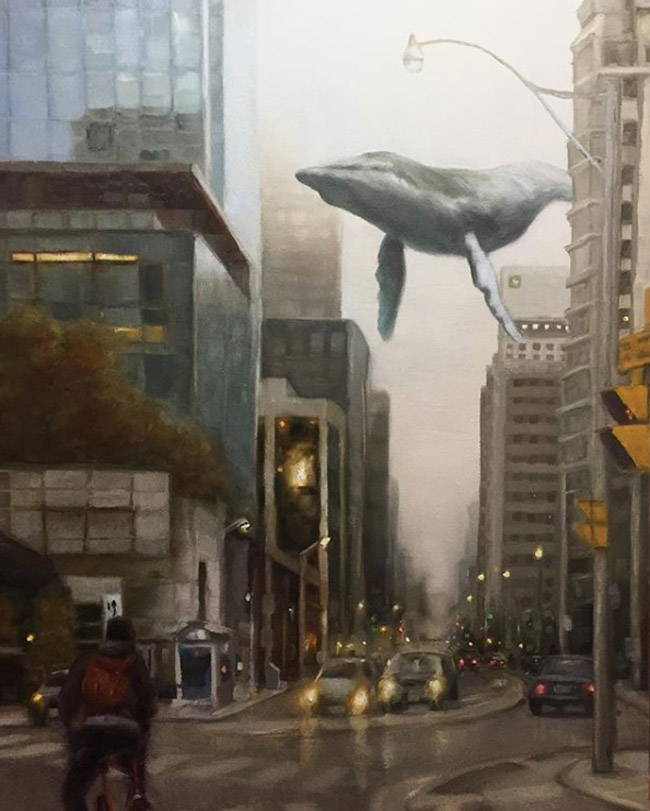 Sometimes your work has a sense of solemnity, there is pathos at times, sometimes it is epic, and at other times playful and more lighthearted. Can you tell us about what determines the mood for a work and how you develop that?
Every story has a unique tone, and each describes a different version of our selves. I won't lie and say that my own experiences and mood do not play a role in how a piece unfolds for me, but sometimes a painting just has a lot more to say than others do.
Do you have recurring narratives, characters, animals and scenarios or do you develop these for each new body of work? Is there an overlap? Do you think it's important or helpful for aspiring artists to establish a narrative as part of their artwork's identity, uniqueness and style?
I do often revisit characters and narratives. These characters and scenes are often a reflection of my own world. It's only natural to draw on our personal life, and it's important to talk about what you know. As my world enriches with new people, experiences and ideas, so do the topics that I'm comfortable exploring. I think its very helpful for any artist to shape an identity based on what they are familiar with.
There is an element of heroic classicism in your work. Have any of the old masters been an influence? Can you tell us about your influences, artists that inspired you or who you have a connection with?
I think there's certain clarity in classical art that is conducive for storytelling, so certainly many masters have influenced my approach. Though a Classicism style often shows in my work, the twist on reality that I play with often contradicts the period's formal style.  My influences are broad reaching but, Rembrandt, Homer, Wyeth and Hopper are among those that I often go back to.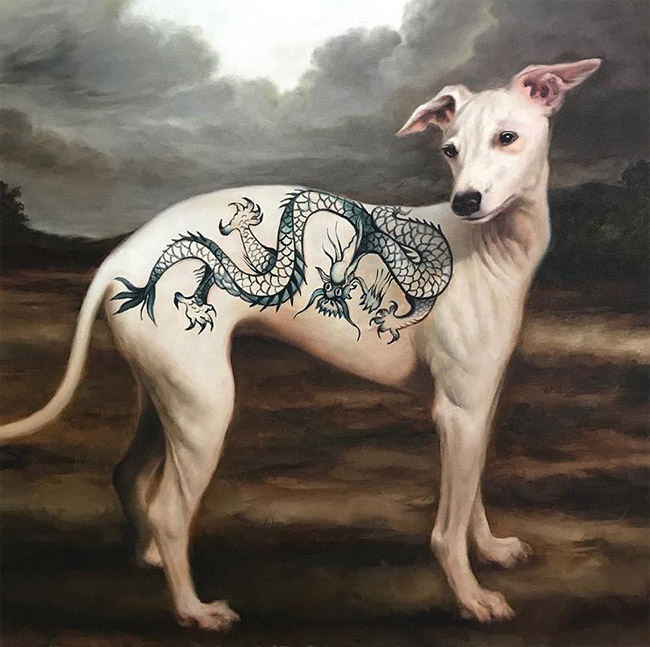 What is your favourite part of the creation process and which aspects do you struggle with the most? What, in your process takes up the most time? What do you think is your greatest strength as an artist?
For me, I imagine the entire creation process being similar to most people's work life. Sometimes on your commute to work (this is the concept development part for me) you hit every green light and land at work in record time. Sometimes, there's snow on your windshield, a road block and your tank is empty… you never know what you're going to get. Eventually you arrive at work and you dive right in.  There are challenging days but also days where you make productive leaps and bounds. (This is the painting process.) But at the end of the day, for me as an artist, the greatest gift is that I am able to create unconditionally, on my own terms.
Describe your studio and what that space means to you. How many hours would you spend in the studio each day or week and how do you spend those hours? 
I've worked in traditional studio spaces in the past, but I now have my studio at home, which despite having it's distractions, is the most comfortable and familiar space that I can imagine creating from.  Decked in mid-century modern furniture, hangs the work of other artists, sci-fi posters and toys as well as a computer that endlessly runs podcasts, Netflix or some of my favourite music. All this, serves as a constant reminder of where my influences come from. I'm pretty consistent with my studio time. I'm mostly found in the studio during regular work hours and I take a day or two away from the studio each week. It's important to live life and gain the experiences that help fuel creativity. Of course, that schedule doesn't always apply when certain deadlines loom.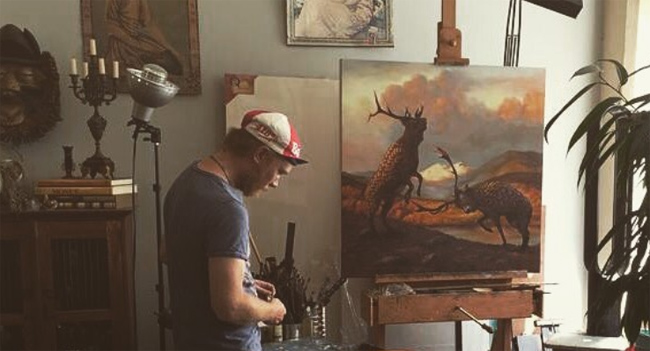 Before we finish, could you tell us a little about yourself, your background, where you live, what you enjoy when you are not painting?
I've studied traditional art from a very young age, and have always focused on rolls with a creative foundation. Culinary work put me through school, and graphic and industrial design became my first true career path. Painting however, was always there and today I'm fortunate enough to be a full time artist. I live in an eclectic and transitioning Toronto neighbourhood lined with modest century homes and storefronts. It is a community that provides me with plenty of exposure to urban culture as my wife Andrea and I explore the streets, shops and galleries. Parks and forests pepper the district liberally, so there is no shortage of nature or strange and fascinating people to fuel my inspiration.
And next, just a few questions concerning the Beautiful Bizarre Magazine Art prize:
What was the process like for you? Did it meet your expectations?
Wonderful experience. The staff have provided a professional and well communicated experience.
Why did you enter the Beautiful Bizarre Magazine Art Prize?
I was encouraged to submit and was delighted to be included with such an inspiring and influential group.
What do you feel you have gained from this experience?
It's been a pleasure being introduced to the inspirational work of the other artists involved.
Would you recommend it and encourage others to enter? If so, why?
I'd definitely suggest other artists enter. The process should really encourage one to raise the bar for themselves.
Can you tell us about the work you have created for the Beautiful Bizarre exhibition of finalists, Representational Modern, at Modern Eden Gallery in January?
My piece 'Passage' is a painting that I've had in mind for a while, and I thought it was the perfect opportunity to paint it for this exhibition. Passage is a reminder that we all have within us the innate ability and desire to protect other creatures. Deeper messages, I always like to reserve for the interpretation of the viewer.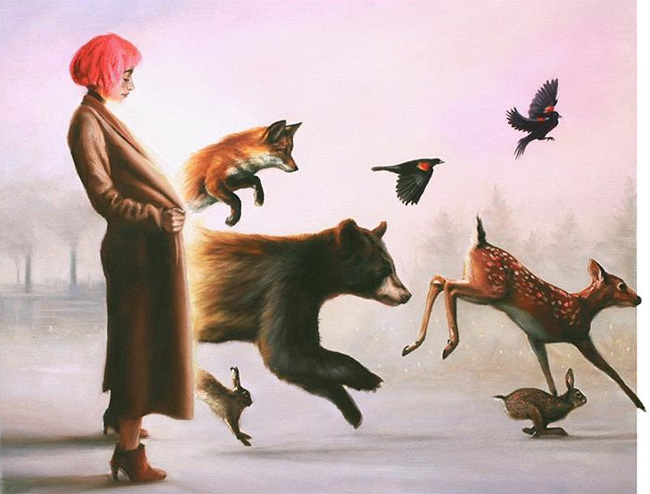 And finally, what has Richard Ahnert got coming up after the Beautiful Bizarre show in 2019?
Several exhibitions, group shows and a solo show are on tap for 2019. I'm particularly looking forward to creating a piece for Beautiful Bizarre Magazine's first Museum exhibition in Berlin.