As Halloween looms, it's the perfect time of year for 'The Weird Wicked World of Wonderous Wonders' group exhibition to ensnare your senses and tug your heartstrings until they snap.  Beyond every darkened corner of the labyrinth and past the oracle who sees your future, the ghouls and spirits of the night are waiting for you at The Dark Art Emporium.
Featuring a wonderful lineup of artist from across the globe, join them if you dare on October 13th and help The Dark Art Emporium celebrate this eerie new collection of work.
The Dark Art Emporium Press: Imagine The Carnival Barker has sucked you in with his promises of the "Weird!" and the "Terrifyingly Real!" and you have paid your 10 cents to ensure your entry up the stairs into the gypsy style caravan car where you are promised oddities and fantastical creatures to be displayed right before your very eyes!
What awaits you behind the curtain?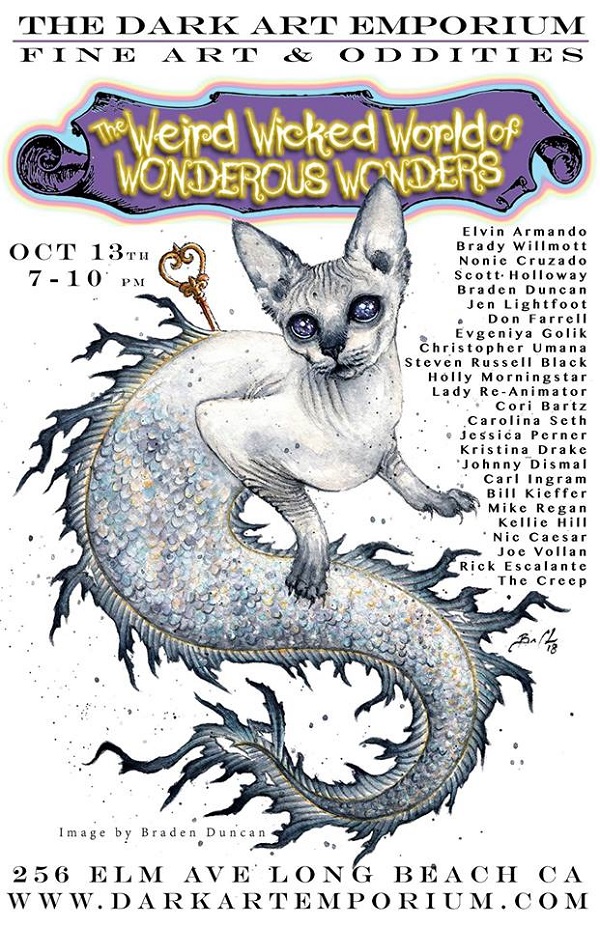 Opening Reception:
Saturday, October 13, 2018 | 7– 10 PM
The Dark Art Emporium
256 Elm Avenue
Long Beach, CA 90802
Website | Facebook | Instagram