Market Art + Design, the East End's leading modern and contemporary art and design fair, returned to the Bridgehampton July 5 – 8. The fair's eighth edition will feature 75 top galleries from around the world alongside a furniture and object oriented design presentation, curated by Design Director Wesley Moon, highlighting the industry's most innovative makers. In booth 502, Paradigm Gallery will be presenting a solo exhibition of Katherine Fraser's oil paintings including twelve brand-new, never-before-seen works fresh out of the artist's studio.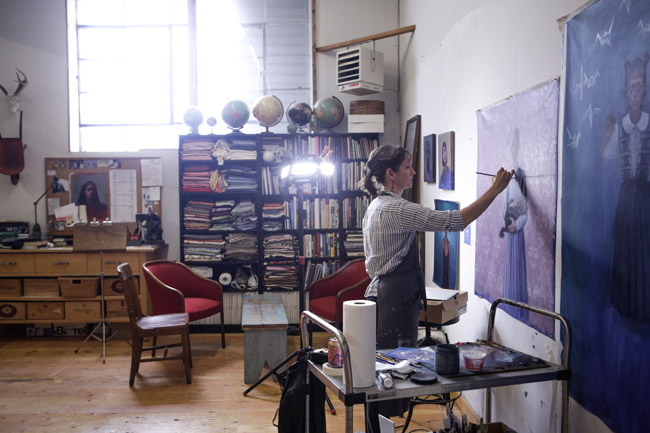 The serenely composed paintings of Katherine Fraser may appear at first glance to be cool and detached. The lone melancholic figures inhabiting their beautifully composed but isolated landscapes. But these works are developed from the artist's sincere desire to respect, express, and share the tender qualities that unite us and are made to touch the viewer and resonate with the complexity of experience.
"Compassionately and with a generous heart, I seek to portray our continual need to reckon expectations with truth, and the struggles we endure to feel satisfaction with our choices. My goal is not just to make aesthetically beautiful paintings, but to create works that touch and resonate with the complexity of real world experience. Though my figures stand alone, I am less interested in loneliness than in the way being alone makes us feel most alive and connected to our true nature. By painting a solitary figure, I hope that the viewer will have a sense of looking into a mirror when they view one of my paintings, with their own emotions being reflected back to them. I hope that in viewing my paintings, people will feel less alone. I commonly get asked why my paintings are so sad, but I feel that the viewer is missing all of the layers if that is all they see. Our culture tells us that we should feel happy all of the time, and there's something wrong with us if we don't. I experience fleeting moments of happiness, but I don't believe it is our natural state."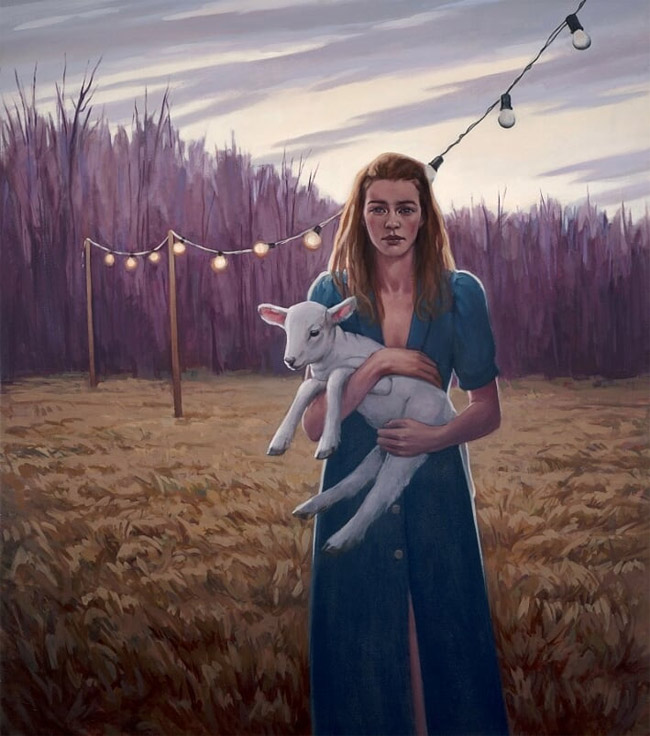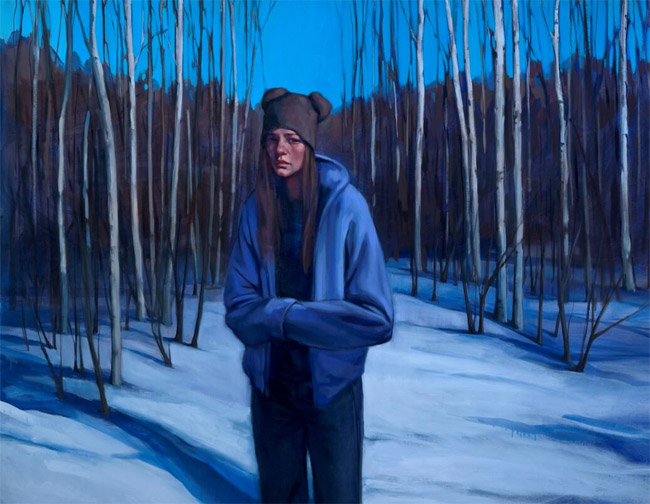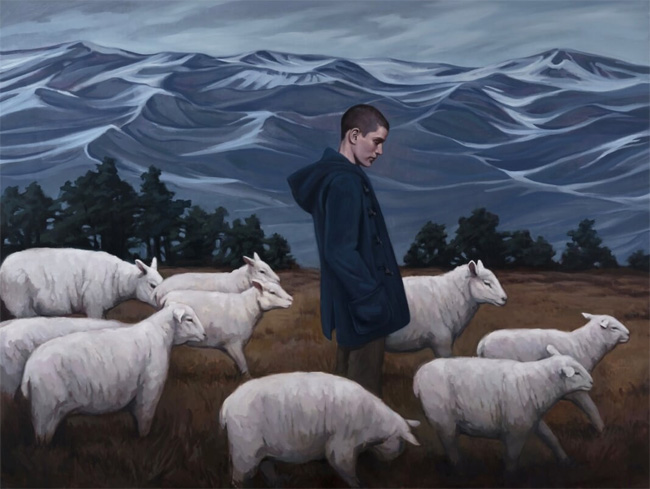 Katherine's figurative landscapes encompass not only universal emotions and experiences but also embody her own.
"Because I work intuitively, and from my own experience, the paintings are often somewhat autobiographical, though I make the images open-ended so that they can inspire multiple interpretations. I never want the viewer to feel that he or she is peering into something private. Many of the paintings do have personal stories behind them, but I filter my ideas through layers of symbolism and narrative so that I get away from making art that is purely self-expression and move toward something that has more versatility in its ability to communicate.  My paintings depict moments of quiet reflection and insight, of wonder, vulnerability, yearning, determination, humility, strength, and growth. I see a duality in every moment, and beauty in the tension of opposing emotions existing in a single facial expression. As every person, and every experience is multifaceted, every painting is meant to express a dimensional idea."
The compositions have a strong narrative content that draws the viewer in and engages them. Part of the allure of Katherine's paintings is in the desire to make up a story based on personal perception and experience, for the landscape or figurative content of the painting. The artist admits that she is intensely concerned with narrative.
"We unconsciously create narratives every day to understand our experience and explain our identities, but the stories are always shifting; emotions can shape perception, and memory is mutable. There are certain things I remember that I am not even entirely sure happened to me. While none of my paintings are of actual memories, they feel as if they could be. They express longing, nostalgia, and a sense of time stopping for a moment. I hope that everything I paint, whether a figure, a dog, or a landscape, will convey a story. I want to engage the viewer, to provoke them to wonder, 'What is going on here?' I use intriguing titles as a further way to nudge this line of questioning. Narrative is what I'm personally looking for when I view art, and it's the reason I get out of bed in the morning."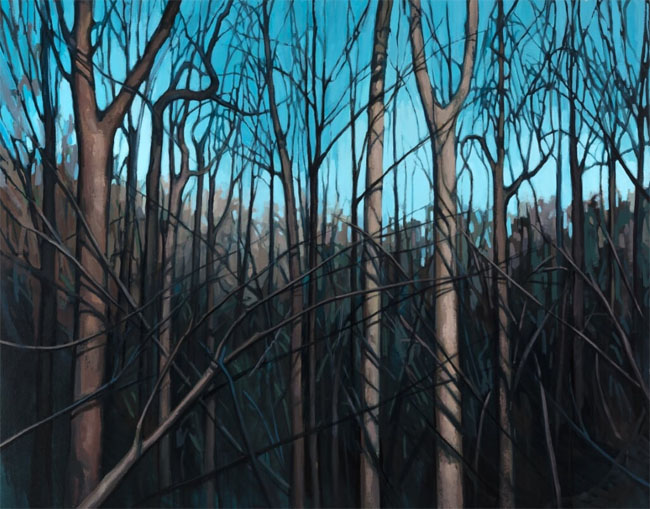 The artist's process begins with sketching, and fragments of ideas will come from that, but to a large extent, the paintings grow from a feeling or emotion she wants to express, and then the character emerges, and the narrative grows around him or her.
"Even when there is not a personal story behind the painting, I still feel the emotion of the painting intensely as I make it. I embody the character as I bring them to life. I work on a number of paintings at once, and by going back and forth themes emerge organically, and the work grows up as a body. I love how this process puts me in dialogue with the work; it's a combination of actively making decisions, and of being quiet and letting the paintings tell me what they need.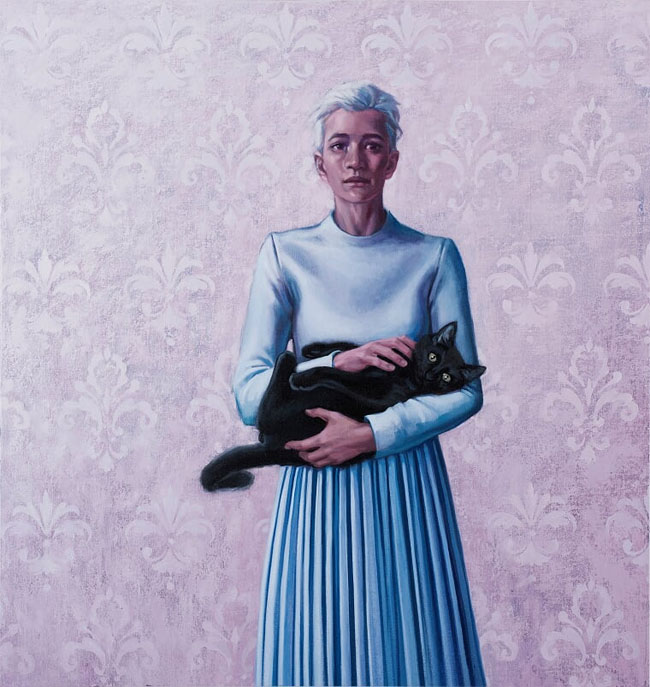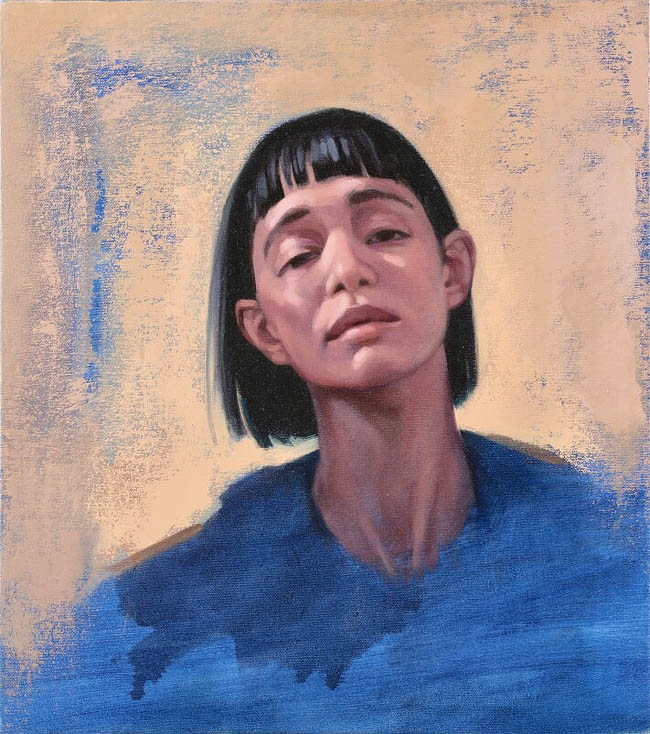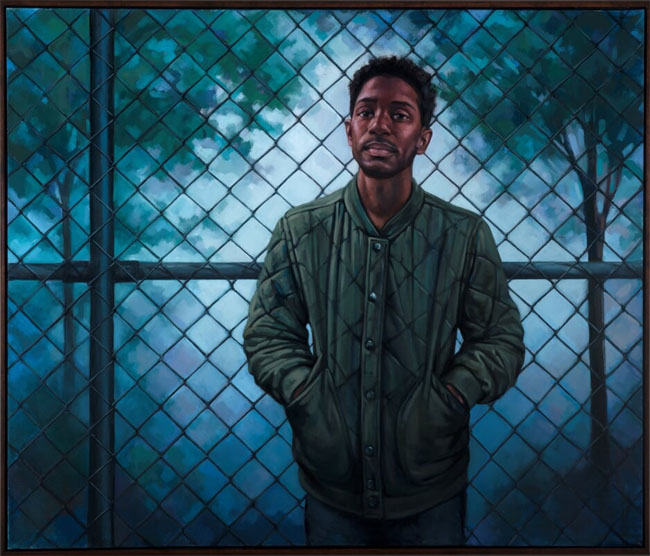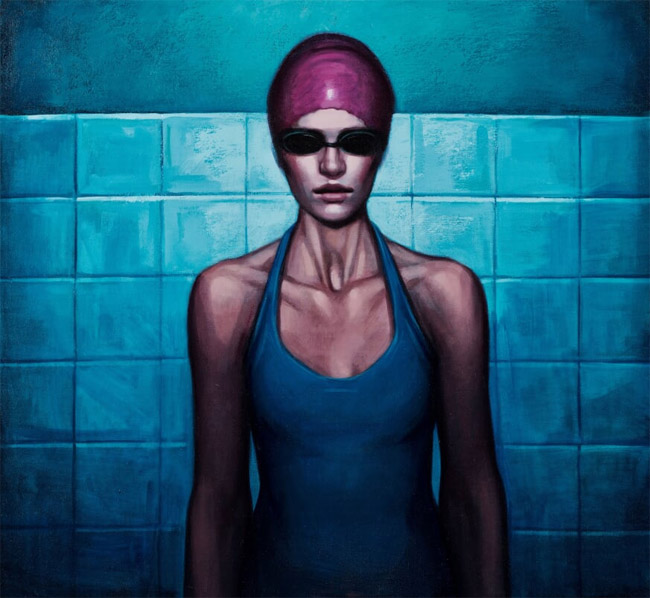 The new pieces that Katherine has created for Paradigm's booth are a mix of figures with abstracted backgrounds, figures in strange, bleak settings, dogs, empty lots, abandoned cars. Though the subjects are varied, there is a uniform depth of emotion. They all play with color, paint texture, narrative, and whimsy. After five years of back-to back large solo shows, Katherine is excited for a year full of shorter deadlines, and a chance to make more, smaller bodies of work. My next exhibit with Paradigm Gallery will be a collaboration with Roche Bobois Furniture Gallery, this fall.