Walk along a dusty trail through the golden sunbeams of an autumn afternoon. The curled velvet leaves, seasoned with the ancient nutmeg of fall, are scattered about your feet like broken butterflies. Herein lies the palette, the pensive mood, evoked by the work of charcoal and gold leaf artist Alessandra Maria. Born in Washington, and currently working out of a home studio in Maui, Hawaii, Alessandra begins each new piece with a photo collage, then uses inks to achieve the foundational color and finish on her paper. Next, she sets out applying careful strokes of graphite, carbon pencil, and eventually gold leaf accents. Her goals for each piece vary significantly, and range from imparting a physical feeling, to attempting to create iconography for women that "transcends the 'ideals' of who we are supposed to be."
Though she was a terrible student in high school, the artist's path is now focused and startlingly clear, especially for one so young: "I sincerely believe that my life would be best put to use trying to contribute at the highest level that I can," she said, and her desire to contribute something meaningful to humanity is pragmatic and achievable. "Let's be honest – I draw," she said. "I'm not curing cancer, but as a singular human on this earth, I can do this one simple, small thing fairly well: art."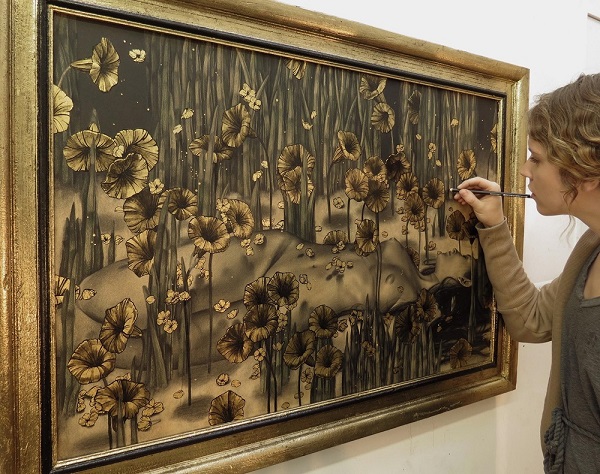 Alessandra Maria
Website | Facebook | Instagram
I read in another interview that at the outset of a new piece you often work from photos and imagination. Do you still start a piece by making a photo collage first, and if yes, where do you acquire your collage images?
Yes, I do still work from a photo collage to start. I take the photos myself, of surroundings, models, etc, and then cobble them all together in Photoshop, as a sort of "sketch". It helps me to get an idea of what the image will look like, and what challenges I'm likely to encounter, before I commit charcoal to paper.
Where is your favorite place to stroll around for inspiration? Do you take hikes outdoors, go to museums, and/or walk late at night? And how do these special sessions ramp up your creativity?
To be honest, I don't believe inspiration. I think it's the sort of thing that comes when you stubbornly sit at your desk at the same time every day, and force yourself to get to work.
Rather, I walk to clear mental boundaries, to get out of my own way, normally after having really struggled to fix a problem. Sometimes when wrestling with a creative problem for hours, I find that giving my mind a brief rest and looking at my surroundings can often bring the solution forth. But that only works if I've put in the hours of diligence beforehand; just walking doesn't tend to do it anything useful.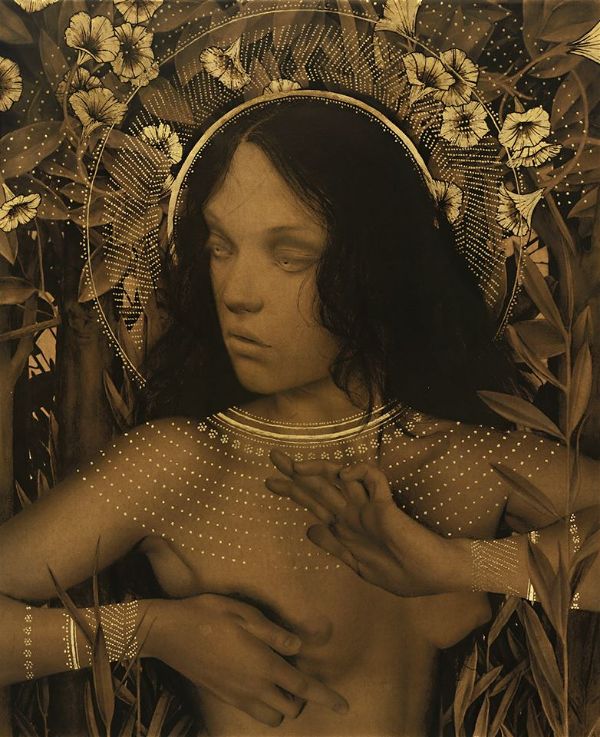 You have stated (and I am paraphrasing a bit) that to be an artist an individual must make exactly what they want to see and forego compromising with the artwork, then follow through with hard work and persistence. It makes sense then that as part of that philosophy one must surround themselves with aesthetics they favor: sights, smells, sounds, etc. Can you paint a mental picture for us of a setting in which you are immersed in your creative element? In other words, what were you doing during the creation of one of your favorite pieces?
Well, I actually try to be fairly Spartan with my creative spaces. There's a reason you rarely see them on social media – I prefer to keep everything as bare bones and utilitarian as possible. I find that the preoccupation with making an ideal space is just that, a preoccupation, and a distraction from the important part: art making.
The reason is that ultimately, I am really protective of whatever I choose to focus on, because I've found that focus tends to work like a muscle: you only have a certain amount you can expend before you need to recover. That focus is incredibly precious, and I push myself to use it to it's fullest potential solely for art making. In this same vein, I don't allow myself to watch TV, movies, or anything like that. Art collecting isn't allowed either, because I'm sure I would become obsessed.
You have stated that you pick up on patterns more than light. What effect does drawing numerous patterns such as wings of butterflies, or the many shaded circles of a strand of beads have on your mindset? I am assuming it induces a meditative calmness, and that once you have completed your soft drawings and subtle shading, the final addition of gold leaf accents enables you to express focused energy and a celebratory exuberance. Is this at all accurate?
It's true I compose in terms of pattern rather than light, but it's more that I structure the entire composition this way; in my mind, I see all the parts of a piece as interlocking aspects of a pattern, and I move elements around until they are all solidly placed. It's similar to solving a puzzle.
Graphite is firm and precise whereas charcoal is sexy, soft and sensual. Are you primarily drawing with charcoal as of late, or are you still using graphite as well?
I work primarily with charcoal now, and sometimes carbon pencil; graphite just doesn't get as dark as I want it to.
The coffee stained paper you employ has a beautifully aged quality resembling the papyrus crafted by the ancient Egyptians (they made theirs by softening and mashing Nile River grasses into a pulp, then spreading it into thin sheets). How do you use coffee to get the look you desire for your work?
So I no longer work with coffee, actually! I adored the aged look, but the past year I have been working with inks to achieve the color and finish I am looking for.
https://www.instagram.com/p/BZzVak0lO6f/?taken-by=alessandradraws
You used to reside in New York where you shared studio space with other artists. Now you are in Maui, Hawaii. Tell me about your current living and studio environment and how (if at all) it has changed the way you create.
My New York studio situation was wonderful; I had to hop around for a while to find a great space, but I finally managed to get one that was a mile and a half walk from my apartment, all to myself, in this great professional building in Greenpoint. It was perfect because my pup follows me everywhere, and the daily walks kept her happy (there was even a dog park close by). But it was so cold to walk that far in the winter!
I wanted to try working from home in Maui, which I hadn't done before (except in school and when I was starting out, and would literally hit my head on my desk while rolling out of bed). Here, I have a dedicated studio space in my apartment, with storage and a lot of room. It's been an adjustment working from home, but for the most part it's been one of the best working situations I've ever had. I get up at 5am, so it's nice to just get to work without having to worry about safety or walking on deserted streets. Of course, I've had to set up a workspace for myself where I'm not going to get distracted from the job in hand. This means I've done plenty of research on things like the best office chairs and desks so that I can create the environment I want that will help me with my art.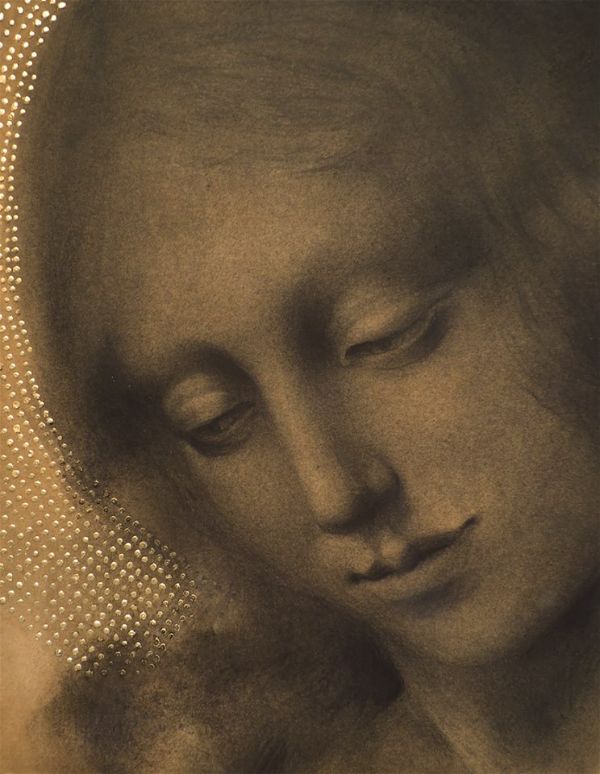 The butterfly is such a powerful symbol of growth and embracing change and new beauty. Please tell me what butterflies symbolize for you and why they are featured in so much of your work.
To me, they are simply a tool to either impart a feeling (the space between wings is particularly beautiful to me), or a pattern. I rarely work with them anymore though, because I feel I utilized them to the extent I wanted to. They might come back into my work here or there in the meantime, if I can see a use for them.
A good deal of the long, hanging foliage you feature appears to be weeping willow, and some of it eucalyptus (the latter being the California coastal tree populated by thousands of monarch butterflies "overwintering" during their path of migration) . Have you in fact included these two trees in your work, and if so, why?
Well, I've used a weeping willow once before, but that was because I had found one and sat beneath it; I loved how the hanging leaves emphasized the space between, yet imparted a sense of density.
Have you done any interesting collaborations with other artists? If so, where can we see the finished products?
No, I have not. Collaboration doesn't really make sense for my work, because I'm so precise about what I want to portray, and the process of creation has little to do with the end result or concept. Effective, interesting collaboration is often based on two artists responding in tandem to each other; that can be very interesting, but it's more the realm of artists' whose process is a crucial aspect of appreciating their work.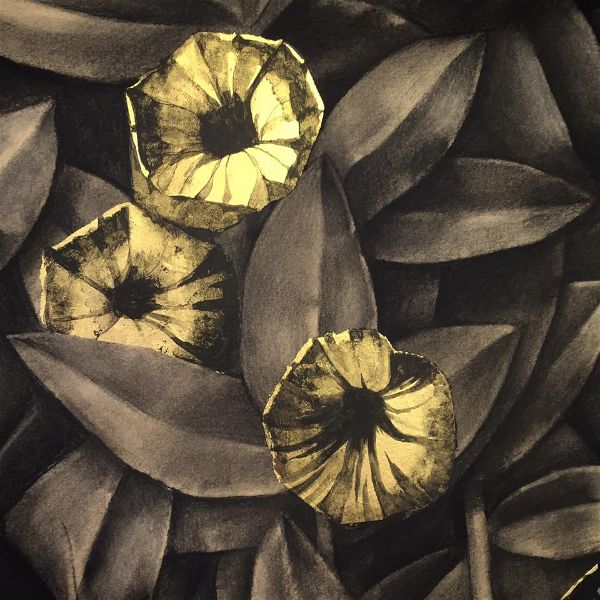 To get into an artist's head, I always feel it's necessary to know their music. What tunes do you like to spin these days (when you're drawing), what are your three favorite bands, and do you like to see live music?
I adore Bjork and Jose Gonzalez, but I don't really listen to music while I work; I'm more into audiobooks. Some books I've listened to recently are The Jungle, The Orphan Masters Son, Anna Karenina, The Idiot, Crime and Punishment, The Brothers Karamasov, Sapiens, and right now I'm on A Man Called Ove (which is hilarious! I can't recommend it enough). I tried to do War and Peace and could not, all the military stuff bored me to death. But, I often have silence when I'm in moments of deep concentration.
I see the fall season when I view your drawings, so much that I was inspired to write the following lines while walking and musing on your work: Is fall your preferred season? If so, tell us why you love it, and if not, please tell us about another season you enjoy.
I actually love summer, if you can believe it! I can't stand the cold, and it's easier to go outside in the fresh air when it's warm. Of course, fall is just beautiful, and I was born in November; I would love it if it didn't signal the beginning of winter… Of course, now in Maui, I have temporarily escaped the existence of winter, and I cannot tell you how excited I am about this.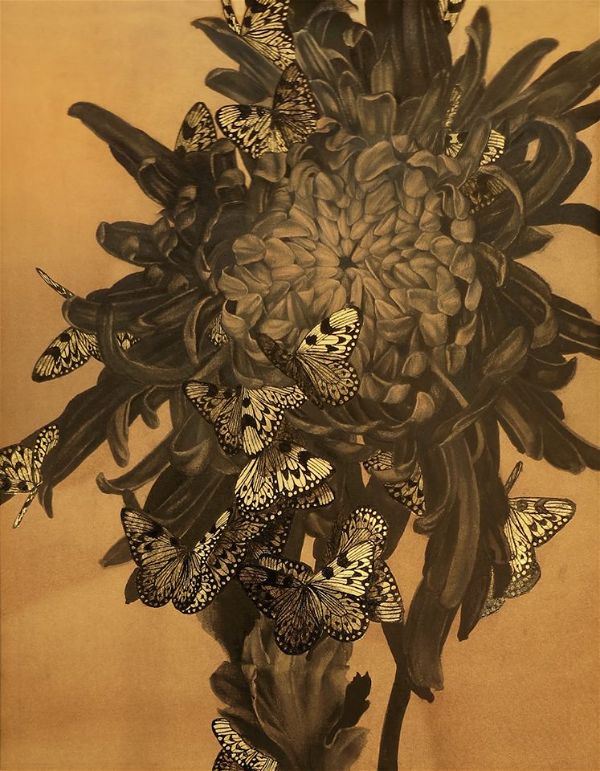 You have said you want to make important work that people remember – work that leaves an impression. I see romance, introspection, youth, femininity, grace, innocence. What emotions do you hope to stir up in your viewers?
Yes, you're right – ultimately, what I want more than anything is to contribute something to humanity. Let's be honest – I draw, I'm not curing cancer, but as just a singular human on this earth, I can do this one simple, small thing fairly well: art. And, I sincerely believe that my life would be best put to use trying to contribute at the highest level that I can.
The goals for each piece vary significantly; sometimes it's as simple as a physical feeling, other times it's attempting to create iconography for women that transcends the "ideals" of who we are supposed to be. I like portraying women stripped of the traditional idea of "femininity"; women, but just as people, not as sex objects. But again, it varies between pieces; I often make the figures nude because I don't like any contextualizing elements that imply an era or specific point in time.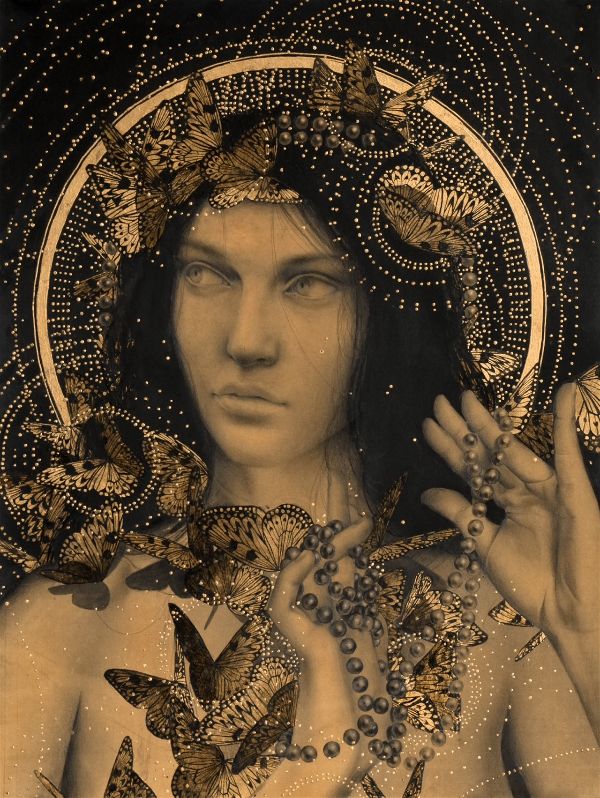 In junior high and high school, were you the one constantly doodling in class? Do you remember some of the things you used to draw back then?
Absolutely! I was a terrible student in junior high and high school; I honestly don't know how I graduated. I never did my homework, I couldn't pay attention in class for the life of me; this was compounded by the fact that I went to an excellent all-girls high school, where we had about 12 valedictorians for a class of 150. I'm grateful my parents had faith that I would find my way, most would have been worried.
I used to draw everything, but primarily people. I also did these crazy line work patterns over everything, to the point where fellow classmates started asking me to do them on their notebooks, too.
What subjects besides art did you enjoy in high school and college?
English and History were my favorites! I'm not the best writer, but anything reading-related made me excited, and they were always the easiest subjects in school for me. Math was the absolute devil, I dreaded that class like you can't believe; chemistry also totally bored me to death. Oddly, Geometry was the only math class I ever took where I instinctively understood it. I thought Trigonometry would be easy as well, but it was yet another disaster. I didn't even bother with Calculus, I subbed that class for more art classes (much to my college advisors dismay).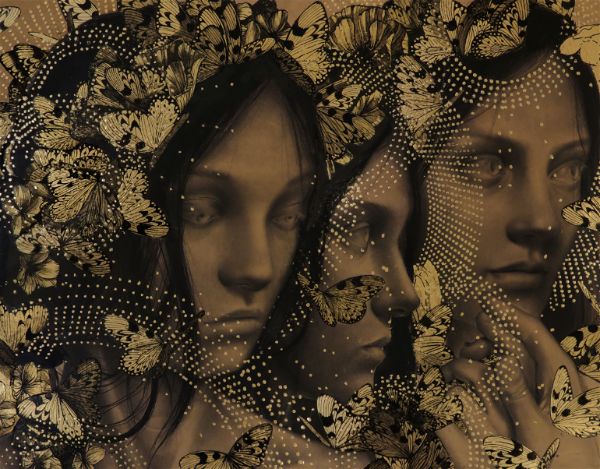 You attended Pratt Institute and received your BFA in 2012; however, you initially majored in graphic design in an attempt to fulfill your needs for both creative work and job security. I know you ended up changing your focus to hone in on fine art, but in your early years there do you remember a particularly good assignment you were given or a professor you really connected with?
Pratt was a dream. I had a couple teachers who really changed the course of my life: Chang Park, Rudy Gutierrez, Veronica Lawlor, Andrew DeGraff, just to name a few. Kenichi Hoshine in particular has had a big effect on my work and trajectory, his guidance has been absolutely invaluable.
I can't really think of any assignments in particular that changed anything, it was more like a slow tide. I do remember it was really crucial that Rudy Gutierrez and Chang Park were lenient with me senior year and let me do whatever I wanted. Seniors are supposed to prepare a "senior project", completing a body of work based around a thesis of sorts; I remember going to Rudy and saying, "I just want to explore." He knew me by then, and knew how terrible I was at following direction, so (thankfully) he enabled me to just explore and find my voice, without the parameters of needing a project. That whole year of exploration was crucial for helping me find my voice.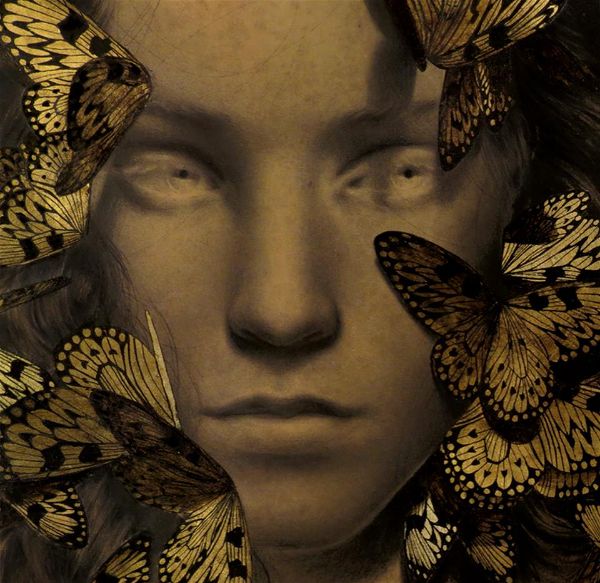 I know you recently had one new work (an ink, graphite, carbon, and gold leaf piece on coffee stained paper) that was shown through AFA Gallery New York, in the "Works on Paper" show that ran September 14th to October 6th, 2017. You have also recently worked on commissioned pieces, including portraits of two people who have passed away. Can you tell our readers about other new exhibitions and projects you have in the pipeline?
I have a couple of shows coming up! I always post information on my Instagram feed– my username is @alessandradraws, but you can also check my website, alessandramaria.com
What goal setting advice do you have for beginning and intermediate artists who are faltering or don't feel they have a clear path or a definite direction? How can they envision their goals as artists?
I love this subject; it's so important and isn't focused on enough. I teach independently to driven students around the world, via facetime or Skype, and this is the primary purpose of my instruction. I have a three-part approach to tackling artists struggling with their direction: developing the students "creative compass", addressing problems within their process, and evaluating how effective their practice habits are.
For artists starting out and trying understand who they are creatively, my main advice is to constantly ask "why" when looking at a piece you like. Why is it successful, why do you like it, how did the artist make it, what specific aspects of the piece do you like, what parts do you dislike? Blur your vision and see the overarching composition, then refocus it and pay close attention to the details. How are the lights and darks balanced, why is this color palette drawing me in whereas a different one repulses me?
The act of looking is work in and of itself for an artist, and the harder and closer you look, the more you understand and see. The more you see every part of the piece, the more you understand why it's successful and why it resonates with you; and in turn, the more you learn about yourself, your goals, and how to make work you will love. Looking at and studying art takes time, and it should be taken as seriously as making your own work.