Dark fairy tales are her speciality, but these fantastical wonders are a far cry from Mélanie Delon's reality – one in which she is so grounded that she breathes real, historical elements into her creations. A woman with an exceptional understanding of how to work in the digital realm, Mélanie not only paints some of the most delicate, whimsical and dark subjects with the help of Photoshop, but a large part of her career is teaching others how to master this medium.
Her work is reminiscent of Hans Christian Andersen's brutal stories where the deeper one delves, the darker it becomes. This is Mélanie's playground, a world she revels in. The Pre-Raphaelite and Classical painters' influence run deep in this multi-faceted woman, and the detail in her work tells a story that lies just beneath the surface layers of her paintings. In this interview, she digs into the technicalities of her chosen medium, and explains how she manages to stand out in a sea of talented online artists.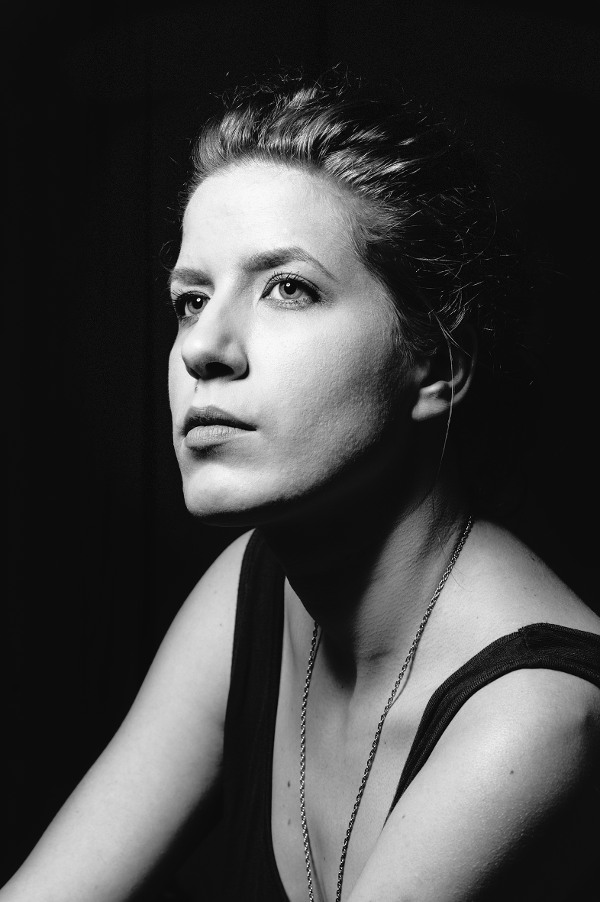 Mélanie Delon
Website | Facebook | Instagram | Deviant Art | ArtStation
.
Let's start at the beginning. I realize you've been drawing for most of your life, and that you studied Archaeology before getting into digital illustration. How did all this happen, and when was it that you truly realized this was what you wanted to do with your life?
It was a kind of mistake, I never thought or dreamed of being an illustrator, I wanted to create video games, and during my 3D studies, I discovered Photoshop and what I could do with this software. I started to post on several online galleries (CG society, Deviant art, etc.) and one day I received a mail from a publishing house asking me to publish my own art book. I, of course, said yes and everything started. I received a lot of contracts and at this moment I realized I could make my living with my art. Archaeology came before the video game school; art and history are things I really love and I often include what I learnt during those years at university in my works.
Your work is very fluid, ethereal, and really speaks to me – especially as someone who loves the way in which a whole world of fantasy can be created in a single picture. What about the art you make intrigues and inspires you?
I always paint what I like and to please me not the people, so I think it's the most important thing. In each painting, there is a strong story and I like to add some details related to it, like clues, so that the viewer will perhaps discover different things each time they look at it. I'm trying to develop my own world in my works, and I don't want to do pure fantasy – I prefer to create something a bit twisted, uncommon (at least I'm trying to!), so in each painting I always add some classical, historical touch even if I'm painting a fairy or a magical creature.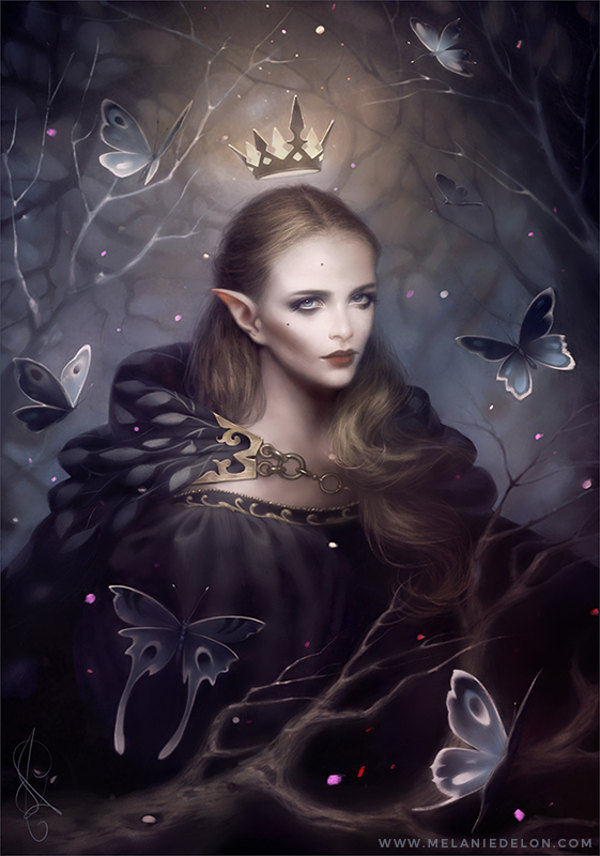 Titania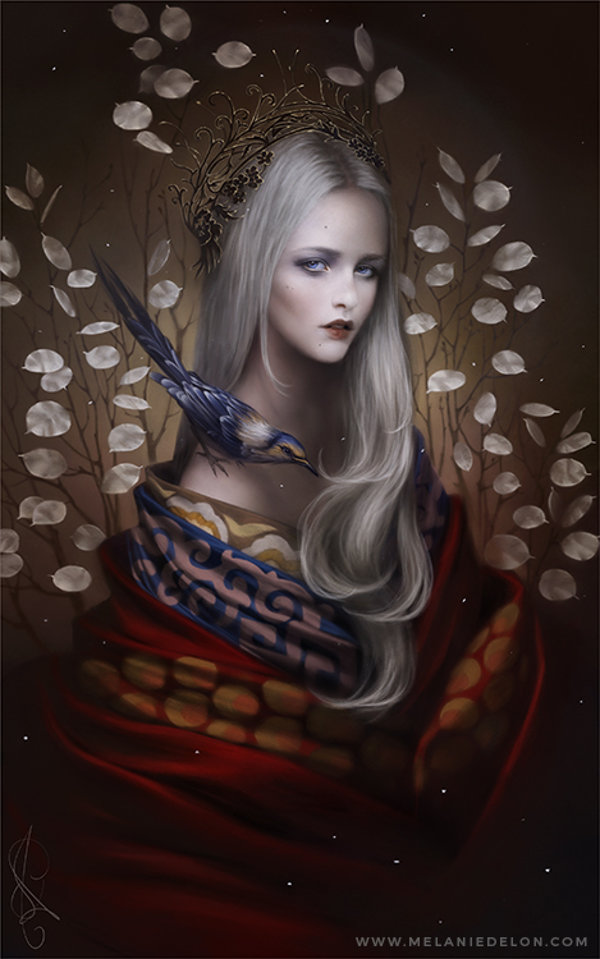 Maze
I'm guessing you have many favourite artists and ideas that have influenced you over the years. Who are some of your favourite at the moment, and why?
So many, of course! I've been influenced a lot by the Pre-Raphaelites and the classical painters. Mainly because of their subjects and the light treatment, I am always blown away with the works of Waterhouse, who is one of my all-time favourite painters. I'm also really inspired by the old illustrators like Edmond Dulac and Arthur Rackham, again because of their subjects and the way they composed their illustrations, and also all the little details that tell a story. And more recently I'm absolutely in awe with the work of Piotr Jablonski and Sergei Kolesov, I love the way they use shapes and colours!
As an illustrator who's worked with numerous publishing houses on different book covers, how does this compare with your own creations in terms of the process and giving the client's vision life? What is the ratio of commissioned to personal work that you do?
It's not quite the same work. For a commission the creative side is almost inexistent, I only create what the client wants. I like that because I can explore subjects I would normally not paint so it's really challenging and refreshing. But the painting process is the same, I always start with quick sketches to find the composition a quickly lay down my ideas, then when I start with the first colour sketch. At this point the client gives me feedback on the artwork and I just have to modify or not the sketch. Then comes the longest part of the process, the refining, where I add details, blend the colours together, and work the textures. This step can take several weeks, I'm very slow when I work on a complex piece, I like to take my time, having breaks and think about the illustration.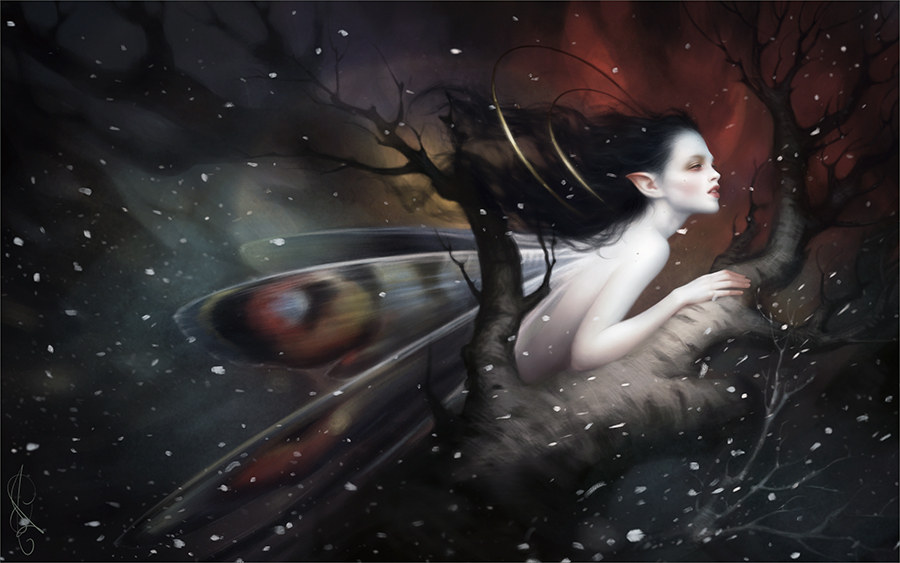 Snowfall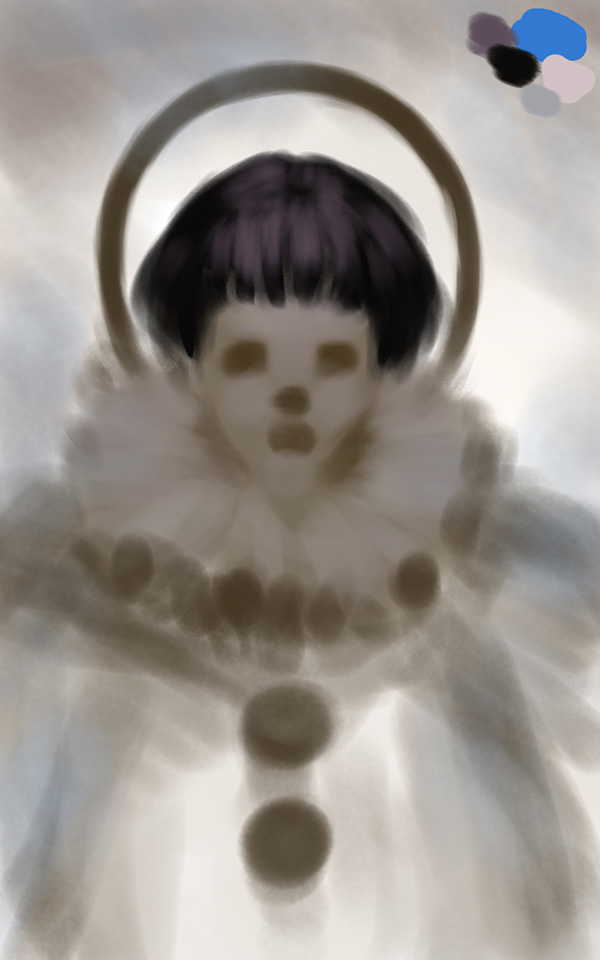 Nordica in its early development stages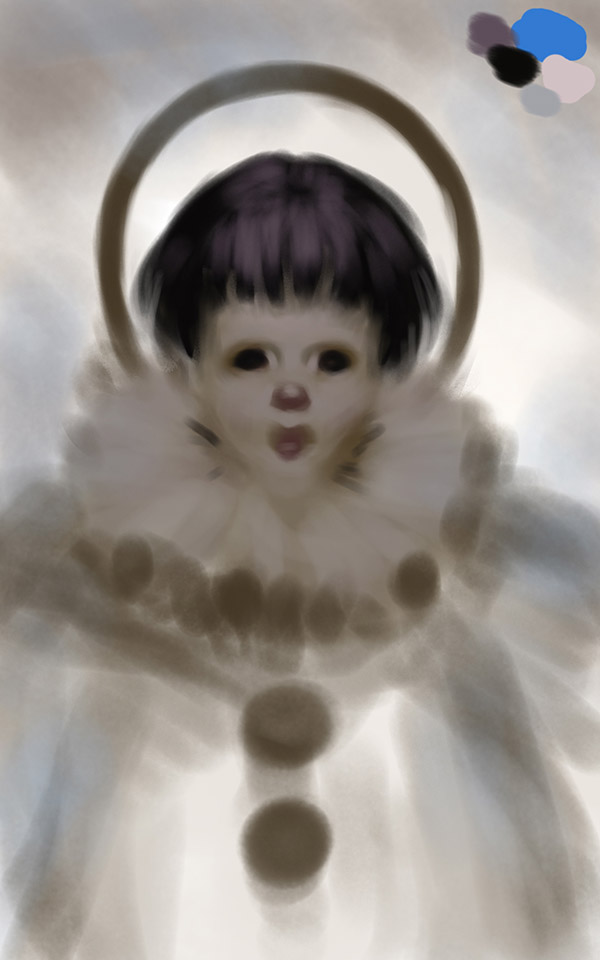 Shadowy areas are filled in before refinement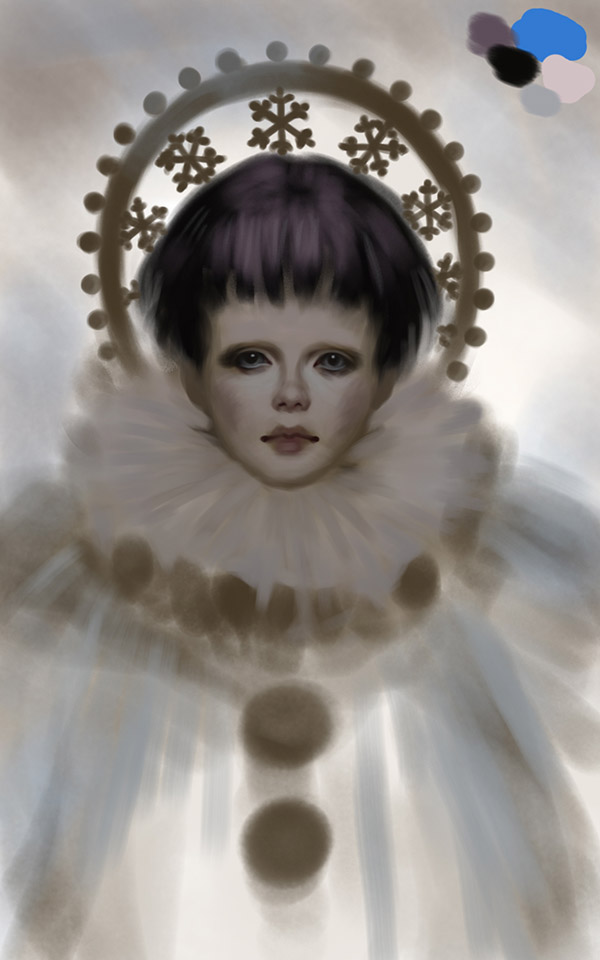 Details being added to Nordica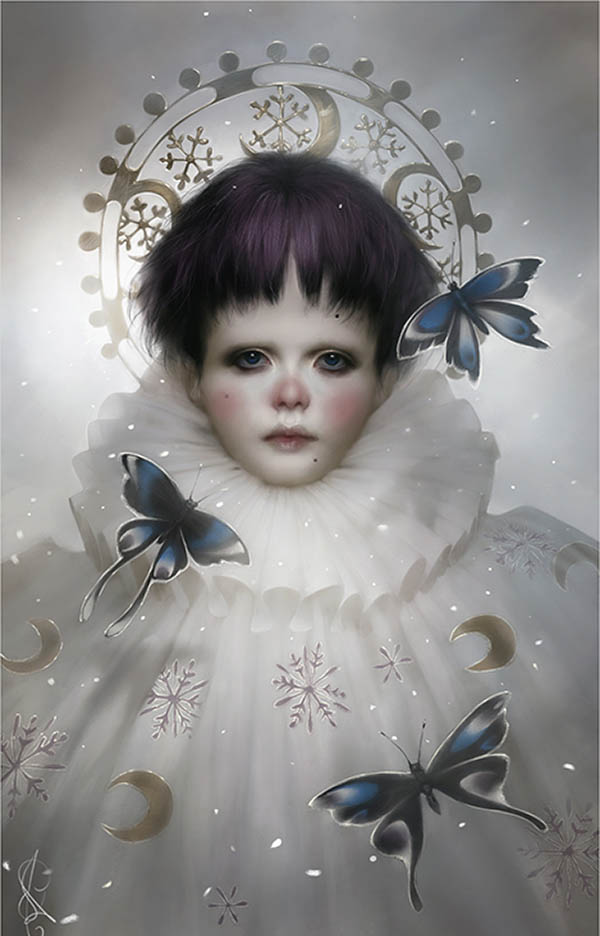 Nordica reaches completion
I think it's important to not rush when you are creating something. Regarding the ratio, I can't really tell, it really depends on my inspiration. Sometimes I can produce two or three personal work per month and sometimes nothing for three months!
I was blown away watching some of your tutorials. It truly is incredible what you can do with Photoshop and Painter. You're quite involved with training and education. Tell me a bit about this side of your life. What do you enjoy about educating people in your line of work?
Yes, it's important to me. I've always done tutorials for the Imagine FX Magazine, but this year this side of my work became more important. I decided to post behind-the-scenes videos on my Gumroad page and more recently, I'm running a digital portrait class at CGMA. It's an incredible experience, helping and teaching is something extremely pleasant and rewarding. I finally feel useful, and it's something I never felt before. And teaching a class even if it's done online is just awesome, I share my experience with my students and I'm trying my best to help them improve their painting skills, I'm really proud of them and hope to continue this new experience for a long time.
What advice would you give a young illustrator wanting to 'break' into the industry?
The best advice is to practice a lot and be present on social media. I'm not present there enough but it's something every artist must do nowadays… showing your work in process is the best way to get new connections and get noticed by professionals. I'm not only talking about FB, Instagram and such, but also online art communities like DeviantArt or ArtStation. Those websites offer you a personal online gallery that you can use as your professional portfolio, as well as professional job offers.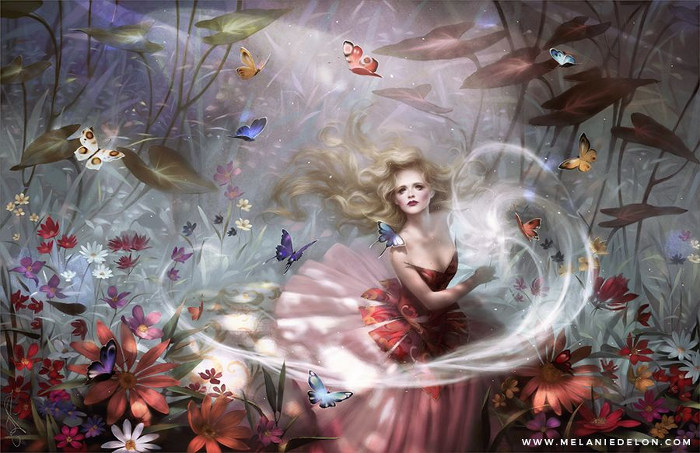 Make A Wish
What is a typical day in the life of Mélanie Delon? What do you do, where do you go, what do you love about your job?
As a freelance, my typical day is not really glamorous. I wake up, have my breakfast, and then I quickly check my email box and answer urgent important emails. Then I start painting on commissions if I have one, or personal works. I take a lot of small breaks during the day, around ten minutes, because it's important to not stay too long static in front of a computer. During those breaks I do some research for upcoming artwork or do some quick paper sketches. I stop working when my husband comes back from work and we spend the evening together or have fun with video games. Freedom is what I love most in my job, I can organize my week the way I want and so I'm not forced to be productive during certain hours of the day. Inspiration does not come on demand so I need to be free to create and paint.
Tell me about the tech you use. In your bio you mention a Wacom tablet, but what are the other technical elements in bringing your beautiful pieces together? What's your favourite software/hardware/tools to use?
I still use the traditional paper and pencil to do some basic sketches. It's something I always found relaxing. Other than that I'm using my old Wacom tablet (Intuos4) and Adobe Photoshop to really paint. I also use Corel Painter, usually to blend my colours together. This software is perfect to work the colours, but for doing precise and tiny elements, Photoshop is the best for me. I love digital painting because I have unlimited freedom, I can do what I want, if I decide to crop the canvas or enlarge it, it's possible, and the same goes for the colours and details. I can always change everything in my painting with Photoshop.
Creating things digitally obviously allows more freedom to make mistakes and experiment. How has this medium helped you hone your skills?
This medium offers so much freedom. It's without a doubt the best way to improve painting skills. It's so great to be able to correct and perfect everything you want with Photoshop or any other digital painting software. It certainly helped me improve my technique. I always try to do better, to perfect the most insignificant detail in each painting and also test new things. Working digitally is a constant evolution, and it's still motivating and challenging even after ten years.
What are some of the challenges of breaking into this particular medium?
I think finding your own personal style and technique is the most challenging, there are so many insane digital artists out there and having people knowing you did this artwork just by the look of it, I think is pretty difficult and rare. I'm still searching for it and so I'm still learning things, but it's my ultimate goal. It's like Da Vinci and his famous sfumato, not everyone can invent something and a specific technique – only the great masters!
I absolutely adore your paintings. They're so fairy-like, wispy, otherworldly. Which ones are your ultimate favourite pieces, and why?
My favourite ones are not the most popular, I prefer my darkest pieces, like Toile and Stitches. Those pieces have two sides, one very beautiful and full of light, the other very dark, almost gory. I love this kind of contrast in my illustrations, nothing is perfect and we all have a dark hidden side, it's my way of showing it I suppose. I do love painting cute fairy subjects, but I always include some dark enigmatic elements in the composition. I can't help it! I prefer dark, twisted subjects.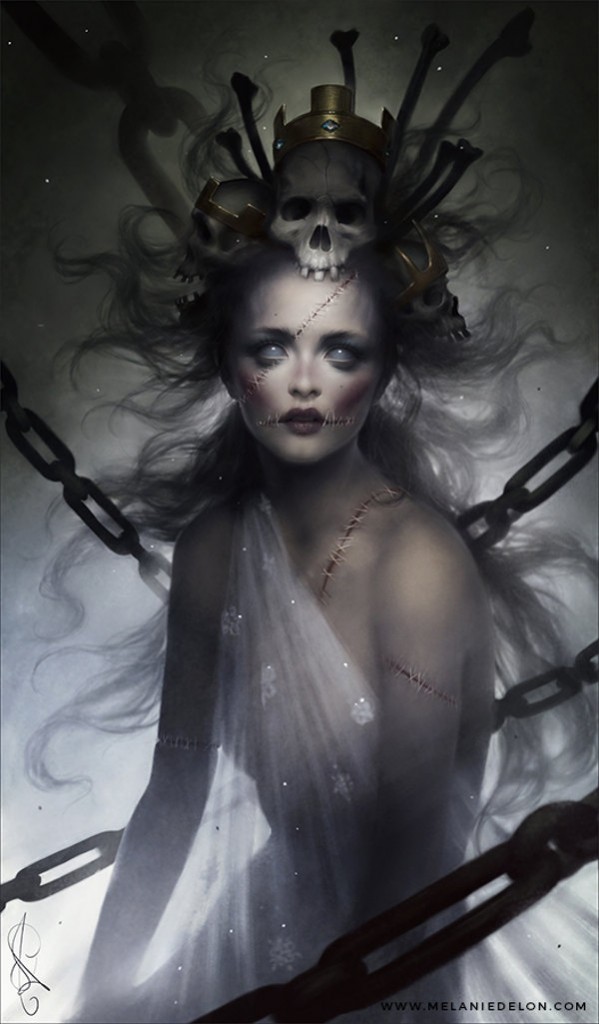 Stitches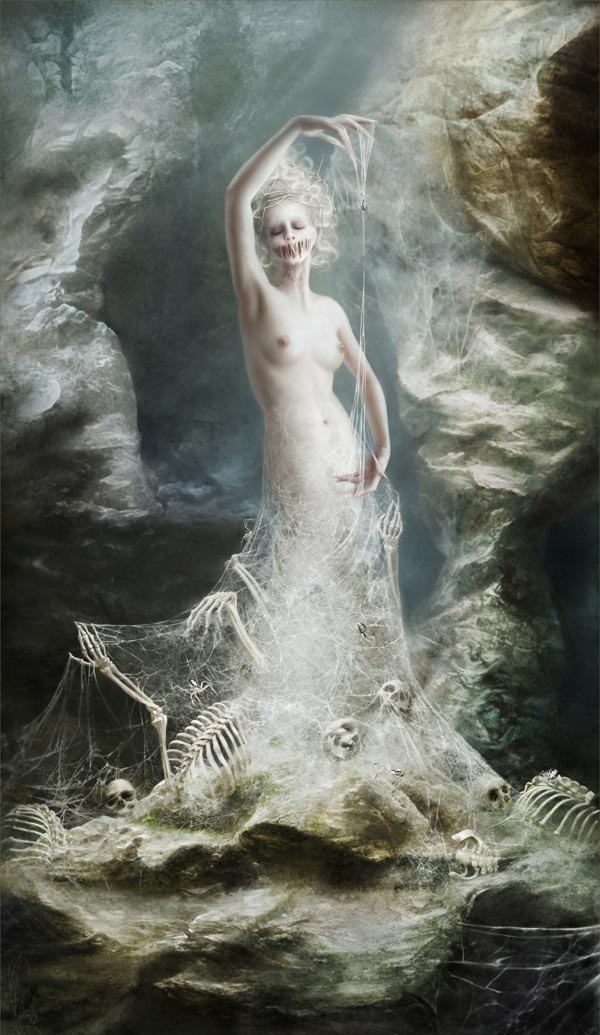 Toile
Tell me about your own publishing house and shop, what you've done recently, and what your plans are for 2017.
It was a decision I took few years ago, I was tired of being stuck with publishing houses and not being able to produce the products and books I wanted, when I wanted. This little shop is a liberation I can finally propose exactly the products and merchandise I want. It's a lot of work because I have to learn the other side of the industry, when I decided to self-publish my latest art book Opale. I had no idea how to make it, but learning the different stage of bookmaking was really interesting and really cool. I'm really proud of my small shop and hope to more new products this year, like posters and a new book by the end of this year. I'm also working on exciting new products via my licensing agency: a tarot game and some figurines which I hope will be ready this year.
Opale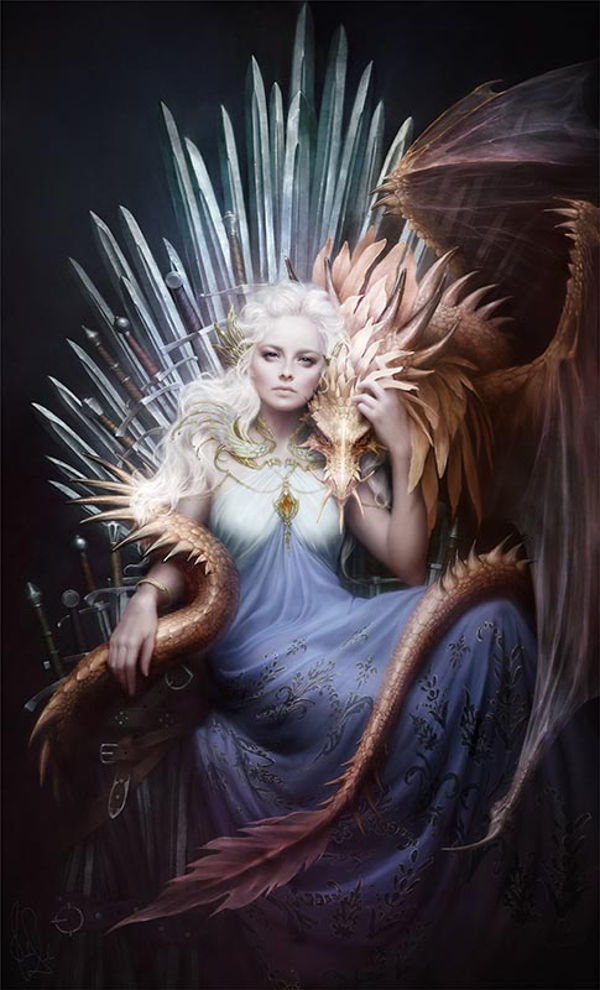 I Will Take What Is Mine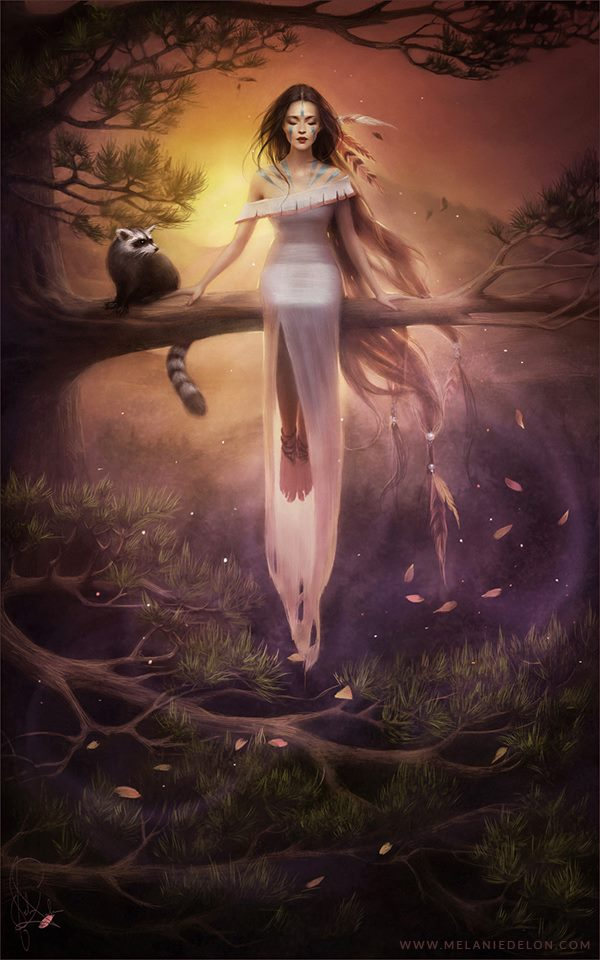 Pocahontas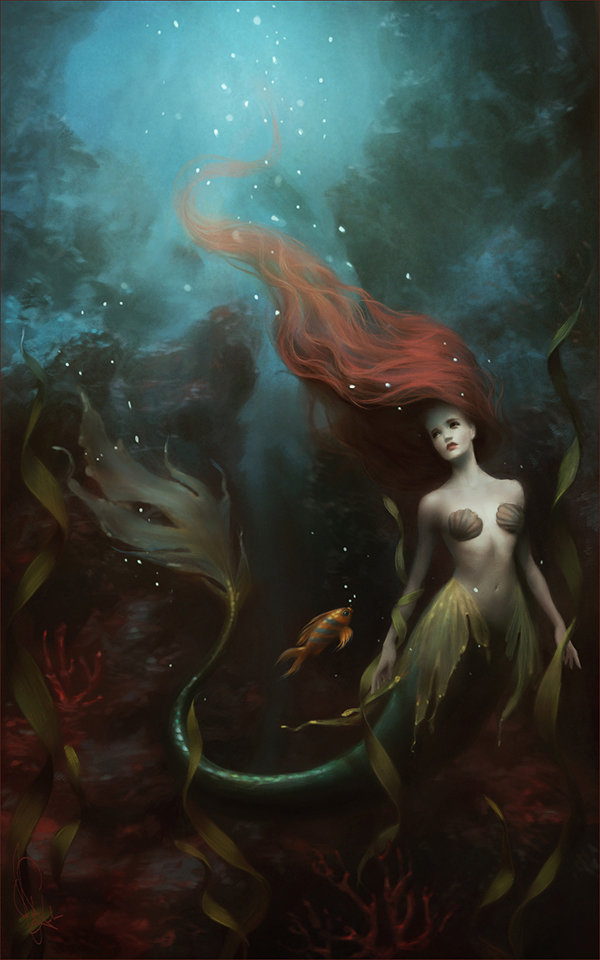 The Little Mermaid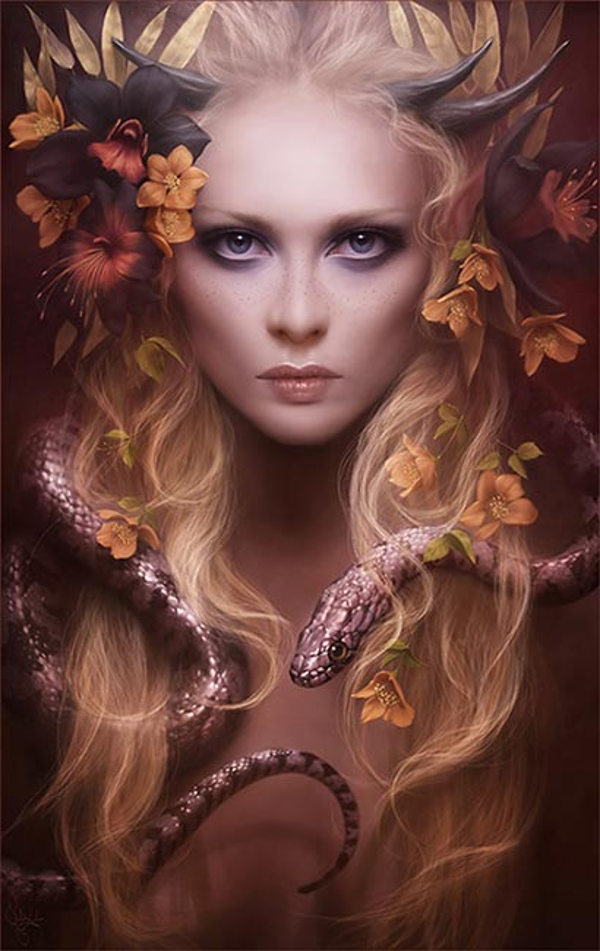 Run
Victoria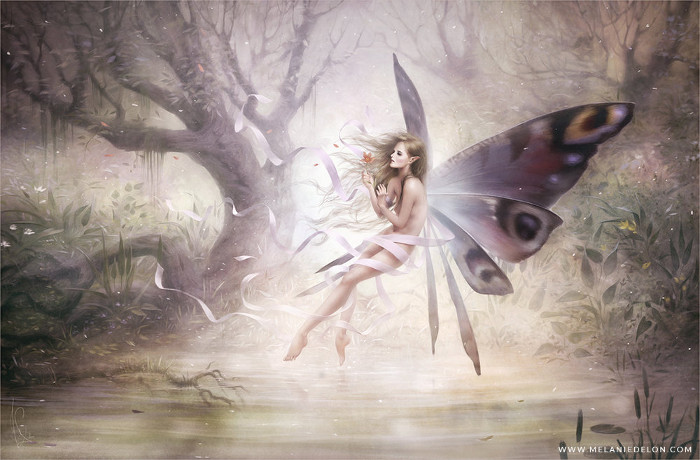 Amelia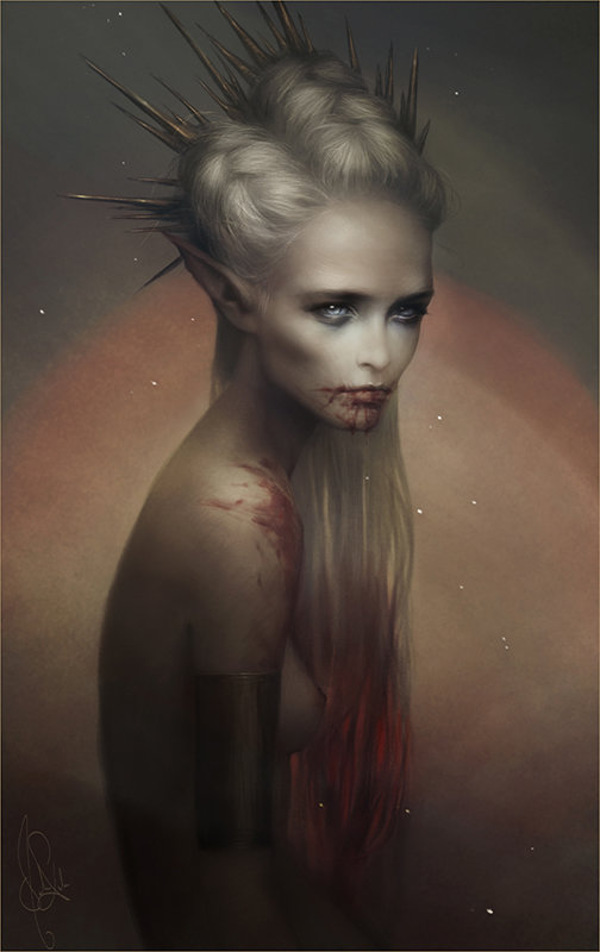 Animal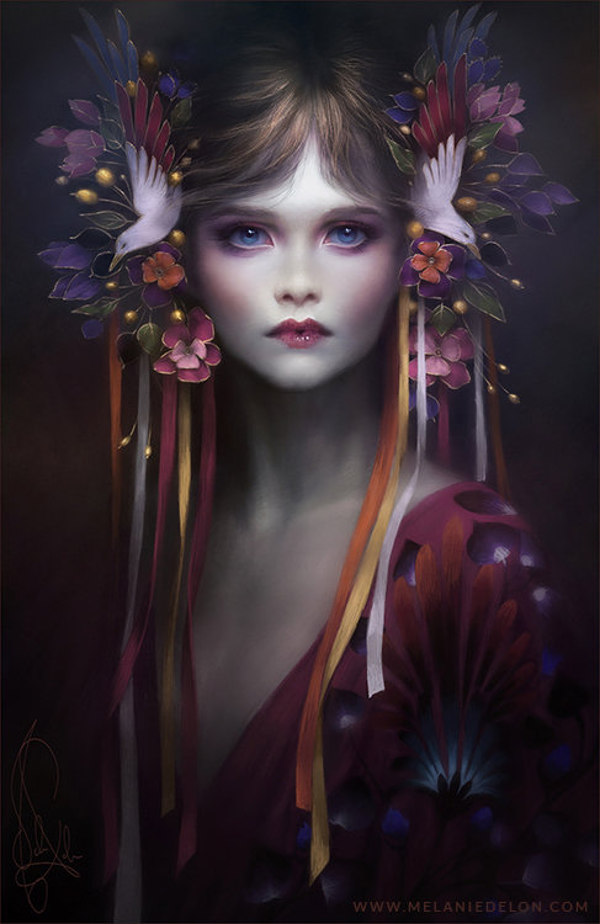 Blossom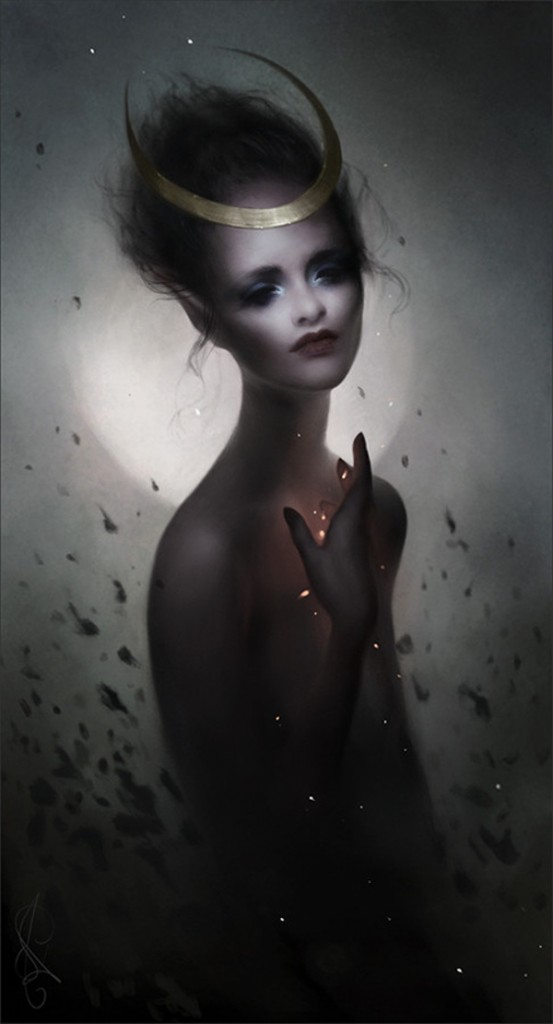 Hope In Light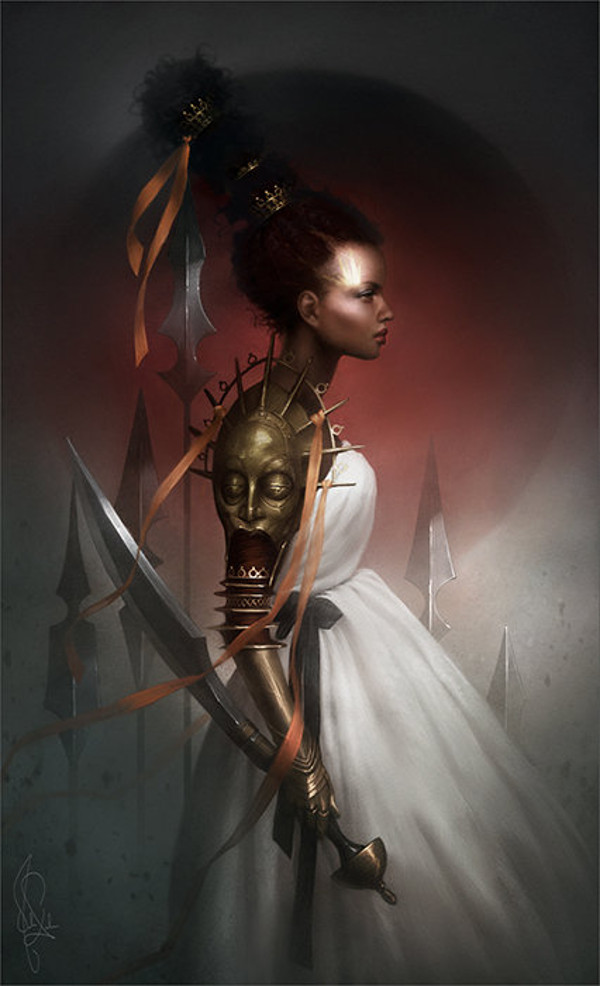 Red Poison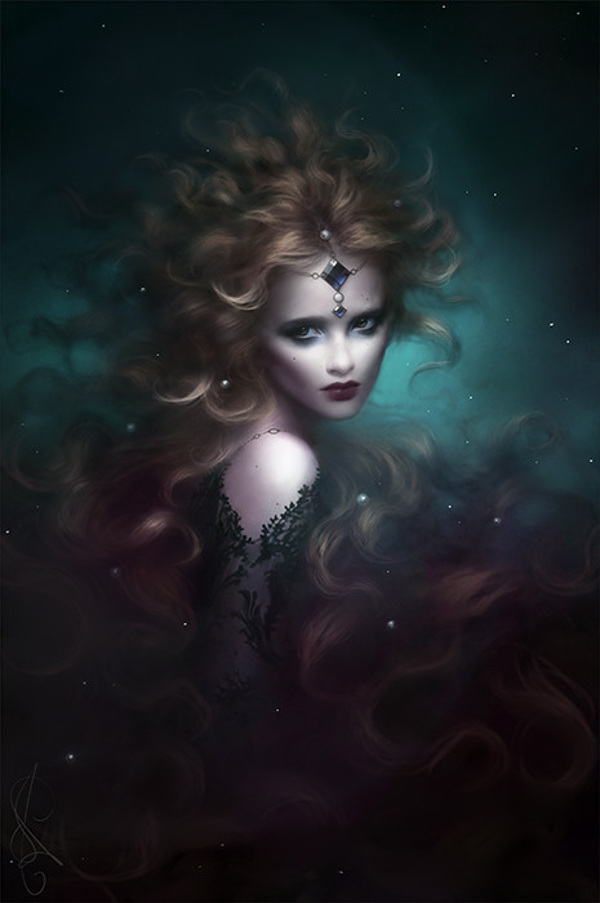 Sura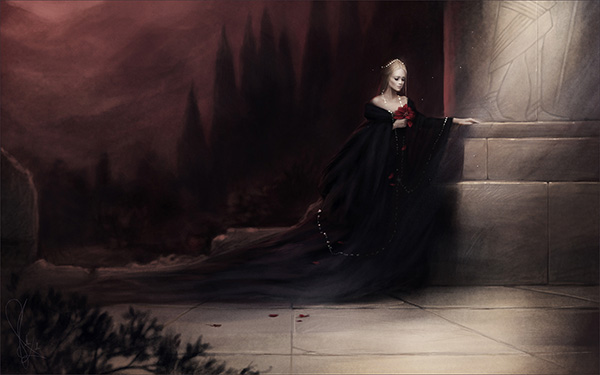 Impera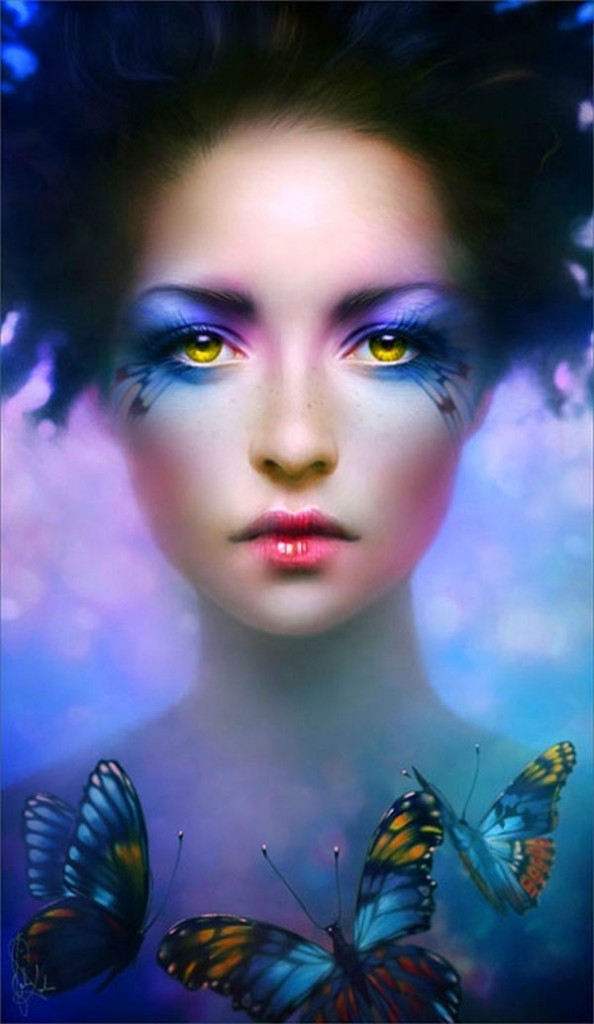 Orchid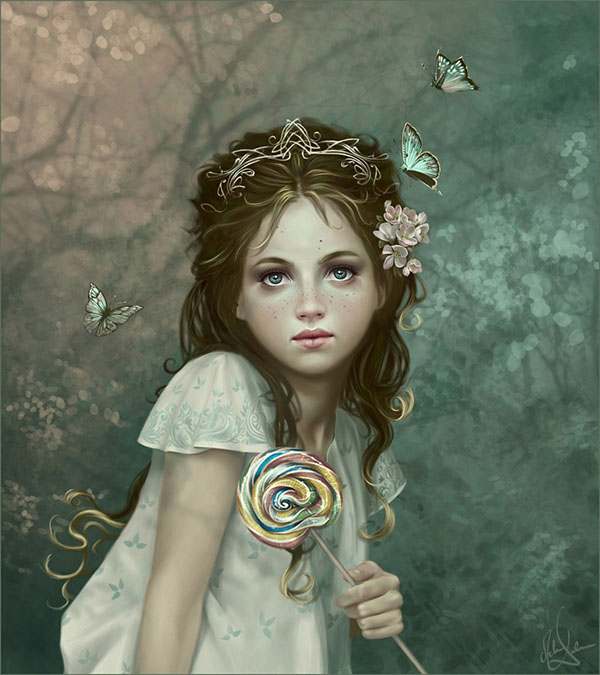 Sucre Orge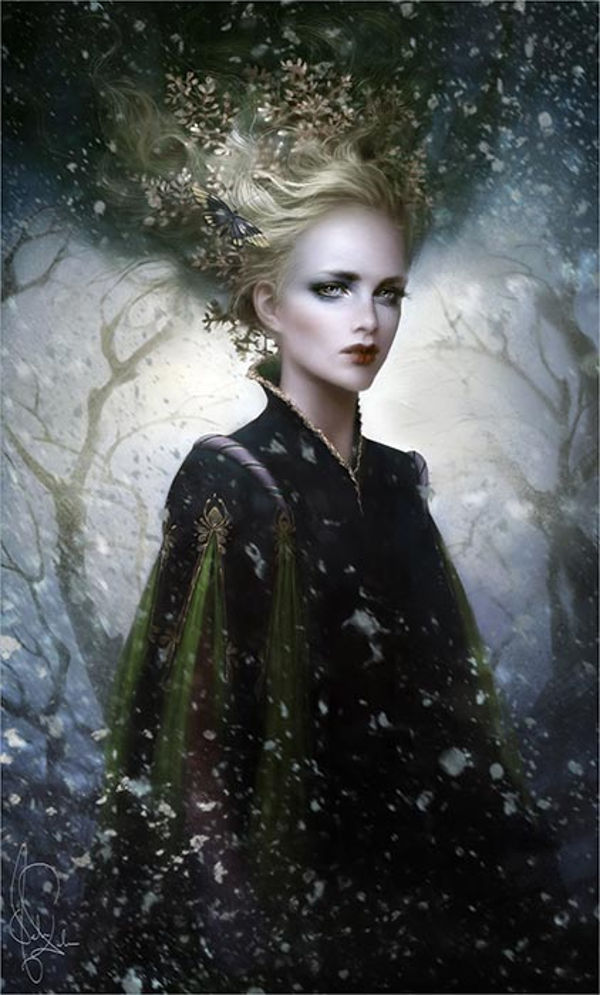 Fade
Save