Pulling from her cultural roots, Chinese-American artist Sapira Cheuk explores many different themes in her art; she captures the expression of ecstasy as well as challenges viewers' notions of familiarity and what we know through visual representations. Through a style that is similar to ancient Chinese brush paintings, performative in their nature, Cheuk is able to redefine how we perceive things as a whole…sex, gender, communication, creativity, and artistic concepts.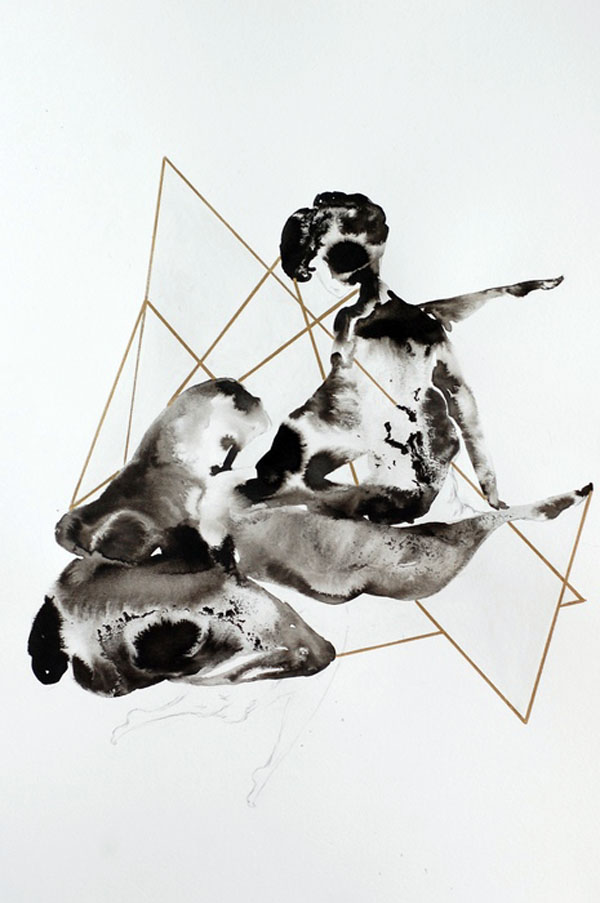 Black lines and layers of opaque clarity litter the impossible ground of Cheuk's artistic world. In this world, things are not as they first appear. The abstraction in her work is serene and human, bringing the essential qualities of the human experience the edges of a paper and a brush.
In some of her work, she focuses on the sexual relationship inherent in human begins. Her figures are ever so slightly recognizable, but are indistinguishable as either male or female, through her hand; they become an amalgamation of both. Cheuk invokes her Chinese roots with black ink brush explorations that seem to teeter between intention and accident. But it is her purposeful emotional expression that stands out as orgasmic. The objective and faceless figures in Cheuk's series Chiasmus lean into the personal moment, and offer an instant of understanding in the tumultuous rapture of sexual intimacy between two people.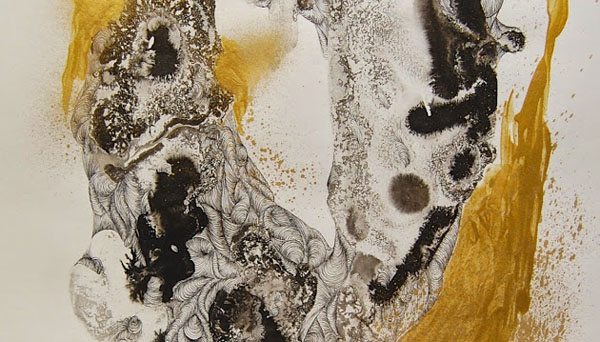 Two bodies can become one; two beings can melt into bliss, finding physical, emotional and spiritual satisfaction in an action. In the warm, slippery, and heavenly moment of an orgasm, only silhouettes and sensations can be recognized. Sapira Cheuk finds this natural and blissful moment fascinating and inspiring. Her art images explore the sensual and destabilized instances with an objective yet sensitive perspective.
However, in her most recent work, Cataract—on view at the Eon_ Gallery in downtown Santa Ana—Cheuk explores how we perceive the art object as a whole. She takes the traditional materials involved in Chinese brush painting, and rips them up—figuratively and literally. Slicing 70 feet worth of painting on paper into strips, she hangs them in a curatorial way that messes with what we see, and how we understand the world she has created for us.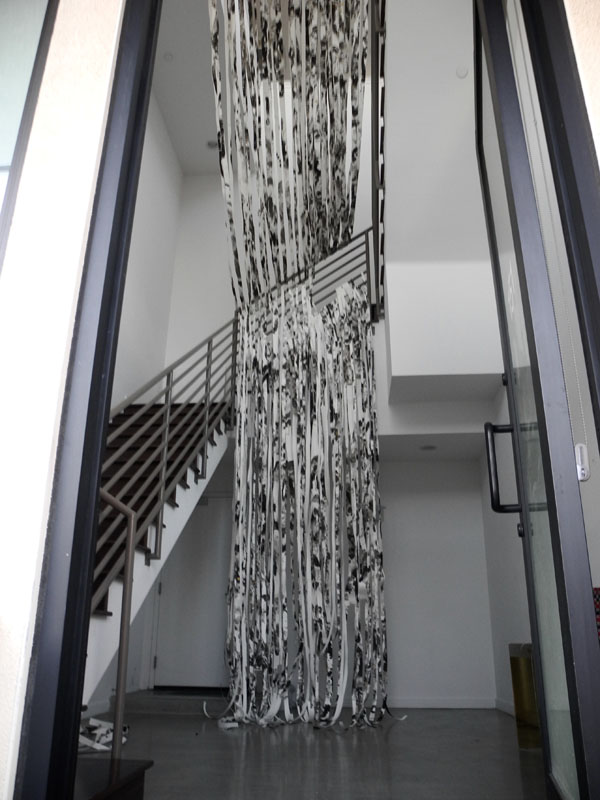 Hanging from three stories up, her 70 foot long brush paintings transform the space, and you as the viewer become a part of the painting, stepping inside a calligraphic moment of pure expression—ink and paper become waterfalls, placing you in the center of a magical space made of ink, water, paper, and Cheuk.
Through her art practice, she pushes her own boundaries of thought and creation to their respective edges, and then pushes some more. Whether it's about human sexuality, centuries of cultural history, or redefining how we understand the art of painting to exist in a physical gallery space, Cheuk is able to give her interpretation of that concept complete grace and a hypnotic attraction.