Welcome to the 18th edition of Open Call. Today we're talking a little bit about what galleries look for when choosing new artists to work with, and collectors who hold out for deep discounts. I also got an email this week to remind us that April is Parkinson's Awareness Month and posted some links to more information and a few recommended foundations below.
We love hearing from you so please email us at [email protected] with any questions you have, concerns, success stories, challenges, or any other topic you'd like to discuss with a Gallery Director. Every other Monday we'll publish a few of our favorites along with my replies. If you don't see your email published, it does not necessarily mean it won't be saved for a future installment. There have already been way too many good questions to make it into just one edition. Visit my online author profile and stay updated on past editions.
**Some emails have been edited for length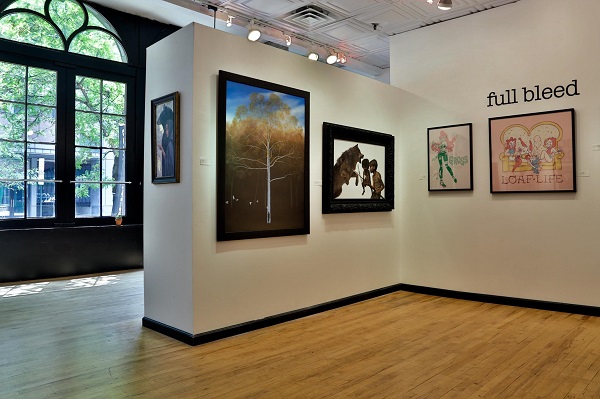 Hi Patrick

My name is Kendall I am a fan and follower on Instagram. Have you ever or are willing to do a piece on Parkinson's Awareness? I am 42 and have had symptoms/ diagnosis for over 13 yrs. I make art – all kinds from rustic to steampunk- I'm am ken1997 on Instagram and Idle Hands Artwork on Facebook. April is Parkinson's awareness month. Just wondering if you were interested. Thanks for your time. I sell my art and donate back to the foundations. Anyways – just LOVE your magazine!!

Respectfully,

Kendall
Hey Kendall,
Thank you for your the heads up, and for sharing some of your story with us. If anyone would like to learn more, or donate, take some time and check out The Michael J. Fox Foundation for Parkinson's Research, The National Parkinson's Foundation, or the American Parkinson Disease Association.
If anyone would like to shout out any additional foundations that I've missed, email [email protected] and I'll update the post.
-patrick
Hello there.

As a new art collector, I don't have a lot of resources to purchase art but I find there are some pieces I can't live without. I have found that galleries can usually offer at 10% discount on artwork. I was wondering if you could provide some guidance on what a reasonable discount is to request above 10% on a piece that did not sell during a show. How much profit margin do galleries typically make on a piece and how much are they typically willing to give up? If a piece is in a show that is just opening is it even worth trying to negotiate a lower price?

Thanks a bunch!

Enrico
Hi Enrico,
It's fun to be a collector, and exciting especially when you're just starting to collect. I personally have only been collecting art with any level of seriousness for several years now, and really think that it's one of those things where once you start you're hooked. It's game over. Or, game on!
Personally, I don't think it's reasonable to request more than 10% on a piece. I can't speak for everyone, but when we are setting pricing with our artists we're considering a whole lot of factors, but what we are trying to really do is establish and maintain value for that artist's work and for their time. I know many other galleries who work like this too. We are not just picking an arbitrarily high number in hopes that someone will offer us something. Among many other things, one thing that we always consider already is accessibility to a whole range of collectors, including those who are just starting out. What that usually means for us, is an extra push for different kids of price points in our solo shows, and make sure that there's a whole range of artists and prices present in all of our group shows. What this means for us is usually smaller works. What those cost depends on the artist and demand for their work, but you can look at any show we've ever done and there's always a spread of prices, and that's intentional.
But when it comes to the artists we work with and setting prices, what we are trying to do is establish what it's worth. Not like what we think we can get away with asking for, but what it's worth. And what we end up pricing a piece at is not unique to us, if the artist was selling it directly or it was in another gallery, if everyone is doing their job the price should be consistent. Artists are not factories so when the demand for their work goes up and things are selling fast the price will gradually go up too to balance that demand.
It's very unwise as a gallery or artist to toss a bottom line out in favor of bargain basement-ing a price over and over again if a piece stays on the market. Not only would that undercut the value of an artist's work, which is my greatest issue with it, but it also would create sort of an urgency vacuum by creating an expectation that the longer you wait the lower the price, which is hardly ever true. Often the opposite is true, and art increases in value. To be fair, we are typically not keen on those types of collectors either… people who collect only to be 'art flippers'. I believe it's very important to have a bottom line and an established value. Not everything sells at the opening, but catalogs and past works are something to look into as well, as a new collector. Not because you should expect the gallery or the artist to accept whatever you're willing to offer for it, but because it's likely that older works were priced lower to begin with for that artist's new work of the same size, so in itself you get a lower price tier, and the artist gets the paycheck they deserve from when they did that work.
Galleries usually have a little wiggle room that they can use at their discretion. We (at Arch Enemy Arts) do as well, but keep in mind this isn't always a set rate and it's not something we just make up on the fly – this is usually agreed to in the contract – and it's intended more for repeat clients, collectors who buy multiple pieces, and situations like that. What we do for new collectors is we will sometimes offer a payment plan.
If you cannot afford a piece but love it, I think asking if the gallery does payment plans is the most reasonable request. Plus I'll be honest, approaching a gallery or artist with, "I cannot afford this piece, or even offer close to what you're looking for but I have decided I should have it anyway, so what are you prepared to do for me?" is not a great approach, especially not to lean on as a rule. And it's likely this approach will not lead to the special treatment and hookups you are looking for. We all get that you want it. We get that you really want it, but this isn't the way it works.
Picture yourself doing this to someone who is in another profession. It wouldn't fly to go around to those people in the place where they do business and say you don't want to pay the cost of what they do, and ask how much of their paycheck they'd be willing to forfeit so you can have what you want anyway. As someone who clearly feels art, understands its importance, and wants to support it, you should ask yourself why you are so quick to dismiss the value of this type of work. Also since you know that you love collecting art and are going to continue to buy it, start saving specifically as an 'art fund'. Some people may find that putting some of the money they have earned from their paycheck into an art fund, or if they have invested in something like these spark shares, the money they get back from this could provide them with significant funds for their art account. It all depends on what works best for you. The first couple pieces I bought were because I started more or less a savings account that I'd put something into every month just to buy art, so I'd have something already set aside if I came across something that really resonated with me. Saving money can be hard when saving to buy artwork, you may be tempted to take out loans to purchase artwork, and if this is the case you should be aware that payday loans can damage your credit score. Just be careful when taking out loans as you do not want to get yourself into any financial difficulty.
If I were you, I'd start collecting pieces you can currently afford while saving for larger pieces or artwork from more well-known artists. Find some galleries who are comfortable with payment plans, and have a history of working with new collectors. Building a relationship like that will likely get you hooked up in the future, everyone gets paid reasonably for their hard work, and everyone wins.
-patrick
Hello Patrick

My name is Bruce and I am a erotic pin-up artist from Portland, Oregon.

What do you look for when considering artists for a solo show or group show? What makes those artists stand out for you?

Thanks!
Hi Bruce,
It depends, but there are things we are always looking for. It should go without saying that we have to like their work. That is most important and is the same for emerging artists who we're working with, as well as the more established artists. With group shows, we highlight and support many artists while trying to keep the presentation cohesive. We're also trying to represent a certain array of sizes and prices so there are a few additional factors we consider when choosing artist lineups. Additionally, it's our belief that the individual artists make good work and be able to work with the theme or even be pushed to create something a little different.
With solo shows, we consider the demand for an artist's work, but that's not to say we are unwilling to take chances on artists who we believe in, or need to have some sort of proven sales record or else we won't do it. Some artists we work with just work better in that setting, and make stronger work when they're focused on a collection or series. Sometimes an artist will propose an idea for a show that's just too fucking awesome to pass up.
Outside of the art itself, I tend to be more interested in talking with artists who prove to be self-starters, have some sort of a plan, and they understand some basics at least about marketing themselves and promotion. What we are interested in ideally is to work as partners, and it's really important for me and for us to understand how we can compliment and build on your plan, and understand what's expected of everyone on both sides. I think shared goals and good communication always lead to a better relationship, and of course, that's what we'd like, so it's worth mentioning that too.
If you have any more questions, feel free to write me back and I'll cover some more next time.
Thanks for your message,
-patrick
Patrick Shillenn is the co-founder and director of Arch Enemy Arts in Philadelphia. He doesn't think he has all the answers. He just wants to have the conversation.
Follow him on IG @pshillenn & Twitter @mathclub