Thank you & Acknowledgements
Once again, we would like to thank all of the artists that entered, sharing their work and their artistic passion with us. It was such a pleasure to immerse myself in the work of so many creatives from all corners of the globe and read their inspirational stories.
As Beautiful Bizarre Magazine's Editor-in-Chief I have the pleasure and honour of curating each issue of the magazine and our yearly exhibitions. The many wonderful and talented Art Prize entries we received continue to give me a plethora of new ideas and choices to pursue in future. So thank you again for your interest in the Beautiful Bizarre Art Prize, I very much hope to see how your work has grown and developed in next year's Prize.
I would also like to sincerely thank the 2022 Jury Panel, particularly the Photography Category Judge Bella Kotak [1st Prize winner of the Photography award 2021], who gave her time and expertise to the panel. Additionally I warmly thank the other Category Judges: Martin Wittfooth (Traditional Art juror), Joan Coderch and Javier Malavia of CODERCH & MALAVIA (Sculpture jurors), and Dan dos Santos (Digital Art juror), as well as the Directors of Modern Eden Gallery, Kim Larson and Bradley Platz, and Founder of Quirky Fox, Vicki Fox.
I would also like to thank our major partners: INPRNT, RAYMAR, Yasha Young Projects, iCanvas and ArtStation; the Beautiful Bizarre team for their dedication and hard work on behalf of the prize and winners all-year round, and of course to my partner, Beautiful Bizarre Magazine's Co-Founder Richard Purssey. The judging process was extremely difficult with an incredible amount noteworthy entries, so thank you again!
Our sincere thanks to this year's Photography Award sponsors listed below. It is through their generosity that the Photography Award Winners will be able to enrich their practice.
INPRNT Photography Award
The INPRNT Photography Award 1st prize winner will receive:
US$3,000 cash, generously donated by INPRNT, printers of high quality art prints. INPRNT is run by artists, for artists.
US$1,500 cash, generously donated by PoetsArtists, a diversified contemporary realism art community and publication.
US$1,500 worth of art photography and/or Fine Art archival print reproduction from Static Medium.
Receive a beautiful, specially commissioned glass art award trophy.
A coupon to enjoy Linktree PRO for free for 12 months.
The opportunity to exhibit in the prestigious Beautiful Bizarre Magazine exhibition at Modern Eden Gallery, in San Francisco, CA USA, alongside 80+ of the world's best contemporary representational artists.
Exposure to a successful commercial gallery's collector base with the opportunity to sell their work.
3 month social media advertising package (Beautiful Bizarre Magazine: 1 million+ followers across all socials platforms)
Exclusive in-depth interview published on the Beautiful Bizarre Art Prize and Beautiful Bizarre Magazine websites + shared on social media.
A year's worth of inspiration – a print subscription to Beautiful Bizarre Magazine.
+ most importantly, receive worldwide exposure!
2nd and 3rd prize winners will receive:
Congratulations to the 2022 Beautiful Bizarre Art Prize INPRNT Photography Award Winners: Anna Karvounari, Lilli Waters, and Jenny Boot!
3rd Prize Winner: Anna Karvounari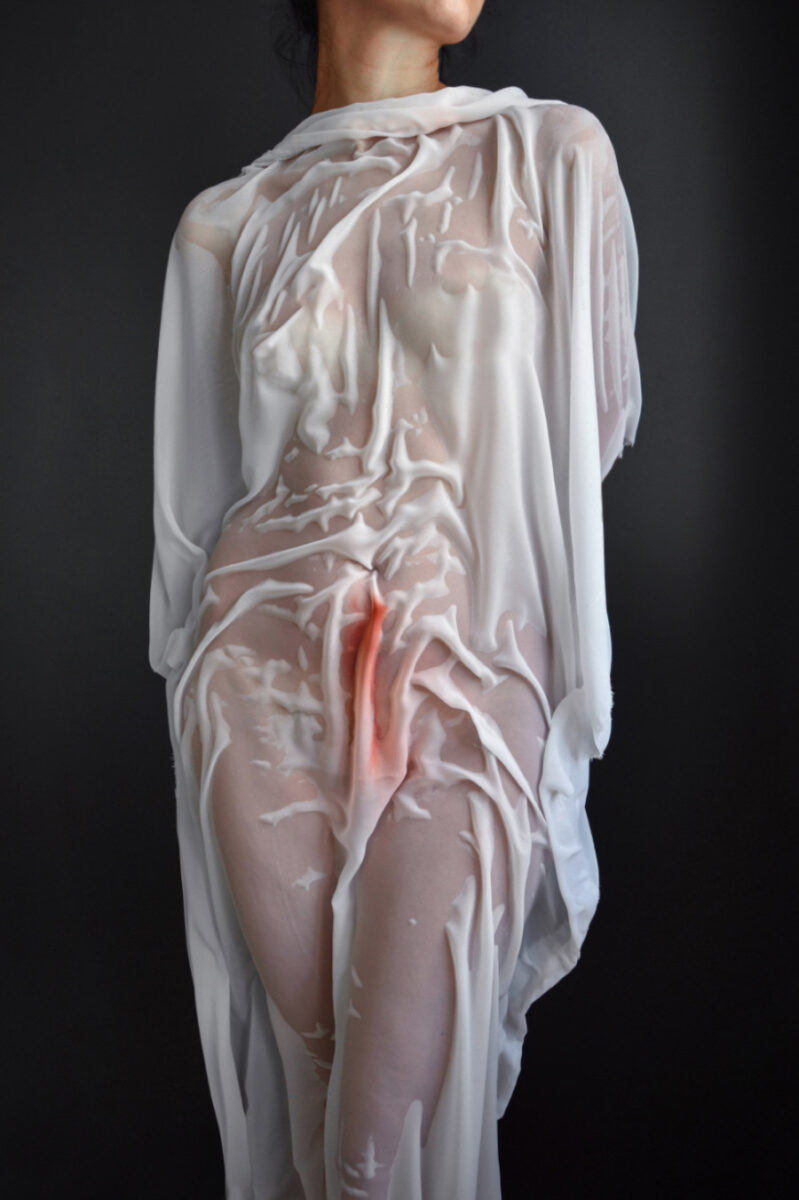 3rd Prize Winner
Anna Karvounari
Born and currently resides: Greece.
"The Statue", Digital photograph (Nikon D5600 / 18-55 mm)
Anna Karvounari is a Greek born, self-taught photographer, based in Athens. She creates conceptual self-portraits and she uses the solitary female figure in her images, trying to touch on some affairs of female nature, but also to give voice on some personal feelings. Self-portraiture for her is an exercise in self-exploration. An endless internal dialogue.
"The Statue": The Statue is a self portrait.
2nd Prize Winner: Lilli Waters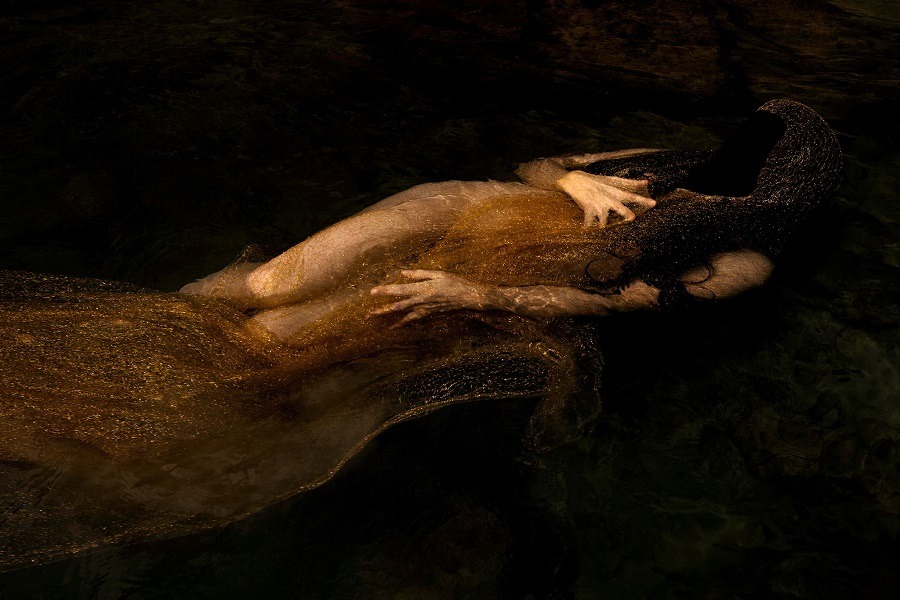 2nd Prize Winner
Lilli Waters
Born and currently resides: Australia.
"Where Dreams Inhabit", Digital photograph (Canon 5D Mark IV, 24-70mm)
Lilli Waters is a fine arts photographer whose work explores the human condition through dramatic images of the female form in haunting, windswept landscapes. Waters makes use of translucent fabrics and long hair to obscure the identities of her subjects, suggesting that the image might be just as much a mirror for the viewer, as it is a portrait. These images initially appear to represent a romantic idea of beauty and equivalence between the fertility of the female body and the landscape. Yet in the era of 'Me Too' and ecological crisis, Waters' work offers a critical feminine gaze. Her portraits allude to the conundrum of simply being in a woman's skin: of how to express physical agency and ease in a society that constantly objectifies women and irrevocably wreaks damage on the environment.
"Where Dreams Inhabit": This underwater feminine figure invites the viewer to embrace the unknown and awaken to the sense of wonder that lingers below the surface. While invoking a sense of entrapment, this photograph invites the viewer to move beyond darkness and towards the light.
1st Prize Winner: Jenny Boot
1st Prize Winner
Jenny Boot
Born and currently resides: Netherlands.
"Origin", Digital photograph (Fuji GFX 50S2). Model: Norah Namuddu
Jenny Boot once started painting as a form of expression. After many wanderings, she finally chose photography. In 2012, she graduated in Amsterdam as a fashion photographer. Although she already had exhibitions in Paris and New York during her graduation year, Jenny saw herself working for the fashion magazines rather than making art. In 2015, Jenny was discovered and her work was shown at all the world's leading art fairs. Her works are now in various prestigious collections. Jenny Boot's work can best be described as that of a modern artist with 'roots' in the 17th century. Beautiful young women in the light of Rembrandt with millstone collars who are never what they seem. The Girl with a Pearl Earring by Vermeer in black on the intersection of light and dark. Boot masters the Claire obscure use of light like no other.
"Origin": If something as small as a germinating seed can push the earth up, even move concrete out of place – what else can be done? Sprouting new life has tremendous power. But when the seed germinates, nothing remains. It has to let go of everything, give everything to bear fruit, to get up.
The Beautiful Bizarre Art Prize is administered by Australian based, international contemporary art magazine, Beautiful Bizarre Magazine.
The 2022 Beautiful Bizarre Art Prize