Are you ready for the next fabulous Take Over?!
If you are a follower of our Beautiful Bizarre community, you'll surely love this feature as much as I do. Every month, we select one of our favorite artists to take over Beautiful Bizarre Magazine's social media for a whole day. One full day of inspiration and creative energies – directly from the source and curated with!
In March, we handed our socials over to the queer icon Franz Szony; what an inspiring and thought-provoking Tuesday it was! Photographer, set and costume designer and make-up artist Franz is a one-of-a-kind creative genius and we were beyond curious what inspires him to summon such incredible pieces – and believe me, we were not disappointed!
In case you missed the spectacle on our socials, we put together the artist's inspirations and his curation right here. Let's delve into the world of Franz Szony!
My name is Franz Szony, I like to say I paint with my camera.
I'm a photographic artist, primarily of conceptual portraiture and I have a devotion to the bizarre and glamorous. Much of my work is inspired by folklore, mythology and dreams…and I suppose my twisted humour comes in now and then. I was raised in Reno, and had the privilege of seeing many shows growing up, my parents were in the casino industry, so rhinestone laden bosoms and velvet curtains were a regular sight.
I spend weeks, sometimes months, creating one of my images; everything in my work is completely photographic. Although heavily idealized in post, everything in my work is physically there…and the wires and strings holding it all together are carefully hidden or retouched away. I subconsciously create visions of the divine feminine, in her many different forms, and stylistically interpret everyone as some form of a witch. The symbolism in my work can range anywhere from whimsically irreverent to a heavy-handed story – either way, my intent is to illustrate an entire world within one frame. My goal has always been to seduce the viewer with something dreamy and encourage them to find the "space between their thought", to live with an "anti-beige" state of mind.
---
Joel Peter Witkin //
Years ago, at a gallery show, I was having in San Francisco, a guest told me that my work could be described as "pastel gothic" and that if my work was photographed in black and white it would be reminiscent of the brilliant artist Joel Peter Witkin. I had no idea what I was in store for, nor that I would be so moved by what I saw…and shocked (and I'm not shocked easily). His photographic work is truly a gothic dream world that is both organic and elegant, like a neglected baroque theatre that's falling apart and covered in moss. His work reminds me of my idol George Melies (whom I'm just now realizing I stupidly didn't include with this list).
Although his images can be somewhat nightmarish, as he often incorporates medical cadavers into his work and poses them like mannequins, the scenes are incredibly gorgeous. An actual decapitated human head among a table of fresh flowers and rotting fruit is one of his most famous pieces. The work truly feels like a window into a medieval witches' den – and nothing could make me feel more at home than that.
---
Marc Davis //
I think Marc's work has been subconsciously imprinted into my head from a very early age…and has no doubt been very influential on me. Not only was he one of Walt Disney's "nine old men" creating the most iconic characters and villains in cinema, but his work outside of Disney was equally magnificent.
Don't allow the business suits he wore to fool you into thinking he wasn't an eclectic at heart. He was a world traveller and had a taste for the exotic, which he often incorporated into his work. The fluidity of his character designs and his impeccable ability to express the female form are unlike any other animator. Marc was also a lead designer for several original Disneyland attractions and was able to create, what I consider to be, the best examples of installation art that have ever existed.
Last October, I created a piece inspired by his concept and illustration for the 'Stretching Room' in the Haunted Mansion attraction, 'The Tightrope girl' modelled by Dita von Teese.
---
Ira Cohen //
An artist I've only recently become familiar with, and yet another "love at first sight" situation. Among being a poet, publisher and filmmaker, he was also an incredible photographer, specializing in images that at first glance look like vintage "marbled" paper, swirling with colours and shapes.
As you look further you see beautifully costumed figures, billowing drapes and stained glass, all morphing together as if the scenes were underwater. He was fascinated by reflections and mirrors which inspired his brilliant and simple technique of creating this series he calls 'The Mylar Chamber'. This is a perfect depiction of 1960s Bohemia: I can truly hear the sitars playing and nag champa in the air as I admire his images.
---
Harry Clarke //
Have you ever seen an artist's work and felt like you might actually have been them in your past life? In which every piece they create is the perfect example of everything you strive to create yourself?
That's how I feel about Harry Clarke, whose work is undoubtedly my absolute favourite of all. My Great Grandmother passed on over a decade ago, and from her estate, I received a very old book…a first edition print of 'Tales of Mystery and Imagination' by Edgar Allan Poe, with illustrations by Harry Clarke. I had looked through its pages many times as a child, completely lost in his decadent illustrations.
His "spindly" and delicate way of depicting characters, the maximalism and detail of the scenes, and his incredible use of colour have all heavily inspired me over the years. His illustrations are ambiguous "victorian-renaissance-esque" depicting otherworldly scenes of sorcery and royalty and often seem to be filled with symbolism that told a story in a single image. He only lived to be 41 years old, passing in 1930. I can only imagine what else he could have created had he lived twice as long.
---
Eugene Lepoittevin //
Several years ago, I created a depiction of Medusa with penises adorning her head in replace of snakes. In my research for the piece, I was blessed to discover the work of Eugene Lepoittevin, and the love affair was immediate. He's most famously known for illustrating a large portfolio of scenes called 'Diableries', 18th century illustrations depicting demons, beautiful maidens, and most importantly, huge penises. His incredible "cartoonish" style depicts a multitude of vignettes…and a magnificent juxtapose of devilish occultism offset by humour and frivolity.
The ability to show sexual fantasies in art, without making the viewer intimidated or too shy to enjoy, is a very tricky art in itself. And he was the master of it. Over the last couple of years, I have turned to his work greatly, and have been working on several pieces inspired by him. His work is extremely rare, only one portfolio of his original prints is currently available for sale online at a delicious price tag of $12,000. Who wants to be my new best friend?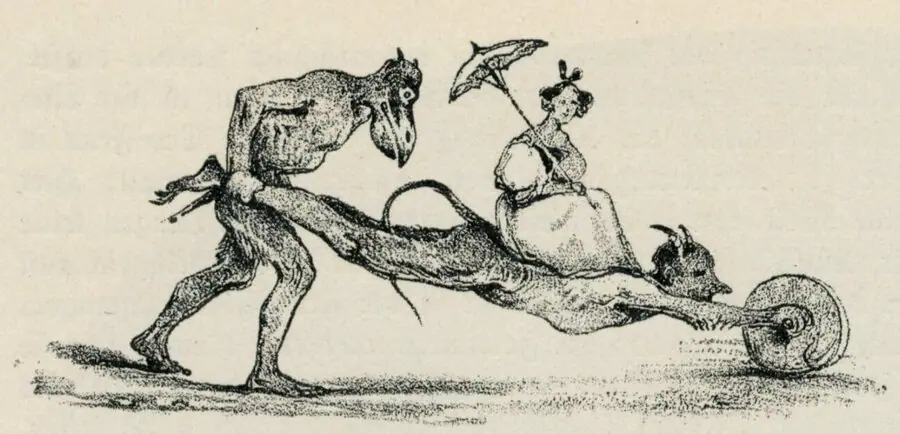 ---
Alastair //
Over a decade ago, I came across an image online, a gorgeous illustration of a renaissance styled couple, peaking out of a royal sedan chair completely enveloped by flowers and candelabras. I was completely obsessed, but the image was untitled and for the life of me I was not able to find any information online.
Many years later, when Google unveiled a "reverse image search", I finally was able to unlock who this brilliant artist was, a man named Alastair. My jaw truly dropped when I dove into the artist's body of work; images that embodied the perfect "minimalistic maximalism", a term which I'd like to think I've coined. The most incredible silhouettes and undoubtedly an inspiration to later artists such as Erte. If there was ever an artist that evoked the spirit of opera, it was him.
---
Javier Marin //
Javier Marin, the only artist on my list that is currently still alive (I clearly have a thing for the dearly departed), is an artist I discovered through Instagram-land.
Primarily known for his exquisite, and extremely large, sculptures of the nude form, he also creates the most magnificent silhouetted illustrations reminiscent of the work of Kara Walker. His sculptures have the most beautiful and unique faces and sculptural hair (they remind me of Michael Parks illustrations), and his illustrations have the initial impression of an ink splatter, like a Rorschach test: As you start to look, the floating figures emerge.
I had one of his illustrations tattooed on my arm last year.
---
This was the last post of our dearest Beautiful Bizarre Guest Curator for the day, Franz Szony. Thank you for the beautiful, bizarre and glamorous curation of our feed and the personal inspiration you shared with all of us! ?
Franz Szony Social Media Accounts