It is about time for the next TAKE OVER, right?!
You know the drill: Every month, we select one of our favorite artists to hijack Beautiful Bizarre Magazine's social media for a whole day. One full day of inspiration and creative energies – directly from the source and curated with ?!
For November, we handed our socials over to Lexi Laine; What an exciting and whimsical Tuesday it was! Freediving fine art photographer Lexi won the Beautiful Bizarre Art Prize in the category Photography in 2020 and the Take Over just came at the right moment to reconnect and see, what inspires her to create the magical visuals we love.
This sounds exciting but you missed the Take Over on our Socials?!
Don't worry, you can check out Lexi's curation and her shared visual eye-candies right here and right now!
Lexi Laine here, I am an underwater fine art photographer, and both I and the models I work with are freedivers so we make these images whilst holding our breath. Last year, I was honored to be awarded the first prize in the Beautiful Bizarre Art Prize 2020 iCanvas photography award.
One of my greatest artistic desires is to blur the aesthetic boundaries between the medium of photography and painting. I've found that the light and the ethereal nature of shooting underwater really reminds me of the way that baroque artists depicted scenes in their paintings. And so I find visiting galleries that show historical art hugely inspiring. As a woman, I find it frustrating, however, that so many female artists have been written out of art history and how as a subject matter, women in the sea were always depicted as the sexy eye candy or the evil temptresses sent to take the man to his doom. In my art, I represent powerful femininity and seek to take ownership of a genre that has been historically so dominated by men.
I'm also very driven to honor the fragile beauty of our underwater world. All of my work is undertaken in natural open water environments, either the sea or in the magical cenotes of Mexico. I find it sad how we as a human race are destroying this precious part of our planet and so I seek to make art that demonstrates the beauty of our world and occasionally that reflects my melancholy around its mistreatment.
Today, I have been asked to take over the socials here at Beautiful Bizarre and I'm excited to share with you some of the more contemporary artists who have inspired me over the years.
---
Francesca Woodman // Photography
I remember first discovering Francesca's haunting images when I was at art school. A lot of her photographs are self-portraits, half-obscured and blurred due to movement and long exposure times. As a young photographer, I was greatly moved by these pieces and to me, it seemed that in breaking the 'rules' of photography she had discovered a way to create truly emotive art. I was saddened to hear that her life ended when she was only twenty-two, the tragedy of her life and her struggles with depression are very relatable, and if only she knew how much of an inspiration she would become to so many young photographers. I'm so pleased that her work continues to receive critical acclaim decades later.
---
Calida Garcia Rawles // Painting
Aesthetically, Calida's images are fascinating. She depicts African-American women and men in the water, capturing the glistening ripples, the refracted light, and the movement of these beautiful figures. It's amazing that paintings can appear hyperreal but also somehow abstract and impressionist at the same time.
On a deeper level, I'm inspired by how Calida consciously references political injustices, current and historical. She references the enslaved Africans who fatally leaped from America-bound slave ships as in acts of resistance. She uses the complicated duality of water as a platform to address identity politics while reimagining her subjects beyond cultural tropes.
Just incredible.
---
Catherine Balet // Digital Art
I love the cubist feel of these digital art pieces by Catherine Balet. She is a French artist, a painter-turned-photographer with an artistic approach to sociological issues. Her recent body of work titled 'Moods in a Room' is formed of transparencies and surrealist collage pieces. She mixes pictorial textures and digital photographic elements to form these stunning works. I find artists like Catherine, who are truly experimental in their mediums, very refreshing. The compelling details within these pieces combined with the beautiful color palettes are something I could gaze at for hours.
---
Marisa Veerman // Photography and Embroidery
I first discovered Marisa's art back in 2019 when she was shortlisted for the Beautiful Bizarre Art Prize. I think her work is gorgeous and the absolute embodiment of 'painting with light'. It took me a long time to realize that they are in fact photographs and not paintings. The soft tones are reminiscent of painterly brushstrokes and not only does she connect these two mediums so beautifully, but she also combines the third medium of embroidery to her pieces. What results is wonderfully intricate, delicate, and abstract pieces of art filled with emotion and fragility.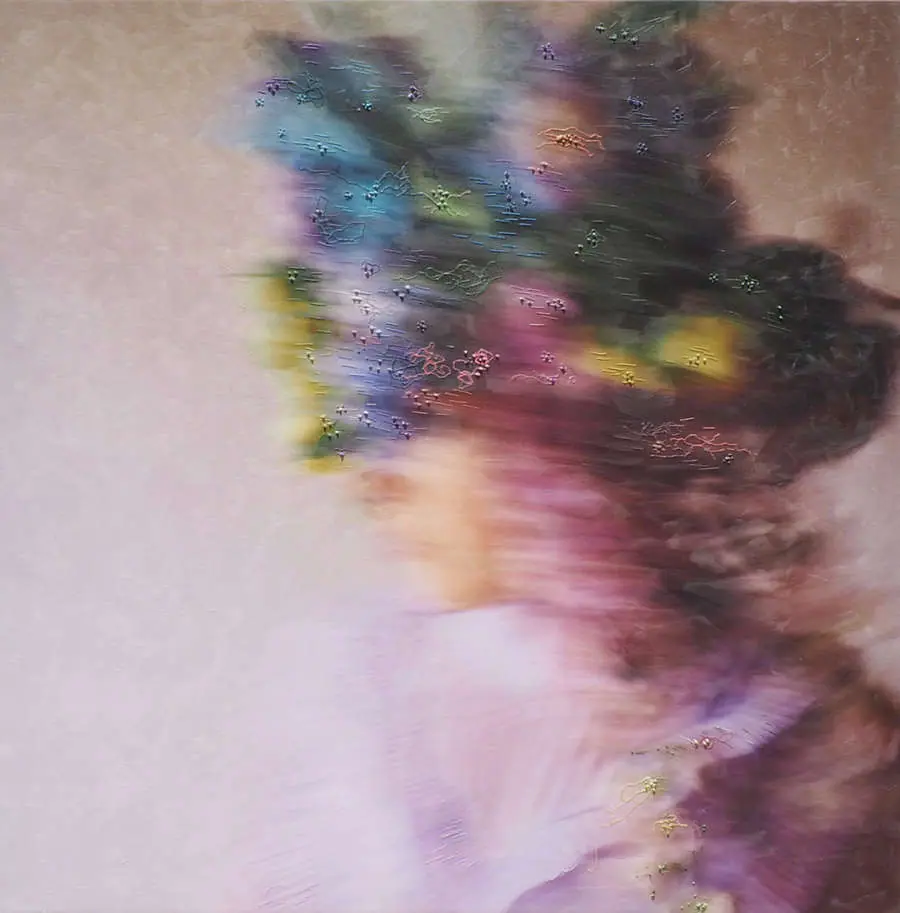 ---
Henrik Uldalen // Painting
Photorealism blurs into painterly abstract brush strokes. Henrik's emotive and dreamlike portraits have enthralled me for many years. He is a self-taught artist specializing in classical painting with a very contemporary twist and I just love how he blends these two approaches so skillfully. It's no surprise to me that Henrik was shortlisted for this year's Beautiful Bizarre Art Prize 2021.
---
Rosie Sayers // Collage
Using vintage clippings, Rosie creates ethereal landscapes beyond our wildest imaginations. I just love how otherworldly Rosie's artwork is, her dreamlike scenes hold both a psychedelic retro feel to them whilst at the same time seeming futuristic. It's how I imagine a post-apocalyptic travel brochure to look.
---
Jason deCaires Taylor // Sculpture
Can you imagine diving down into the ocean and discovering these incredible sculptures? Jason is a sculptor and ocean activist, creating these incredible 'underwater museums'. Several years ago, I was lucky enough to visit one of his museums near Cancun in Mexico and I can't tell you how moving it was. His work always has an environmental message and often tells stories of social and political injustices around the world.
In this piece, he asks the question of whether we as humans are doing enough to protect nature's treasure for future generations. I find these pieces eerie and to me, they have a dystopian feel which is certainly an influence on my art too. And the best thing about these sculptures? Over time they become living reefs where all of the ocean's wonderful flora and fauna can inhabit. If you revisit these museums several years after installation, you can see that they are covered in corals and teaming with life. There's no art more impactful than this in my opinion. Totally awe-inspiring.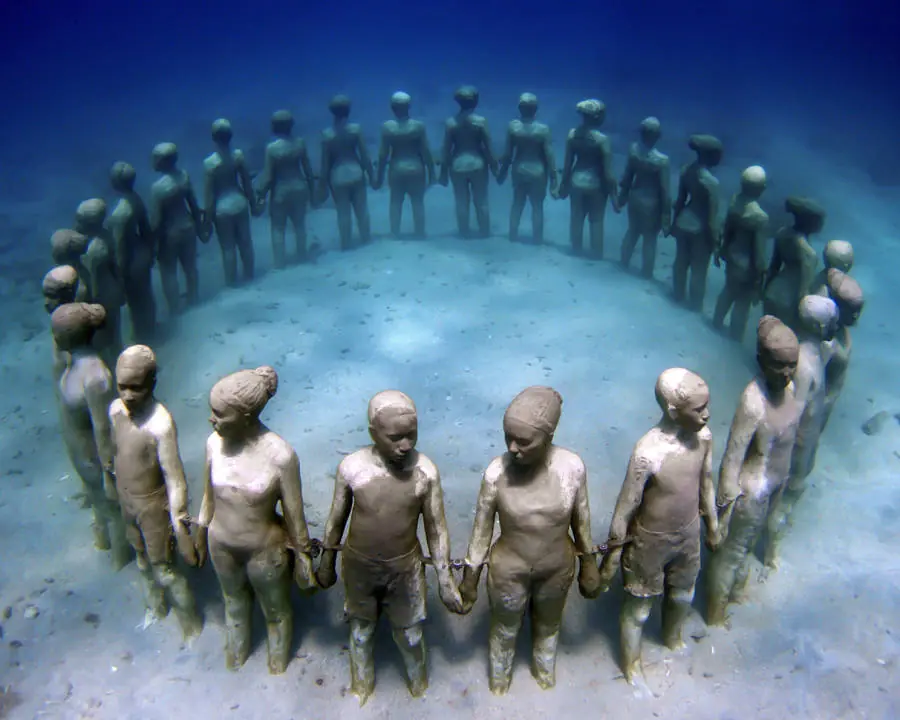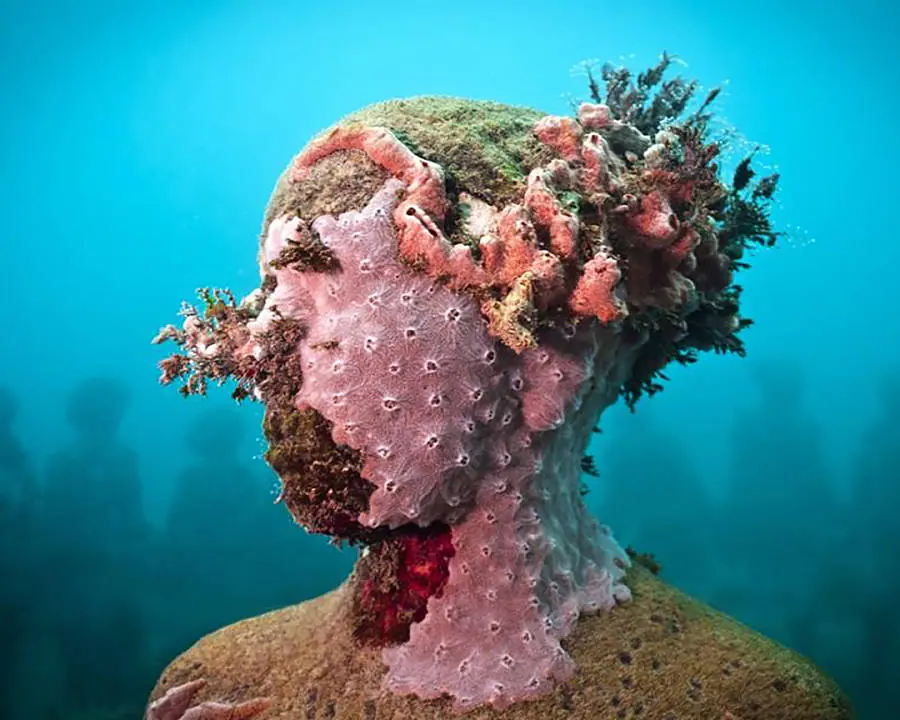 ---
Jason deCaires Taylor was the last artist Lexi Laine chose for her TAKE OVER.
Thank you so much, Lexi. We really appreciate you taking the time and channeling your creative energy to curate this wonderful day!
Don't forget to check out Lexi's work and show some ?, see you all next month for another Take Over! ✨
Lexi Laine's Social Media Accounts