Here we are with our mind and mouth-watering TAKE OVER for October!
Every month, we select one of our favourite creatives to curate Beautiful Bizarre Magazine's social media for the whole day. You heard right: One full day of inspiration – directly from the source!
And what a great day it was! Kristine and Colin Poole are definitely amongst our favourite contemporary sculpture artist and we were/are more than excited to have them this month. The duo won the Beautiful Bizarre Art Prize in the category Sculpture last year and the Take Over was a great opportunity to catch up! ?
Get ready for an inspirational big bang!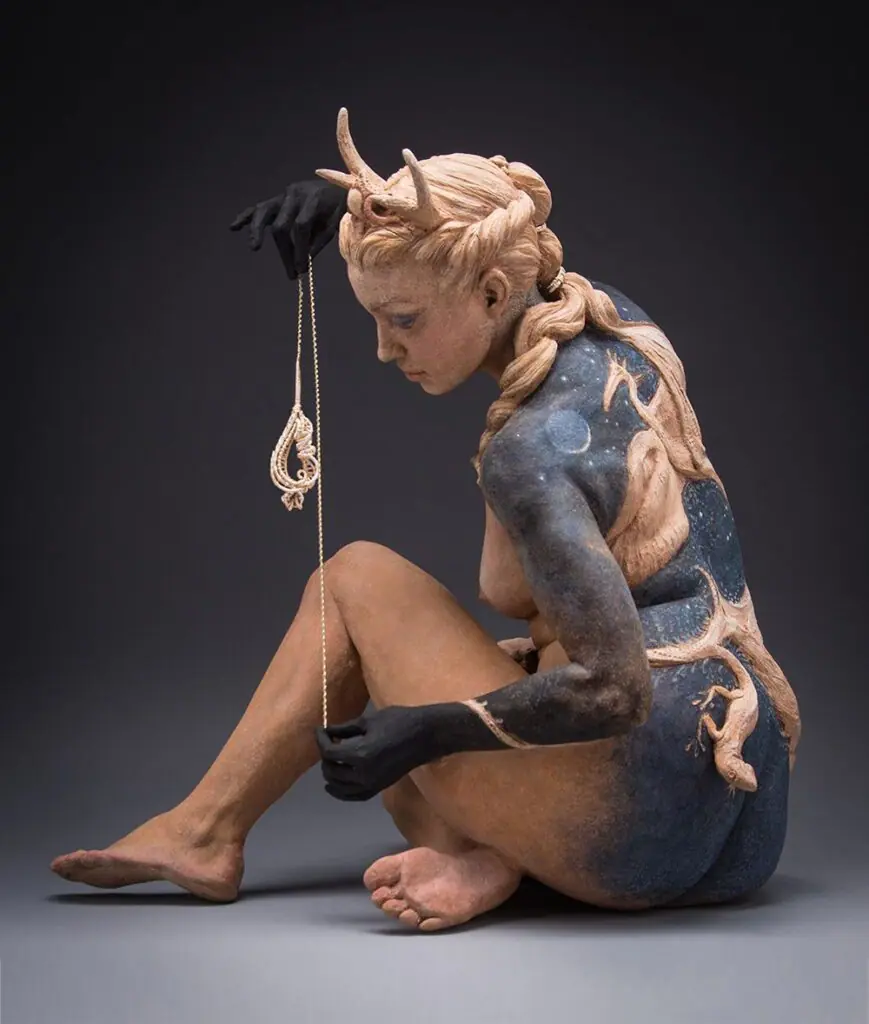 Hey Everyone,
Colin and Kristine Poole here. We're tickled pink to be taking over Beautiful Bizarre's social media for a spell.
We are both sculptors, working in fired clay and bronze. Colin also knows his way around a paintbrush. Our creative lives are intertwined, so there's not much that comes out of our studio that hasn't been influenced in some way by both of us. As you'll discover, we're mightily inspired by many curious and beautiful things. We love museums – actually, the picture of us was a selfie at The Wallace Collection in London as we were swooning over "The Swing" by Fragonard.
"The Birth of the Moon Hare" is a collaborative fired clay sculpture created for Beautiful Bizarre's "Animalia" show at Haven Gallery. To see videos of how we work together on sculptures, you can go to our websites or Instagram.
Choosing only seven of the multitude of artists who inspire us turned out to be something of a Herculean task. Our list of artistic loves is long and diverse. In the before times, we planned our annual travels based on museums and specific works we wanted to see. It's been a great pleasure to revisit our artistic muses and share the joy we find in their work.
Looking beyond our favorite one-off wowza works, our list includes historical and contemporary representational artists whose oeuvre consistently captivates us with storytelling, technique, voice, scale and, sometimes, disregard for convention.
Aaaand, we're off…
---
Javier Marín // Sculpture
The moment of your first encounter with Javier Marín's sculpture never quite leaves you. First, the sheer scale of the work transports you into a sense of awe, only to be promptly eclipsed by the immediacy and vibrancy of his sculpting. His work reaches beyond representation, directly into exposing the substance of spirit.
Marín often leaves evidence of his process, even so far as mechanically joining parts together with baling wire. You are transported into the experience of making, almost sensing the clay moving under your hands through his vision. In his sculpture, it is easy to wind your way into stories about what it is to be human.
---
Judy Fox // Sculpture
Sculptor Judy Fox was one of my very first contemporary art heroines. She burst onto the scene of my wow-o-meter with her life-sized, terra cotta, nude, standing sculptures of historical figures and storybook characters.
Image (large): her no-holds-barred sensibilities of treading on cultural norms when necessary in the interest of content and story… yeah, fierce. (I'm thinking Bernini's orgasmic saints may well be her historical art parents.)
Image (left-up): life-sized, standing, fired clay figures – some on one foot? Yow! Technical wizardry.
Image (middel-up): Can we talk about reinvention? Just when you think you've seen enough to cogitate on for a very long time, you look and she's making bulbous, luscious, sea-creature-esque forms that ooze with tactile sensuality, pairing them with human forms to create entirely new narratives.
Mix all that with a strong underlying feminist ethos and boom! Artist powerhouse. (Kristine)
---
Albert-Ernest Carrier-Belleuse // Painting
Ooh, picking from our historical favs in the sculpting world is nigh impossible. Fremiet, Carpeaux, and Bernini stir our souls and bring us to tears… and don't even get us started on The Louvre's collection of breathtaking Bozzetti – we'll be here all day (as we are every time we visit).
But, had we to choose one who had a direct and immediate impact… we were visiting San Francisco's Legion of Honor Museums, came around a corner and there she was: Albert-Ernest Carrier-Belleuse's 'Mary, Queen of Scots' aaaaand, cue music… "Some enchanted evening, when you find your true love, When you hear her call you across a crowded room…".
Kristine: I'd been embellishing sculptures, portraits, and pots since my early teens, but I'd never seen adornments like this. Clay, the very same squishy stuff we all know, transformed before our eyes into delicate pearls, jewels, strands of lace, embroidered flowers, a neck ruff slightly bent out of shape… it was a lightning strike of love.
We have sought out Carrier-Belleuse terracotta portraits at museums ever since. His unapologetic embrace of ornamentation encouraged us to broaden our use of motif and decoration on many of our collaborative works, expanding the narrative capabilities of the surface.
---
John William Waterhouse // Painting
As avid fans of Pre-Raphaelite influenced art, it's challenging to choose among such titans of the genre, but John William Waterhouse is one of the first to come to mind. Waterhouse often rendered classic themes of mythology and legend, but didn't shy away from subjects that might conflict with cultural norms of the time. His works, with a historical undertone in composition and technique, are as contemporary in subject and image impact as current-day imaginative realists.
Every time we visit 'The Lady of Shalott' and find that the Tate has rearranged the paintings and placed it higher on the wall, we ponder the wisdom of bringing stepladders to museums. Heck, we'd love to see it without the thick green glass, but understand they are just protecting the painting from our drool.
The unabashed romanticism of an imagined innocent age birthed from epic poems and stories touches us deeply. It makes us long for a time when every oak had a dryad, nymphs swam in woodland wellsprings and every day was the perfect day for a long flowy dress.
---
Roberto Ferri // Painting
We first saw Roberto Ferri's work several years ago at a local gallery opening. It was the typical turn the corner and stop in your tracks moment – Yow! Who is this guy and where'd he come from? (Well, Italy, of course). Even though that was the only time we have seen his work in person, Ferri has been a fav of ours ever since.
His unique voice juxtaposes dichotomies; the beautiful and the horrific, serenity and intensity, simplicity and confusion, grace and grimness, all executed with a masterful, classic painting style.
---
Paul Delaroche // Painting
While you're in London, would you please say hello to 'Lady Jane Grey' for me?
That simple request from a friend epitomized the bridge between shared artistic passion and the vastness of our collective creative history. We have often found ourselves combing city after city on epic hunts for specific works of art or artists. Like the year we searched London, Paris, and Venice for every Tiepolo in their museums and how one astounding beauty of his in a poorly lit Italian museum made us wish we'd brought flashlights so that we could actually see the art. "Le luci, per favore!" Great artworks become dear friends, living beyond the constraints of time, grabbing our hearts and minds, their greatness inspiring us to aspire to our own.
Such a work is Delaroche's 'The Execution of Lady Jane Grey'. Many times, we have watched others quietly sit in front of her, apologizing in a whisper if they step closer to the painting to revel in its exquisite beauty, then stepping back to try to take it all in. It's a dance that wonderful works of art beckon us to do. We've actually never seen this painting without a quiet vigil. It's a testament to Delaroche's ability to entrance the viewer over a century and a half after his brushes touch the canvas.
Delaroche's narrative mastery has inspired us again and again. Despite the quiet, underlying terror that threads through much of his imagery, he renders very human moments with sensitivity and authenticity. His works are genuine.
---
Liu Xue // Sculpture
As a counterpoint to the serious and dramatic, to wind up our list, we bring you one of our contemporary favs, Liu Xue. His work takes on a familiar and popular theme, the blending of human and animal, and runs down his own magically curious path with it. Often blending whimsy and humor with a touch of melancholy, his works are startling, beautifully executed and, strangely, entirely believable.
With this, we bid you adieu and wish you much joy on your creative adventures.
---
Liu Xue was the last artist chosen for this fabulous TAKE OVER.
Thank you so much, Kristine and Colin. We really appreciate you taking the time and investing your energy to put this inspiring eye- and mindgasmic Take Over together!
Make sure to follow Kristine and Colin Poole, show some love to these beautiful people and their wonderful work.
Kristine & Colin's Social Media Accounts