Brandi Milne is gifted with a unique vision. By that, I mean the way she sees and represents the physical and emotional world through her highly stylized figures and compositions is like no one else. NO ONE. It is immediately recognizable and completely idiosyncratic. This unique vision, imagination, whatever you want to name it is what sets extraordinary artists apart from the rest.
On the eve of Brandi's new show at Corey Helford Gallery, it seems fitting to consider her work to date and to catch up with the artist for an insight into her work, artistic practice and this highly anticipated new collection of work. With nearly 40 paintings and 3 drawings (in the show), this is a substantial body of work, and one that Brandi has been developing since her last solo show in 2014.
BRANDI MILNE | ONCE UPON A QUIET KINGDOM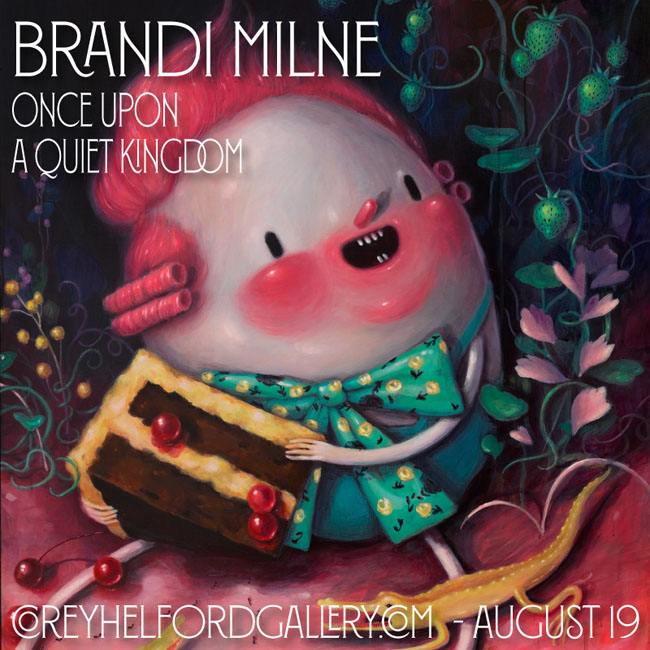 Opening Reception:
Saturday, August 19, 2017 | 7-11pm
Exhibition Dates:
August 19 – September 16, 2017
571 S Anderson St (Enter on Willow St)
Los Angeles, CA 90033
Viewers will once again be able to feast upon the sugar overload of cakes, lollies, ice cream and glace cherries in 'Once Upon A Quiet Kingdom' but while they swoon in the ecstasy of a diabetic coma the last thing their eyes will see as they slip into a delightful oblivion will be the jewel-like fantasy landscape Brandi creates with intense and rich and surfaces so shiny they might blind. There is magic and sparkle everywhere.
"This new body of work is an examination of the world around me, as well as the world within me. Specifically, the discovery that as life and all its uncertainty, pain, and disappointments unfold around me, I have within myself the capability to keep safe my soft heart and cherish and nurture the beauty at its core.  The Quiet Kingdom is my imaginary world; the hours spent alone imagining as a kid, quietly.  These new works are a narration of the world I developed as well as moments of realizing that that world isn't true.  Or maybe my real world wasn't true… these new works are me trusting my own voice and allowing my true self to be seen. My strengths and my weaknesses. After three years of hard work, I feel extremely proud and empowered to present 'Once Upon A Quiet Kingdom' with the Corey Helford Gallery."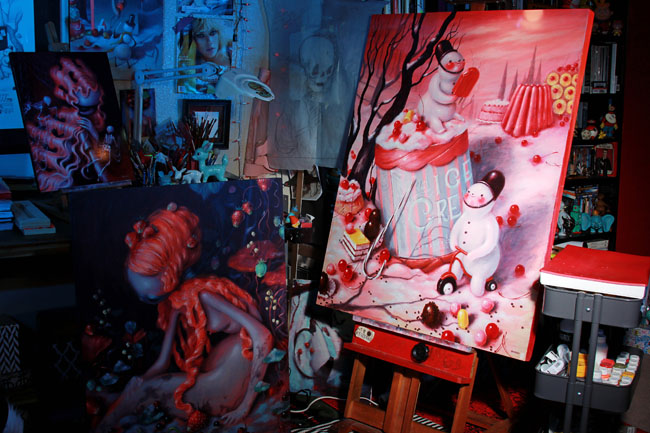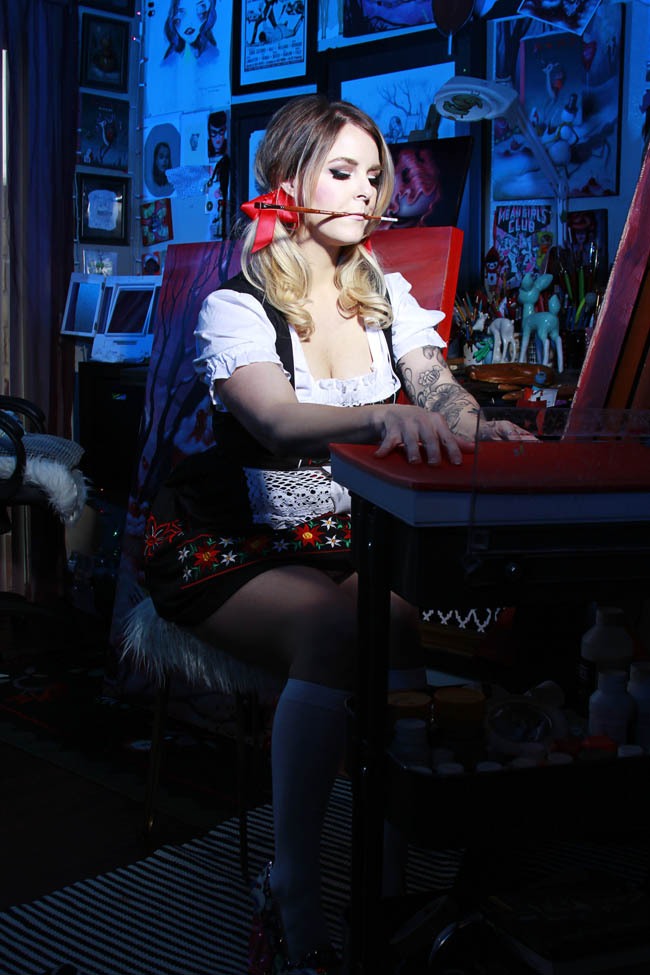 In a candied world, thickly frosted cakes sit with their shiny fondant in snowy landscapes dotted with confections, while cute nostalgic toy lambs gambol with toy telephones and fat little snowmen. Sometimes her female characters resemble ringmasters of the tiny carnivals she creates or take on the personas of sad clowns. Brandi uses these as important metaphors within her works for deeper underlying ideas and issues.
"These elements in my work are mostly items I related to or valued as a kid.  Now as an adult, they've become iconic in my memory and help me to better narrate certain ideas and emotions I want conveyed in a piece.  The hinting towards clown culture might suggest a bit of chaos or the feeling of being foolish.  Candy aesthetic might suggest obsession or the feeling of never being satisfied – always wanting. The snowy landscapes have been developing over the last few years. My love of Christmas – memories from Christmastime as a kid, and the wonderland I imagined in my head.  I love the idea of fluffiness beneath your feet – my characters are almost floating on a cloud. I also use elements simply because they are visually pleasing."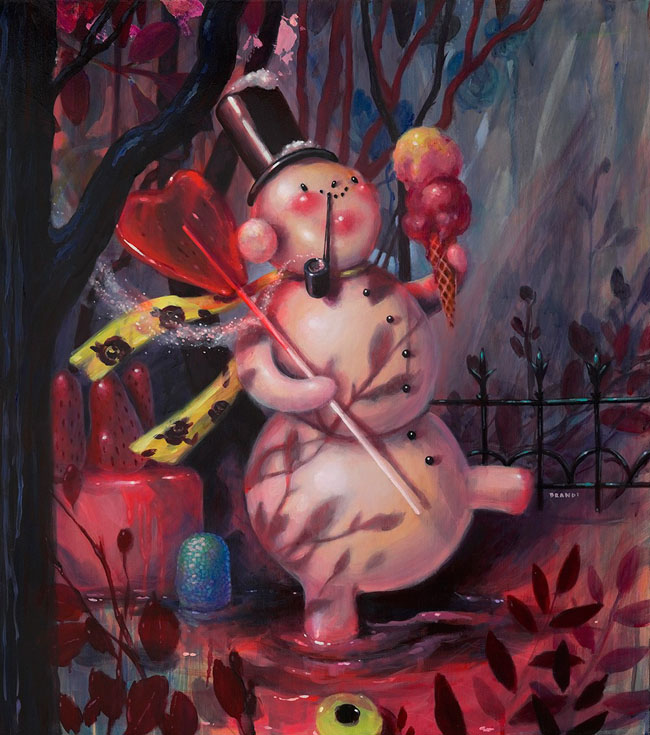 The stylisations in Brandi's figures and compositions never appear contrived or forced, either, but completely natural and this stems from a process that allows for an intuitive and expressive approach. Brandi describes her process as being pretty loose. She starts each painting or drawing with thumbnail sketches to work out composition and subject, but doesn't stay too long there working everything out.
"It's important to leave room for exploration in the actual painting process – this ensures that the work is flowing naturally (not well rehearsed) and that I can stay connected and interested as each piece develops on the final panel. The underpainting and initial strokes are super loose and expressive but still within the guidelines of the sketch.  This is one of the most enjoyable parts of the painting process – freedom and pure expression. Then tightening up the focal points and subject (bringing order to the chaos) is the most rewarding.  Above all, I strive for authenticity in my work."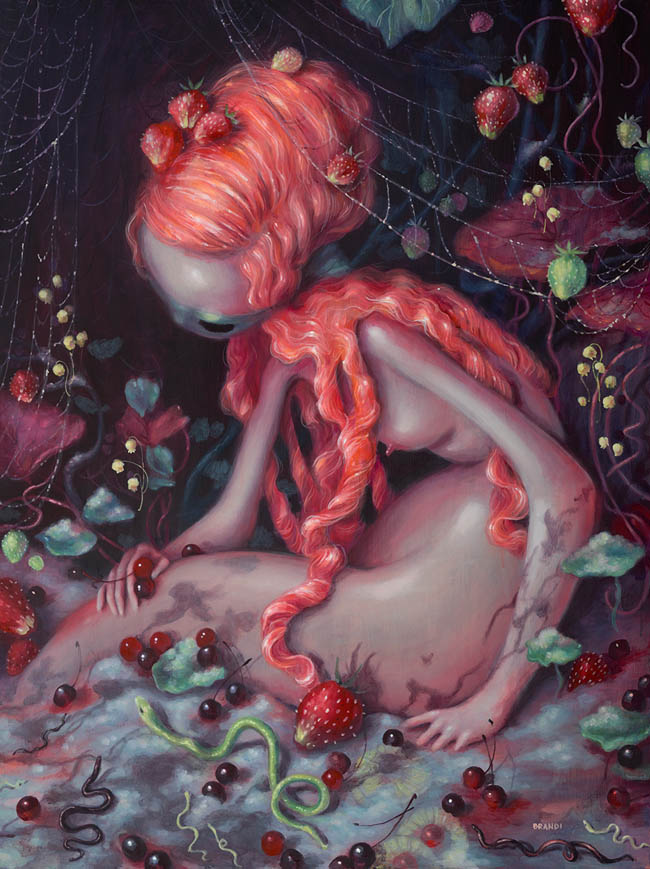 Brandi Milne's paintings are tinged with nostalgia. It gives them whimsy and a touch of sadness. Some elements and aesthetics are reminiscent of the 1950's and 1960's but that is not when Brandi grew up. Brandi acknowledges herself as a nostalgic person.
"I grew up in the late 1970's-80's but my mom was very nostalgic too and had kept around items from her youth (50's & 60's).  We frequented thrift stores when I was a kid, and it seemed like everything there was from the 50's & 60's at that time.  There weren't a lot of contemporary elements or even ideas in my household, which I think gave me a pretty unique perspective."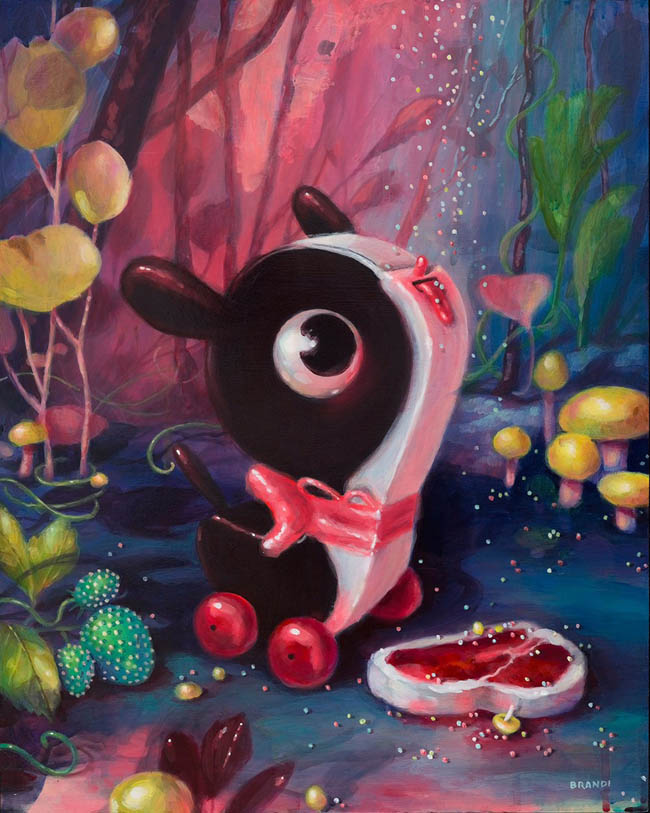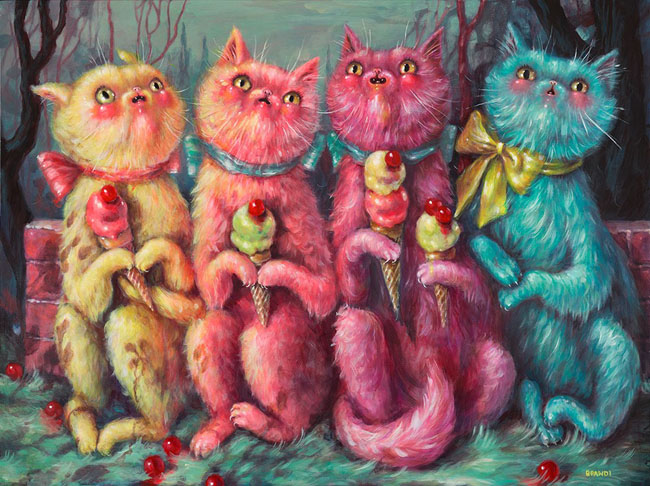 Brandi Milne grew up, as she describes, 'in a religious bubble' and the impact of a world that can shatter dreams, cause heartache and be quite brutal has been seen in Brandi's body of work thus far. In Here Inside My Broken Heart there was a great deal of hurt and damage. Little rivers of blood meander through the snowy landscapes past broken and wounded heroines laced and braced, who struggle to repair themselves or others. So looking to the imminent release of this, her next body of work I reminded Brandi of a comment in the December 2014 issue of Beautiful Bizarre after the release of Here Inside My Broken Heart when she said, " Thinking ahead to my next large body of work, I can see a girl who has the ability to recover from all that disillusionment and heartache and who can nurse herself back to a more satisfied state. And I can see a lot of disco and candied landscapes…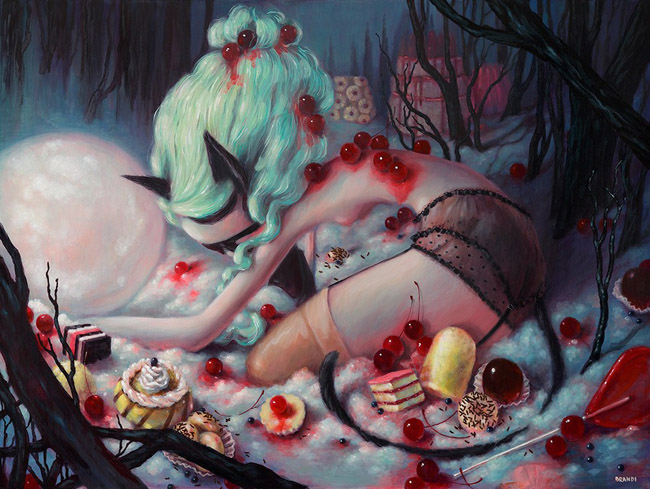 "Wow, that's funny to be reminded of – and absolutely, yes!!  In the 3 years since my last big body of work, I've been able to better understand what have been my pains and heartaches.  In the new work, it was most important to me to have the courage to express myself without judgment or second-guessing from the outside – which meant being transparent and getting personal and being vulnerable.  I painted each piece directly from the source – that place inside myself that NEEDS to be seen.  I allowed myself that.  And the paintings that came from there are my truest expressions, my most proud works to date, and my most vulnerable.  You'll see a lot of candy in the works, cute faces and innocent gazes – but my work isn't about candies and cute things.  Those elements make the work visually pleasing but it's what's underneath – the substance – that I paint about. Realities that aren't so visually pleasing like loss of faith in someone or something. Confusion.  Innocence.  Fear and disillusionment.  These new paintings are about my experience growing up, discovering that things aren't truly as they seem – and in fact are sometimes the opposite of what I believed them to be.  My personal struggles, my stories."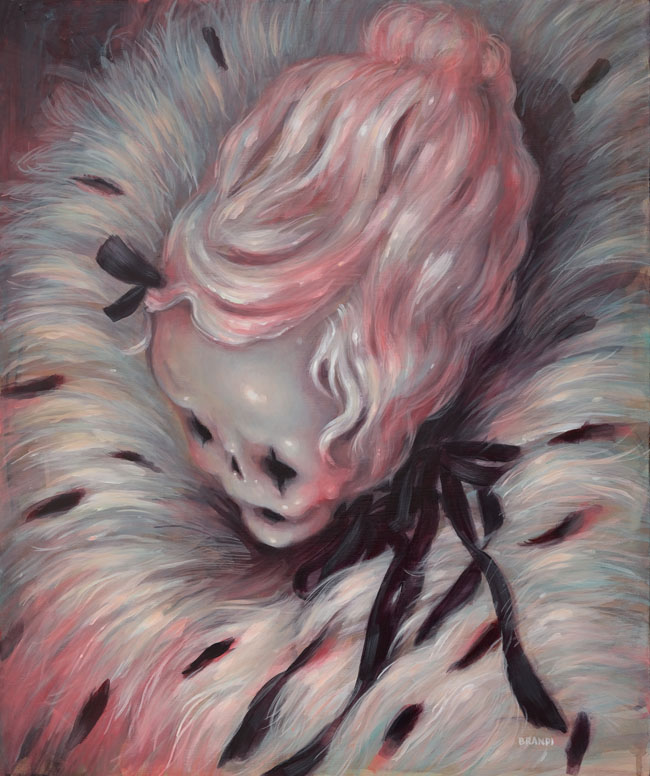 Brandi's own feelings of vulnerability and her willingness to expose that vulnerability through her paintings gives her work accessibility. The paintings resonate with viewers as we see our own struggles and heartache reflected. In an interview with Bobby Hundreds Brandi said "It's been hard. And I still struggle. I will probably struggle forever, but it's fun. Without that struggle, I'm not interested."  She admits she struggles with being a human and understanding.  She struggles with process and "getting things just right".  "But ultimately, I'm growing.  With each new struggle, I have an opportunity to learn and grow.  That's what makes it all worth walking through, knowing that on the other side of whatever life is throwing at me – I'll have a better understanding of myself and the world around me. I'll stand up taller, more capable and confidant and truly inspired."
Brandi Milne has established herself as a leading contemporary artist. Her vision and the way in which she expresses what is important to her, is unique. She is a Lowbrow artist but one whose body of work to date has great substance. Each new series building on the last. I asked Brandi what she thinks makes an artist of substance.
"An artist of substance is an artist who puts aside ego and connects with their truest self.  There's so much distraction from the outside – there's ego and judgment and noise like iPhones and social media, which can leave us feeling insecure and moving about in reaction.  That's all outside of ourselves.  But when you stop and tune those things out and listen to what YOU'RE feeling and thinking (and not judge it or put it in the context of someone else's idea of what you should be feeling and thinking) that's where you connect to yourself, and find what substance you want to speak of."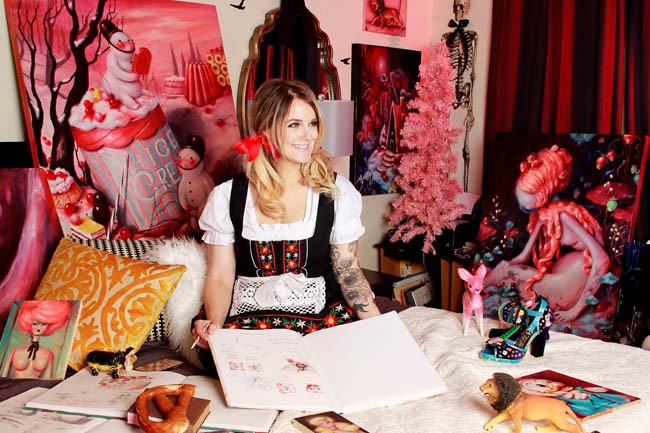 Save