Karla Ortiz has created some amazing oil paintings and graphite drawings for her current solo show at Spoke Art Gallery. Her debut solo show "Chimerical" finds figures mysteriously draped with robes, hidden beneath veils and shrouded by layers enveloping their stories.
These images provide a sense of an intimacy, power and vulnerability inviting the viewer into their haunting world and wondering of their mythology. This is what Karla has set out to do in this show of new works, inspired to create a mystical world, rich in beauty and folklore. A show for those of us who want to peer into the lives of these subjects filled with untold stories and mystery.
Please don't miss the opportunity to see her incredible solo exhibition!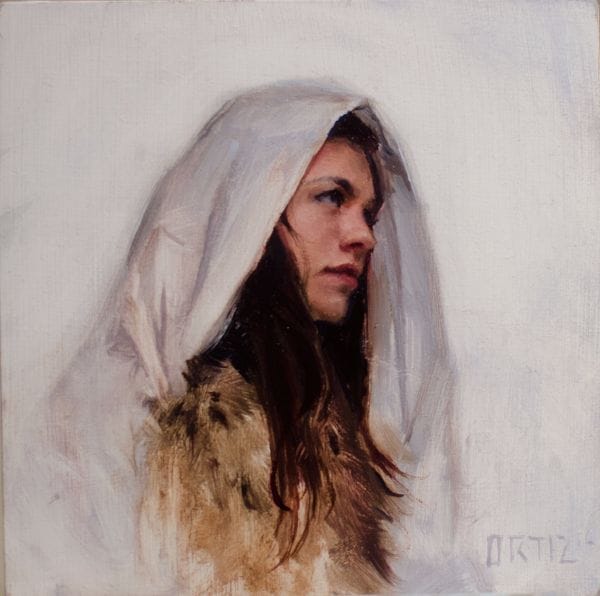 Retrato 2
Exhibition Dates:
August 4 – August 27, 2016
816 Sutter Street | San Francisco, CA 94109
For more information, additional images, or exclusive content, please email Spoke Art directly: SF@spokeart.com or info@spoke-art.com
Press Release:
Spoke Art is pleased to present Chimerical, a debut solo exhibition by San Francisco based artist Karla Ortiz. An unearthly display of new illustrations and paintings, Ortiz's mystic figures
are draped in delicately rendered robes, a brooding darkness and mystery. Steeped in their own lore, each work extends an invitation into the artist's whimsical yet ghostly fantasy world.
A natural (and professional) storyteller, Karla Ortiz draws from her years as a concept artist in the gaming and film industries. Ortiz sites the Brothers Grimm and other mythological stories as influences when creating narratives for her haunting work. For her debut solo exhibition, Ortiz has created a collection of oil paintings on panel and graphite drawings on paper, each piece displaying the "the mythical and odd nature" signature to her work.
Ortiz's fine art works offer a different perspective from the artist, including robed and draped figures reminiscent of Roman marble sculpture, brooding dandies and mystical tribe women. Each character is at once vulnerable and powerful with a sense of withheld knowledge and a dark force. Inhabiting ethereal forests, antique interiors and other worldly spaces her subjects invite the viewer into their intimate and ghostly landscapes. Imbuing her figures with a sense of melancholy, each one emotes a quiet sense of defiance. Ortiz is visually influenced by prolific figurative painters John Singer Sargent, Anders Zorn, and Norman Rockwell. Victorian aesthetics, cinematic framing, pre-Raphaelite painters and artists from the Golden Age of Illustration also figure prominently in Ortiz's influences that contribute to her mastery of light and drafting. Her work is painstakingly detailed while preserving the motion and texture of her mark-making. Ortiz's richly detailed, illustrative works are also influenced by mythology and folklore. Ortiz has been a concept artist and illustrator on projects for Ubisoft, NCSoft, Wizards of the Coast, Ace Books and Marvel Film Studios. She has worked on characters from the fantasy card game Magic the Gathering, acclaimed fantasy series A Song of Ice and Fire by George R.R. Martin, World of Warcraft, the Marvel universe and beyond. Working in both digital and traditional media, Ortiz brings these vastly detailed fantasy worlds to life in her professional and personal fine art work.

La Fae

Cazar

The Death I Bring

Ultimum
La Cura

Rigidum
Save