It's hard to separate Andrea McKenna's art from the community that supports her growth as an artist. Long before gentrification and the claims of the next "it place to live" were being pelted at Jersey City, New Jersey, McKenna whose artistic roots lie in decorative arts, moved to the city ready to add her unique perspective to the burgeoning arts scene. She invests much of her time and talent into her adopted city and along with curatorial work, set design and a mural on Coles Street, she is responsible for co-establishing the first bi-annual pop-up art boutique in the area. An event she went on to successfully transition into the city's first alternative art gallery, co-opening The Raven Gallery and Boutique, with her business partner in 2014.
Andrea uses her art gallery as a springboard to highlight, exclusively, the talent of lowbrow, macabre and otherwise overlooked non-mainstream artists. It is a passion for her and at the heart of this desire to draw attention to the unusual lies Andrea's own work, self-described as a "merging of the figurative with the atmospheric", in which she weaves a dark emotional quality into each of her pieces. With a warm low in key palette of greens, browns, yellows, and reds, her work gives the impression of being rooted in nature and mythology. And at the very same time, the figures in her compositions seem bathed in futuristic undertones, highly textured and abstract, a prominent visual duality. This common thread throughout her work invokes a mysterious force in which the figures seem to be staring straight into your soul, leaving you to speculate what exactly was going through Andrea's mind during the creation of each piece.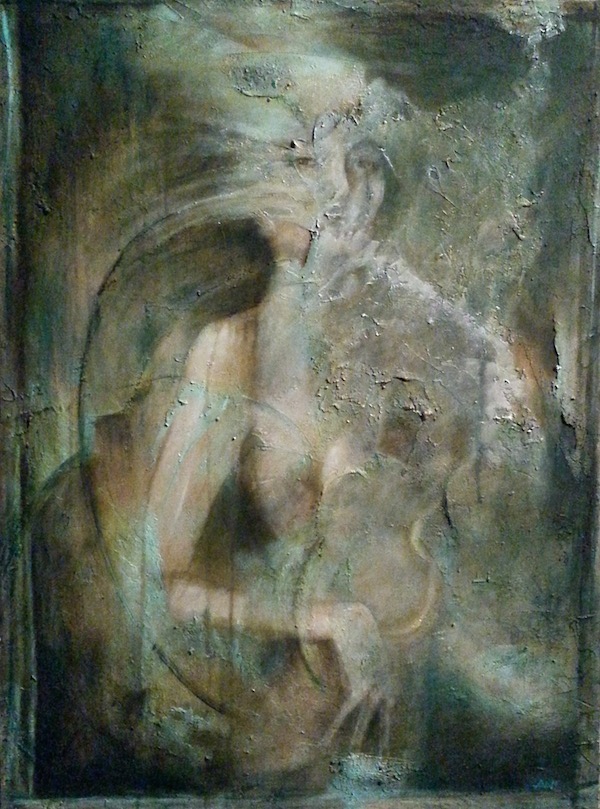 "Undertow" Acrylic over texture on canvas. 36″ x 48″
Your work is full of contrast and conflict; peace and turmoil, strength and vulnerability, and androgyny. Is there a specific subject matter, if any, that you are trying to convey with your work?
My subject matter is female and androgynous forms.  This is just how it's always been. I've never thought about it too much, it's just what I do. They almost create themselves when I'm in the process and I don't force them to become anything else. I'm not trying to push any one thing. For me, that's not how art works.
In your bio you describe your work as the "merging of the figurative with the atmospheric" What inspires your artwork?
My work is inspired mainly by music. I can't paint without it. For me, it's what creates the imagery. I mostly listen to instrumental orchestral soundtracks. I wear headphones and I only hear the music. I get totally lost in it and somehow the painting's personality becomes through.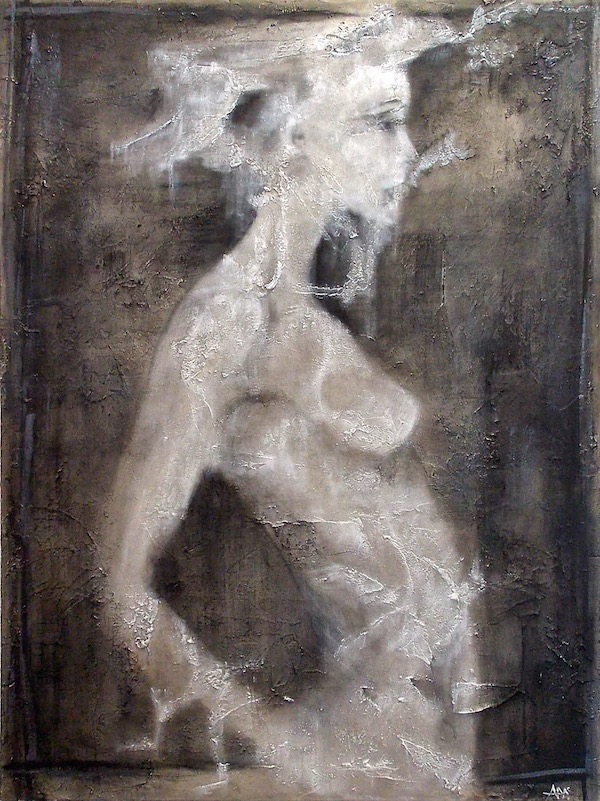 "Eternal" Acrylic over texture on canvas. 36″ x 48″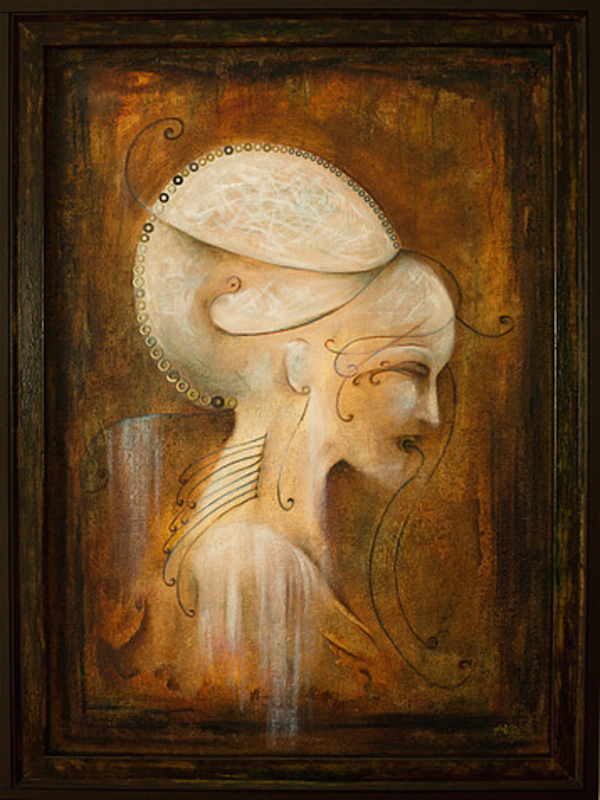 "Lost Cameo – Azalea" 34″ x 46″ Framed. Oil on burlap.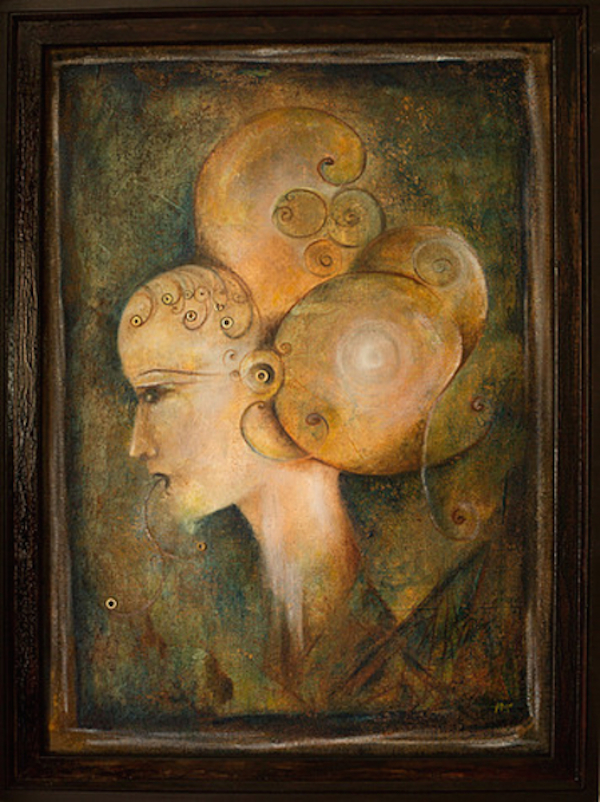 "Lost Cameo – Dahlia" 34″ x 46″ Framed. Oil on burlap.
What goes into your process from conception to completion and how long does it take you to complete a project?
For painting, I come up with the pose of the figure through reference. I figure out a size, prep the surface with texture keeping in mind where features go, paint and stain it several times, draw the figure and put the headphones on and the rest just happens. I have no idea how long it takes because sometimes I work on more than one during the same time frame. For other projects such as installations or set design, I think about it over and over, change things, change things again and then when it comes time to put it together, I say a prayer.
What is the relationship of your color palette to the subject matter or how important is color and texture to your work?
Color and texture are very important to me. Colors themselves represent different emotions and immediately set the tone for my work. I like to use earthy colors with a few bright ones in the mix. Texture can almost create the facial features, which allows the identity and personality to come through.  I think carefully about the palette, but it sometimes it changes completely depending on how lost I become while in the process.
What draws you to dark, intense, and highly emotional imagery?
When I look at art, I want to feel something. I want to be punched in the gut. I want to be made to cry or made to feel intense joy. Turn my insides out. Give me reason to change my mind about what I believe in or not believe in. Make me want to know the artist. Make me want to own it.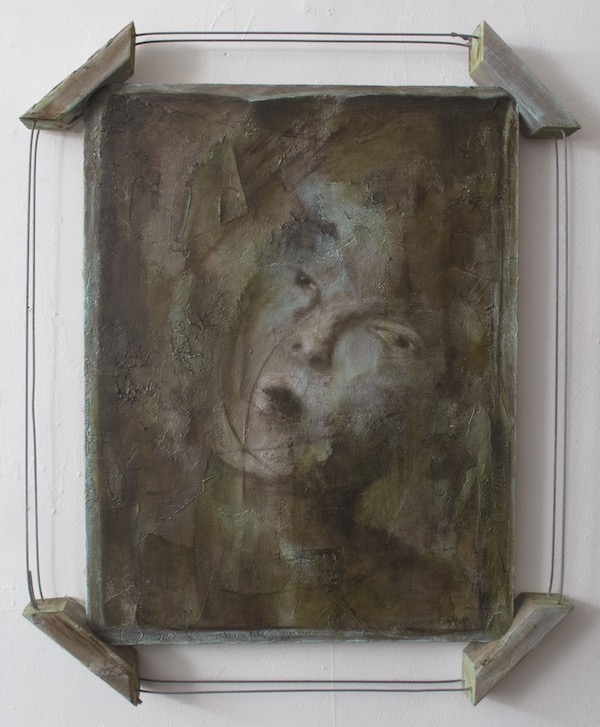 "Seaweed" Acrylic over texture on canvas. 27″ x 33″ framed.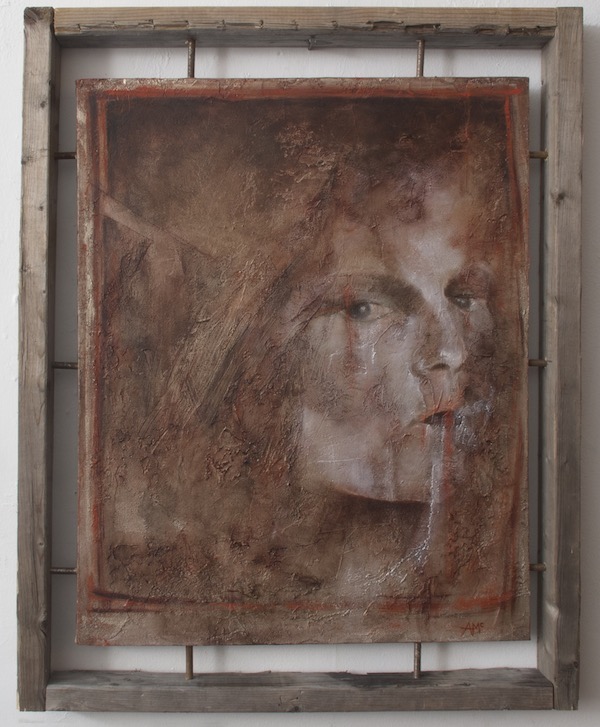 "Drain" Acrylic over texture on canvas. 29″ x 37″ framed with reclaimed wood and steel.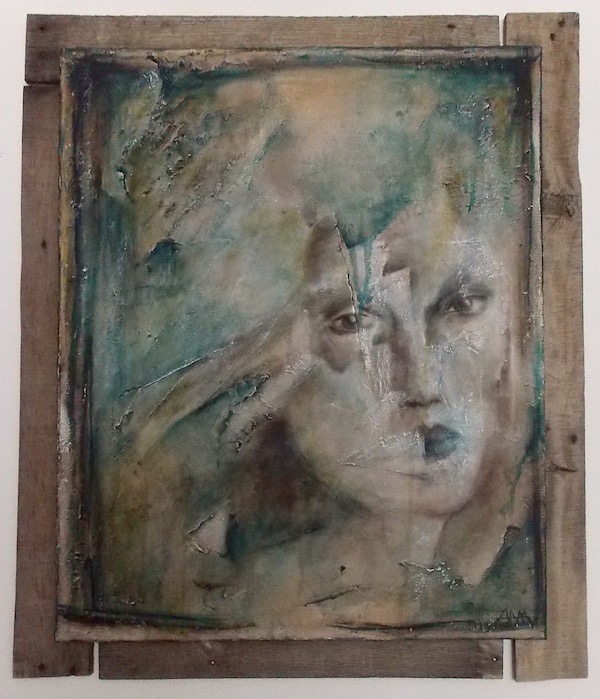 "Ruptura" Acrylic over texture on canvas. 26″ x 31″ mounted on reclaimed wood.
Why do you think you are drawn to this genre of work, both as an artist and as a lover of art?
For me, dark, emotional imagery represents power. It evokes an internal story that maybe would not sound so clear in words. I feel it's a positive. Funny because some would call my work sullen or depressing but I feel it's the opposite. I feel totally empowered by it. It's an energy that allows me total freedom to express what I want. I enjoy looking at provocative, edgy work and that's what I want my work to be.
Do you have classical and/or contemporary art influences that have influenced your own art?
My classical influences are Gustav Klimt, Frances Bacon and Egon Schiele. My contemporary influences are Marshall Arisman, Dave McKean and H.R. Giger. I have to be honest and say that I'm not that familiar with many modern day artists. I used to do a lot of gallery hopping and for years I just never saw work I connected with. Music is really my biggest influence. If I had to pick an artist influence, it would be Marshall Arisman. He is the Chair of the MFA Illustration as Visual Essay Department at the School of Visual Arts in NYC. This is where I went. At that time, he taught undergraduates and he is the reason I went to SVA. When I was a senior in high school, I knew I wanted to go to art school in NYC.  It was a choice between Parsons and SVA.  I saw an informational booklet with Marshall's work on the cover. I never saw anything like it before, and I immediately connected with it. When I learned he was an instructor, there was no contest. I only applied to SVA, there was no other school after seeing that work.
Among your many talents, you also paint finishes for walls, ceilings and furniture and started your career with decorative painting. How has this background influenced your fine art painting?
My career as a decorative artist helped me tremendously with the work I presently create. After college, I used a limited amount of materials. When I became a decorative artist, seven years later, I actually stopped painting. The job was so exhausting and because I was also relocating (to Jersey City), I lost my regular painting studio. It took ten years for me to get back to it. During those ten years, I learned a lot about decorative finishing and after a few years of working for someone else, I went solo and created my own business. I went back to painting out of desperate necessity. I could no longer live without it. With the new skill set and new materials in my lap, I learned to experiment more and it then became the familiar obsession it always was.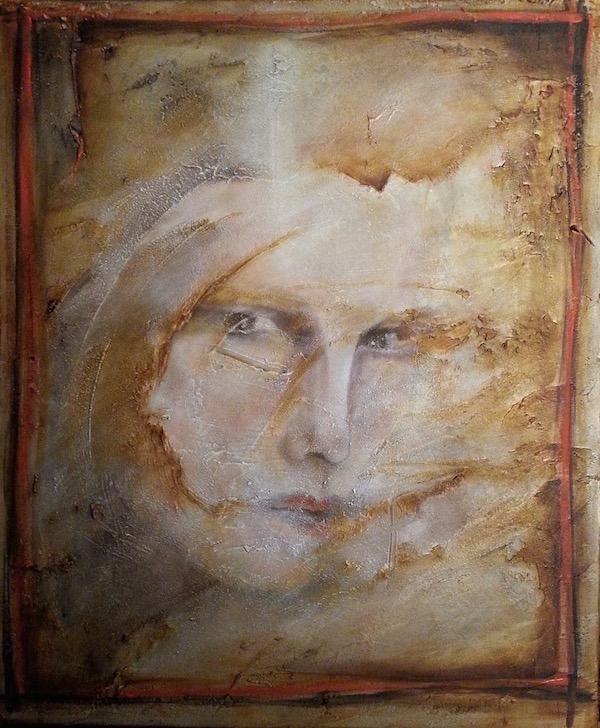 "Aurora" Acrylic over texture on canvas. 24″ x 27″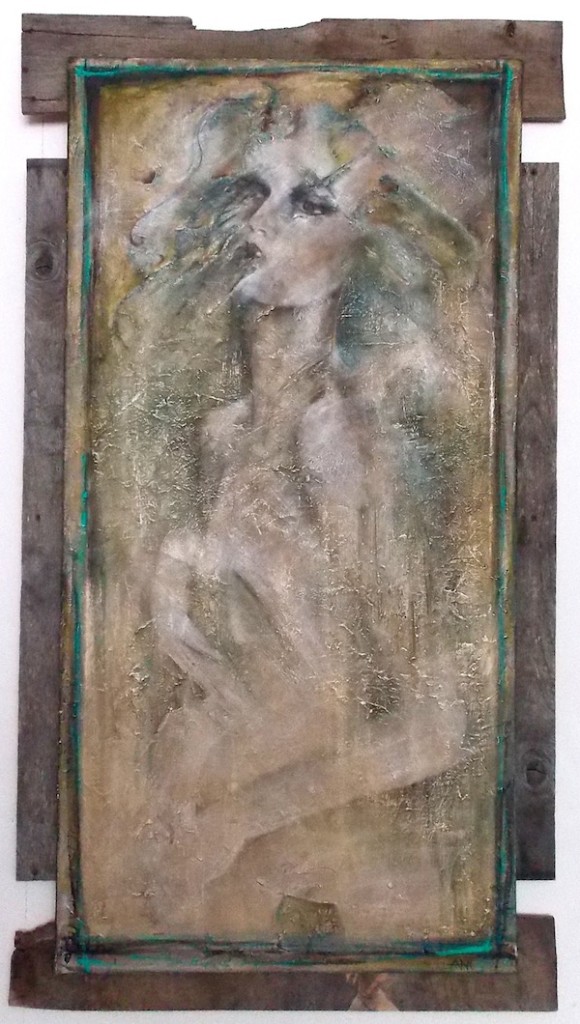 "Dust" Acrylic over texture on canvas. 30′ x 55″ mounted on reclaimed wood.
Correct me if I'm wrong, you've been a resident of JC for 17 years now, how has Jersey City shaped you as an artist and your work?
Yes, I've been in Jersey City now for 17 years. I consider it more my home than my hometown town of Fort Lee, which is only 10 miles north. The urban landscape appeals to me. It has had a huge positive effect on me as an artist because of the art community here. I lived here longer than I've been in the "art scene" here but when I found it, around 2010, it welcomed me and I embraced it. I can't imagine it being any different. I had the surprising opportunity to open a gallery here with my good friend, Javiera Rodriguez.  The gallery has become, in my opinion, a place where artists can be themselves. There aren't many choices for artists to exhibit their work around here and I am proud that we can provide that environment for locals. For me, the gallery was an opportunity to sell my painted furniture as an addition to my business. Now, it has become so much more than that. We have exhibited hundreds of artists in the short time we've been here and most, if not all of them seem to love the place. I hope we can keep it going.
What impact has the recent gentrification of the city had on art and the artists in a community?
Before I add my opinion here, I'd like to mention that this topic is undeniably huge and there are many aspects to it. The simple fact that Jersey City is directly across from downtown Manhattan leaves many others and me wondering why this took so long. I thought JC was a no brainer for this kind of remodel, but clearly it's all happening at the same time and it's happening right now. Gentrification is the word of the day around here. Some are highly opposed to it; some think it's great. I find myself in the middle. I like some of the changes, but I think it's changing way too fast. Artists that I used to see all the time at many functions, I don't see anymore. I think what's happening here is what happens to most gentrified cities. The artists create a cool, fun environment to live in and when the outsiders get wind of it, the builders come. The artists are the first to get pushed out because it becomes unaffordable. We are the true artists. The ones who create the realities that everyone else wants a piece of. The only problem is, there is nothing artistic about high rises or chain stores. Community gets lost. Who becomes the community when there are hundreds of condos being built in every crevice of this city?  Will people shop here in our small businesses or will they cram onto the already strained PATH train and go back to NYC?  I guess we'll find out.
When people do show up what can they look forward to seeing from you this summer and beyond?
Mana Contemporary will have a new building opening this July and I have been extremely fortunate to be asked by artist Matt Colagiuri to share a studio.  This opportunity will allow me to produce the large-scale work I have been planning for some time in an open studio setting.  I have a solo show scheduled at LITM in Jersey City for May 2017. It will be all new work and most of it will be made at the new studio. Mana has regular open studio days and other scheduled events for the public.  I plan on being present and working during those times.
"Zephyr" Acrylic over texture on canvas. 26′ x 30″ mounted on reclaimed wood.
"Hunter" acrylic over texture on canvas. 30″ x 55″ mounted on reclaimed wood
Save