When you think of Pop Surrealism what first springs into your mind?  Well of course there are the re-themed cartoon characters … often doing something quite unspeakable! But other than that it's all about the eyes, bringing the cartoon eye theme to a human face, the big, big eyed girls. But where did those girls with their large limpid pools come from? While without doubt owing something to the groundbreaking work of Margaret Keane, when Sas Christian came along the theme was reborn with all the gloss and panache of lowbrow, brought to the moment and given 10,000 volts of, well, sass!
The godfather of Pop Surrealism Mark Ryden has called Sas a Mozart, her entirely self-taught works breaking ground for female artist representation in this new school. The story of her discovery of her artistic style is only part of the inspirational journey of Sas Christian, it is also a tale of her battle with her own inner darkness. beautiful.bizarre is delighted to present this exclusive interview with Sas for the readers of the digital edition of Issue 013.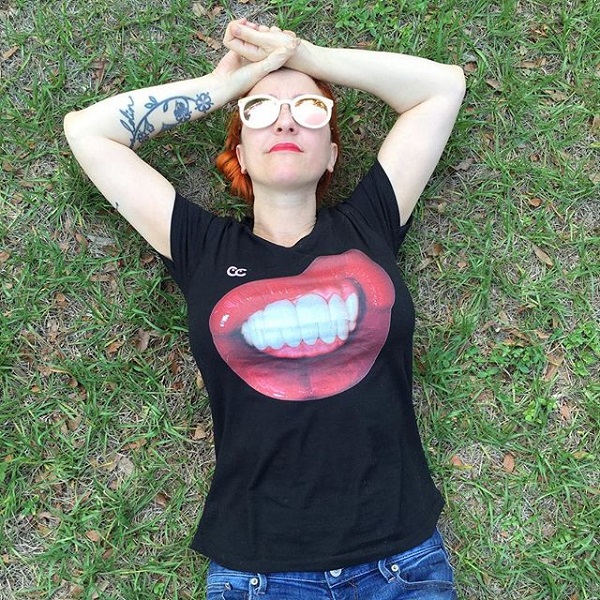 Sas Christian
Web  | Facebook  | Instagram | Twitter
b.b: The most defining aspect of your style is, to me, the slightly enlarged eyes of your subjects. Is that simply an aesthetic choice, or do the larger eyes hold some deeper meaning for you?
SC: Thank you for asking this question! While aesthetics are important to me the eyes have a very personal important meaning to me. To me the enlarged eyes signify the hope, innocence and anticipation of future experiences. Over the last few years I've been living with major depressive disorder and I've actually found that the eyes I paint have become subconsciously smaller because it's harder for me to identify with these things.Eyes tell you everything you need to know if you look deep enough into them.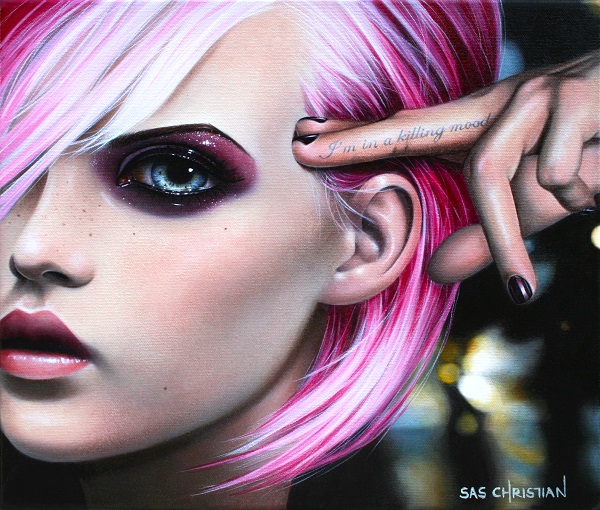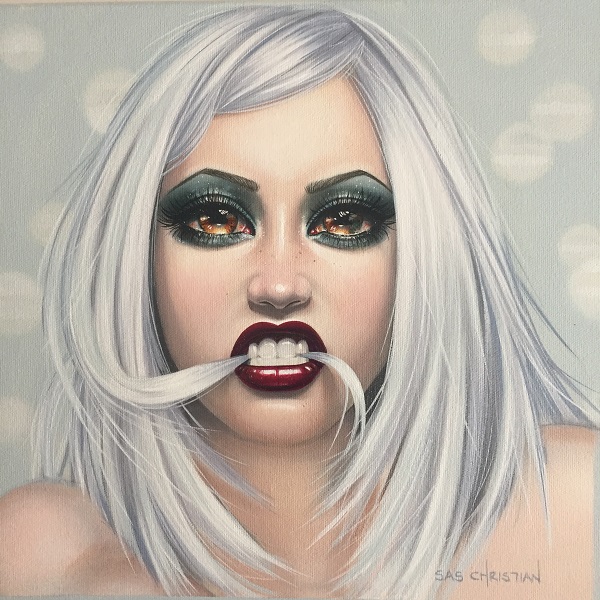 b.b: When painting female portraits, which is a fairly specific form of creative expression, do you ever have any trouble coming up with new ideas? Do you have a particular process that is tailored to variety, or do you have some general underlying theme you pull from conceptually?
SC: I think there are those who question why I'm so obsessed with the face. It's a constant fascination but I'll also admit there's an element of trying to get it right, trying to have it "feel" right and until it does I can't help but keep at it. For as many paintings as I've created there's probably been an equal amount that I've thrown in the dumpster because I didn't feel connected to them. I found out that some of the people that have workshops in the same place I do were fishing out these rejects and taking them home. Horrifying! I now cut them up, not because I don't want them to have them, but because I just don't want them to exist in their current state, lol. I like to read the micro expressions and this is something I try to explore within each work.
I'm an emotional painter, but a subtle one – at least most of the time. Even though the women I paint don't look too much like me, there's an element of my personality and mood in each one. I tend to be a bit withdrawn and as a lot of artists and people that work for themselves can attest to it can be a lonely business, which works both for me and against me. For me because being an artist indulges my natural inclination to hide, against me for the exact same reason! With life existing more and more online there definitely comes a point where you rarely get to see or be seen by others outside of happy snaps and a tailored life that many feel compelled to form of themselves. My paintings have always meant to be a form of communication with the outside world – they look you in the eye, they are a witness to your existence and, I hope, share in your life. It's one of those things that either you get or you don't. Sometimes I'm pissed off and so I express that too. Sometimes I'm in a very dark place, but that's difficult for me to truly translate and in my case I prefer not to go there. During those times you'll see a distinct lack of work coming from me.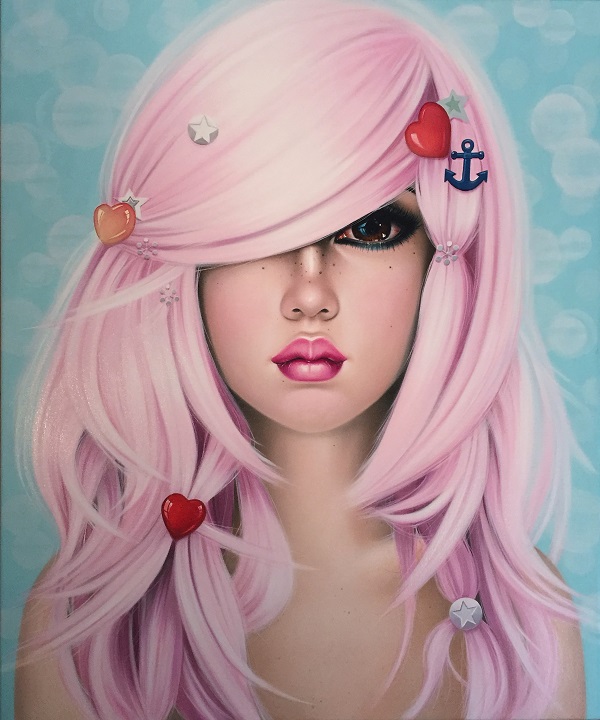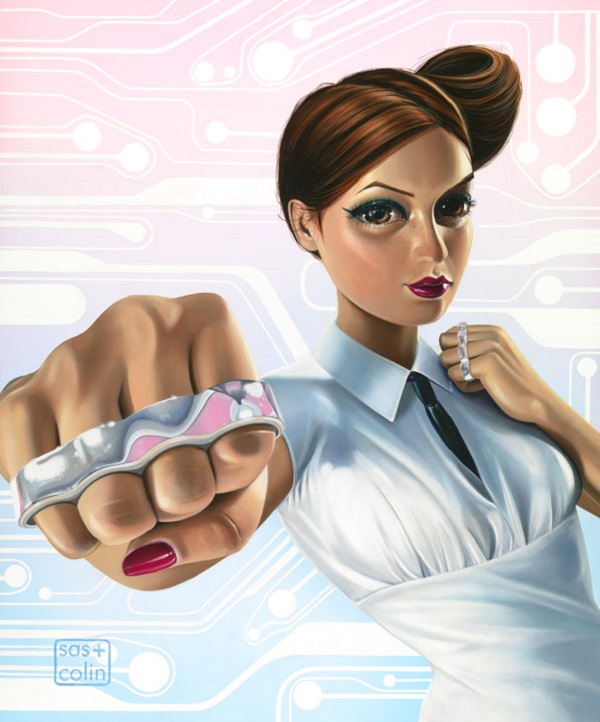 b.b: On a more general note, how would you describe your process from start to finish?
SC: My general process is first being inspired, often by a word, or a line of dialogue from a film, or from music. I then look for reference using a combination of personal photos, royalty free images etc. A good friend Amanda compiled a photo book for me many years ago of close up photos of eyes – one of the best gifts ever! Her friend Kreisten has some of the most beautiful eyes I've ever seen and I've used her eyes as my reference for paintings such as "Hacker". Then it's about drawing out the image on canvas or board, doing an under-painting in turkey umber and using the white of the canvas for my light points.
Colors are laid on in layers with a combination of scrumbling and glazes, then I use a varnish to help protect it and also to enrich the colors. Being self taught this is something I've found out how to do from books and online articles etc. When I get the chance I love being able to design my own special frames – this is where my husband Colin really helps as he's the one that I go to to form them!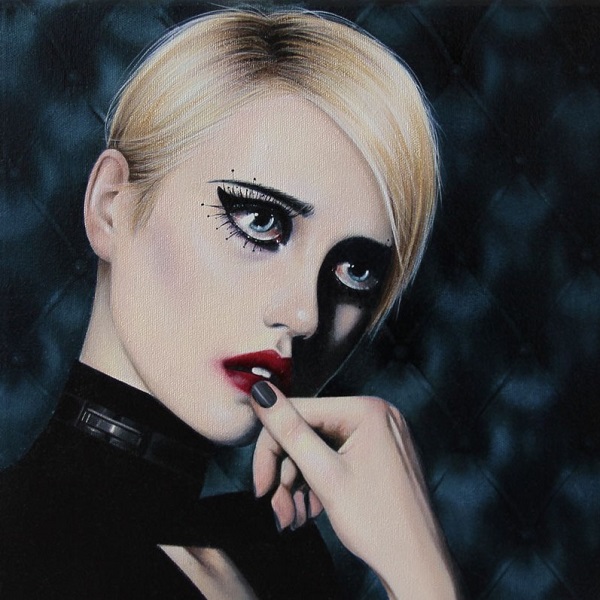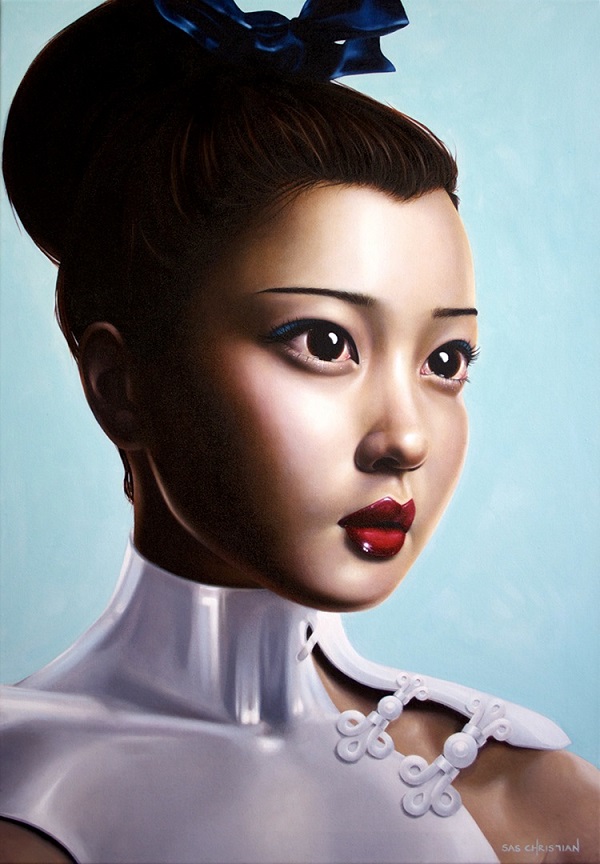 b.b: I noticed that while oil is your primary medium, some of your pieces were painted in acrylic or gouache. What motivates your decision to use a particular medium over another?
SC: I started out with acrylics as having little experience of painting I was utterly daunted by the idea of oils. But I moved onto oils, and then have used a combination of the two – using acrylic as an under-painting and then oils on top. Sometimes this is done purely for expedience, sometimes just for the hell of it. I had a very brief moment with gouache which I adore the opacity of but need more time working with. I do enjoy looking up different materials and have fun with the idea of trying out others.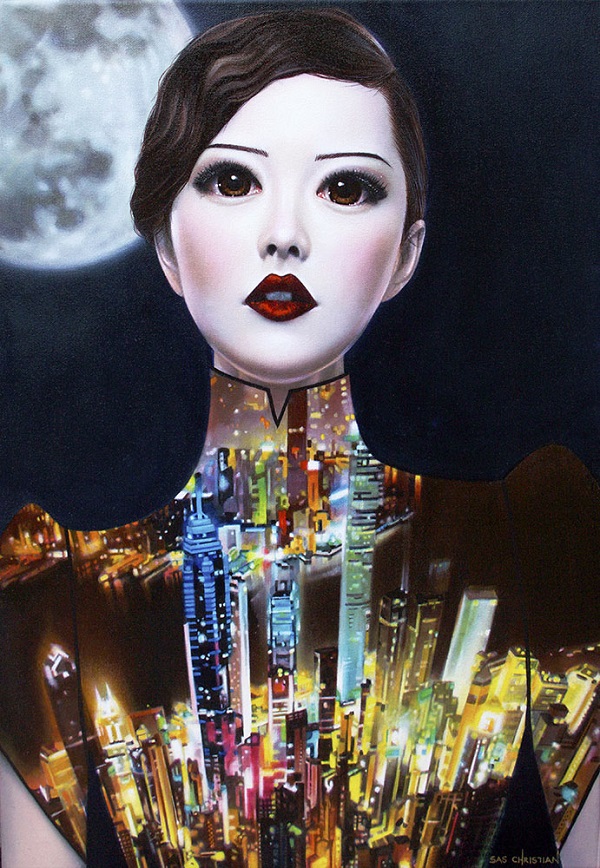 b.b: Is there anything in particular that drives and inspires you to make the art you do?
SC: Communication, connection and existence!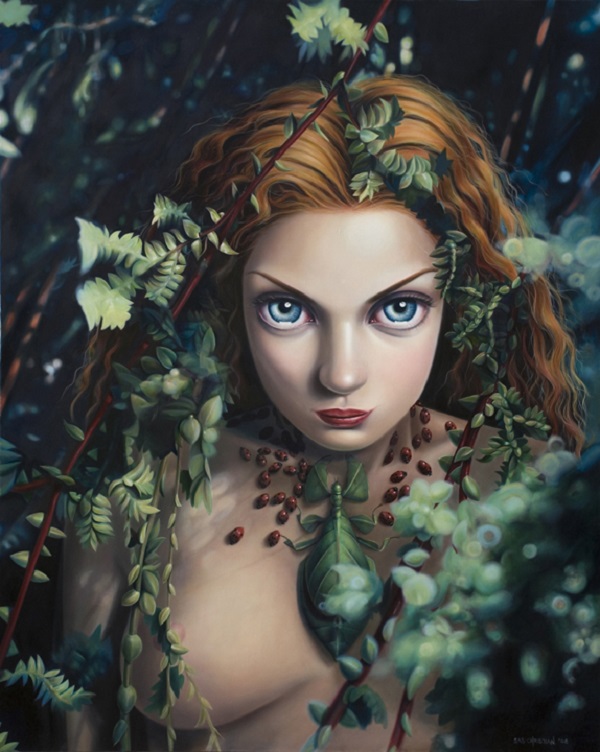 b.b: Your husband – Colin Christian – is also an artist. How has his presence in your life influenced your own artistic career and development?
SC: Colin and I have been together 27 years now. He, more that any other person, more than any educational system, has introduced me to more types of art in all its forms than I imagined possible. He is a voracious reader and is hands down the smartest person I have ever known. Everything he knows is from his own research, he is passionate about films, music, nature. We share many of the same interests and both being artists we understand how each other think and the self-imposed and very real pressures that come with making our living from that. We support each other and provide honest critiques of each others work.
To both work as artists has its' highs and lows. When I first started out as a professional painter 16 years ago Colin had to take on commercial work to help us pay the bills whilst neglecting his own art career, in time I was able to return the favor but I think it's safe to say that it's always a delicate balance. He works so very hard and he still manages to retain excitement and enthusiasm about what he does. Few people really, really know how much he is there for me, what he's sacrificed, what he's lost. He's even gone so far as to offer his own work when I've been unable to provide my own. He is a remarkable man, husband and friend.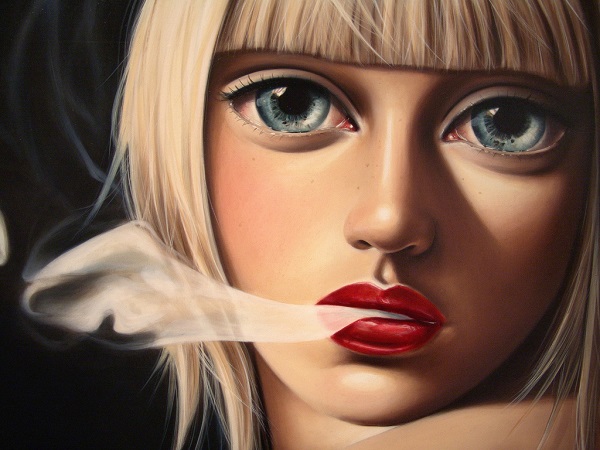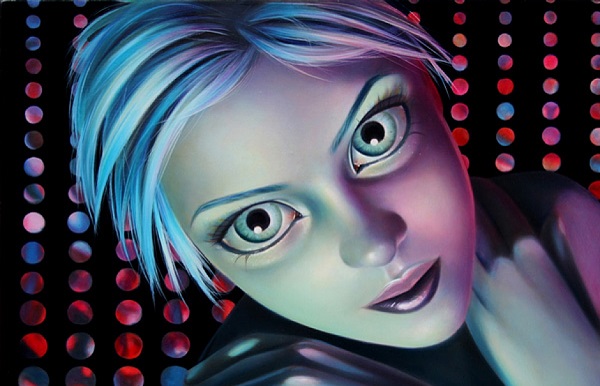 b.b: What are you currently working on now? Do you have any future exhibitions planned?
SC: I am currently working on paintings for Corey Helford Gallery. I have the honor of being a part of their 10 year Anniversary show in August 2016 and I am also having a solo show there in December 2016. Jan Corey of CHG is a rare commodity in the gallery world – passionate about art, passionate about artists- a kind, sympathetic, truly good human being. It's all very well to be supportive of "hot ticket" artists, that's easy, or to think of art as something that should be sold "by the pound"  – Jan is supportive of all and cares about those she shows in her gallery. I also have an online store, a store where Colin and I sell our art, giclées etc. www.sasandcolinchristian.bigcartel.com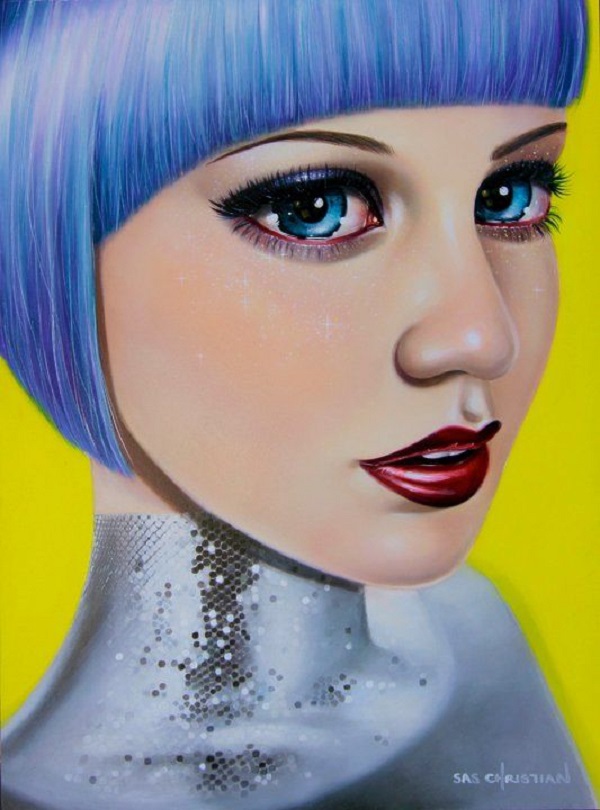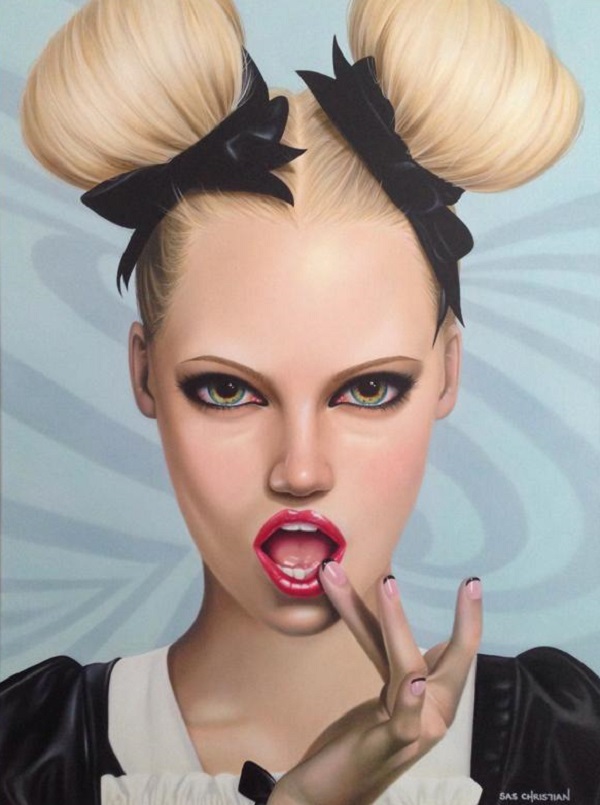 b.b: How do you see yourself evolving as an artist?
SC: I have no idea to be honest. I hope that I take more risks, I hope that I can continue to create works that connect with people. I hope that I continue to be given the opportunity to show my works in public. I hope….