Last Rites Gallery presents the solo exhibition of Chet Zar's The Demon Show and the solo exhibition of Jasmine Worth's Dark Night of the Soul. The themes of this exhibition—demons and darkness—are quite complementary, a relieving curation of simultaneous solo exhibitions where the artistic styles do not clash. But it's not necessarily style that makes Chet Zar and Jasmine Worth a harmonized duet. Each has a distinct and original voice that comes through in their work. This curation is more than a gallery exhibition, it is a journey through the darkness of your Self.
All of us have experienced demons. All of us have experienced that dark night of the soul, that moment in time, whether it be an extended period or just over the course of a night, when we feel separated from what we thought our self was, and are left isolated and vulnerable, and yet are on the verge of discovering a strength within us that we did not realize existed. The concepts of demons and dark night of the soul can be interpreted in many ways, but from one particular perspective they go hand in hand.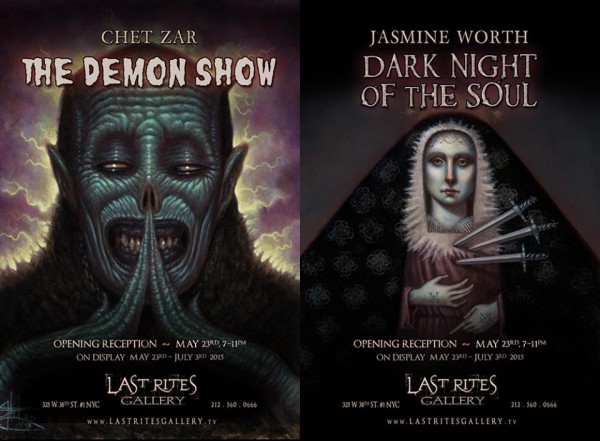 Exhibition Dates:
May 23rd – July 3rd, 2015
325 West 38th Street | New York, NY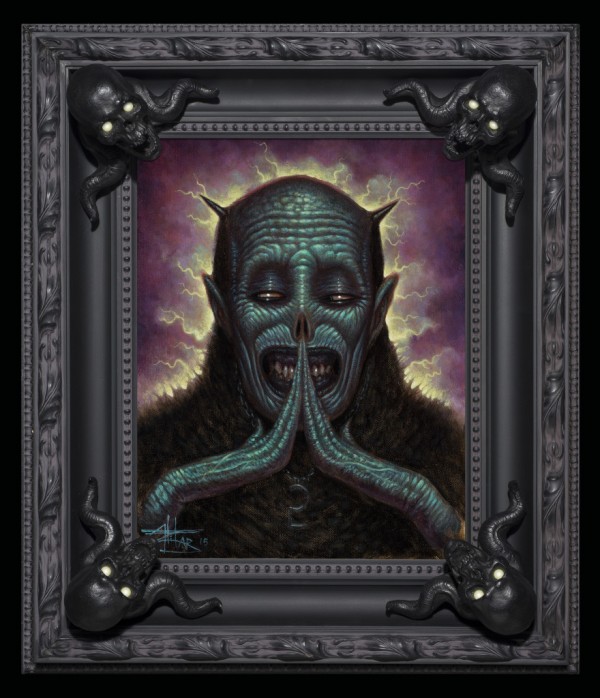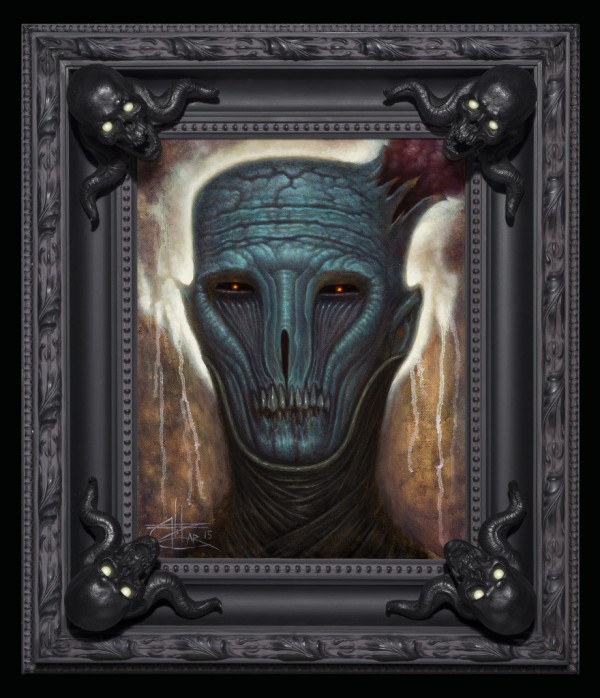 The reputation and character of a demon has been grossly portrayed in fiction, ostracized by religious institutions, and used as scapegoats for crimes against humanity, disease, and catastrophes. Because of this, demons are seen as evil and abominations of nature. Furthermore, artwork that portrays demons often gets this same outcast treatment and the philosophy behind their work is often overlooked or disregarded—the depth of their message remains in darkness with the self-illumination of the audience.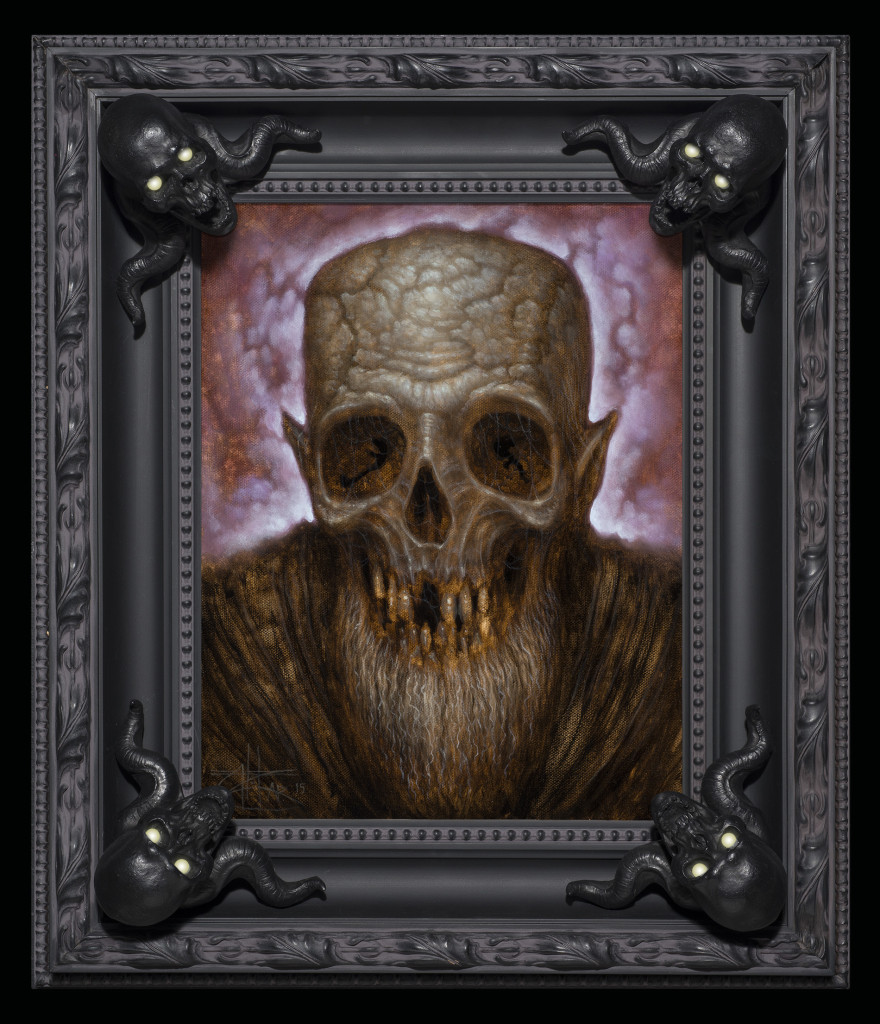 Chet Zar depicts such monsters that are so foreign to what we know and understand of anything in nature. But is this an attack on nature or is this an invitation to explore unknown parts of nature and of ourselves that we have feared to discover and cultivate? Historically on larger social levels and even presently in our individual lives we tend to demonize the things we don't understand. But when we come to understand such things and know them for what they are, we stop fearing them and demonizing them. To demonize is to add illegitimate information into our definition of something we don't fully understand in order to categorize it. We have to ask ourselves, if we came to know what demons or monsters were, would we still consider them demons or monsters? European explorers thought many indigenous people, or simply foreign cultures, as savage because they did not understand their customs and beliefs. In reality, many of these people were highly cultured, educated in arts, science, and politics. They were just different aesthetically.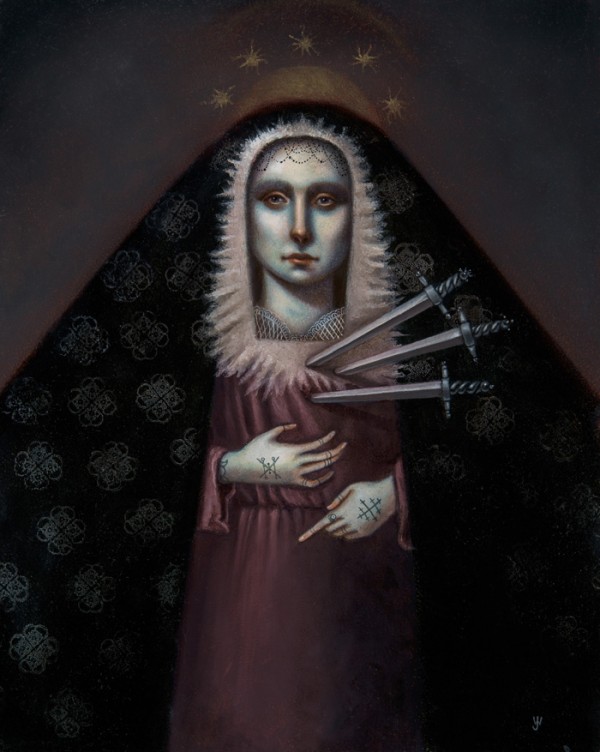 This is where Jasmine Worth's Dark Night of the Soul takes us. When we seize blaming others or putting the responsibility on the outside world or finding something external to project our fear or ignorance and go inward to discover the root cause of our being those very things that caused crisis or pain in our lives, those agents of chaos whether they be antagonizing "demons" or unsettling circumstances, can be the very instruments we use to transform and evolve ourselves. The Phoenix rising from its own ashes, but the Phoenix sets itself on fire first—the dark night of the soul. This is the pain that people fear entering. That pain is painful because it is the unknown. When we know what is causing pain, if we cannot eliminate it immediately, we can at least reduce it and navigate out of it. But when we are in the unknown that is when pain becomes overwhelming. It is that pain, that unknown, that people fear the dark night of the soul, seemingly representing that moment when life is most painful—unless you know what you are going through and that you are about to be reborn. But it is this fear of the dark night of the soul that people run away from, medicate themselves to block the feeling, because it is unknown and they fear it, they eventually demonize it.
This brings us back to Chet Zar's depiction of the truth of a demon. When we demonize that dark night of the soul, we are demonizing ourselves. We are the demon. And the more we try to put distance between our conscious mind and the "darker" aspects of ourselves, the more pain we will experience, because separation divides the self. Unity heals the self. And so we are faced with a conundrum of facing our demons, and coming to understand the reality of pain through the dark night of the soul, ultimately to achieve happiness. It seems contradictory that one would embrace the demons and the darkness in order to enter the light, but in our modern society where depression and mental diseases are on the rise, the messages of artists like Chet Zar and Jasmine Worth are very relevant in illuminating consciousness, ironically, by casting shadows.
Gallery photos by Paola Durán